These Cinnamon Sugar Donut Holes are like the ones my mom made growing up. A spiced cake donut hole served with a raspberry skillet jam.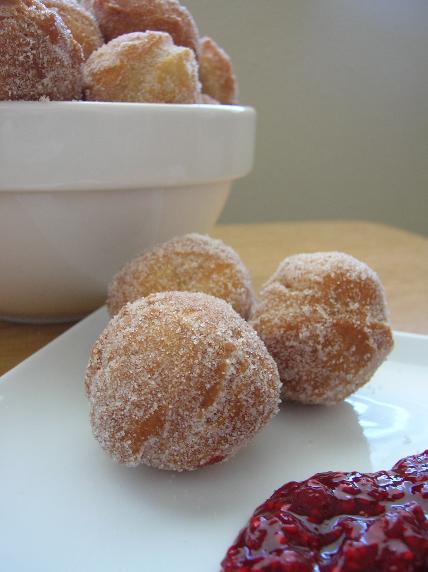 So most of my readers know how I pretty much hate summer and most (not all) things associated with it.
I was very upset today as it was supposed to be cooling down and low and behold between the time I went to bed and woke up they had come up with a new forecast…and it is hot.
So when I was invited to participate in La Festa al Fresco even though I am not a fan of Summer I had to do it.
Since it was sponsored by both the Cream Puff and La Mia Cucina and I love their blogs so very much.
So I made a list of the foods of Summer I am not allergic to….it fit on a Post-It note.
I had seen some raspberries at my favorite market.
And they looked quite good so I figured I would make something with that.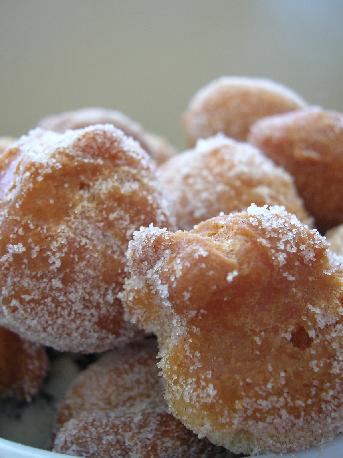 I am a fan of skillet jam when fruit is fresh and available.
But admittedly had only made the blackberry kind that comes from a recipe in Gourmet.
Mine is adapted from that just using raspberries.
But what to go with my skillet jam?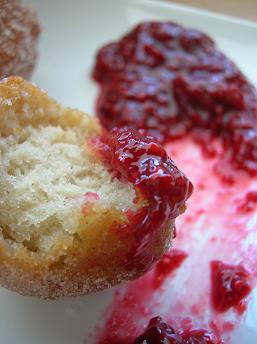 Since I am so longing for the crisp days of Fall I paired the jam with some Cinnamon Sugar Donut Holes.
Just like my mom used to make when we kids would come home from our first day of school.
I prefer donut holes to actual donuts because I feel less guilty eating them.
Even though 3 donut holes makes one donut (just my guess, nothing scientific) somehow eating 12 of them seems justified.
So what better to bring to our cyber-party than donuts…I've never met a soul that didn't love donuts….especially fresh ones with fresh raspberry jam.
Last but not least…it's a great time to order my cookbook. 😀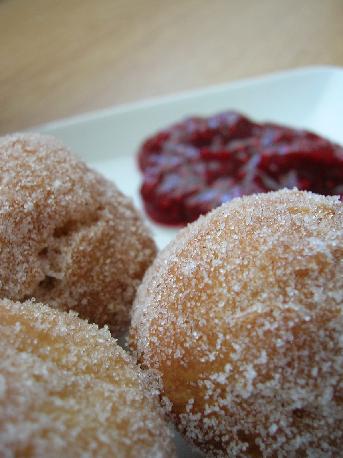 Want more Donut recipes?
Glazed Donut Strawberry Shortcake Boozy Milkshake
Coffee and Donuts Cheesecake Cheeseball
Vanilla Bean Glazed Soft Pretzel Donuts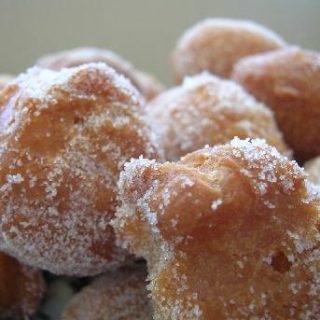 Cinnamon Sugar Donut Holes
Ingredients
For the Raspberry Skillet Jam:
1 lb raspberries
3/4 cup sugar
2 tablespoons powdered fruit pectin
1 tablespoon fresh lemon juice
For the Donut Holes:
2 cups flour
1/2 cup sugar
1 teaspoon salt
1 tablespoon baking powder
1/4 teaspoon cinnamon
1/8 teaspoon nutmeg
2 tablespoons melted butter
1/2 cup milk
1 egg, beaten
1 quart oil for frying
1 cup cinnamon sugar mixture
Instructions
For the Raspberry Skillet Jam:
Mash raspberries with a potato masher or a fork in a large bowl.
Stir together berries, sugar, pectin, and lemon juice in a 12-inch nonstick skillet, then boil, stirring occasionally, until slightly thickened, about 7 minutes.
Transfer jam to a large shallow bowl and chill, its surface covered with wax paper, until softly set, at least 30 minutes.
Jam will set further if chilled longer.
For the Donut Holes:
For draining donuts, prepare a spot on the counter with either newspapers or a brown paper bag.
Top those with paper towels.
Either flour clean kitchen counter or bread board for kneading doughnuts.
Prepare a shallow bowl or plate with an inch of flour.
Heat oil in deep fryer to 375 degrees F.
Sift flour, sugar, salt, baking powder, cinnamon and nutmeg.
Mix in butter until crumbly.
Stir in milk and egg.
With floured hands, lightly knead the smooth dough.
Turn onto area prepared with flour.
Pat dough into 1/4 inch thickness.
Dip either doughnut cutter or two biscuit cutters (one 1-inch and one 3 or 4-inch) in flour. Use to cut-out donuts.
Carefully drop donuts into hot oil, only a few at a time.
Fry, turning once, for about 3 minutes or until golden brown.
Drain on prepared paper towels.
Sprinkle with cinnamon-sugar mixture.