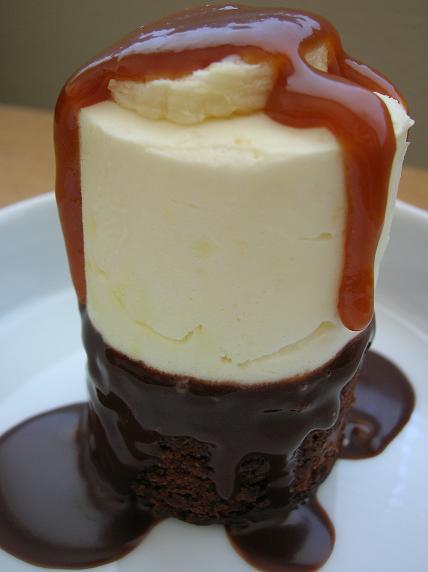 So in keeping with both the bite size food and caramel theme, I present to you, Frozen Banana Mousse On Top of Brownie Torte with Duo Sauces. This was basically a way to use up brownies. I originally was just going to pipe the mousse but it never really set up how I wanted it to, so that gave me the idea to freeze it, which turned out better than I could have hoped. I chose to put the chocolate sauce between the brownie and the mousse to sort of work as a glue in a way and to better seperate the flavors. This reminded me of a grown up version of a frozen chocolate banana but only much better. Banana and chocolate are a classic combination and this combonation serves as quite an adventure in texture as well. The moist chewy brownie, warm from the chocolate sauce…meets the cold and creamy texture of the frozen mousse is quite the treat for your taste buds. I hope this recipe inspires you to look at your plain old brownie and see what you can do to spruce it up.
Ghirardelli Brownies
Yield: 16 Servings
Ingredients:
2 Eggs
2/3 cup Unsifted all-purpose flour
3/4 cup Sugar
1 tsp Vanilla
1/4 tsp Baking powder
1/2 cup Unsalted Butter, melted
1/4 tsp Salt
3/4 cup Ghiradelli ground chocolate
1/2 cup Ghiradelli semi-sweet chocolate chips
Instructions:
Heat oven to 350F degrees. Using a spoon stir eggs with sugar and vanilla; add butter. Sift ground chocolate with flour baking powder, and salt. Stir into egg mixture; add chocolate chips. Spread into greased 8- or 9-inch square pan. Bake at 350F for 20 to 30 minutes. For extra chewy brownies use 8-inch pan and less baking time. For cake- like brownies use 9-inch pan and longer baking. Cut into squares.
 
Banana Mousse
 Ingredients:
1 large ripe banana
1 tablespoon sugar
1 cup heavy cream, whipped to stiff peaks
Directions:
In food processor combine banana and sugar and puree. Scrape puree into a bowl and gently fold in whipped cream. Pour mousse into biscuit cutter, size of your choice and freeze for at least 4 hours. Depending on how many biscuit cutters you have, this may take longer than four hours.
Chocolate Sauce
1 cup Whipping cream
2 tablespoons Sugar
4 ounces Bittersweet chocolate, chopped
1 tablespoon Unsalted butter
Combine the cream and sugar in a small saucepan and heat to a boil. Pour the hot mixture over the chocolate and butter in a medium bowl. Stir until completely melted and smooth.
Strain through a fine wire mesh strainer into a serving bowl. Serve warm.
Caramel Sauce
See Chocolate Cakes with Caramel Sauce and Walnuts for recipe.
To assemble: Using a biscuit cutter(the same size you used for the mousse), cut out the  brownie. Place brownie on a serving plate. Then take the chocolate sauce and drizzle over brownie. Next place the frozen mousse and top with a slice of banana. Drizzle the caramel sauce over that and serve immediately.