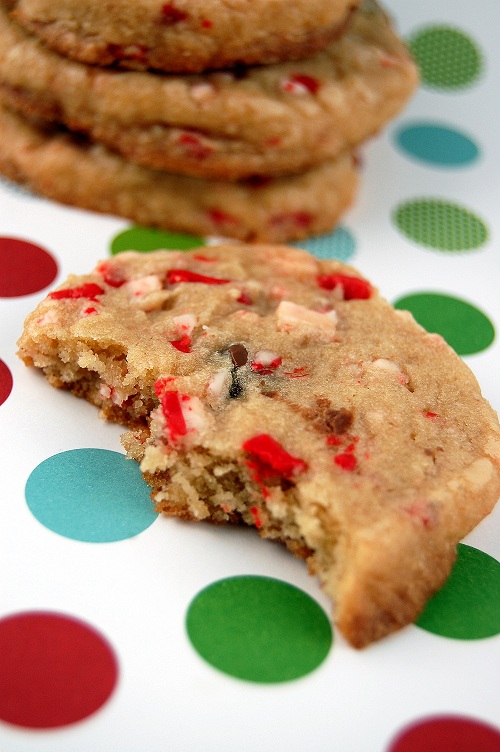 Every year Christmas celebrating seems to start earlier and earlier. This year at my local Walgreens there was Halloween candy on one side and Christmas on the other, in September. Some people are sticklers about no Christmas stuff until after Thanksgiving, some not until December, and then there are those who get excited when the first Christmas song on the radio comes on. Now some do go a little overboard. There are my neighbors who put up Christmas lights in October. Though I just really like to think of the lights as extra illumination to help with the Neighborhood Crime Watch, and not to think of them as Christmas lights until the end of November.
I think the reason why people rush into the holiday season and start wanting to decorate in August is because for most people the holidays are a happy time. They want that recaptured. And I guess the figure the quicker they start to celebrate it, the better. 🙂
My friend C doesn't really start getting into the holidays early, but she does usually start thinking about what cookie she will make for cookie exchange. She consults me every year as to what she will be making. She likes simple, as she is not a big baker (and yet still my friend :P). This year she said she wanted to do a chocolate chip cookie but make it more holiday-ish with peppermint or something. So here is what I did with that. No these aren't reinventing the wheel by any means. But they are chocolate and mint and really, those are flavors you can't go wrong with.
So if you are annoyed by your neighbors and all there early Christmas decorating, just figure that they are trying to be in a better mood. A happier neighbor makes for a happier neighborhood.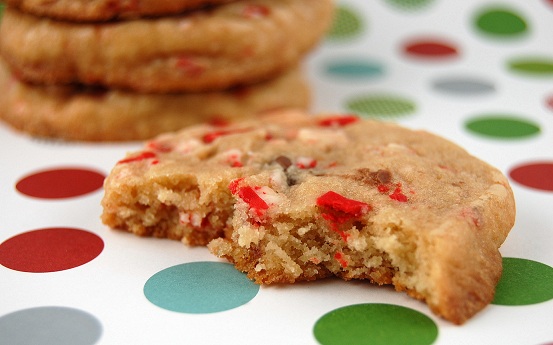 Peppermint Crunch-Milk Chocolate Chip Cookies
2 ½ cups all-purpose flour
¾ tsp. baking soda
1/8 tsp. salt
1 cup unsalted butter, at room temperature
1 cup packed light brown sugar
¾ cup granulated sugar
1 tsp. vanilla extract
2 large eggs, at room temperature
7 ounces milk chocolate chips
7 ounces Andes Peppermint Crunch Chips
In a small bowl, whisk together the flour, baking soda, and salt; set aside.
Using a stand mixer fitted with the paddle attachment (or in a bowl by hand), beat together the butter, brown sugar, granulated sugar, and vanilla on medium speed just until smooth, about 2 minutes.
Beat in the eggs one at a time until thoroughly incorporated, then stir in the flour mixture followed by the chocolate and peppermint chips.
On a lightly floured work surface, divide the dough into quarters. Shape each quarter into a log about 9 inches long. Wrap the logs in plastic wrap and refrigerate until firm, preferably for 24 hours (do this part for real please).
Position racks in the upper and lower thirds of the oven; preheat the oven to 350°F. Line 2 baking sheets with parchment paper or silicone baking mats.
Slice the logs into disks ¾ inch thick and place the disks 3 inches apart on the prepared baking sheets. If the chips crumble out (and they will), simply push them back in, they reshape nicely.
Bake, rotating the baking sheets midway through baking, until the cookies are very lightly browned in the centers, about 10 minutes. If you like soft chocolate chip cookies, as I do, err on the side of underbaking.
Let the cookies cool on the baking sheets until firm enough to handle, then use a spatula to transfer them to a wire rack.
Adapted from Ready for Dessert by David Lebovitz