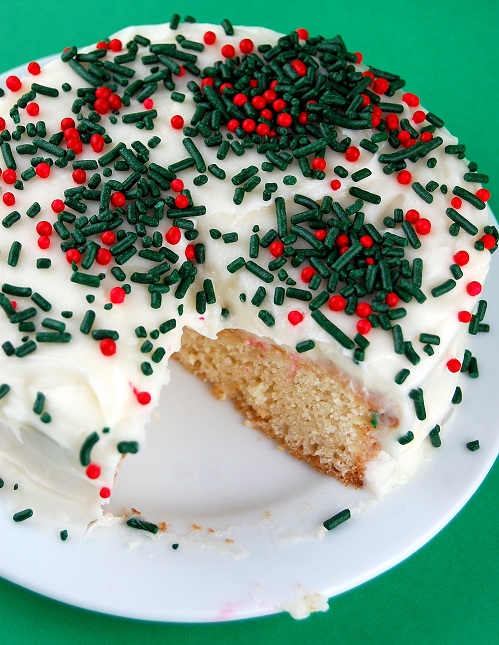 So most of the people reading my blog today weren't reading it back when it started, because, well, no one was. 😀 But sadly because of that some really great recipes get looked over. One of them is my Egg Nog Cake with Bourbon-Cream Cheese Frosting that I roll out each year for the holidays. I originally made and posted about it way back in December of 2006, so we are going way back in the Way Back Machine (if you are old, you might get the reference and how it relates to me). It's become a tradition to make every year, and is requested often.
Egg nog was on sale this week and so I picked up some. Truthfully, I am not really an egg nog girl. I don't drink it to drink it, but I do like the flavor it produces in desserts (well, most, not all). And in this cake you don't really notice it all that much. You do however notice the frosting. My bff asked me "how did you get the frosting to taste like bourbon?" Simple silly, I added bourbon. 😉 If you aren't too much of a bourbon fan you can drop back to 2 TBSP but really, I like it to have a little punch…it's the holidays after all.
Now I know most of you are frantically cooking and baking right now and can't be bothered with the idea of holiday parties and what not at this point in time. But when the time does come you are really going to want to make this. I normally just frost the top of this cake due to my lack of decorating skills, but the frosting recipe is for the full cake. Throw on some red and green sprinkles and you scream festive.
What about you? Are you a fan of egg nog? If not, egg nog desserts or lattes?

Egg Nog Cake with Bourbon-Cream Cheese Frosting
3 large eggs
1 1/2 cups granulated sugar
1 tsp. vanilla extract
3/4 cup egg nog
1 TBSP butter
1 1/2 cups unbleached all-purpose flour
1 1/2 tsp. baking powder
1/2 tsp. salt
Preheat oven to 325F.
In a large bowl, beat together the eggs and sugar until very thick; the batter should fall from the beaters in a thick ribbon. Beat in the vanilla.
While you're beating the eggs and sugar, heat the egg nog and butter in a small saucepan to just simmering. Add the hot egg nog to the egg mixture in a slow, steady stream as you continue beating.
In a separate bowl, whisk together the flour, baking powder, and salt. Fold the dry ingredients into the wet ingredients, stirring until they're just combined.
Pour the batter into a lightly greased 9 inch cake round. Bake for 50 minutes, or until the cake is a deep golden brown and starting to pull away from the sides of the pan. Remove the cake from the oven and cool it in the pan for 10-15 minutes. Run a knife around the sides of the pan.
Bourbon Cream Cheese Frosting
3 1/2 TBSP bourbon (it's one of the mini bottles)
12 ounces cream cheese, at room temperature
1/4cup butter, at room temperature
4-5 cups powdered sugar (will depend on how thick you like your frosting)
In the bowl of an electric mixer, beat cream cheese and butter until soft.
Add the powdered sugar and beat to combine.
Add the bourbon and beat to combine.
Source: Inspired by Hot Milk Cake in the King Arthur's Flour Baker's Companion All Purpose Baking Cookbook