These Petri Dish Jelly Shots are a fun way to serve Jelly shots for Halloween. Made with tequila, lime Jello, and lemon lime soda.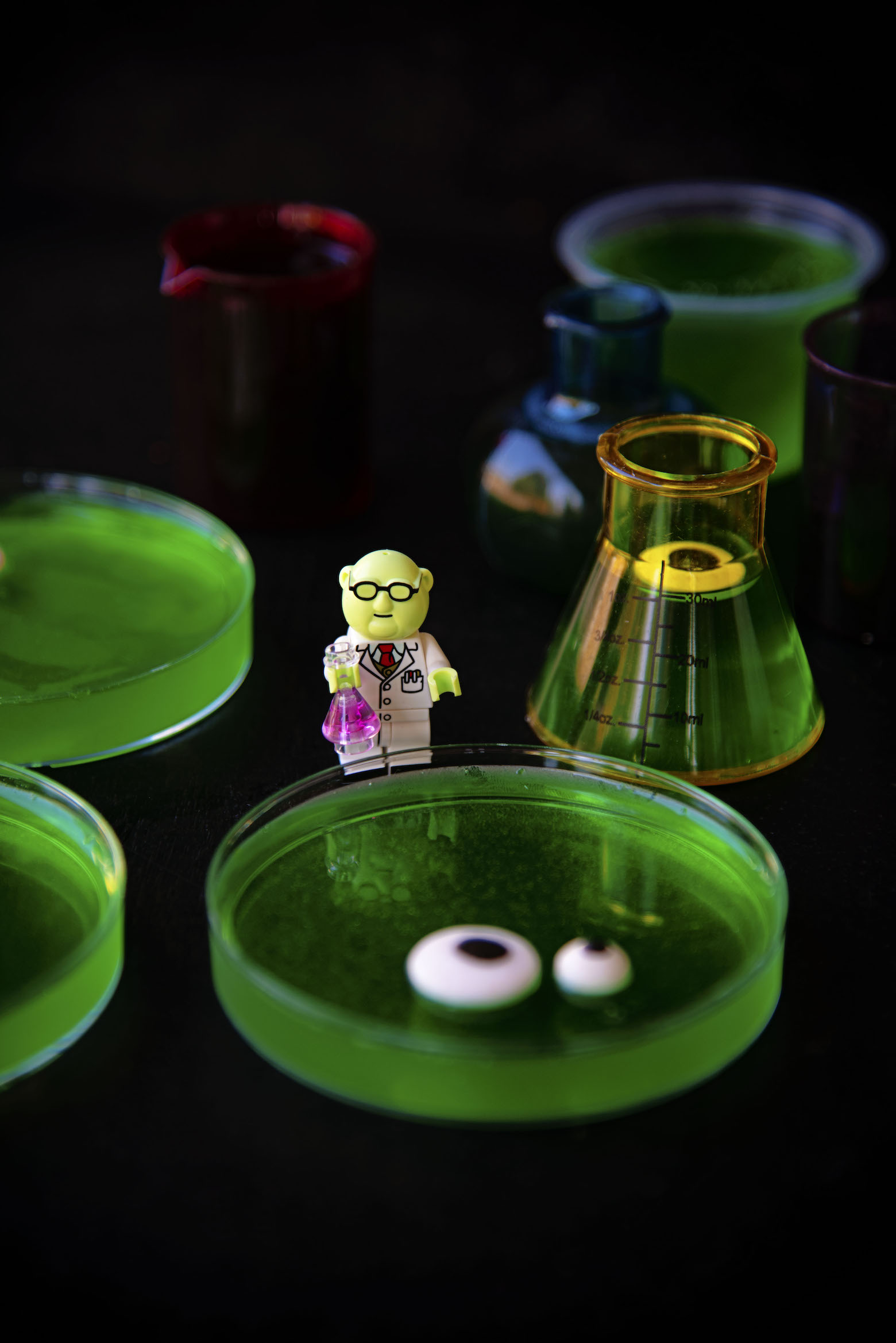 This post and recipe was created for #HalloweenTreatsWeek! and is for adults 21 and older and does contain alcohol.
These Petri Dish Jelly Shots are my contribution to Tipsy Tuesday during Halloween Treats Week.
I make a booze based treat every Tuesday during Halloween Treat Week because why not. 🙂
In the past I've made Franken Berry Jell-O Shots and Count Chocula Pudding Shots as well as Candy Corn White Russians.
I originally saw these on a kids website. 😀
They didn't have booze in them…no need to call child protective services on that family.
I figure these could easily be made into jello shots.
If you want to keep them G rated for the family just use either water or lemon lime soda in place of the tequila.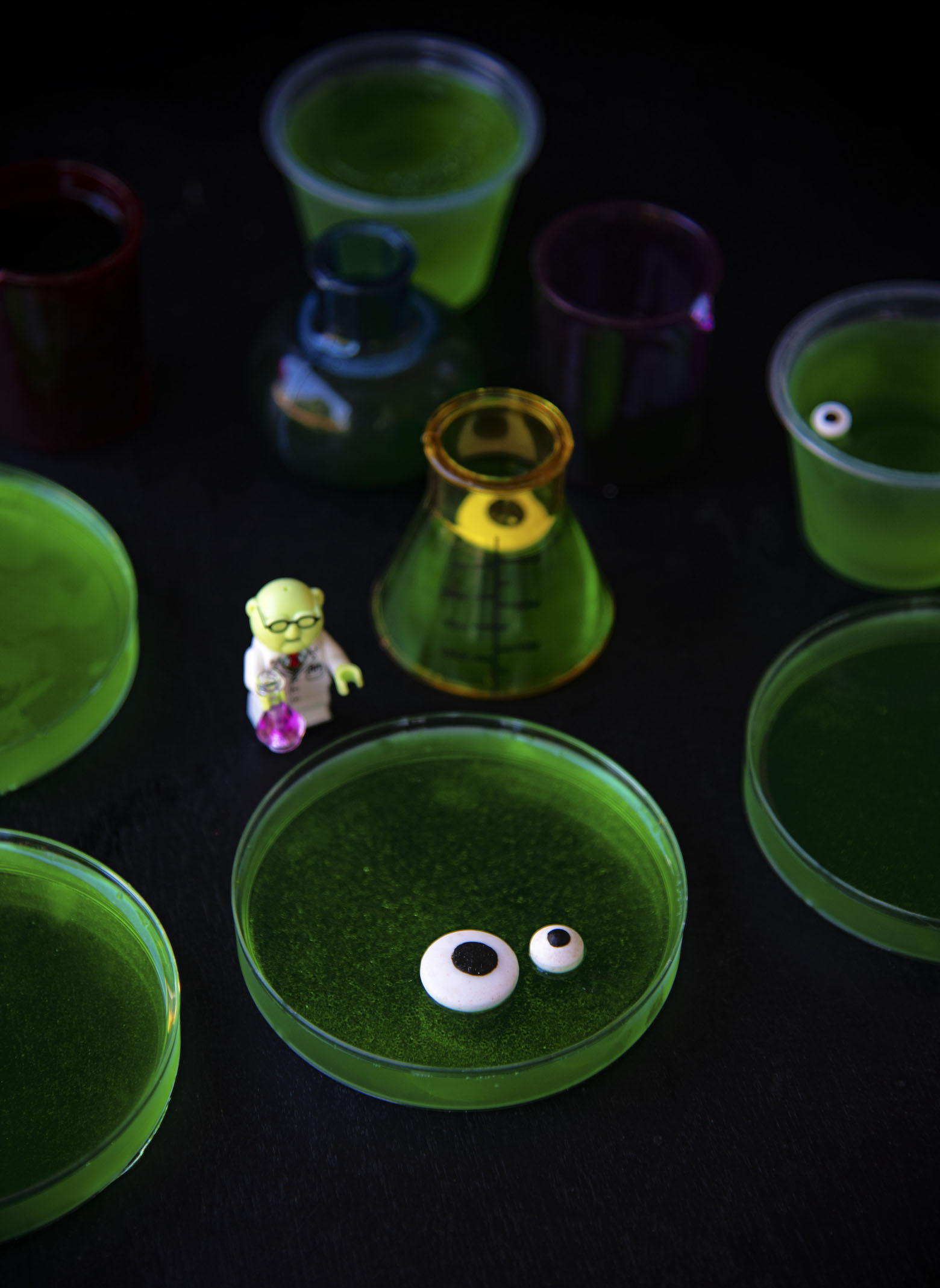 You could make these of course with any flavor gelatin you want.
Some flavors don't go that great with tequila so I would switch to vodka.
Up to you.
I went with green in honor of Dr. Bunsen Honeydew from the Muppets.
I loved him as a kid…and adult. Him and the Swedish Chef.
Because I liked to bake/cook and I was really into science.
In fact, I have several degrees in science.
I even used to teach math and science back in the day.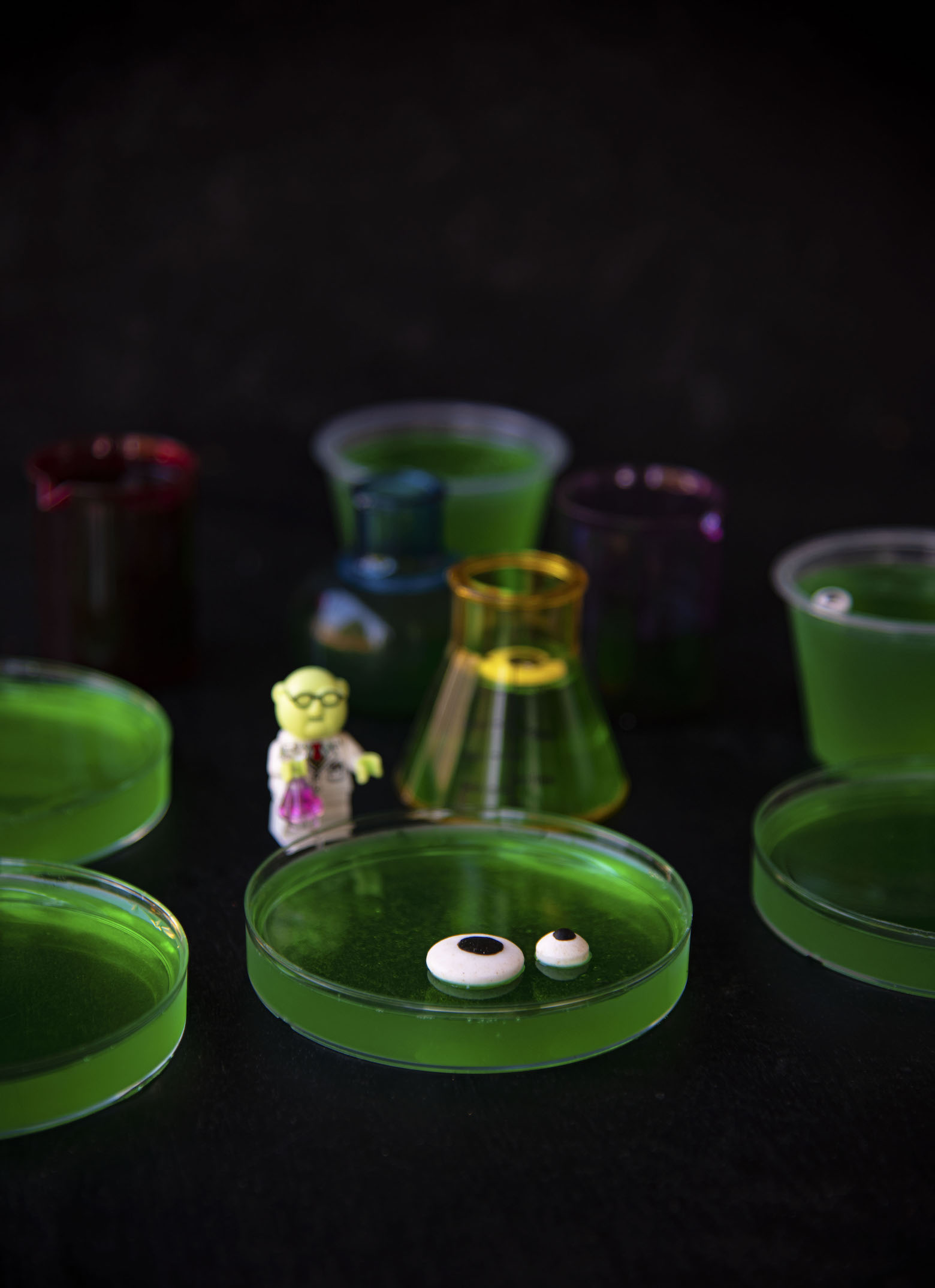 These are also dedicated to my fellow science nerds and scientist.
Like Erin of The Spiffy Cookie who is also participating in Halloween Treats Week.
Science in the last few years has somehow become controversial…like back in the Dark Ages.
And it has become political.
Which is what basically every scientist has no desire to be a part of.
They just want to do science.
Sit in their labs.
Or sit in the observatory.
I promise you they aren't cooking up some evil plot against the US or the world.
They are science nerds being science nerds.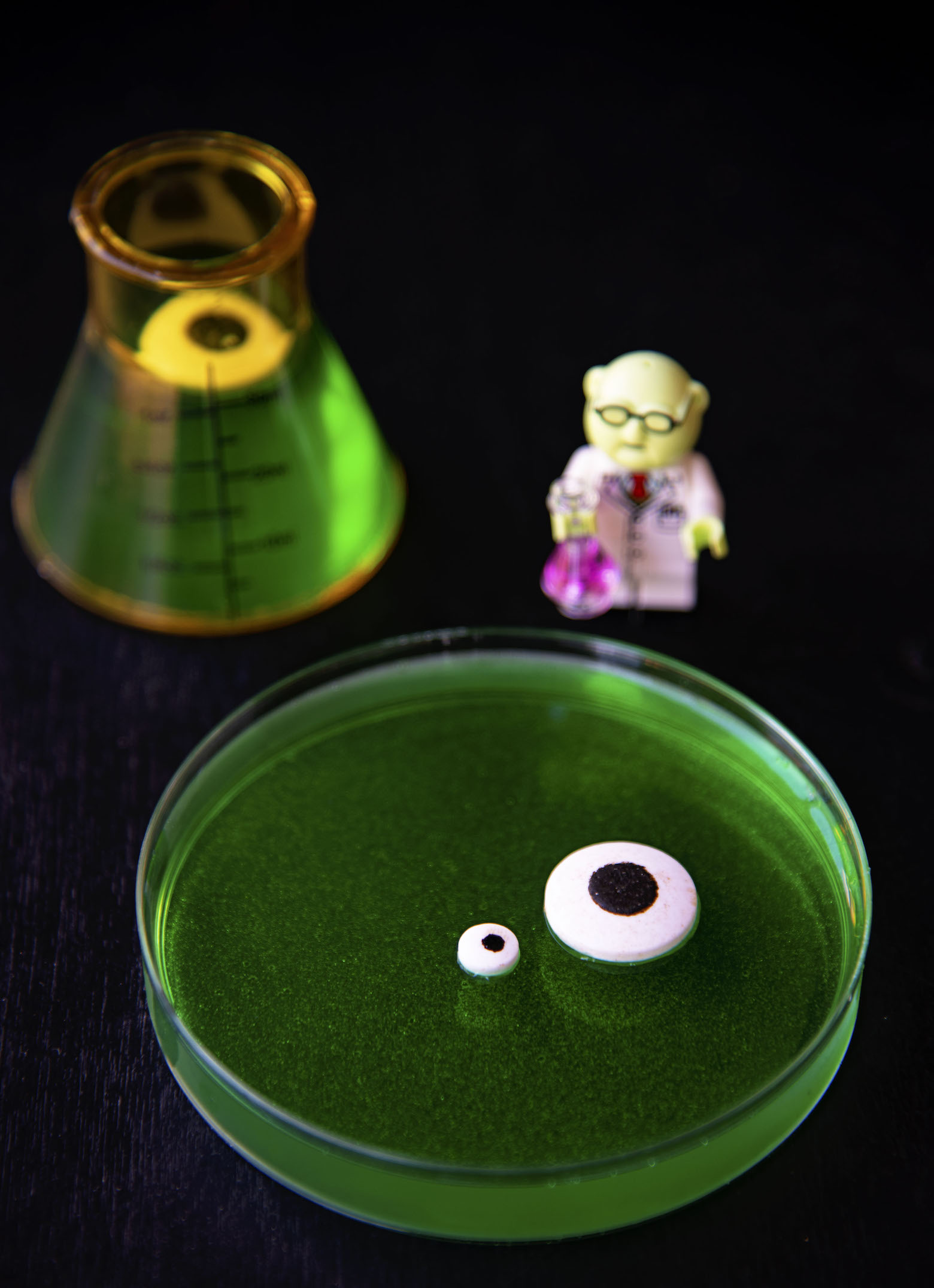 The petri dishes I used for the shots were 90-x-15mm and I bought them on Amazon.
I also bought the little plastic Chemistry set shot glasses on Amazon as well.
For the first time ever I used edible glitter.
It's hard to see with the dark background but it's in there.
You don't need to use it, I was just trying it out.
It is fun and it comes in a variety of colors.
But I would use the candy eyeballs since they help add the spooky factor to imply something living is in there. 😀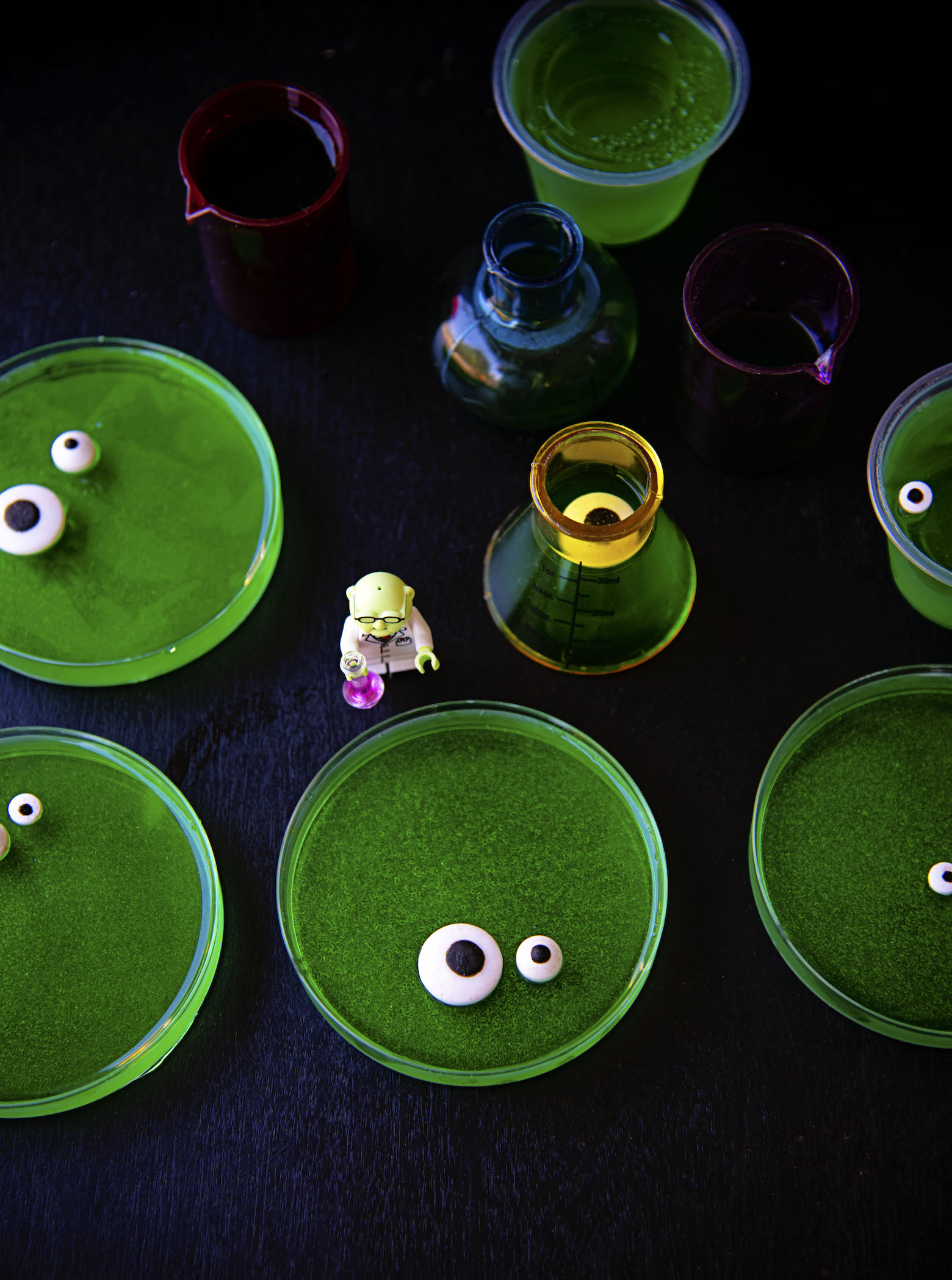 Want to see some of the other Halloween Treats I've made in the past?
Rice Krispie Treat Haunted Houses
Halloween Candy Cracker Toffee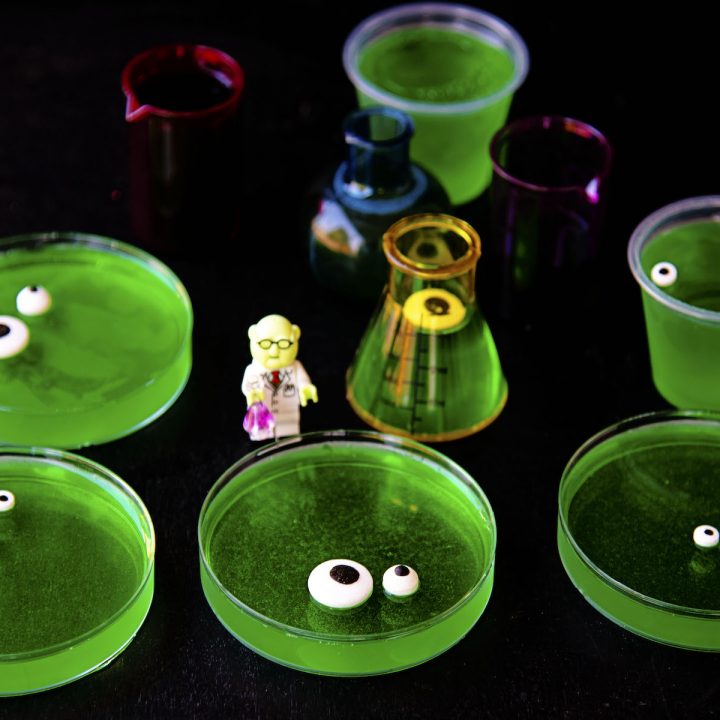 Petri Dish Jello Shots
Ingredients
1 1/2 cups water
1 1/2 cups lemon lime soda
2 (3 oz) packages Lime Jello
1 cup tequila
1/4 tsp edible green glitter (optional)
candy eyeballs for decoration
Instructions
Bring 1 1/2 cups water to a boil.
Empty gelatin powder into a large mixing bowl and add the boiling water.
Continue stirring for two minutes or until the jello is completely dissolved.
Add in the lemon lime soda, tequila, and edible green glitter.
Stir until mixed and pour into petri dishes.
Top with candy eyeballs if desired.
HAPPY HALLOWEEN!!!
Welcome to 2022's #HalloweenTreatsWeek event!
#HalloweenTreatsWeek is a yearly Halloween blogging event that is hosted by Angie from Big Bear's Wife . This event is an online, week-long event that is filled with some amazingly wicked Halloween treats and recipes from some fantastic Halloween loving bloggers!
For this years 5th annual #HalloweenTreatsWeek event we have 20 hauntingly talented bloggers that are sharing their favorite Halloween recipes throughout the week! You can following the hashtag #HalloweenTreatsWeek on social media to collect all of these frightful recipes to use at your own Halloween parties and events!
Make Sure to check out all of the fun Halloween recipes that we're sharing this week!
Make Sure to check out all of the fun Halloween recipes that we're sharing this week!