These Rice Krispie Treat Haunted Houses are a fun activity and treat for you and your kids to make. Perfect for a Halloween party.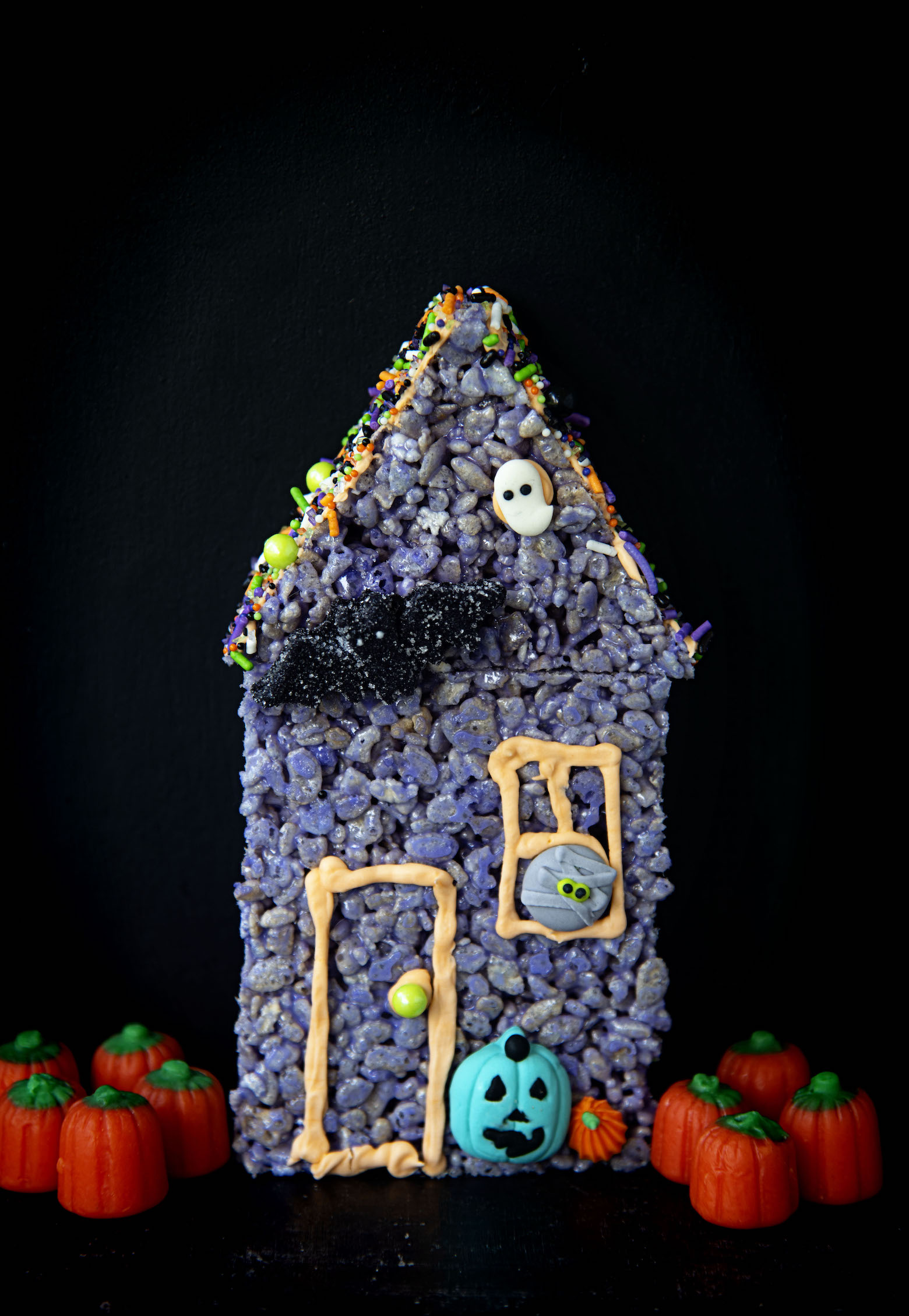 "This post and recipe was created for #HalloweenTreatsWeek!
I was sent samples by some of the sponsor companies but as always opinions are 100% mine."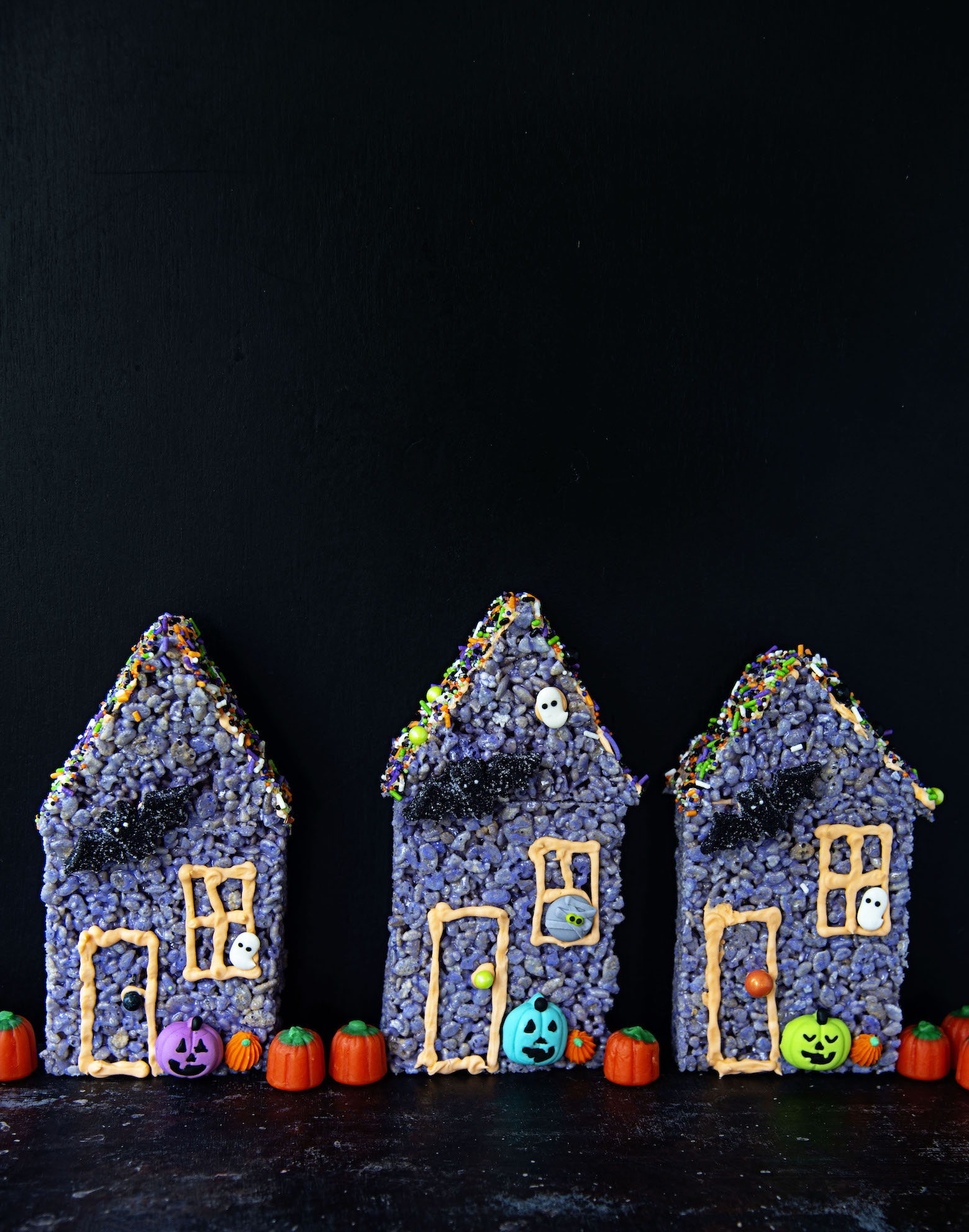 Hi all and welcome once again to #HalloweenTreatsWeek!
You may recall that I have participated in this event for the last few years.
I used to rarely post any Halloween stuff so I had joined to kind of force myself to do some.
Well Angie runs such a great week that it made me start to love doing Halloween treats.
And now each year I not only participate in the two mandatory days but I make something for all six days!
This year I'm doing all six days as well!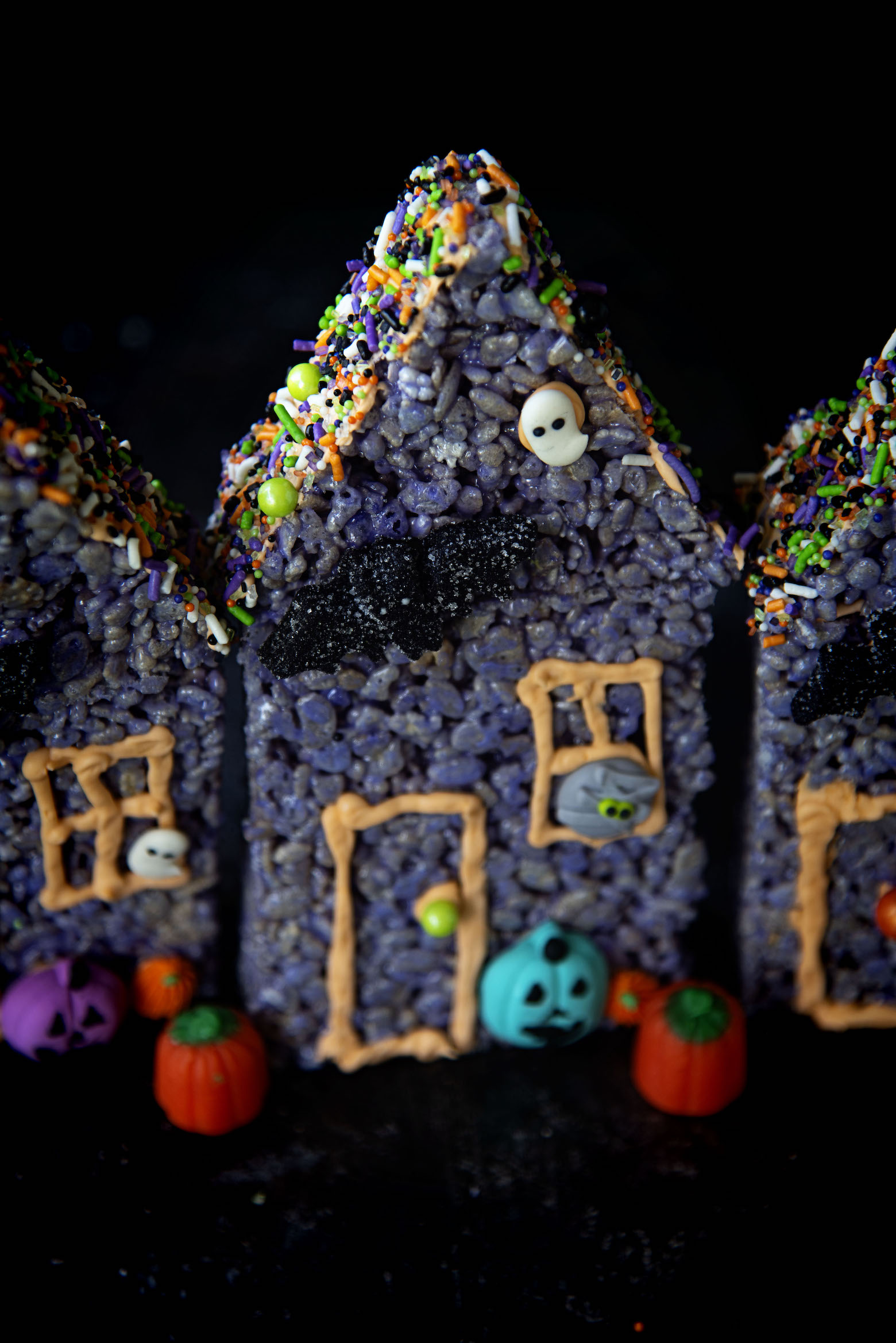 We are starting off with a fun little activity/treat for kiddos.
Though I have no kiddos and this was fun to make as an adult.
So feel free to make these if you don't have kids.
I'm not a fan of any scary Halloween things.
All my Halloween stuff has to be cute.
I've made Haunted Gingerbread Houses before but they are a lot of work and usually don't taste that great.
Rice Krispies are way easier to make and way more tasty…at least to me.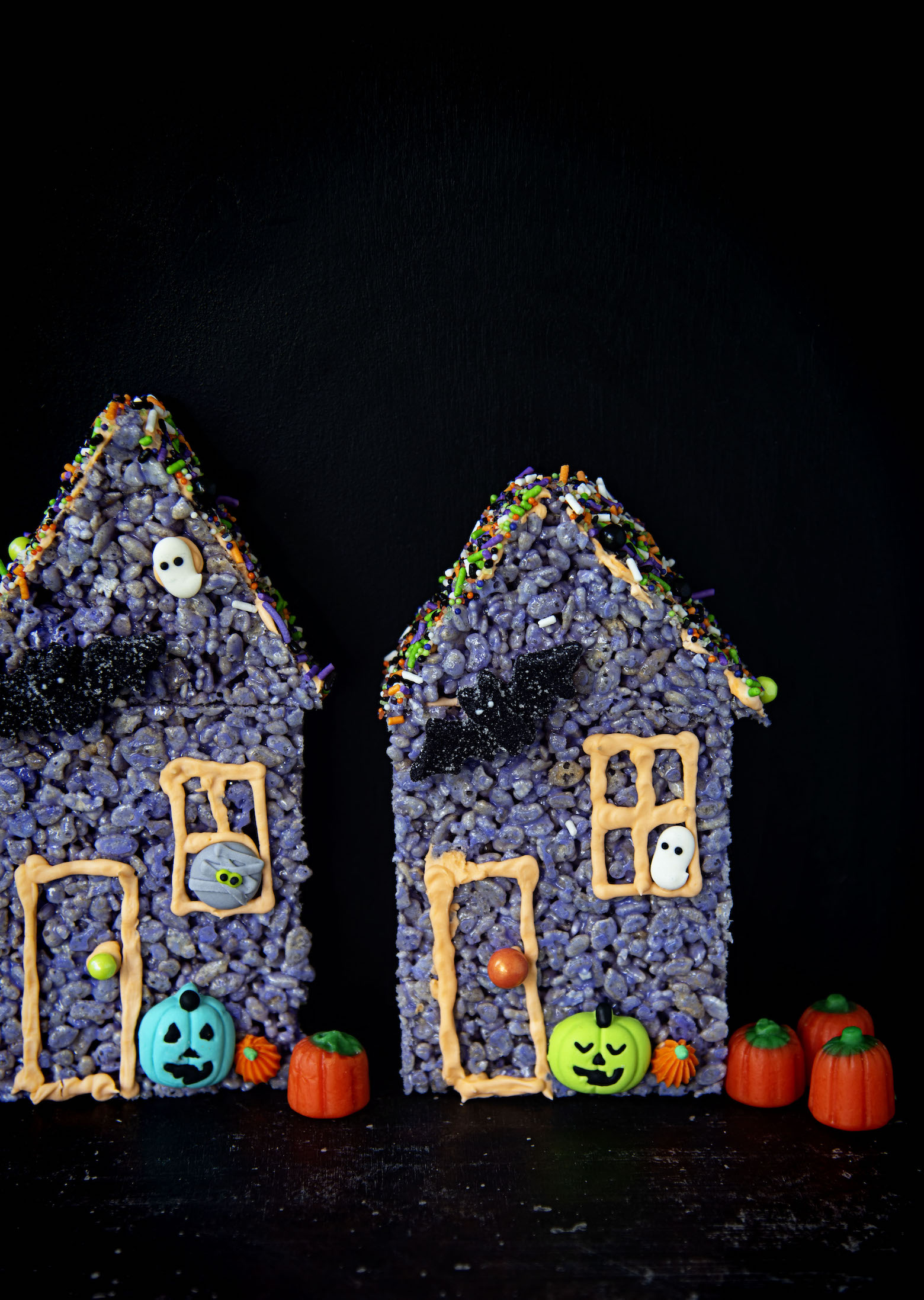 I went round and round on trying to decide if I would make a black haunted house or a purple one.
Clearly I went with purple.
I tried to think of them as haunted houses in a Scooby Doo cartoon (those meddling kids). 🙂
If you can make regular rice krispie treats then you can make these.
And you can decorate them however you like.
I chose to use sprinkles.
As well as some pumpkins, ghosts, and gummy bats.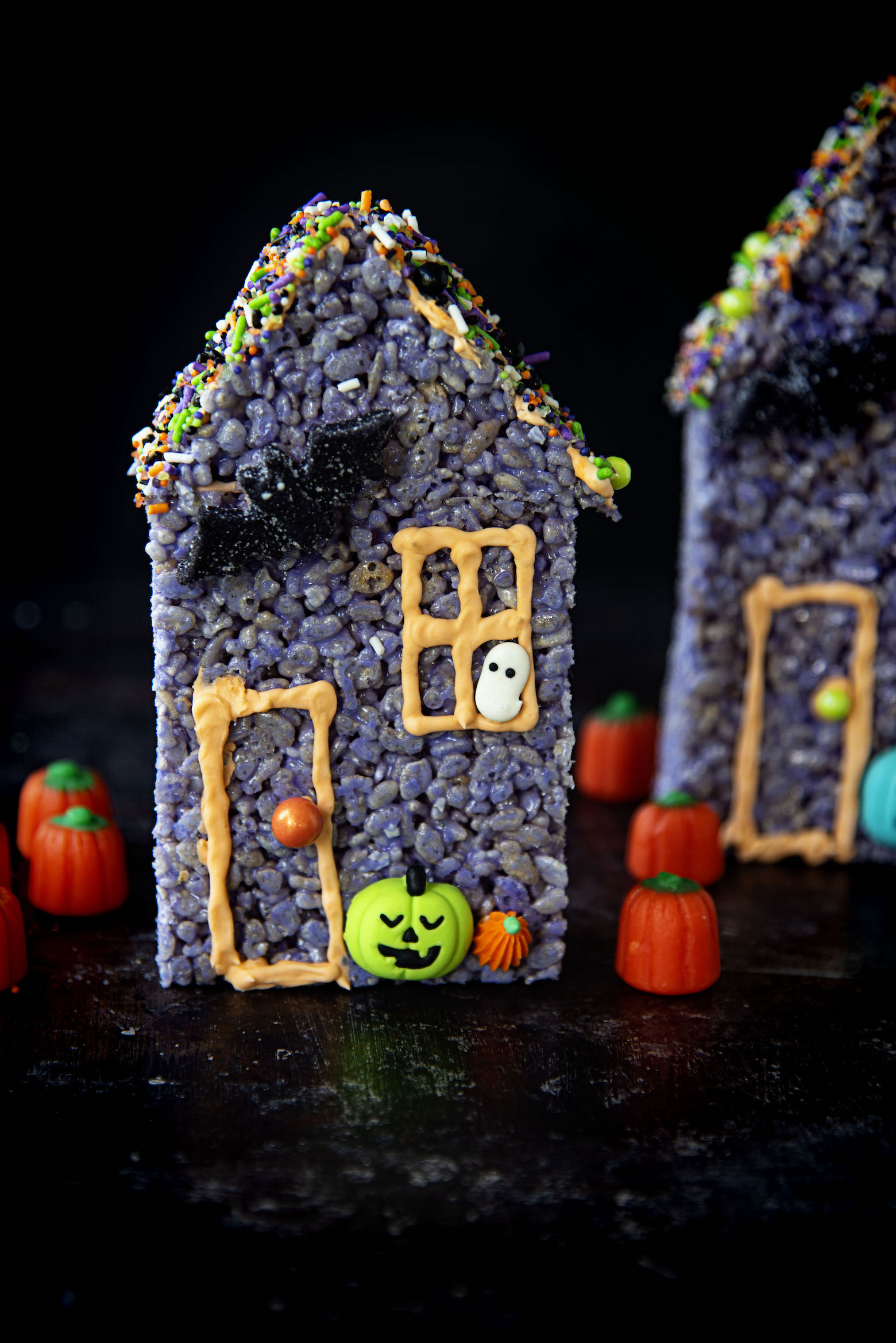 Take a look more spooky Halloween recipes from our #HalloweenTreatsWeek Bloggers today:
Halloween Cookies & Bars:
2. Halloween Cakes & Cupcakes:
3. Halloween Brownies:
But wait there's more…
4. Halloween Breakfast:
5. Halloween Drinks:
6. Chilled Halloween Treats:
7. Halloween Pies:
8. No Bake Desserts: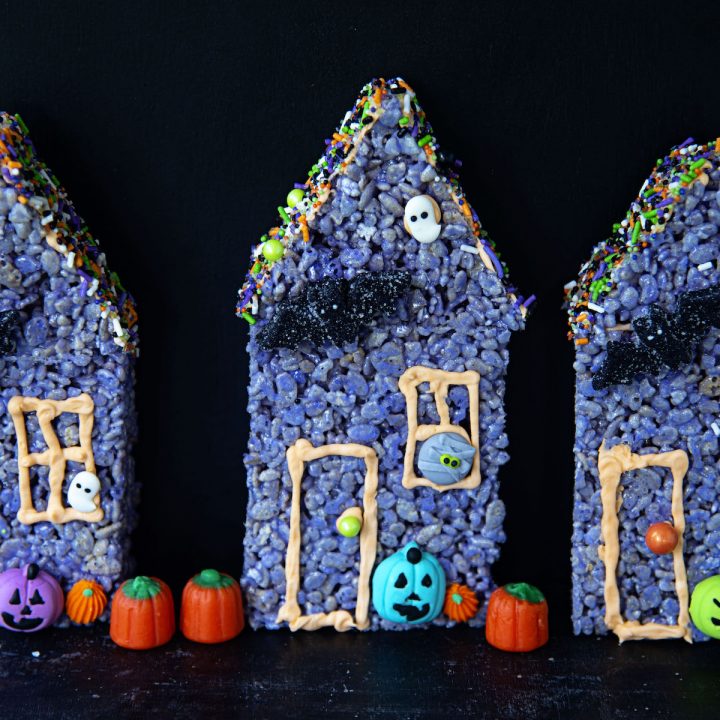 Rice Krispie Treat Haunted Houses
Ingredients
For the Rice Krispie Treats:
6 TBSP unsalted butter
16 ounces marshmallows
12 cups Rice Krispie Cereal
3 drops purple food coloring
For the Icing:
2 1/2 TBSP meringue powder (you can find this at the grocery store or craft supply store)
1 1/2 tsp cream of tarter
1/3 cup warm water
2 cups powdered sugar
3 drops orange food coloring
For the Decorating:
Halloween candy decorations such as candy pumpkins and bats
Halloween Sprinkles
Instructions
In large saucepan melt butter over low heat.
Add marshmallows and stir until completely melted.
Remove from heat.
Add cereal and purple food coloring. Stir until well coated.
Using buttered spatula or wax paper evenly press mixture into 13 x 9 x 2-inch pan coated with cooking spray. Cool.
Cut the treats the size you would like your house to be. T
hen cut a square…cut that diagonal so that it makes the roof. How many you get is really going to depend on how big you cut your houses. I got five houses and some ends to eat as I decorated.
For the Icing:
Using a stand mixer with the paddle or whisk attachment, add the meringue powder, cream of tarter, and water. Then hand whisk the ingredients together to make sure there are no lumps.
Add the powdered sugar and mix on low speed for about three minutes. Increase speed to medium and let mix for about 5-7 minutes. Add orange food coloring if using and mix until color is fully dispersed.
This is a thicker icing for Haunted house making.
Place icing in piping bag.
Using the icing, attach the roof to the top of the house and let it dry a little.
Continue to decorate as desired.
Happy Halloween! Spooky Season is here and it is time for 2020's #HalloweenTreatsWeek event! #HalloweenTreatsWeek is a yearly Halloween blogging event that is hosted by Angie from Big Bear's Wife.
And its a creepy and haunting week-long event is filled with some amazingly wicked Halloween treats, recipes and some frightfully fun giveaways.
"When witches go riding, and black cats are seen, the moon laughs and whispers 'tis near Halloween."