These Blackberry Bourbon Jelly Shots are made with blackberry gelatin, bourbon, orange juice, and fresh squeezed lime juice.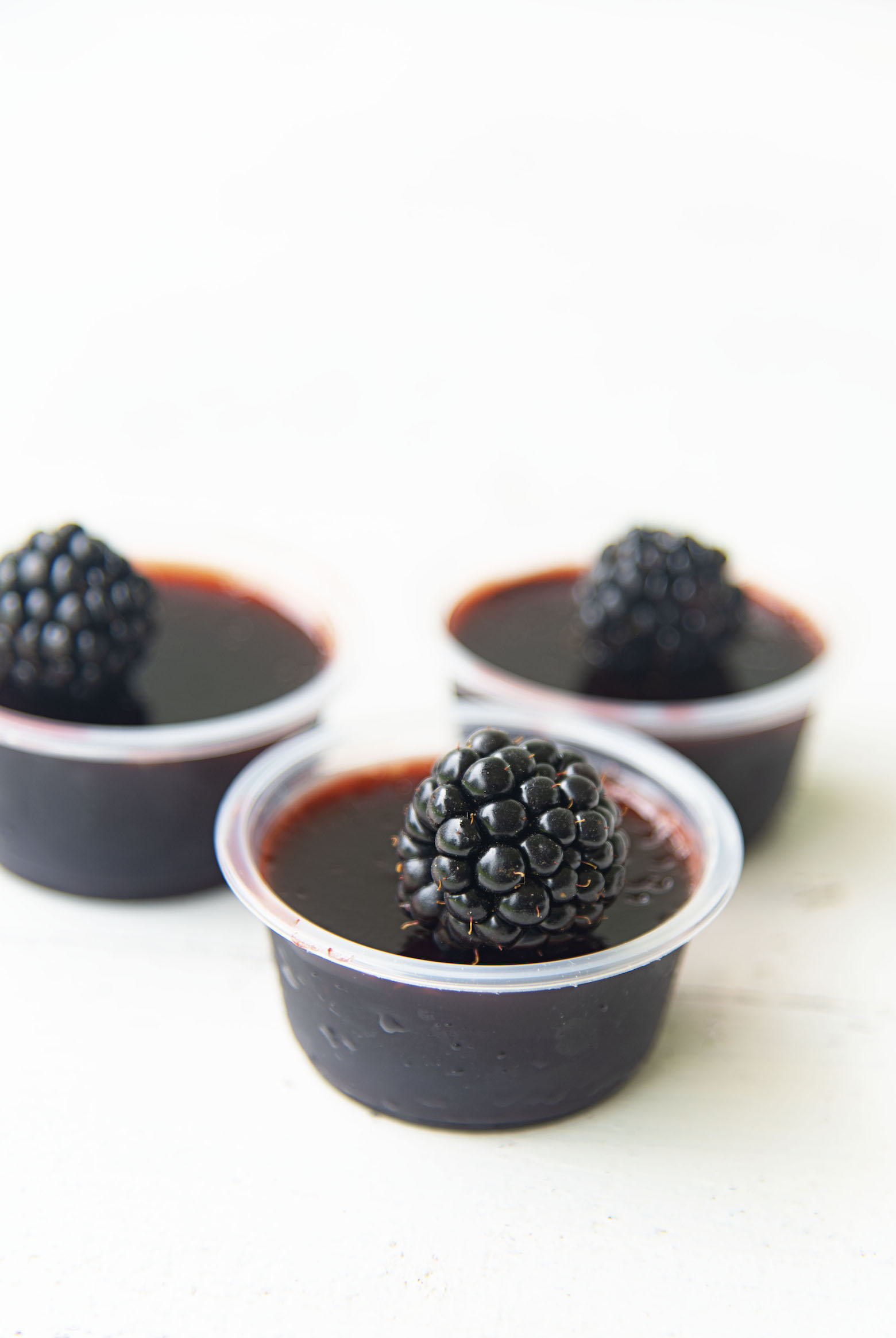 These Blackberry Bourbon Jelly Shots are inspired by a drink called The Rambler.
Which was a cocktail of fresh blackberries, bourbon, orange juice, orange bitters, simple syrup, and lime juice.
Since blackberry gelatin is already sweet we skip the simple syrup.
And I don't add the orange bitters because it's jello shots not a fancy drink. 🙂
Is there really a drink called the rambler?
No idea.
Most likely someone just called it that.
I doubt if you walked into a bar and said give me the rambler that they would hand you this drink.
But it sounded good and I had blackberry gelatin.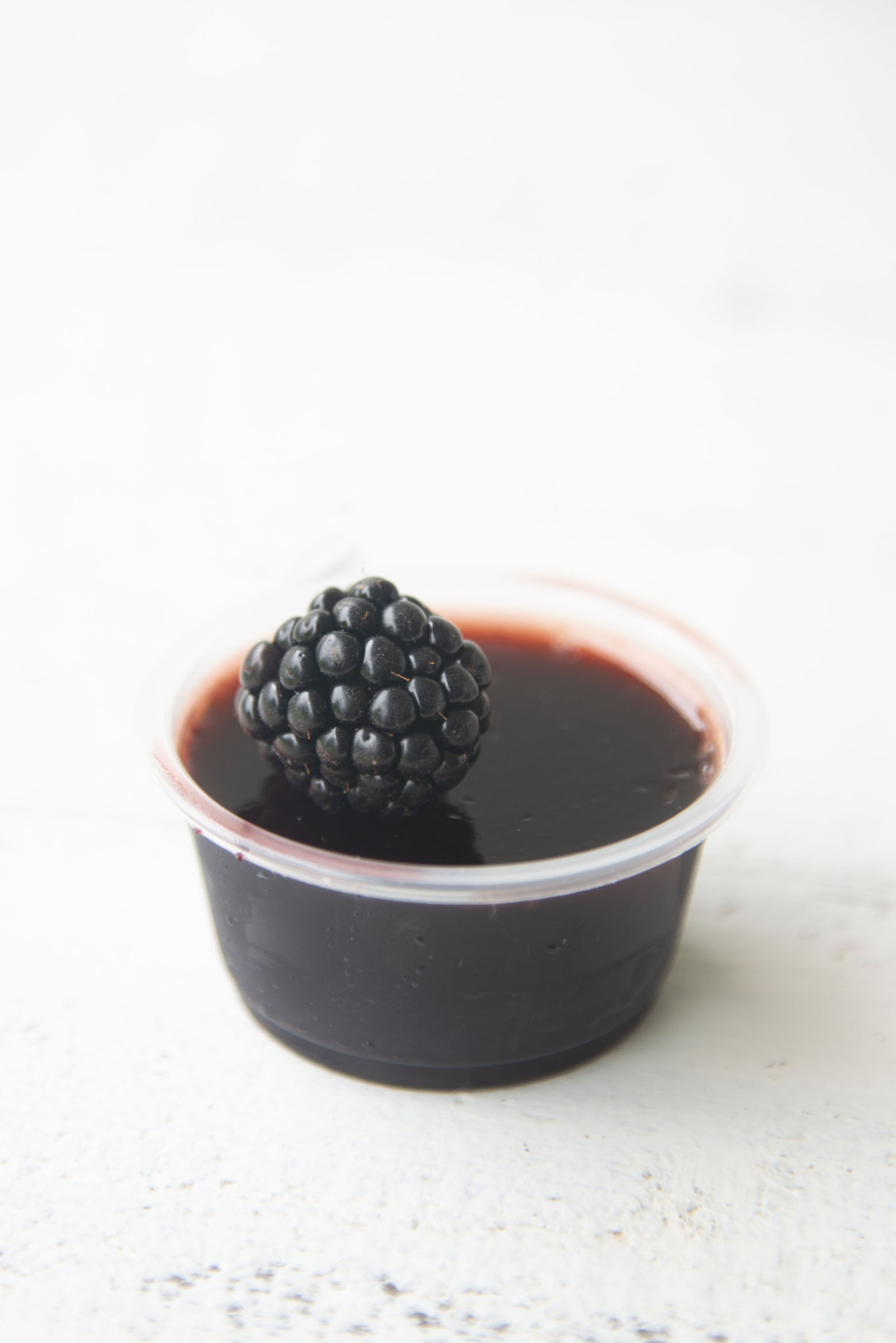 These Jelly Shots are a little different this time.
Because the only blackberry gelatin I can find is made by Royal.
Which it has a good blackberry flavor but they packets have less gelatin than most brands.
And they gelatin seems to be more firm than most gelatin brands.
So I had to change the ratio that I normally use around a bit.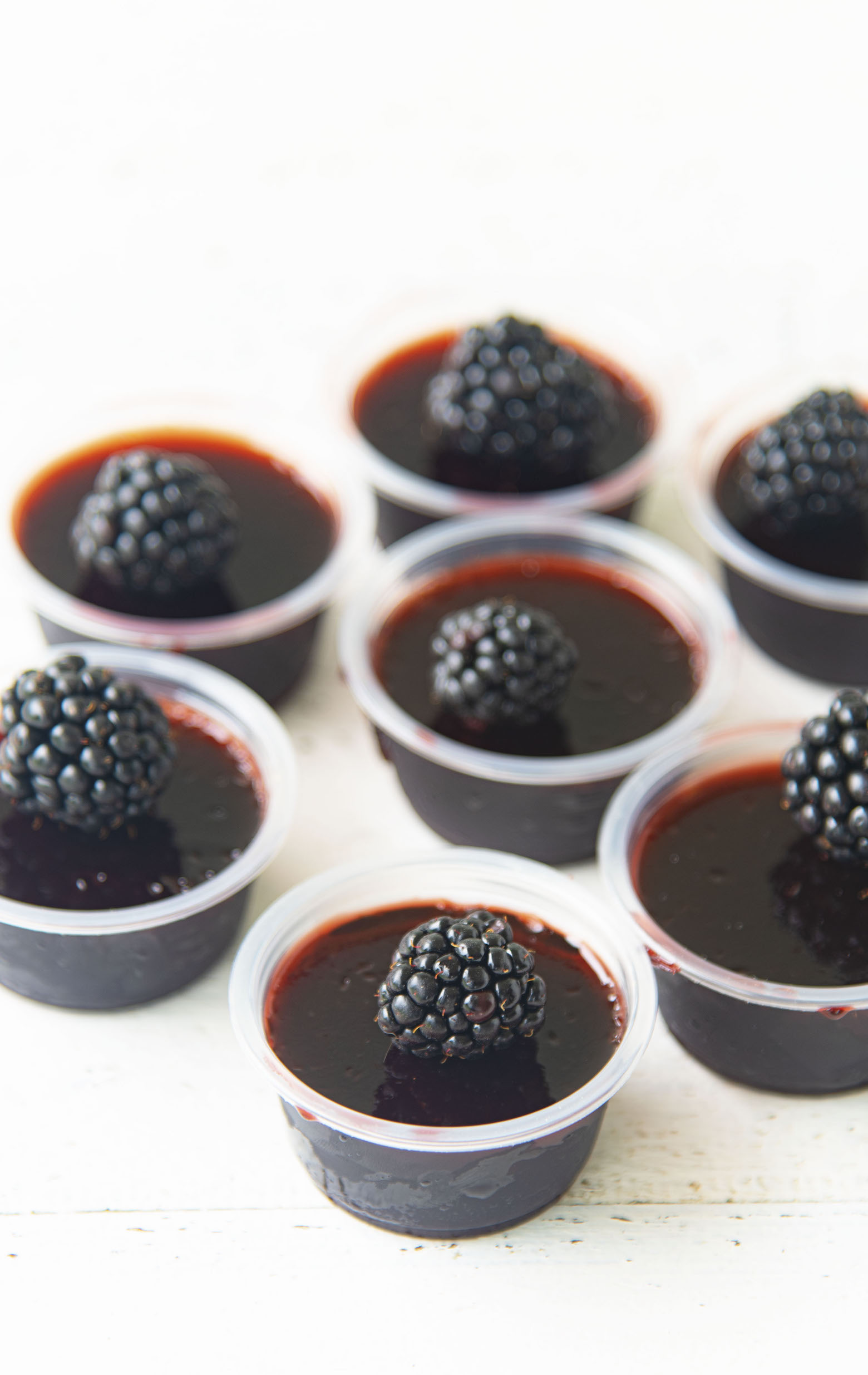 I used mostly water when making these shots.
The drink that inspired them used orange juice and lime juice.
Which I do use in the recipe but not in large quantities because I wanted blackberry to be the main flavor.
If you happen to have blackberry juice you can always substitute some of the water for the juice.
I bet that would taste really good.
If you are not a bourbon fan you can always try vodka.
But we are bourbon fans in this house so that is what we went with.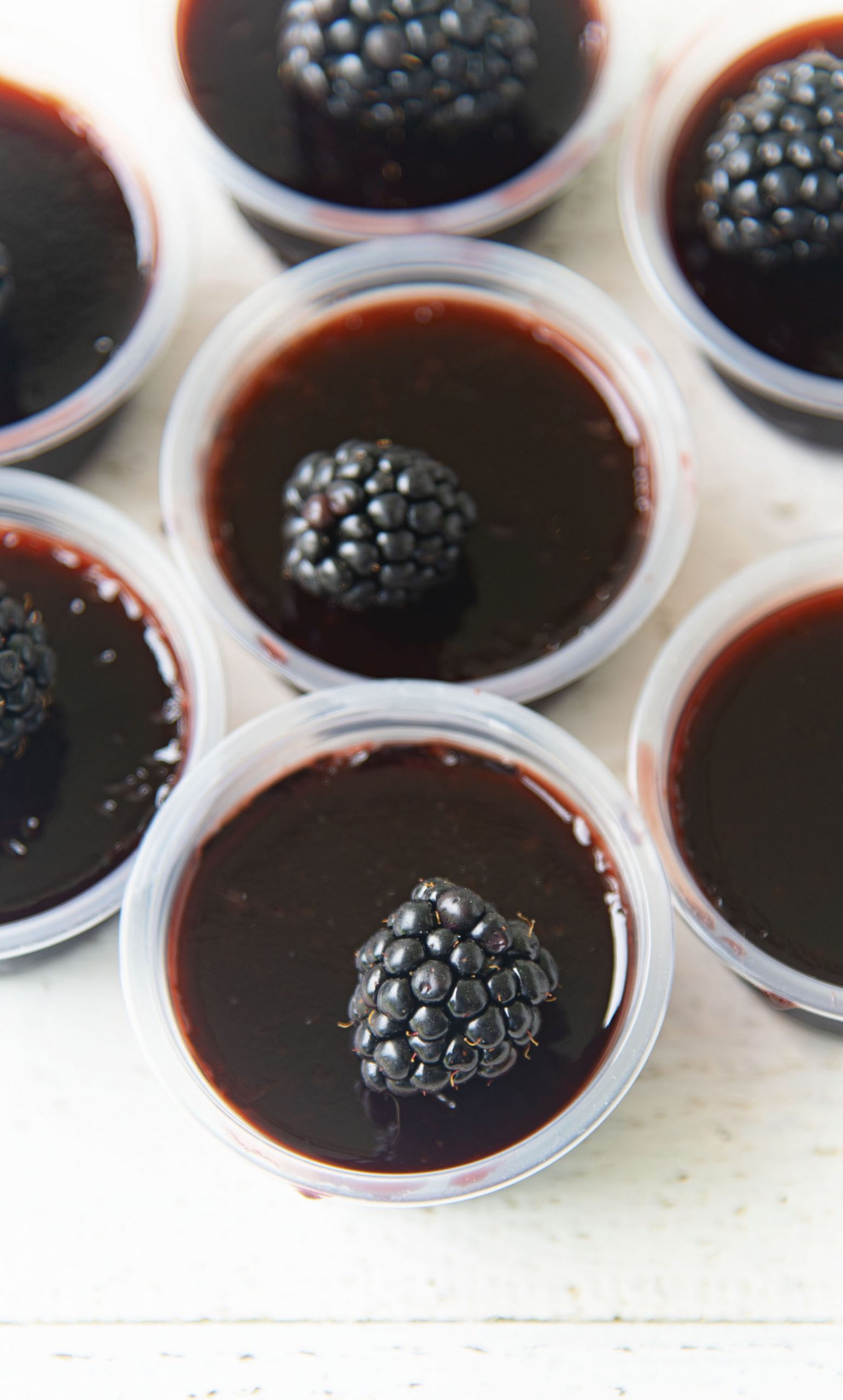 Things to remember when making Jelly Shots.
When throwing a party, you'll probably want to prepare 4-6 Jelly Shots for each guest.
This batch uses 3 ounces of gelatin and so you will get around 9-10 Jelly Shots.
If doubling the recipe and using 6 ounces of gelatin you will get you 18-20 Jelly Shots depending on how you pour.
If using a garnish, don't place the garnish on the Jelly Shot until just ready to serve.
And as always it's a great day to order my cookbook.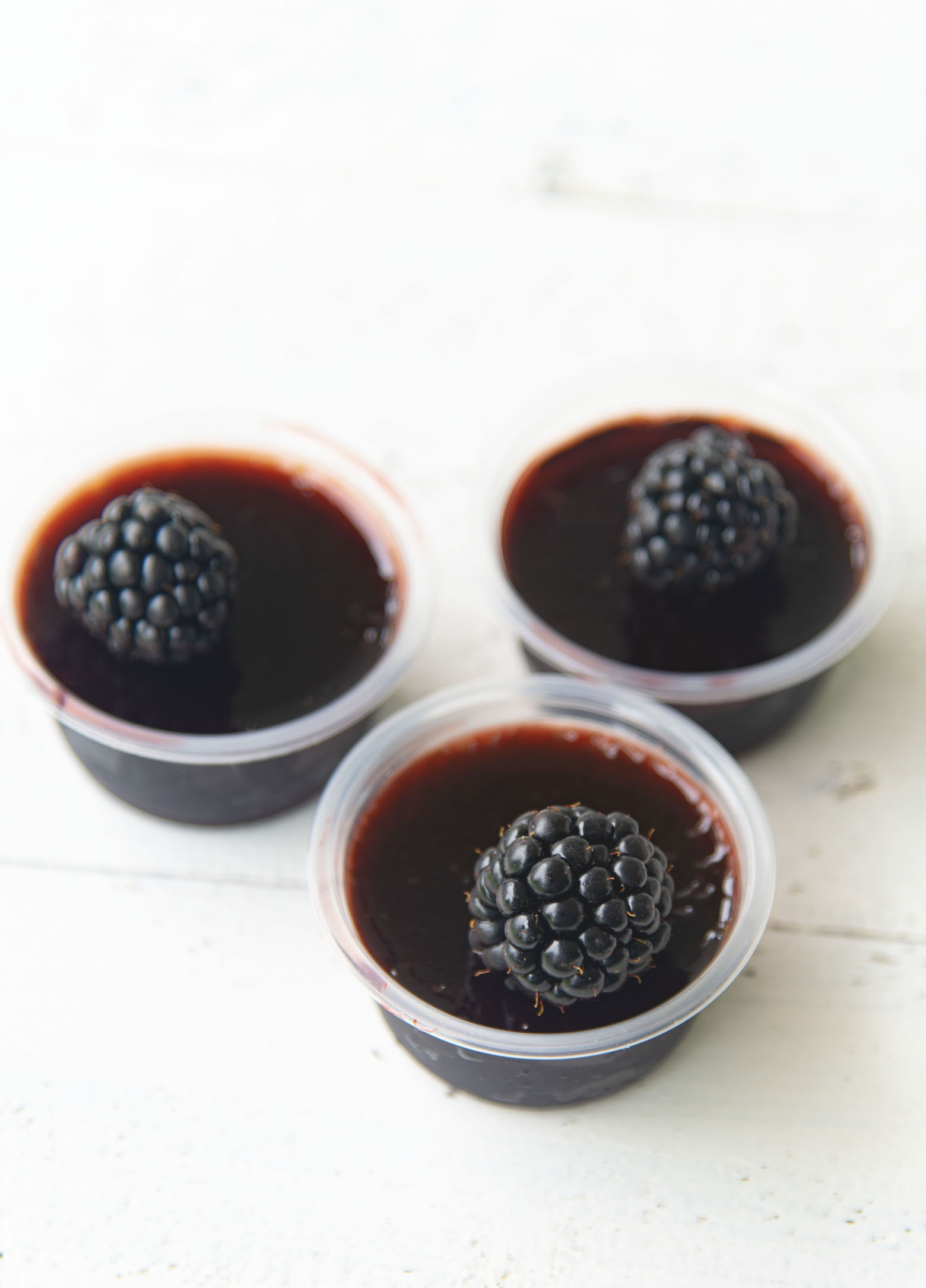 Want More Jelly Shot Recipes?
Peanut Butter Grape Jelly Jelly Shots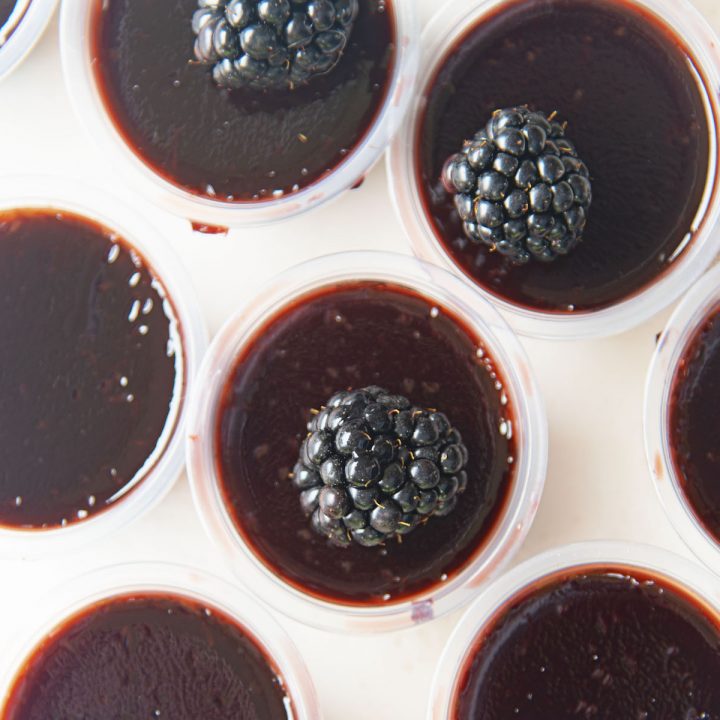 Blackberry Bourbon Jelly Shots
Ingredients
2 1/2 cups water, divided
1/4 cup orange juice
1/4 cup lime juice
1 cup bourbon
Instructions
Bring 1 1/2 cups of water to a boil.
Empty gelatin powder into a large mixing bowl and add the boiling water and whisk .
Continue stirring for two minutes or until the gelatin is completely dissolved.
Add in the cup of cold water, orange juice, lime juice, and bourbon.
Stir until mixed and pour into 2oz. cups filled 1/2 to 3/4 of the way.
Let set up in fridge for at least 4 hours before serving.
Serve with a fresh blackberry on top if desired.