This Vegetarian Hot and Sour Soup taste just like you got it from your favorite Chinese food place and in less than 30 minutes.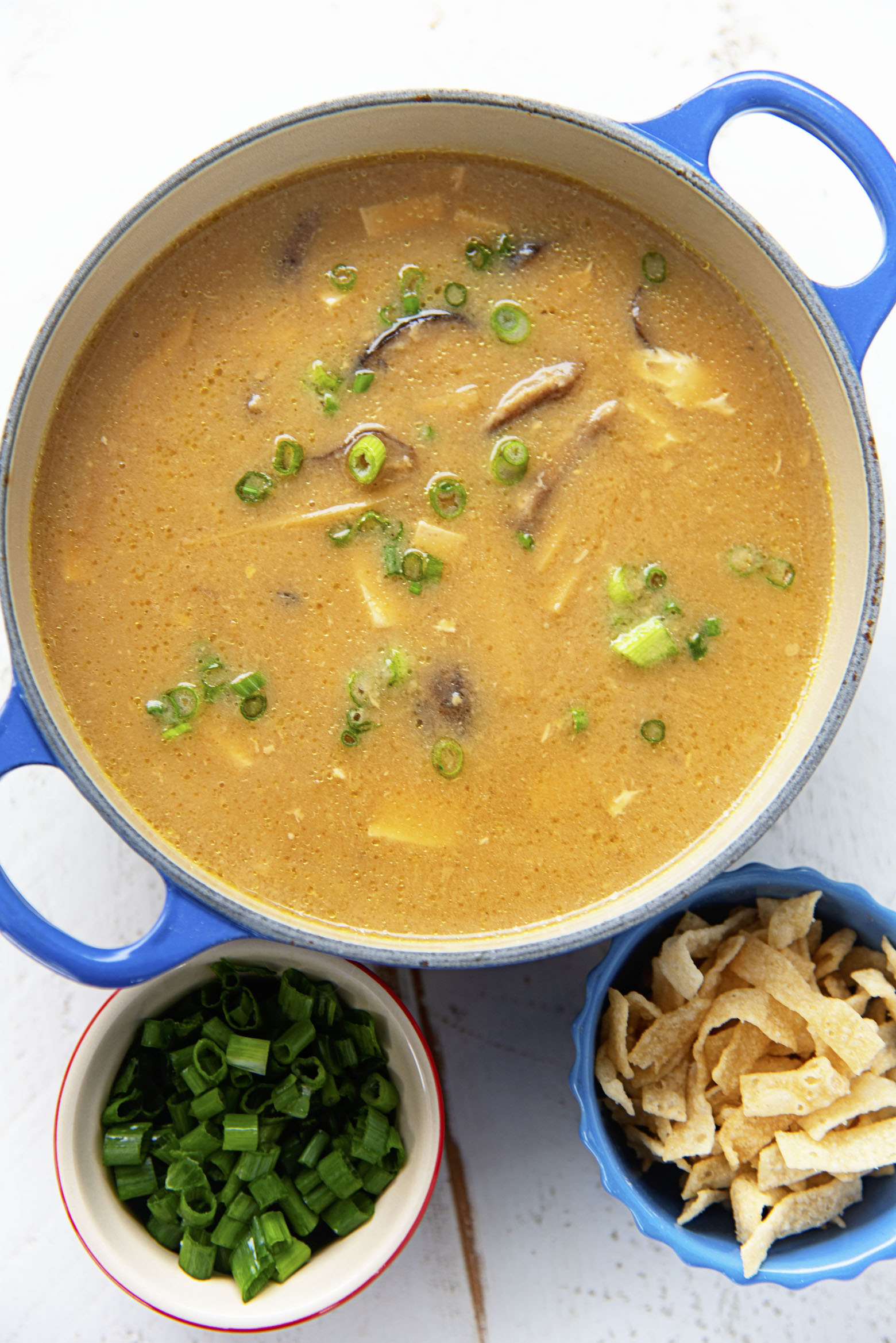 This Vegetarian Hot and Sour Soup was created thanks to my parents.
See when they were here at holiday time we ordered Chinese food.
Their small down doesn't really have very good Chinese, so they make sure to get it every time they come here.
And they ALWAYS get Hot and Sour Soup.
Always.
They have been since I have my first memories.
We ate Chinese food a lot.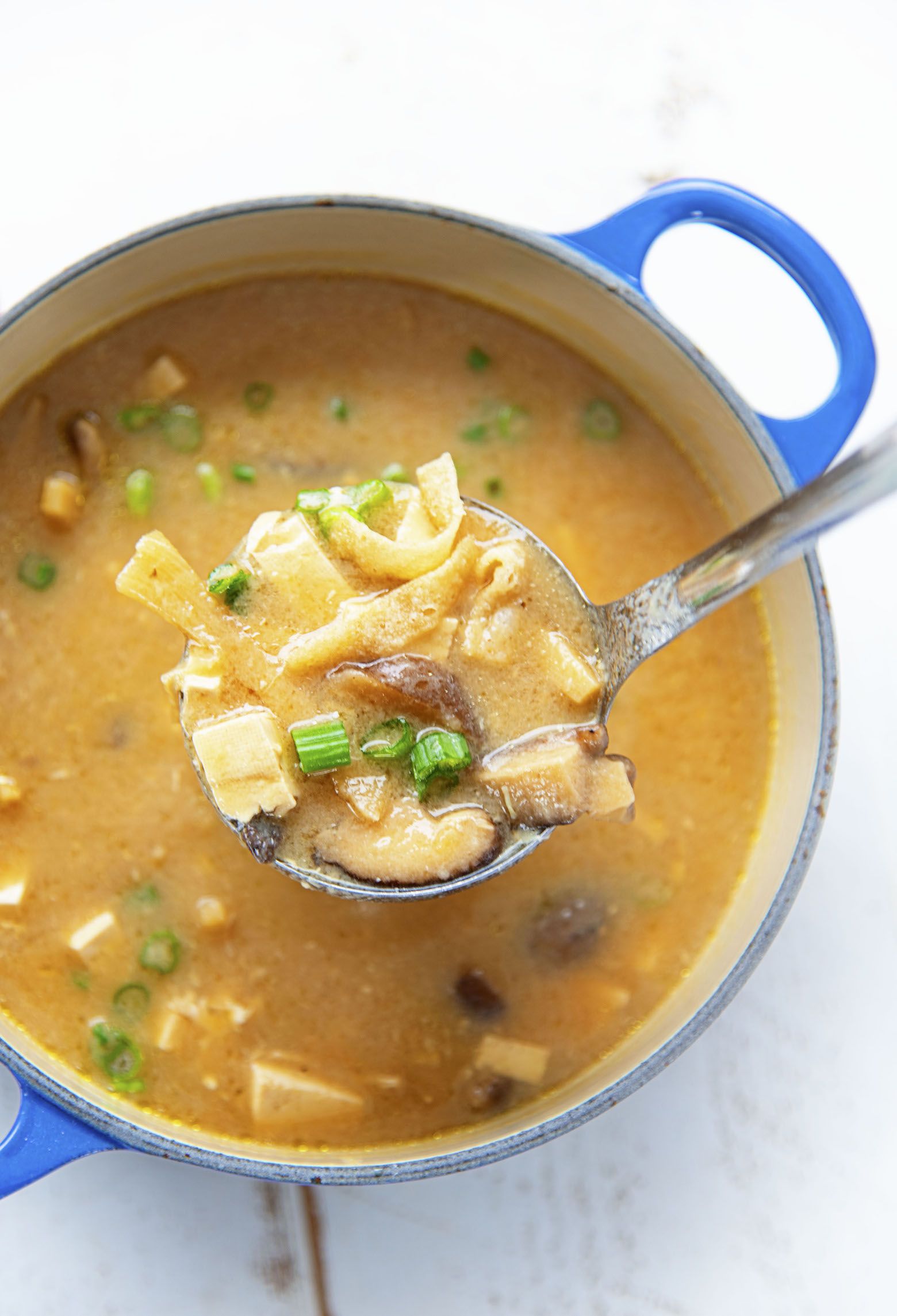 And when my grandfather died and my grandmother came to live with us, we went every Sunday.
Not so much that my grandmother loved Chinese food, but because they treated her so well.
The restaurant we went to LOVED that my grandmother lived with us.
And because we were there so often they started giving us little extras.
First it was an appetizer.
Then they gave us almond cookies and fortune cookies at the end of the meal.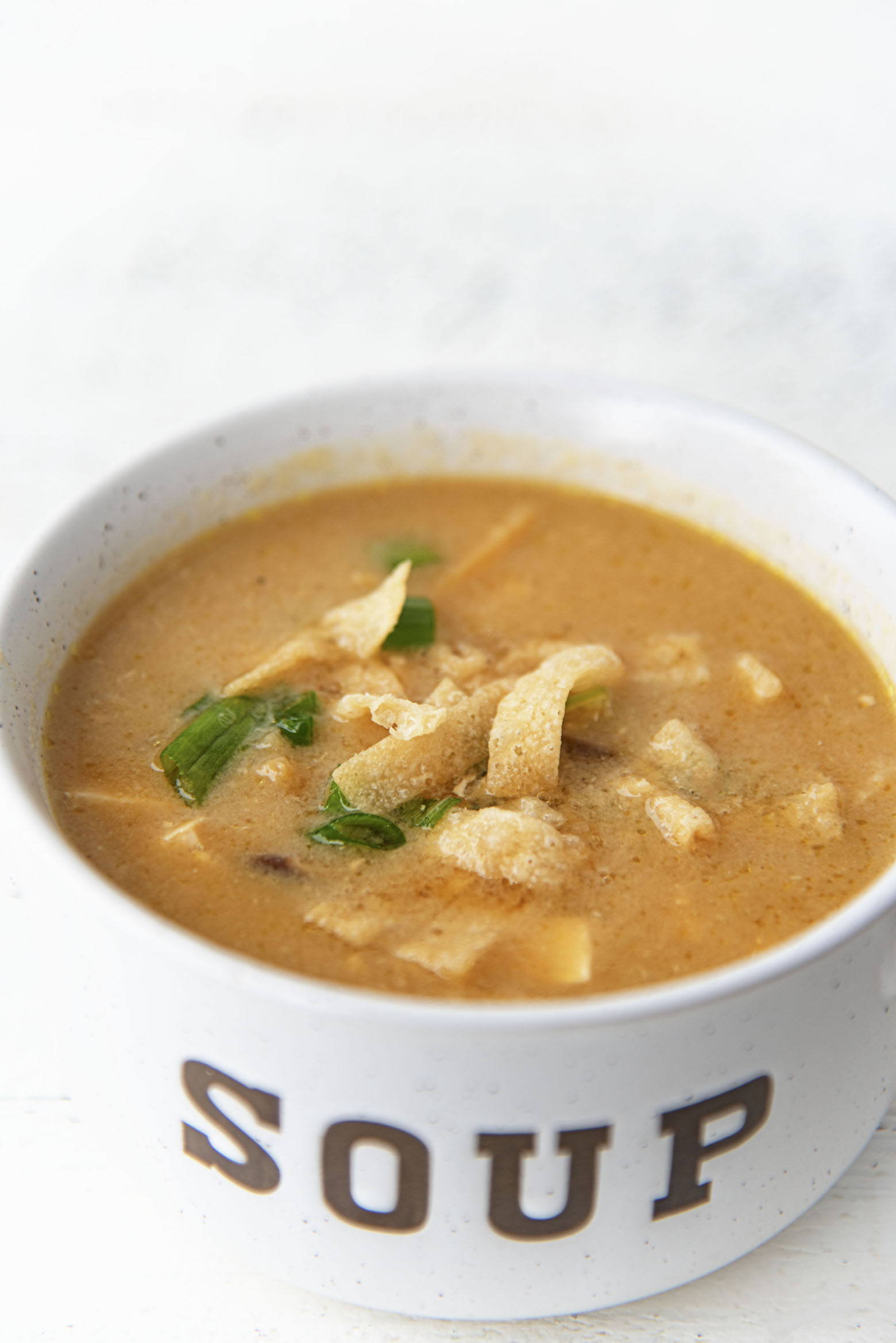 Then one day they brought a plate of lychee nuts.
Which aren't nuts if you don't know.
It's a fruit.
They kind of have the texture of a peeled grape.
It's odd.
And often they have a piece of pineapple stuffed in them.
That's how the Chinese food place served theirs. Four of them sat there.
We all tried one and then my parents made the mistake of saying they liked them to the owners.
Because they didn't.
From that point on the amount of lychee nuts we got at the end of the meal became ridiculous.
And because I was the only one who sort of liked them I got stuck eating them.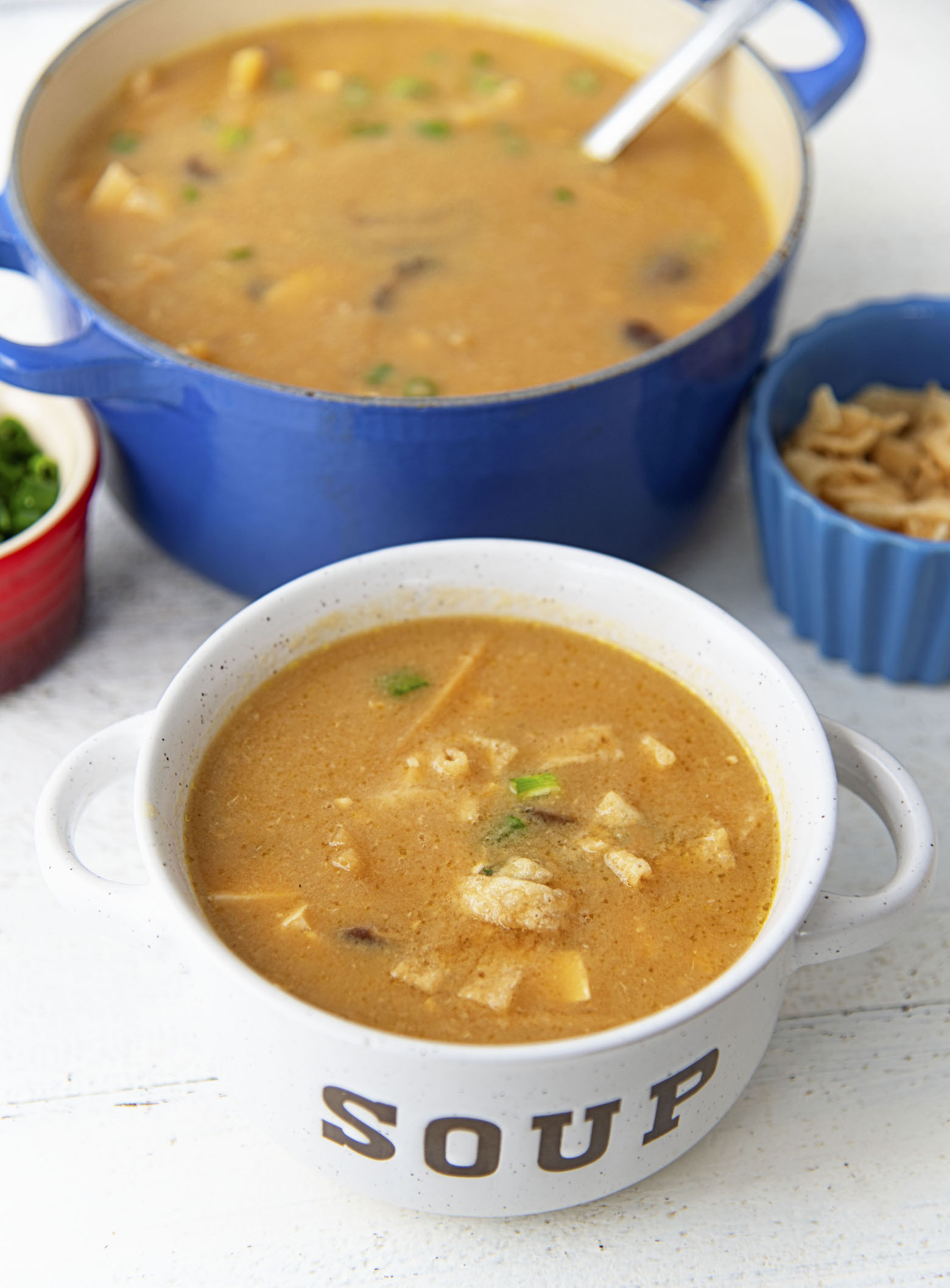 When my grandmother had to be moved to assisted living we still went and got her every Sunday.
To go to Chinese food.
Then one day she had a stroke and things kind of got turned upside down.
And we didn't go for awhile.
When we finally went back a few months later they were gone.
I sometimes wonder what they thought happened to us.
That we just didn't show one Sunday and never came back.
Sometimes I'm mean and tell my parents I hope they are happy.
That without us coming every Sunday they had to close down.
Years later we learned they just moved to a bigger building a few blocks down.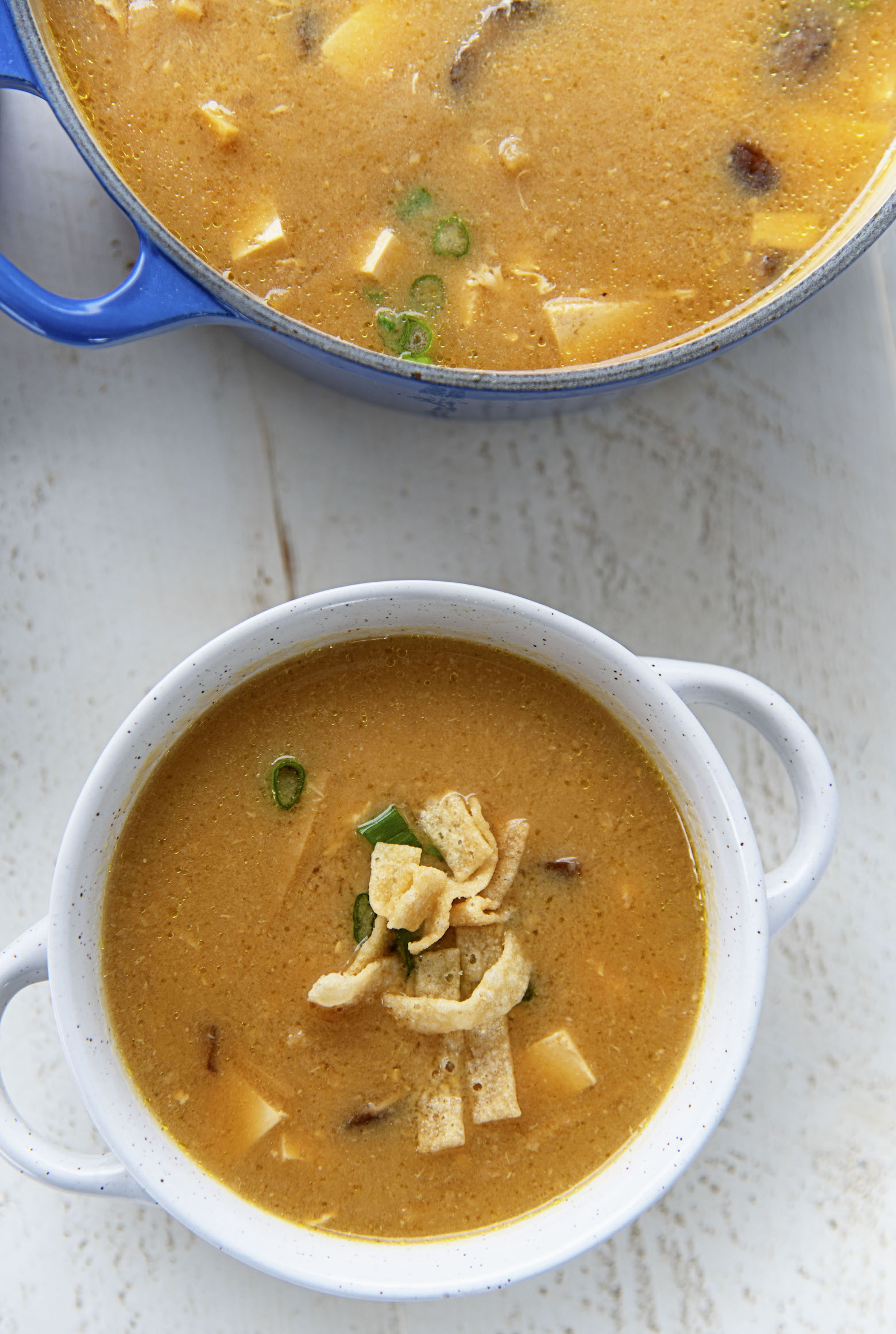 I always think about that place when my parents are here and we eat Chinese.
And the smell of Hot and Sour Soup always makes me think of my parents.
So naturally when they were here they ordered a big batch of it.
The soup smelled so good.
But our Chinese place (while they offer almost everything Vegetarian) uses chicken stock in their soups.
So all I got to do was smell it.
And crave it.
I continued to crave it and so I went in search of a recipe I could adapt to make it vegetarian.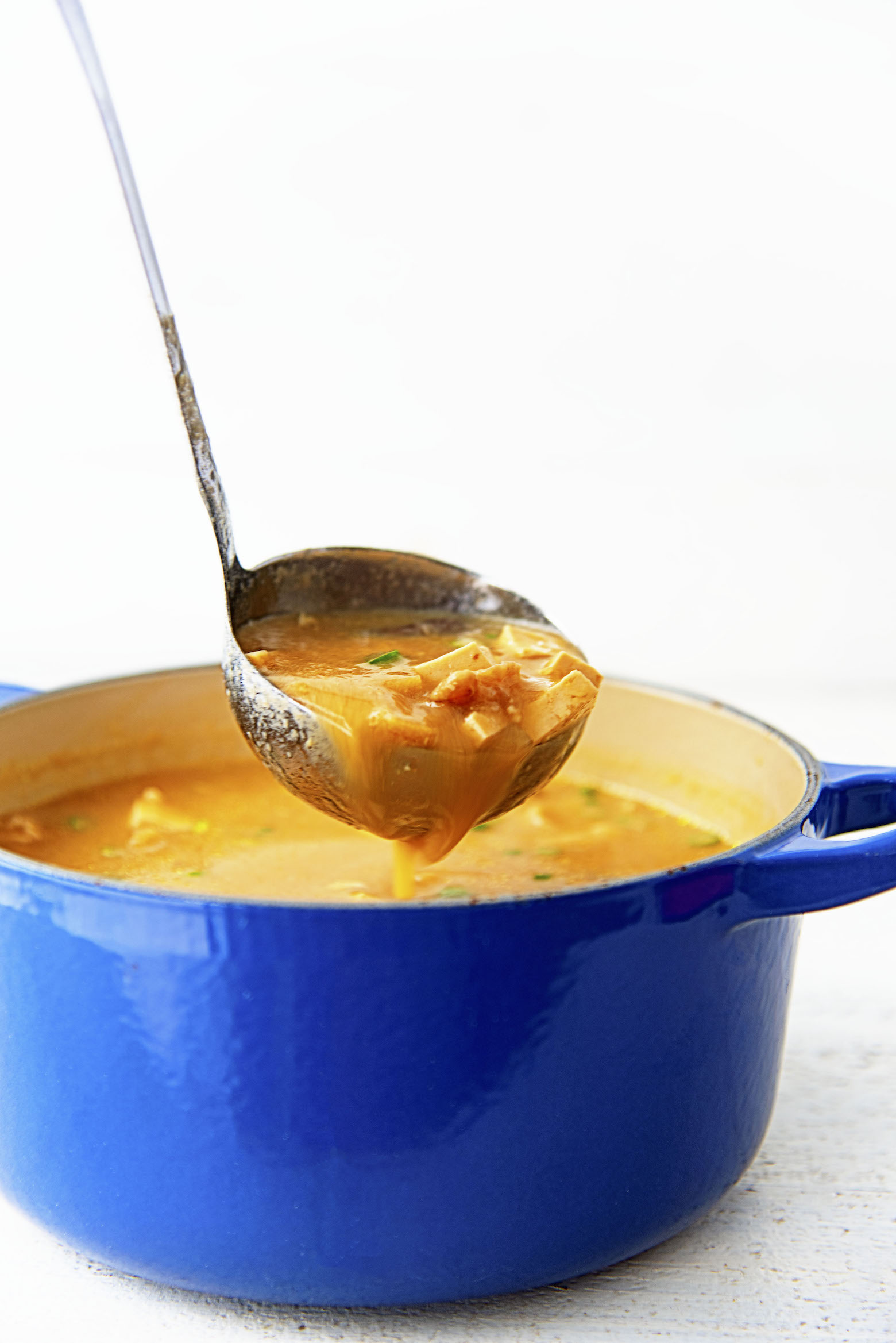 Found it I did.
My husband says this even exceeds our Chinese food place and their soup.
So yay!
All I know is that it cured my craving.
And since I know some of you will ask, of course you can use chicken stock.
If you don't eat vegetarian it's totally fine by me.
But either way you should make the soup if you are a hot and sour soup lover.
P.S. It's a great day to buy my cookbook Holy Sweet!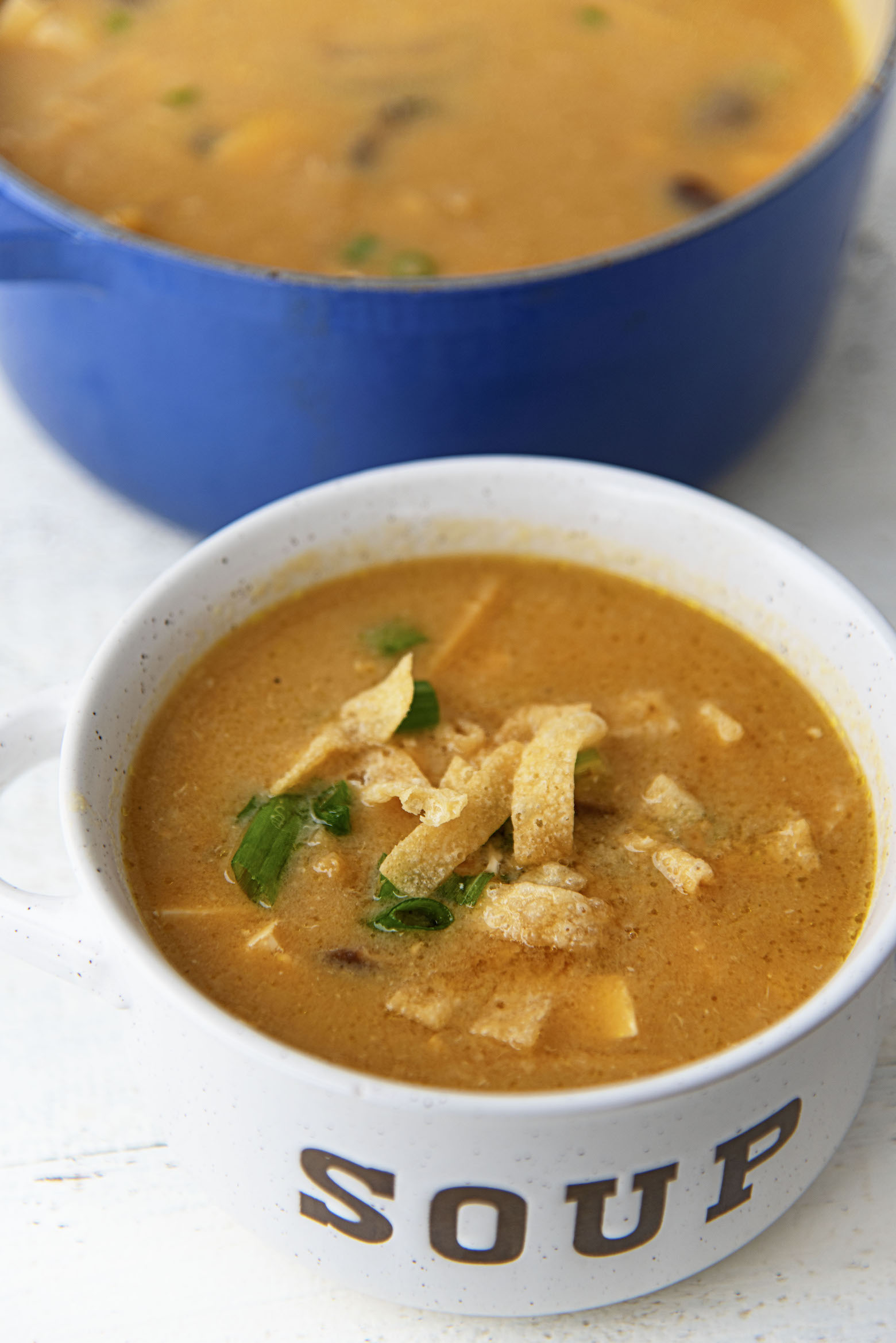 Want More Vegetarian Dinner Recipes?
Alpine Dijon Macaroni and Cheese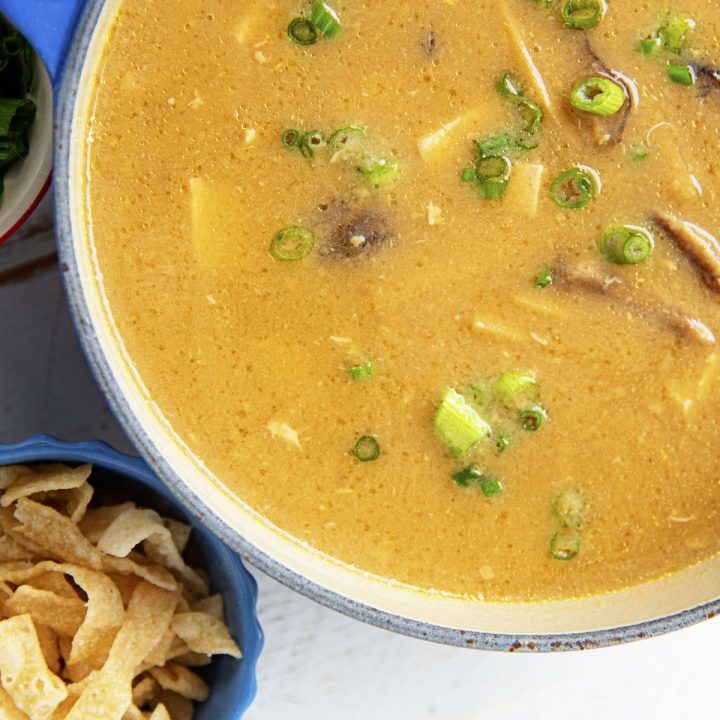 Vegetarian Hot and Sour Soup
Ingredients
3 TBSP cornstarch
2 TBSP vegetable oil
2 TBSP minced garlic
1 TBSP freshly grated ginger
10 ounces shiitake mushrooms
1 (8-ounce) can sliced bamboo shoots, drained and cut into slivers
1/2 cup reduced sodium soy sauce
1/2 cup seasoned rice vinegar
1 1/2 tsp chili garlic sauce
1/2 tsp freshly ground black pepper
1 (8-ounce) package firm tofu, drained and cubed
2 large eggs, lightly beaten
1 green onion, thinly sliced
1 teaspoon sesame oil
fried wonton strips for garnish
Instructions
In a small bowl, whisk together cornstarch and 1/4 cup water; set aside.
Heat vegetable oil in a large stockpot or Dutch oven over medium heat.
Stir in garlic and ginger until fragrant, about 1 minute.
Stir in mushrooms until wilted, about 3 minutes.
Stir in chickenless chicken stock, bamboo shoots, soy sauce, rice vinegar, vegan fish sauce, chili garlic sauce and pepper.
Bring to a boil; reduce heat and simmer until flavors have blended, about 10 minutes.
Stir in tofu.
Stir in cornstarch mixture, stirring frequently, until slightly thickened, about 3 minutes.
Gradually add in the eggs in a slow steady stream, stirring with a fork.
Cook until the eggs are set, stirring frequently to create ribbons, about 2 minutes.
Remove from heat; stir in green onion and sesame oil.
Serve immediately with wonton strips.