These Peach Bellini Jello Shots are perfect for brunch and are made with peach sparkling water, peach gelatin, peach schnapps, and Prosecco.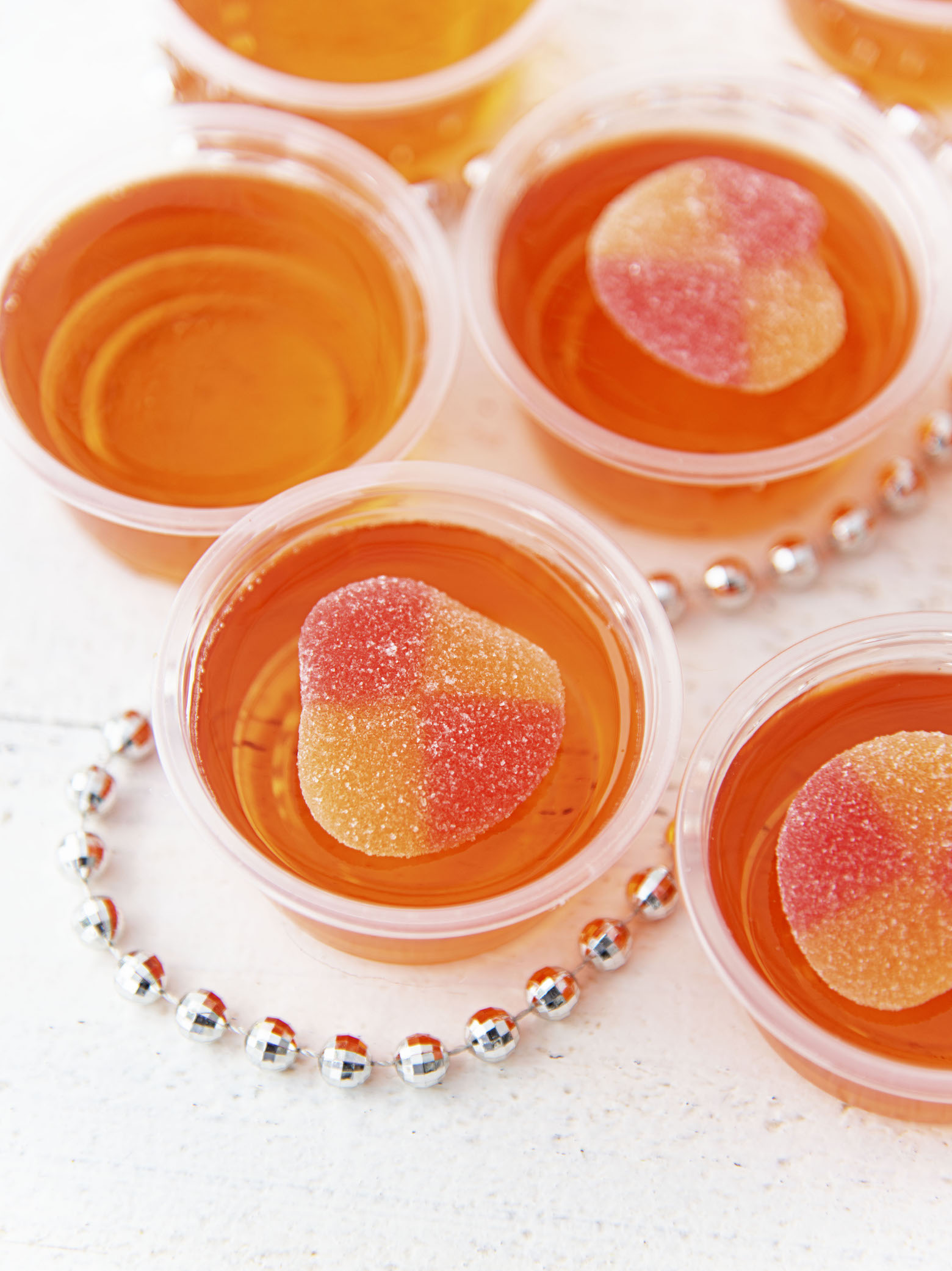 These Peach Bellini Jello Shots are how I plan to ring in the New Year.
Well, that an a lot of cheese based dips. 🙂
And deviled eggs.
We always have deviled eggs.
But it seemed fitting with how the year has gone that my last post of 2021 be a Jello Shot.
Though I fully admit that this year calls for a more potent shot than champagne jello shots. 🙂
Well, not champagne.
Don't use champagne in a jello shot. 🙂
Costco Prosecco is what you use in a jello shot. 😀
Plus, bellinis are Italian and they use Prosecco anyway.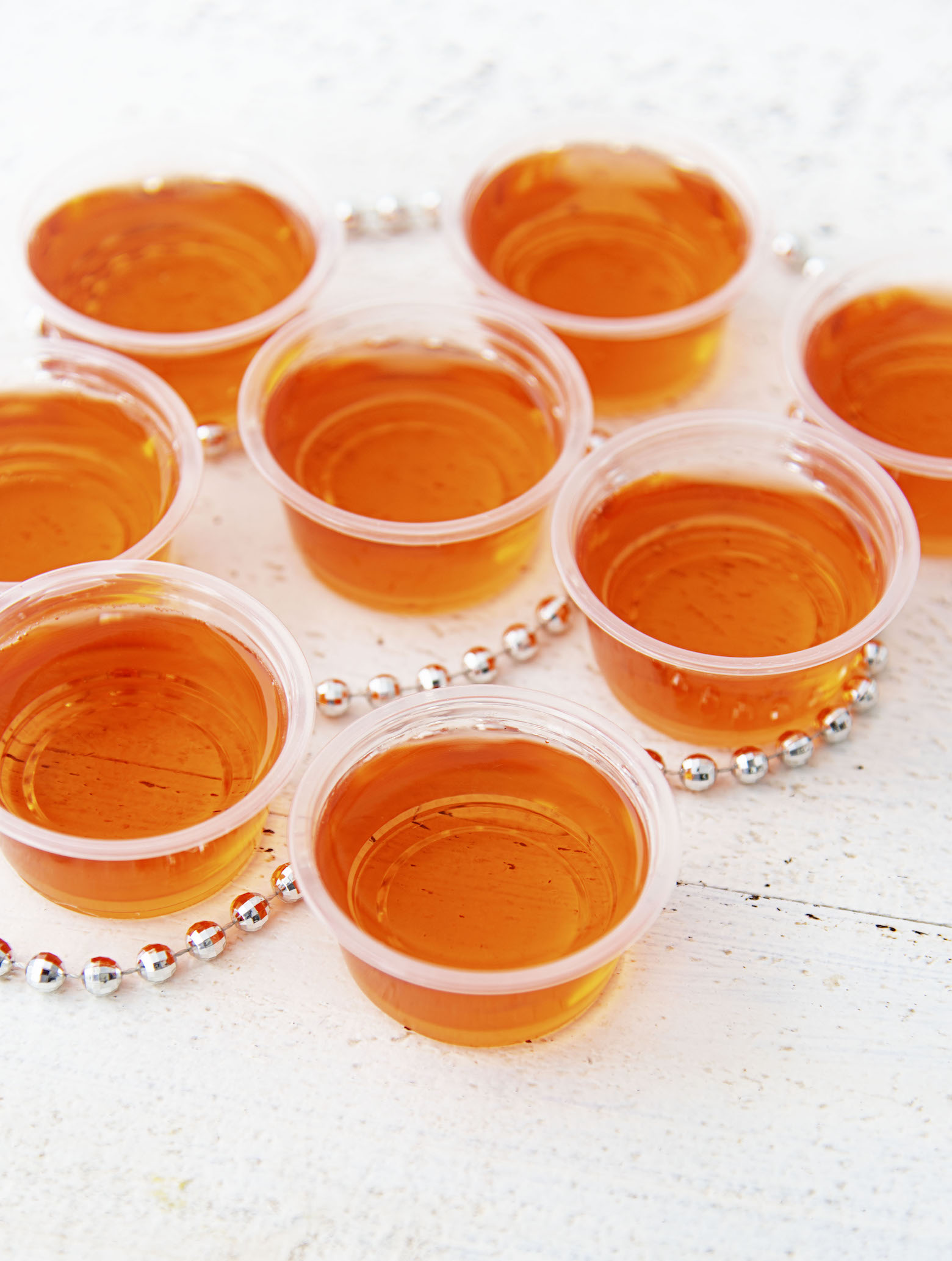 When making peach jello shots you obviously need peach.
In these shots I used both peach jello and peach sparkling water for this peach jello shots recipe.
The jello you can usually find at Walmart.
I tend to just buy it on Amazon.
Where I can buy it in bulk.
For the sparkling water you can use things like Clearly Canadian Peach, Original New York Seltzer (which is what I used), or Clear American (from Walmart).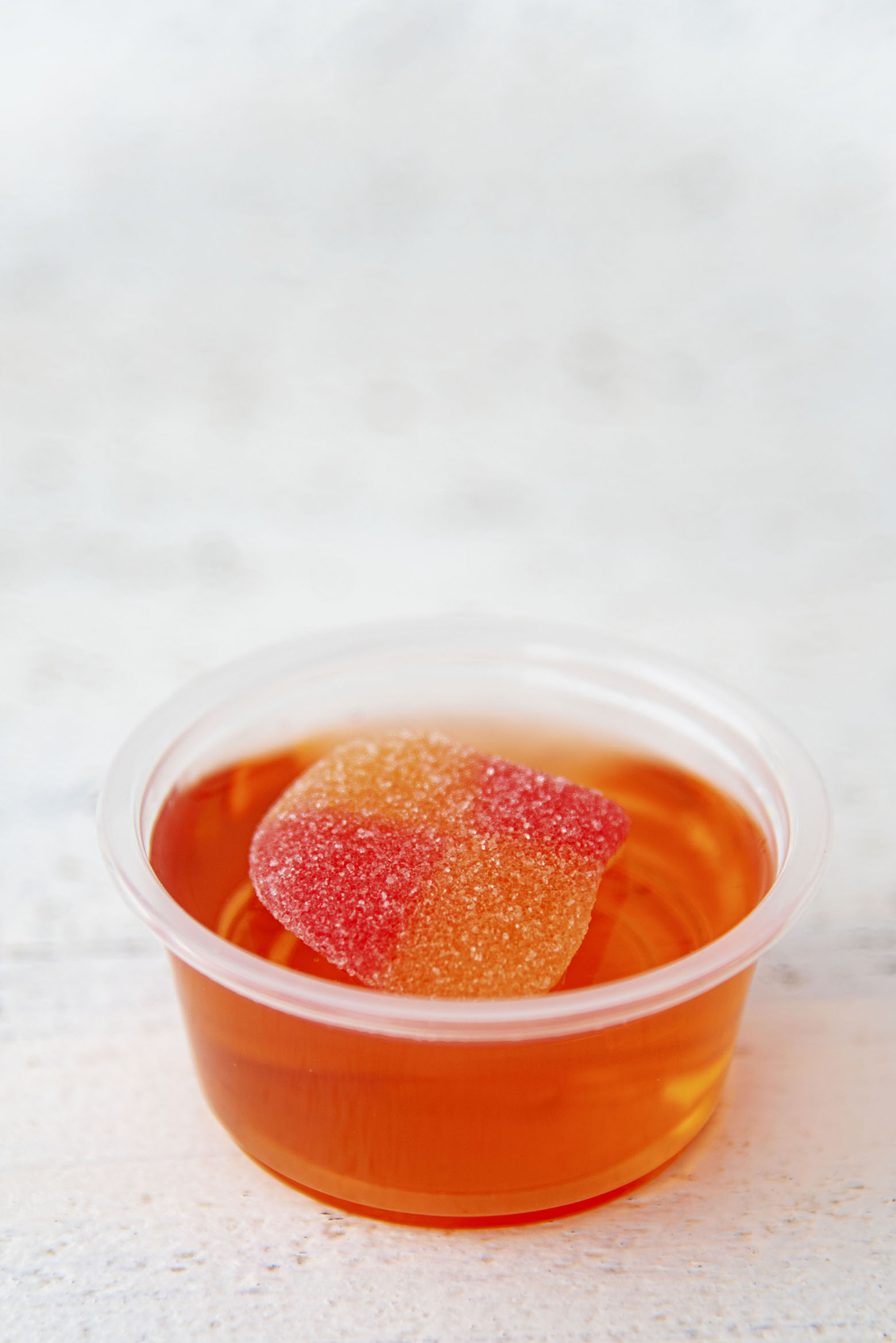 I also use peach liqueur.
Just good ol' peach schnapps in this case.
There are many fancy peach liqueurs out there that if you feel the need to use, go for it.
No need to go buy something else if you have it at home.
As far as the other booze in these I used Prosecco.
Traditional Bellinis involve peach puree or nectar and Prosecco.
If you are unfamiliar with Prosecco it is Italian sparkling wine.
Often people try to add orange juice and that's fine too but it's not traditional.
However, Italians might take issue with it since bellini's originated in Venice, Italy.
Italians might point out that you have more of a mimosa at that point than a bellini.
I have made bellini flavored shots on the blog already.
Years ago I made raspberry peach bellini jello shots.
Also for New Years. 🙂
If you are still wanting a peach shot but want something with a little more punch to them try my Mango Peach O's Jello Shots.
Those involve whiskey. 🙂
But if you are just trying to be celebratory or wanting a fun shot to serve at brunch then these are for you.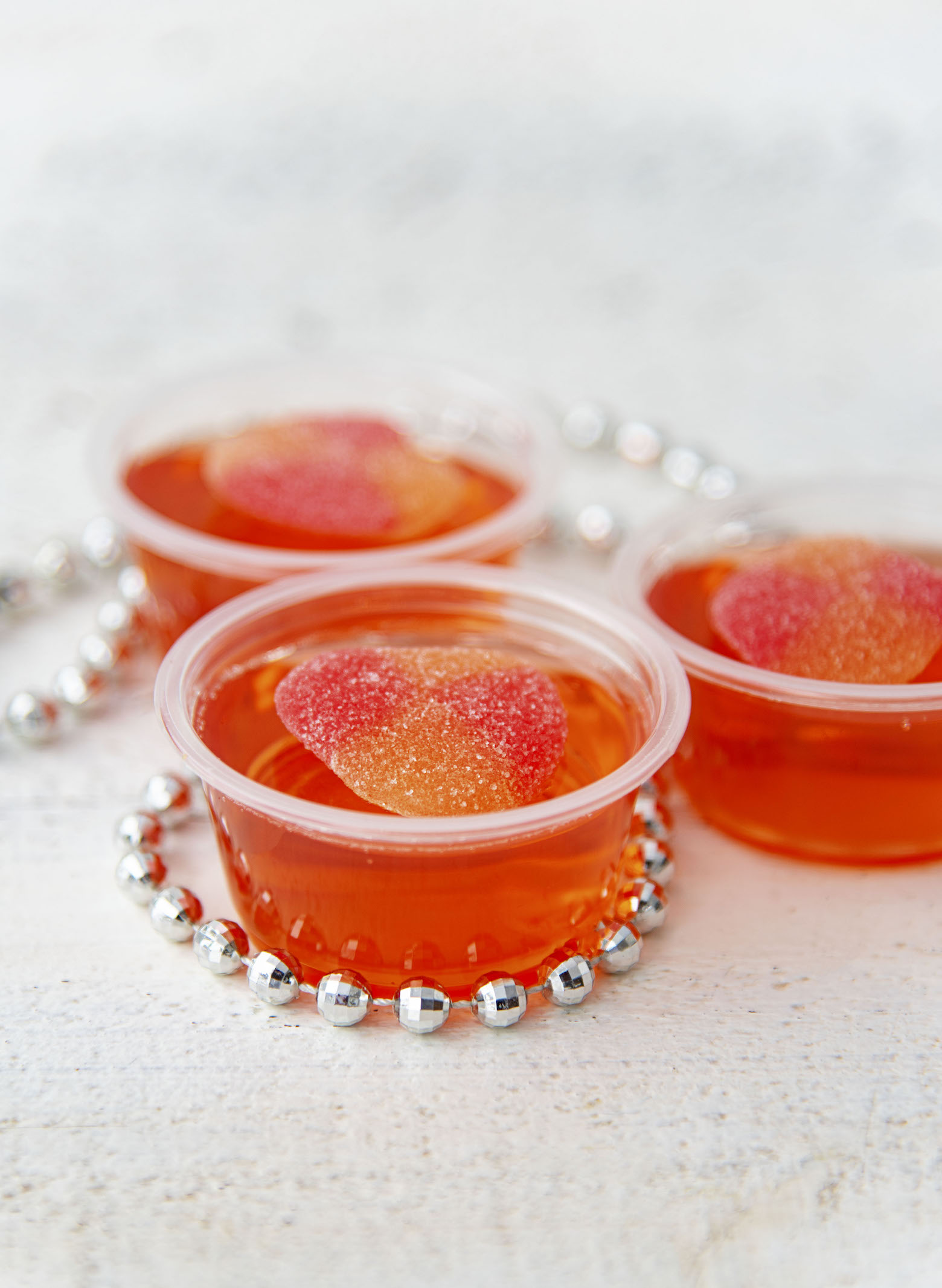 Things to remember when making Jello Shots.
When throwing a party, you'll probably want to prepare 4-6 Jello Shots for each guest.
This batch uses 6 ounces of gelatin and so you will get around 18-20 Jello shots.
If doing a half recipe and only using 3 ounces of gelatin you will only get 8-10 Jello shots depending on how you pour.
If using a garnish, don't place the garnish on the jello shot until just ready to serve.
And as always it's a great day to order my cookbook.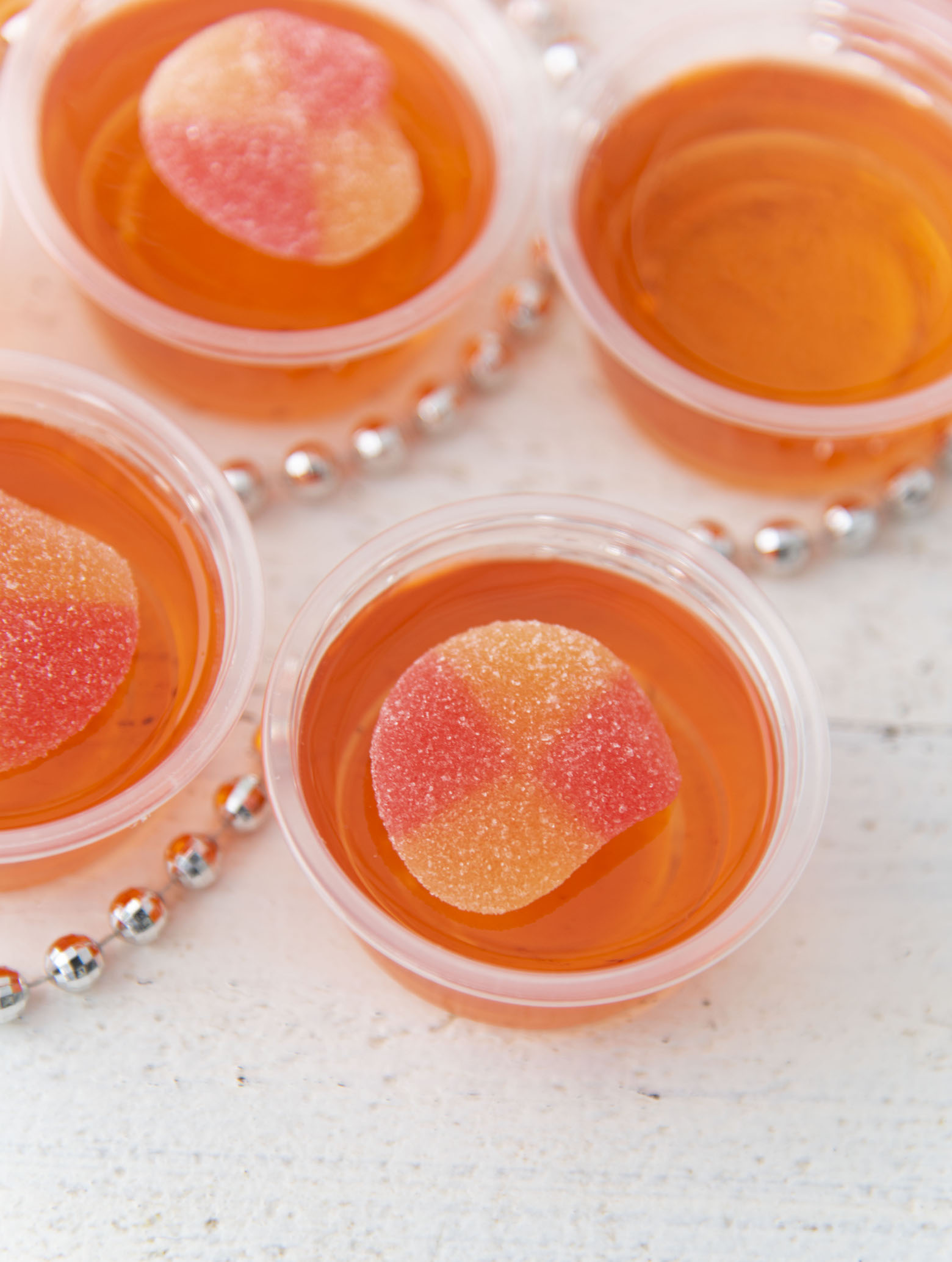 Want More Jello Shot Recipes?
Peanut Butter Grape Jelly Jell-O Shots
Blue Hawaiian Rainbow Jello Shots
Strawberry Pina Colada Jello Shots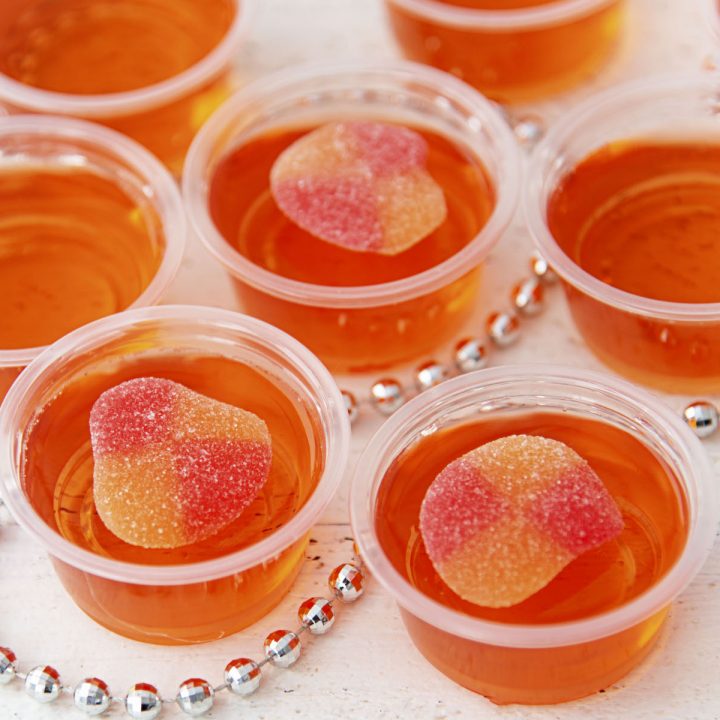 Peach Bellini Jello Shots
Ingredients
2 cups Peach Sparkling Water (such as Clearly Canadian or Original New York Seltzer)
2 (3 oz) packages Peach Jell-O
1/2 cup cold water
1/2 cup peach schnapps
1 cup Prosecco or Sparkling Wine
Instructions
Bring the peach sparkling water to a boil.
Empty jello powder into a large mixing bowl and add the boiling water.
Continue stirring for two minutes or until the jello is completely dissolved.
Add in the 1/2 cup of cold water, 1/2 cup of Peach Schnapps, and 1 cup Prosecco.
Stir until mixed and pour into 2oz. cups filled 1/2 to 3/4 of the way.
Place in fridge for at least 4 hours.
Top with small piece of peach gummy candy if desired when ready to serve.