These Cherry Pomegranate Moscow Mule Jello Shots are made with cherry gelatin, pomegranate juice, ginger beer, lime juice, and vodka.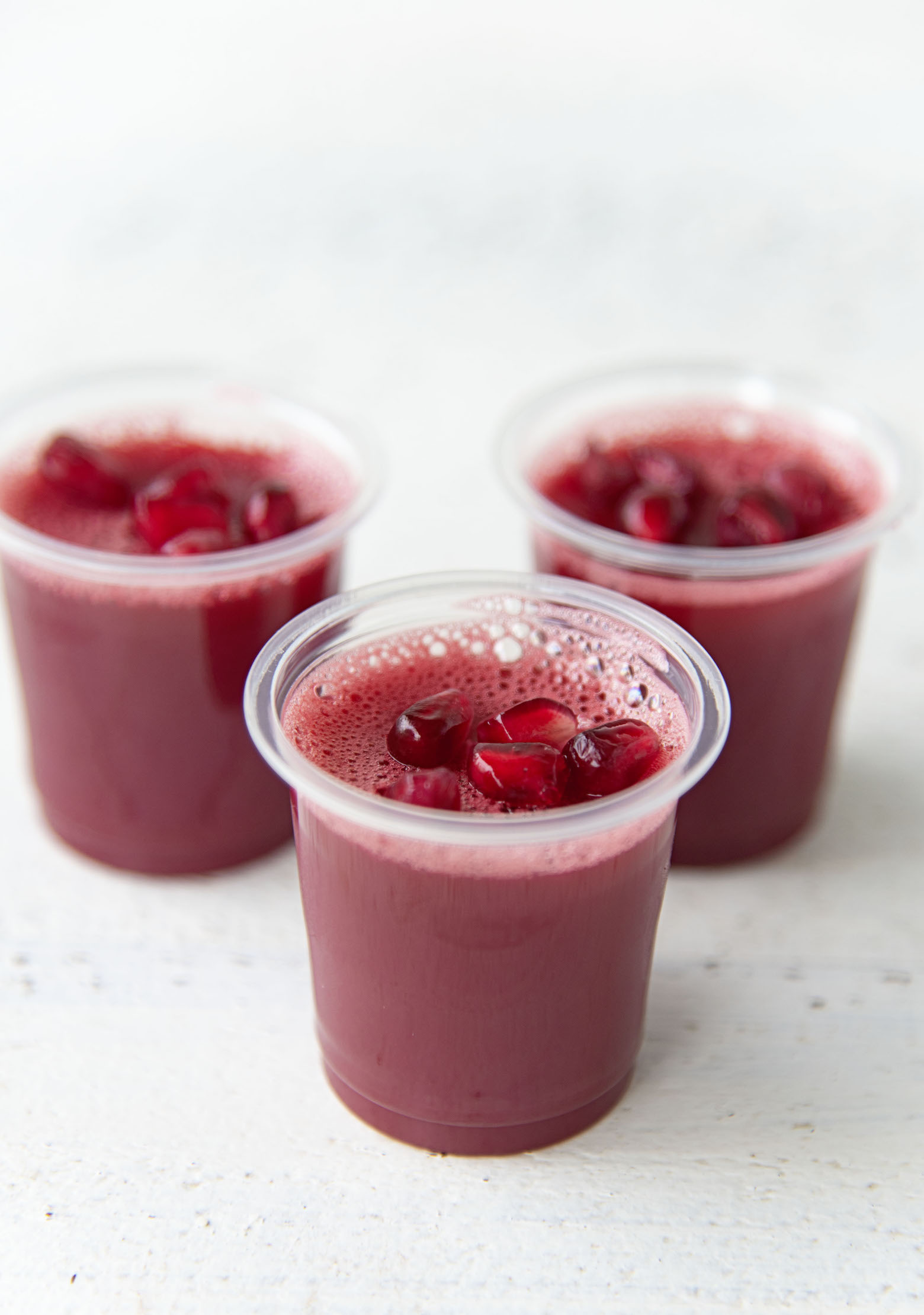 The holidays are upon us.
Which means lots of family gatherings.
It also means you should probably make a bunch of these Cherry Pomegranate Moscow Mule Jello Shots.
Because you may need them to help you get through the holidays.
And hey, it's jello.
There is always room for jello.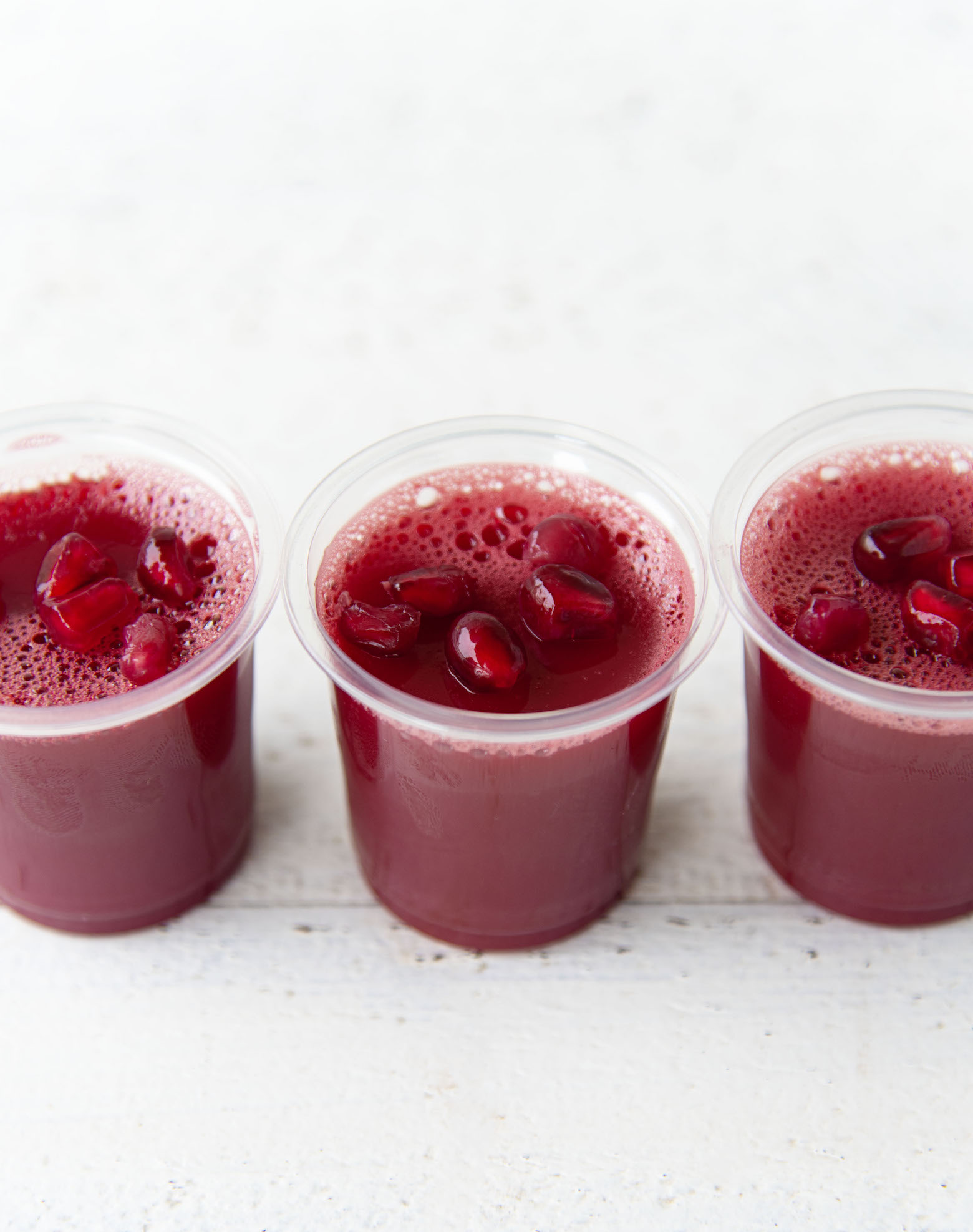 I think Thanksgiving seems to be the biggest drinking holiday.
I know St. Patrick's Day, Cinco de Mayo, and New Years are up there as well.
But Thanksgiving is the holiday that's not centered around drinking but kind of is.
And that's usually because the family is gathered around a table.
Other than food there really is no other aspect of Thanksgiving.
Well, football and a parade.
But for the most part you are gathered at a table and talk.
And talking is where it goes wrong. 🙂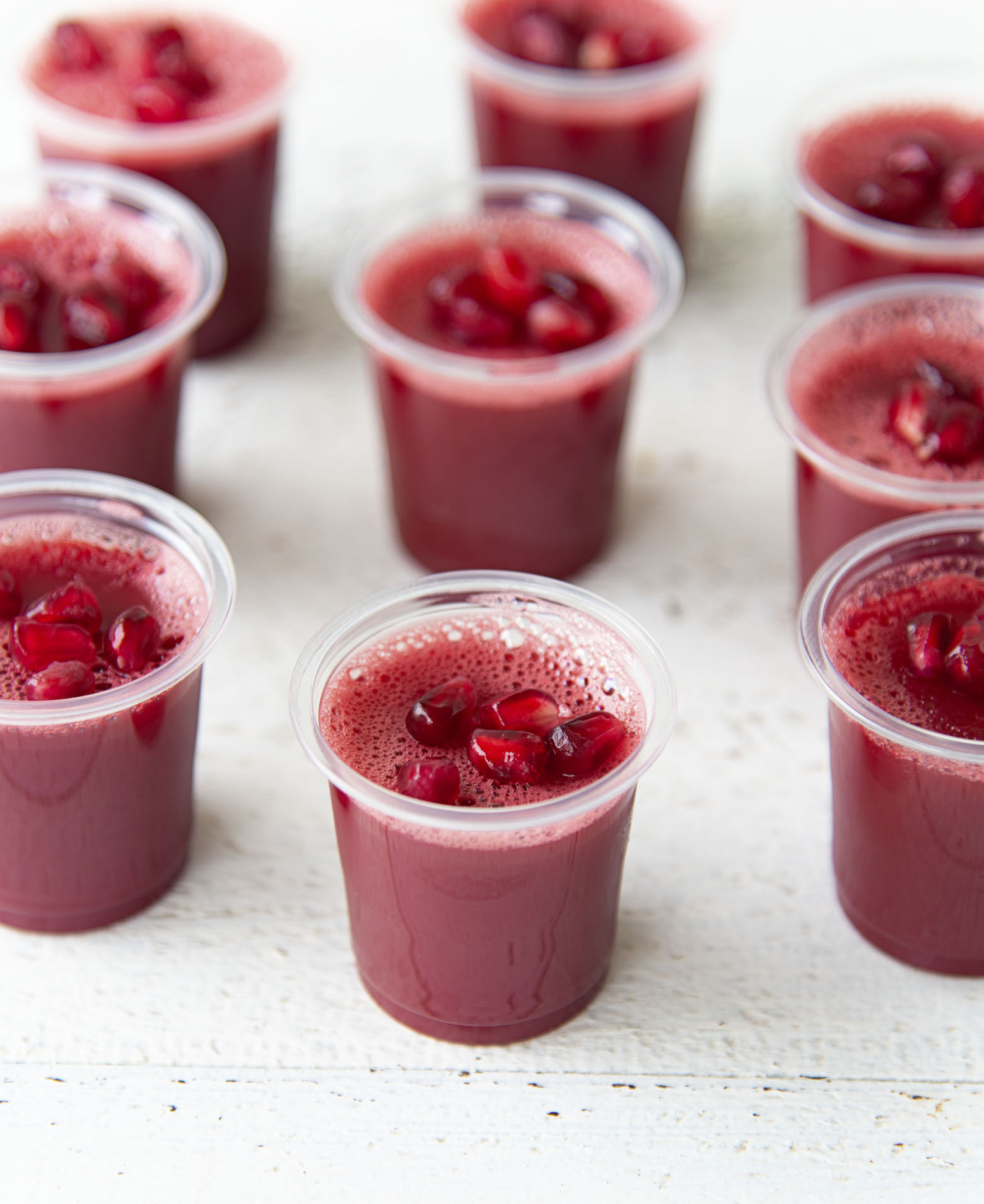 Since many of those gathered round the table haven't seen you for awhile.
Especially in the last two years they tend to ask questions a lot of people don't want to answer.
Like their love life.
Or their career or lack there of.
How college is going (aka their grades).
And of course nowadays almost everything can somehow turn political even though it's not.
So again….jello shots to the rescue. 😀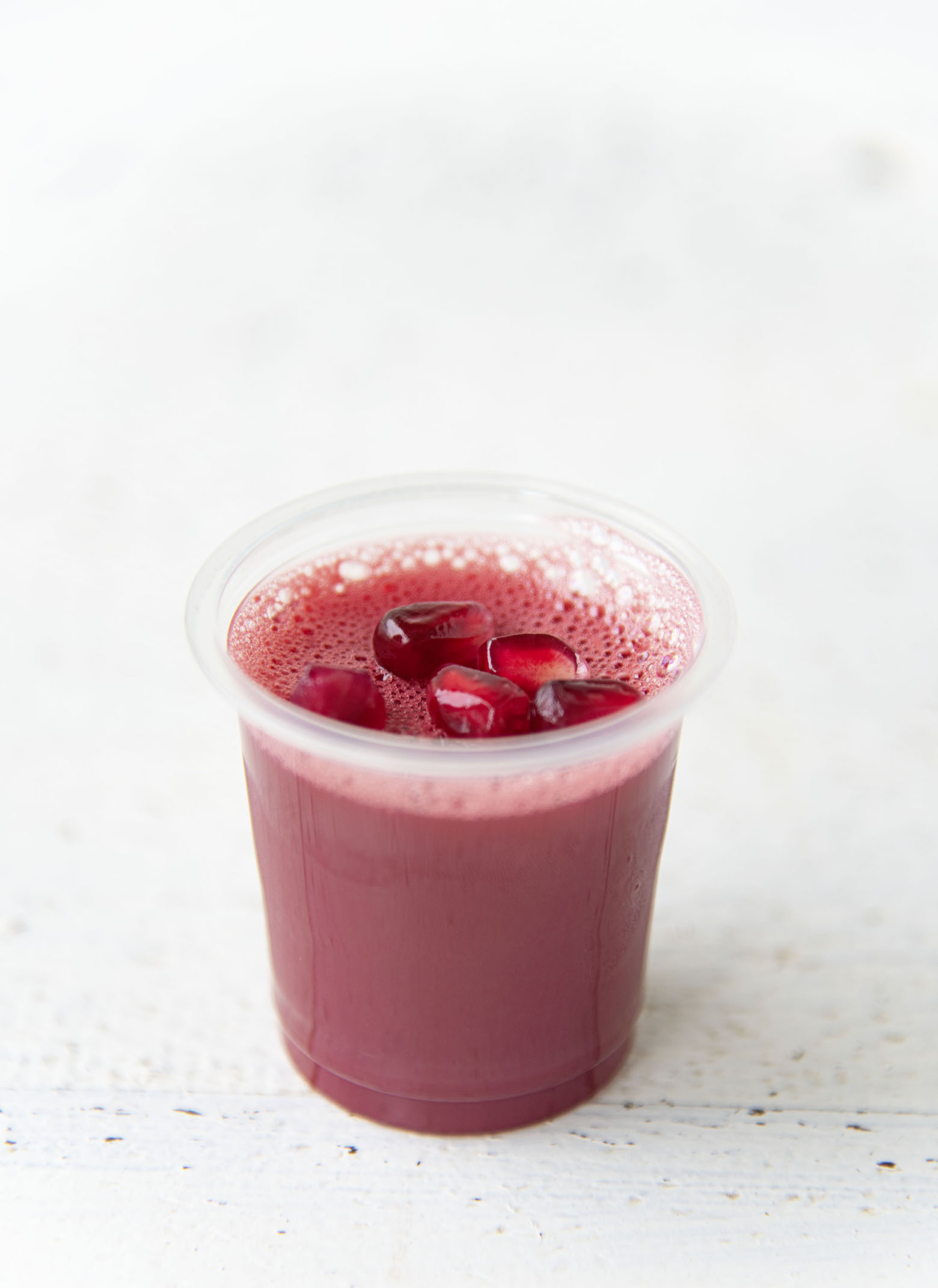 They don't make pomegranate gelatin (at least that I could find) so I chose to go with cherry.
I feel it's the fruit that best compliments the pomegranate…and they are the same color.
Throw in a little lime and ginger beer and vodka of course and you have a little holiday helper in a cup. 😛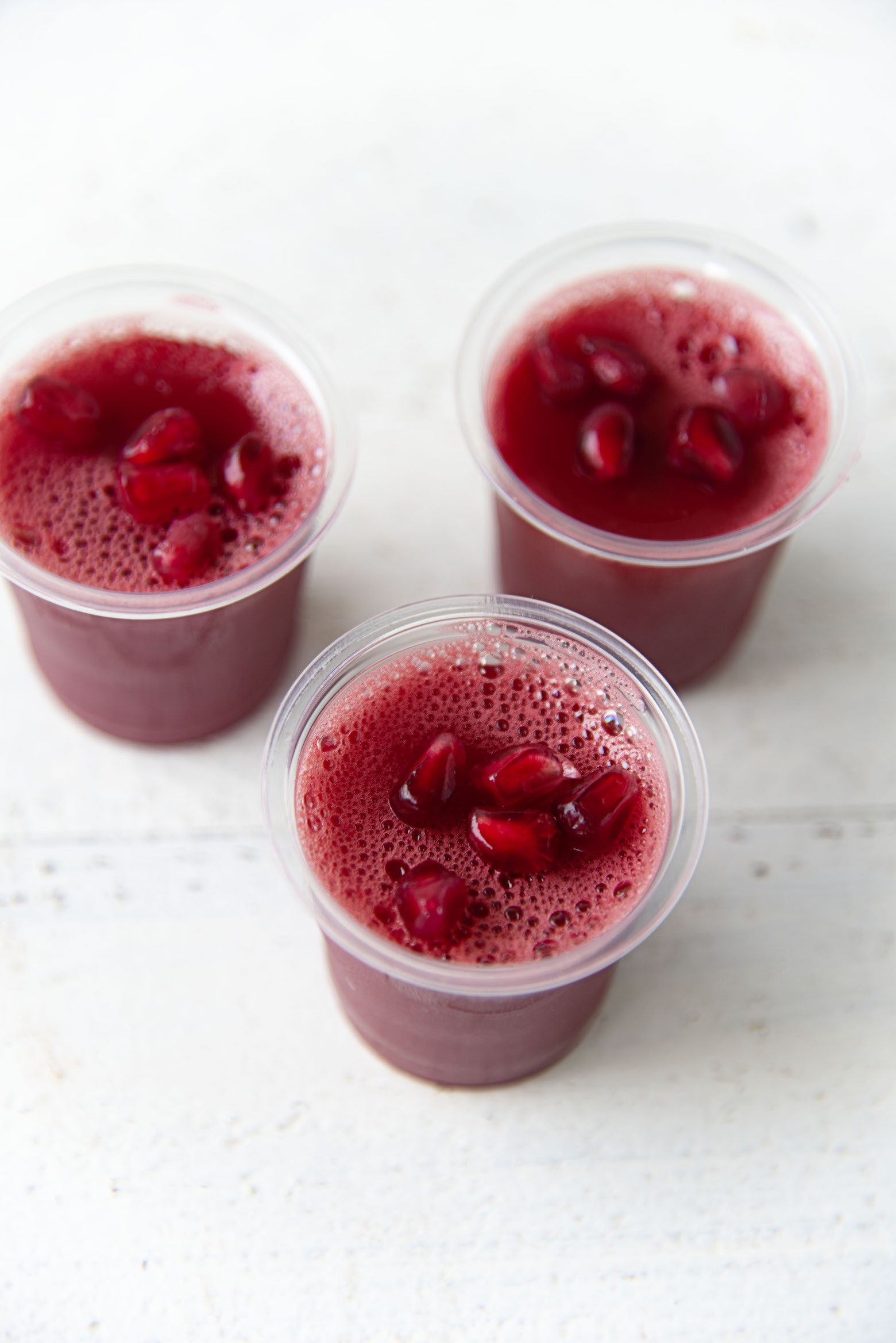 Things to remember when making Jello Shots.
When throwing a party, you'll probably want to prepare 4-6 Jello Shots for each guest.
This batch uses 6 ounces of gelatin and so you will get around 18-20 Jello shots.
If doing a half recipe and only using 3 ounces of gelatin you will only get 8-10 Jello shots depending on how you pour.
If using a garnish, don't place the garnish on the jello shot until just ready to serve.
And as always it's a great day to order my cookbook.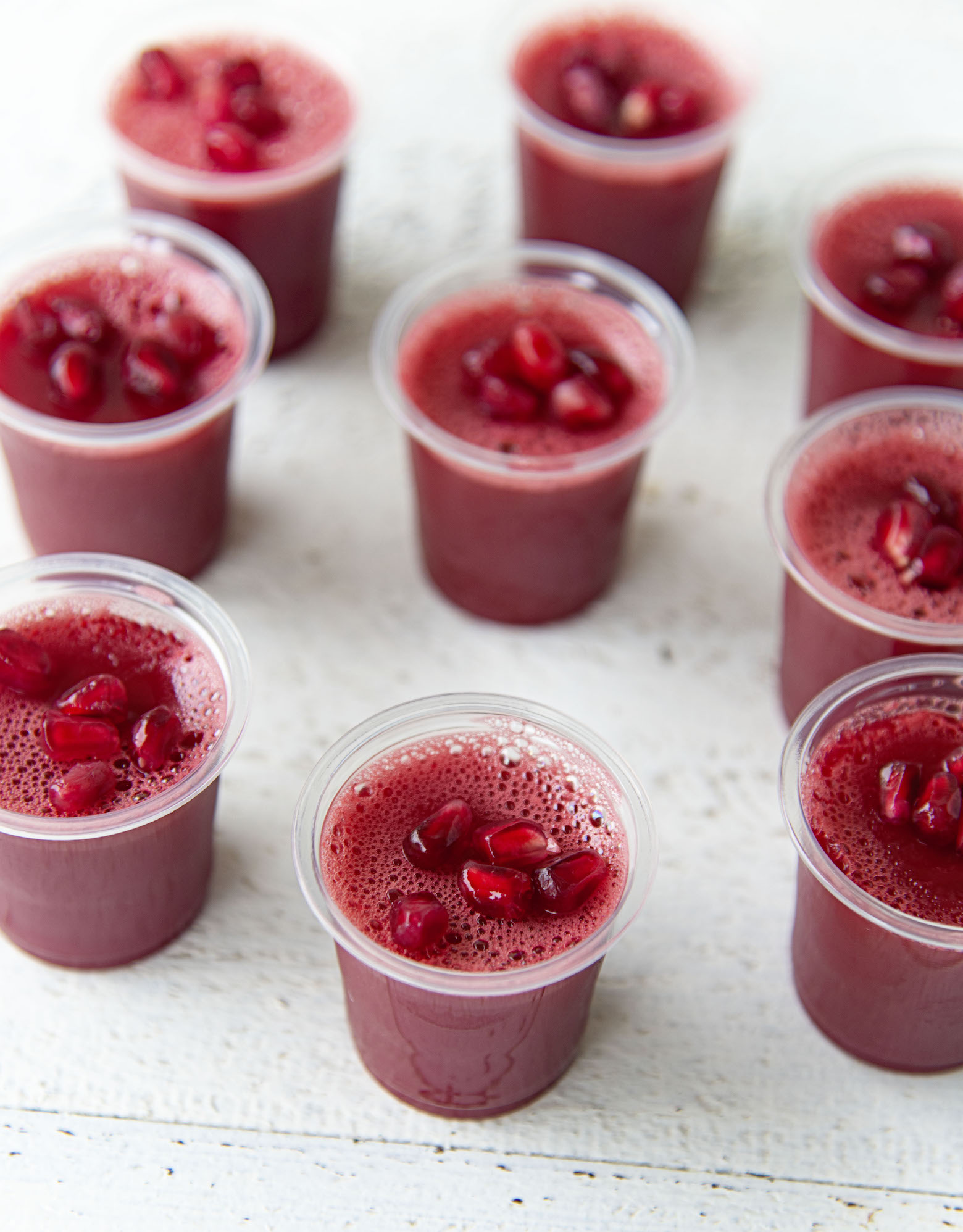 Want more Jello Shot recipes?
Blue Hawaiian Rainbow Jello Shots
Cinnamon Candied Apple Jello Shots
Strawberry Pina Colada Jello Shots
Fruit Punch Moonshine Jello Shots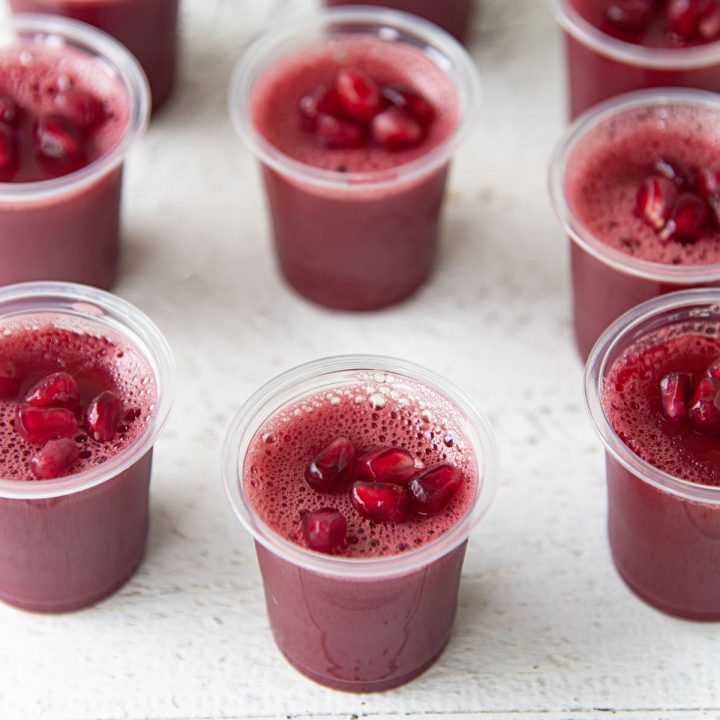 Cherry Pomegranate Moscow Mule Jello Shots
Ingredients
2 cups pomegranate juice, divided
2 (3 oz) packages cherry jello
1 TBSP fresh lime juice
1 cup ginger beer
1 cup vodka
pomegranate seeds for garnish
Instructions
Bring 2 cups pomegranate juice to a boil.
Empty gelatin powder into a large mixing bowl and add the boiling pomegranate juice.
Continue stirring for two minutes or until the jello is completely dissolved.
Add in the lime juice, ginger beer, and vodka.
Stir until mixed and pour into 2oz. cups filled 1/2 to 3/4 of the way.
Let set up in fridge for at least 4 hours.
Garnish with if pomegranate seeds desired.