This Kraken Blue Hawaiian Jello Mold has Blue Hawaiian gelatin, spiced rum, whipped cream, pineapple, pineapple soda, and cream cheese.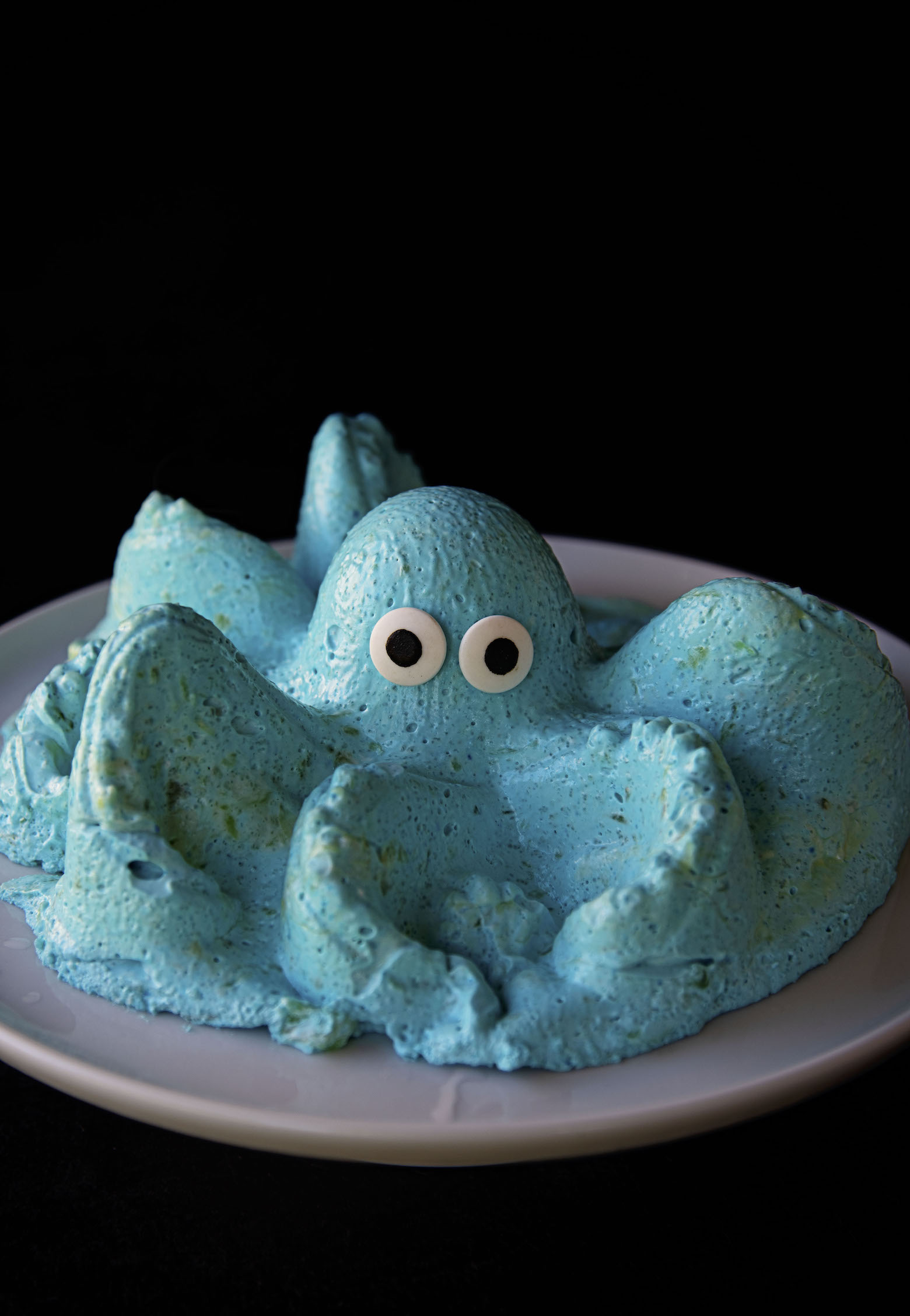 The NHL is officially in full swing.
And this year the 32nd franchise was added.
That franchise was the Seattle Kraken.
Which I'm commemorating with this Kraken Blue Hawaiian Jello Mold.
The day they announced the name of the team I immediately went and bought the Nordic Ware Octopus Pan.
Sure, it's not truly a kraken, but it's the closest I'm going to get.
Especially in Bundt pan form.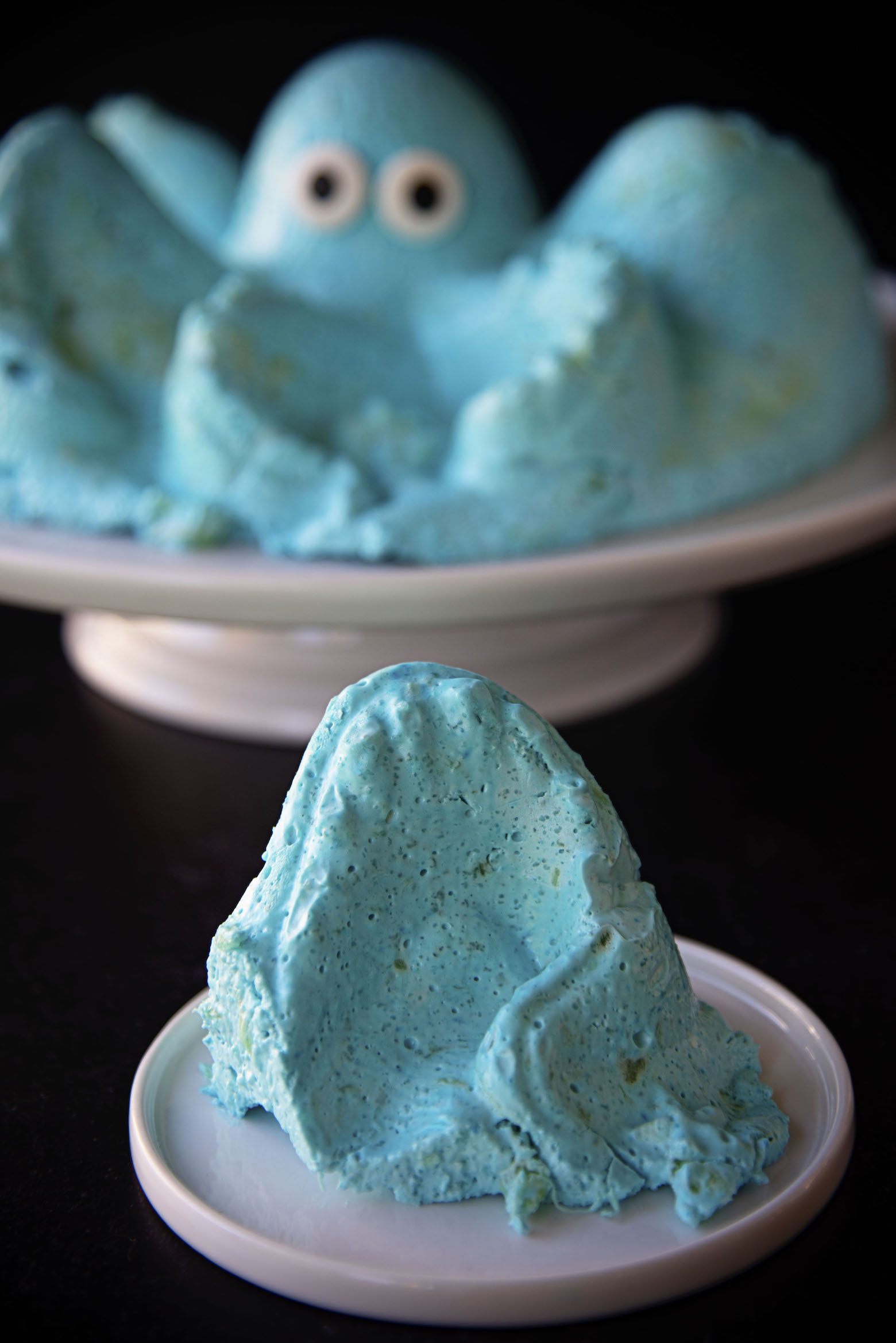 Naming the team the Kraken was a social media goldmine.
I mean Release the Kraken was already a thing and now the NHL gets to capitalize on it.
While our arena is Climate Pledge Arena it's called the Krakhouse…even though they are pushing for it to be the greenhouse.
And yes the fans are called Krakheads.
Which we are not offended by.
Within days of revealing the name Kraken Black Spiced Rum was the official rum of the team.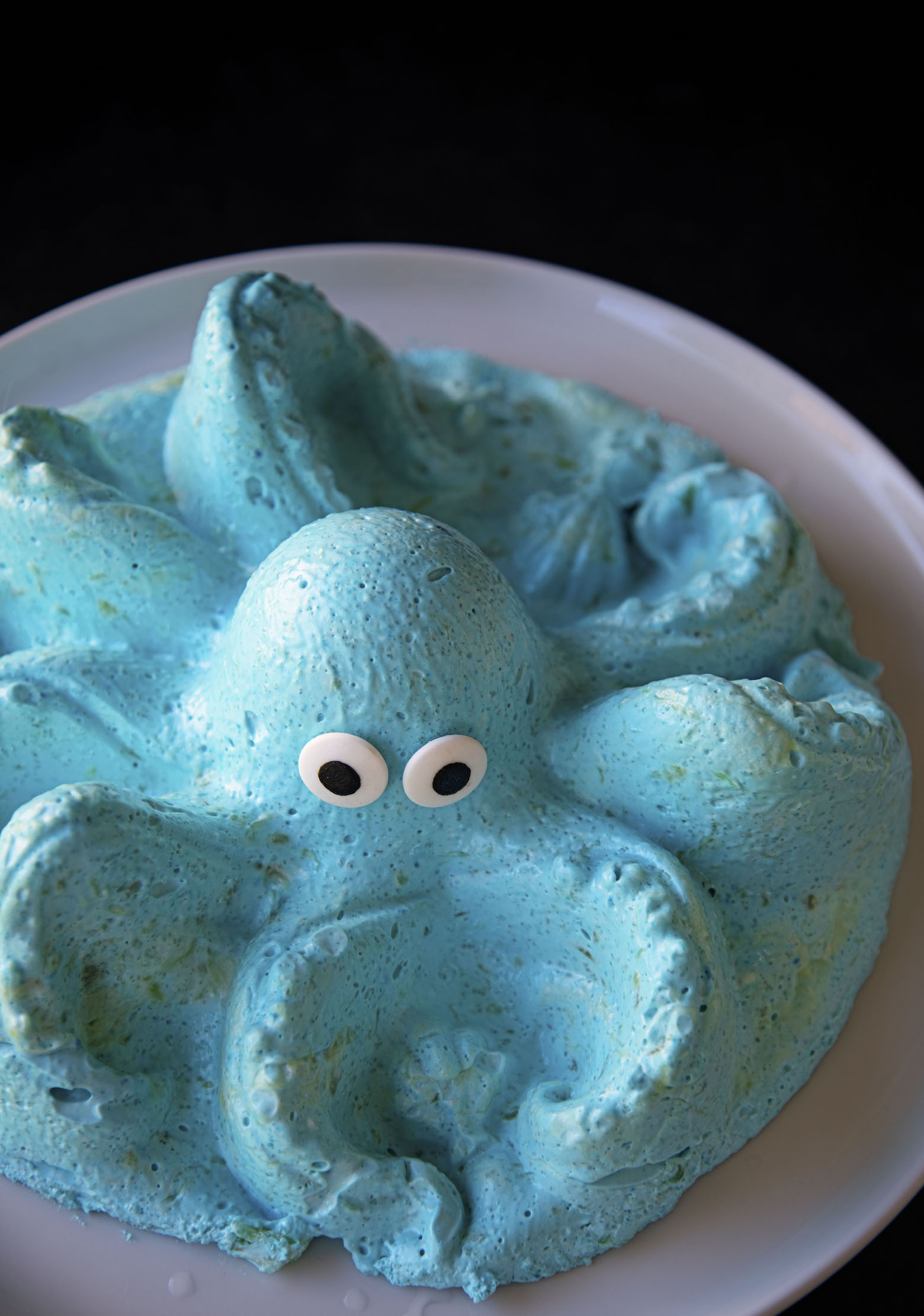 I originally tried making a spiced rum Bundt cake with this pan.
But because the cake turns brown when you bake it you lose the blue.
And well, you need the blue.
And so it became a jello mold.
Which octopi are more jello than they are cake so it works out.
That meant I had to use blue gelatin.
And so far I have only found two flavors that come in blue.
A berry and Blue Hawaiian.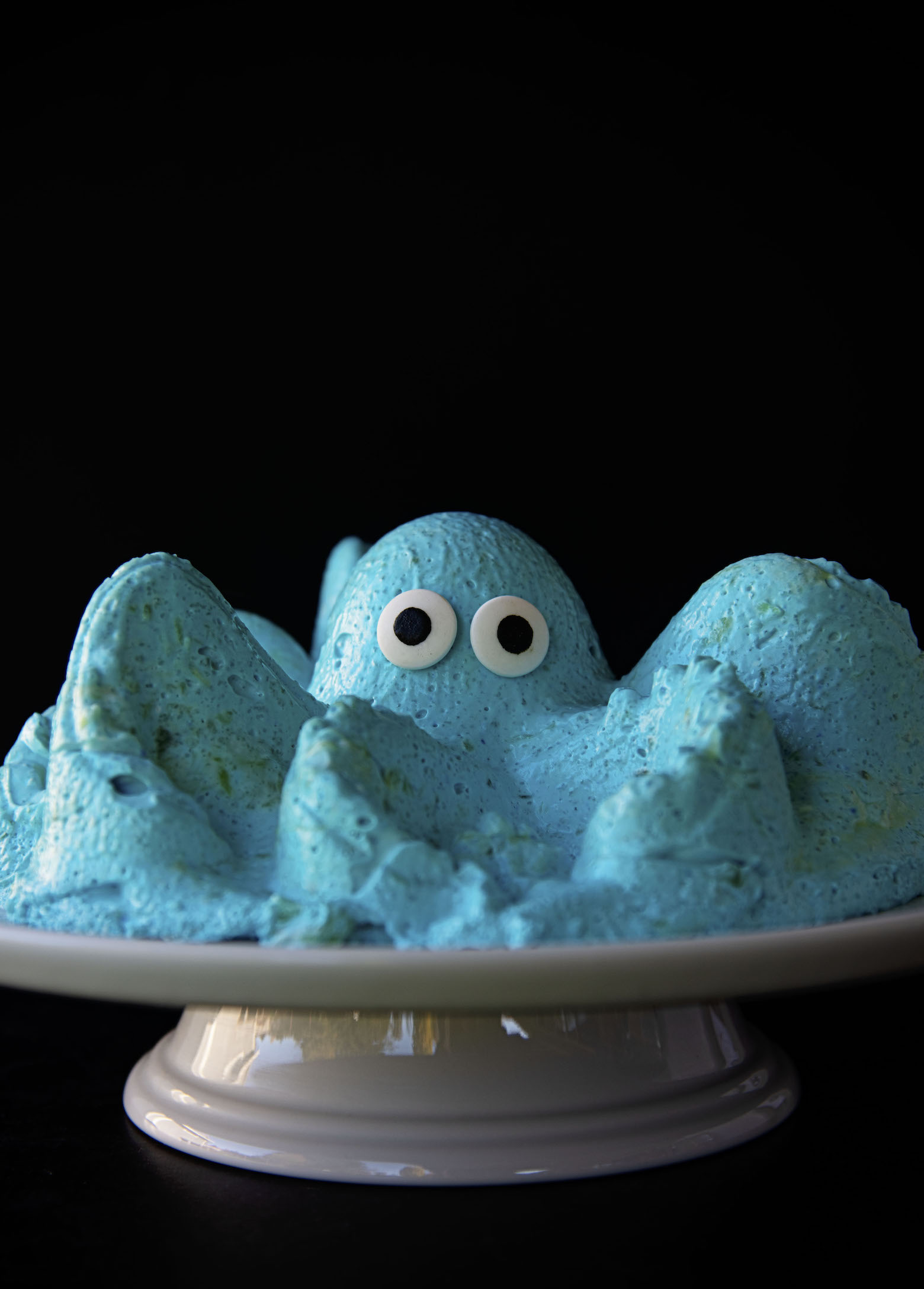 It made the most sense to go with Blue Hawaiian since the drink involves rum and I could use Kraken rum.
And because Hawaii makes you think of the ocean.
Blue raspberry does not.
I find my Blue Hawaiian gelatin at Walmart but you can buy it online as well.
I put a link in the recipe.
You can use the blue raspberry flavor if you like.
I ended up adding blue food gel as well to really make it be blue.
P.S. It's a great day to buy my cookbook Holy Sweet!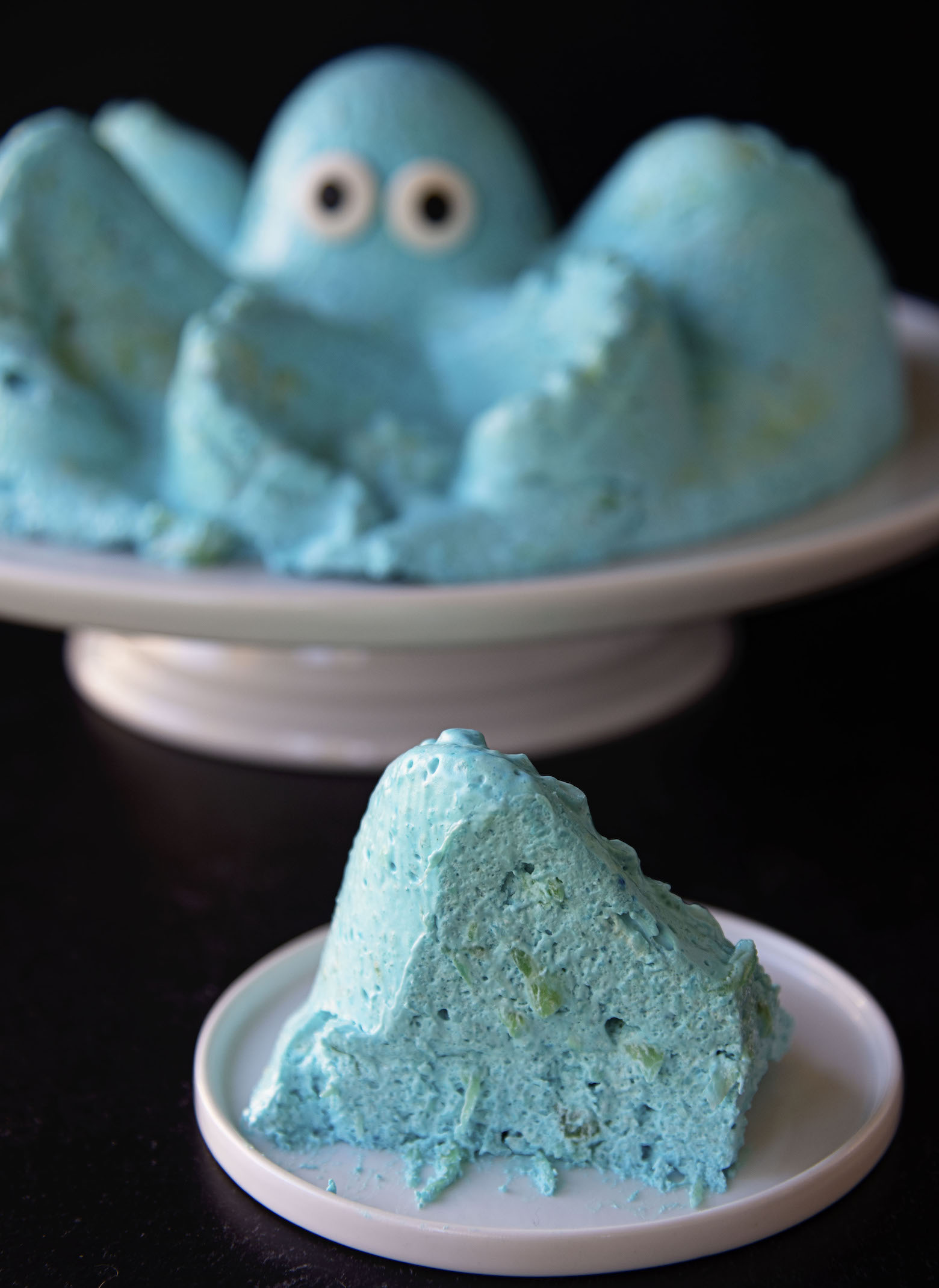 Want more Jello Mold recipes?
Creamsicle Marshmallow Jell-O Salad
Cherry Coke Float Jell-O Salad
Cranberry Marshmallow Jell-O Salad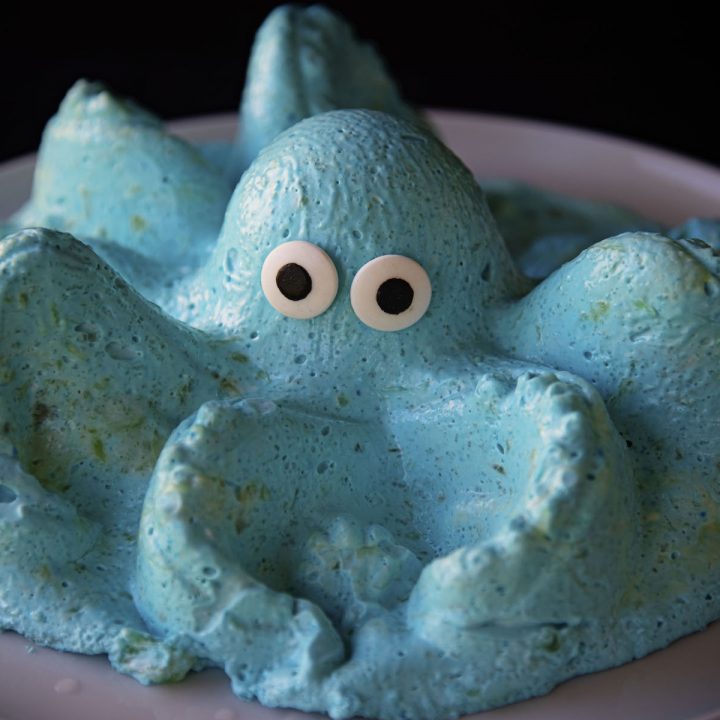 Kraken Blue Hawaiian Jello Mold
Ingredients
1 cup boiling water
1 (8 ounce) package cream cheese, at room temperature
1 (8 ounce) can crushed pineapple, drained
1/4 cup spiced rum (I used Kraken Black Spiced Rum)
3/4 cup pineapple soda
1 (8 ounce) carton of Cool Whip (or whipped cream)
blue food gel (to make more blue...optional)
Instructions
Dissolve Jello in water.
In a mixing bowl, beat the cream cheese until fluffy.
Stir in Jello and beat until smooth. I usually put it in the blender to fully mix.
Add pineapple, spiced rum, and soda and mix until incorporated.
Chill the mixture in refrigerator for about 30-40 minutes, so that when you lift it with a spoon it is clumpy.
Fold in the Cool Whip and mini marshmallows.
Pour into a 9-x-13-inch pan or Bundt pan.
Refrigerate for 3-4 hours or until firm.
If serving in pan, will make about 16 squares for 9-x13 pan or about 8 for a Bundt.