This Fresh Cherry Poppy Seed Loaf is filled with fresh Rainier cherries and poppy seeds all covered with a lemonade glaze for extra tang.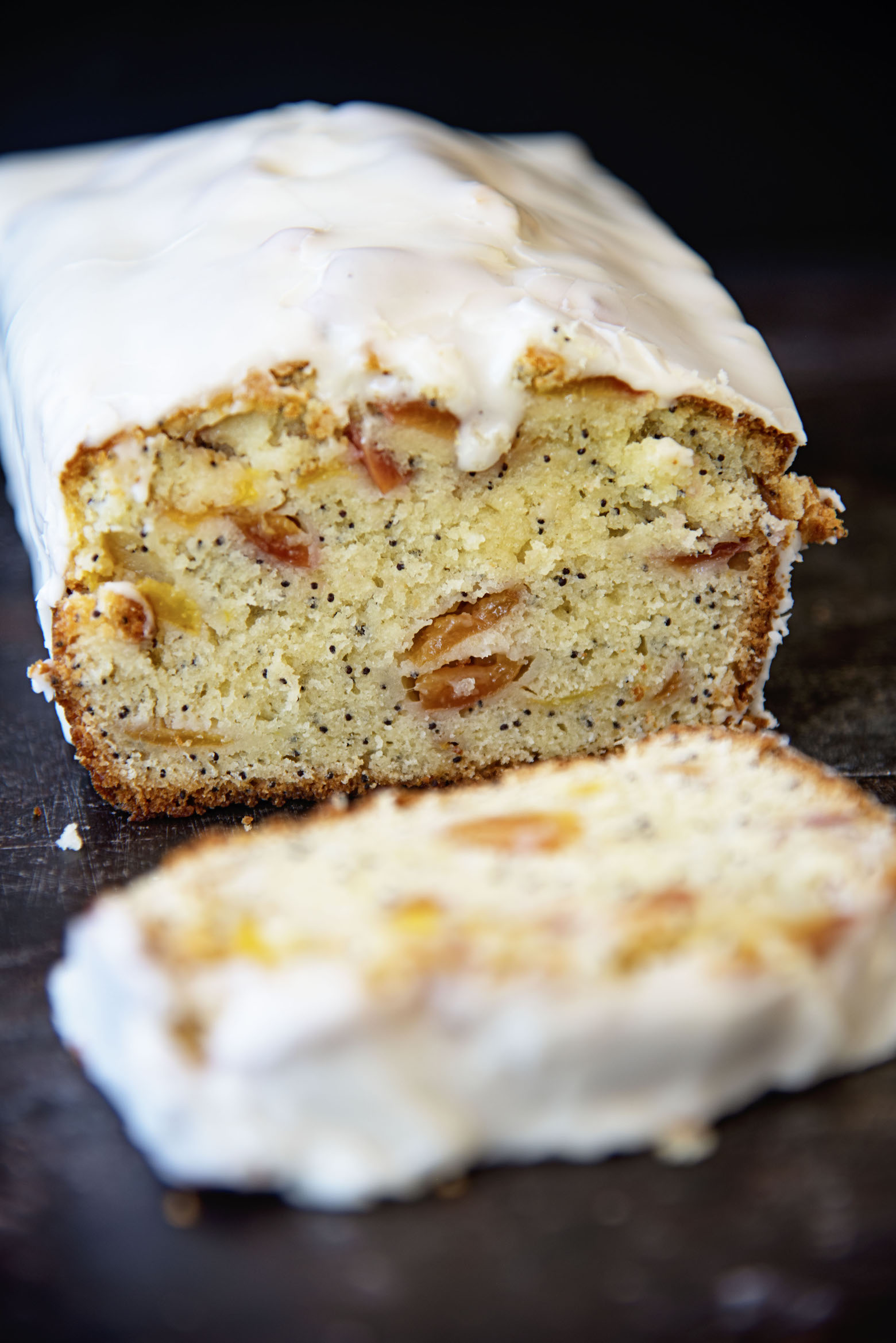 Here in Washington state we have Rainier cherries.
They originated here back in 1952.
I feel really bad that they are not available throughout the country.
As they are my favorite cherry.
Rainier cherries are yellow with just a hint of red…which often makes them look orange.
They are very sweet so I rarely use them for pie unless mixing them with other cherries.
I do however use them in baked goods and in cocktails.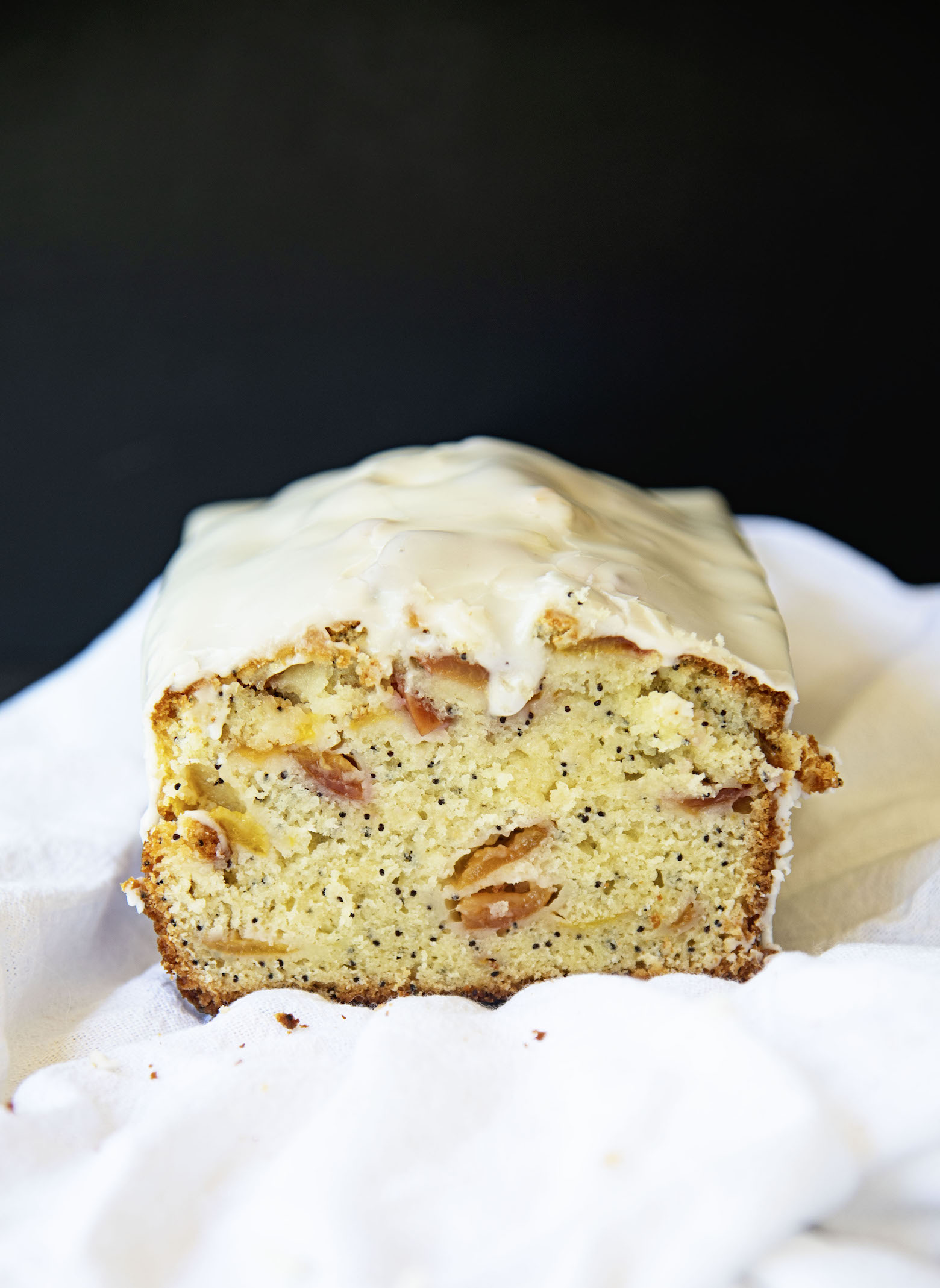 We are at the end of cherry season here.
Ours tends to run into August.
I wanted to get one last baked good in before they went away.
So I made this loaf.
Now most of you won't have Rainier cherries so feel free to use your favorite cherry.
If you don't have fresh you can have frozen.
And honestly, you could even have dried cherries in here as well.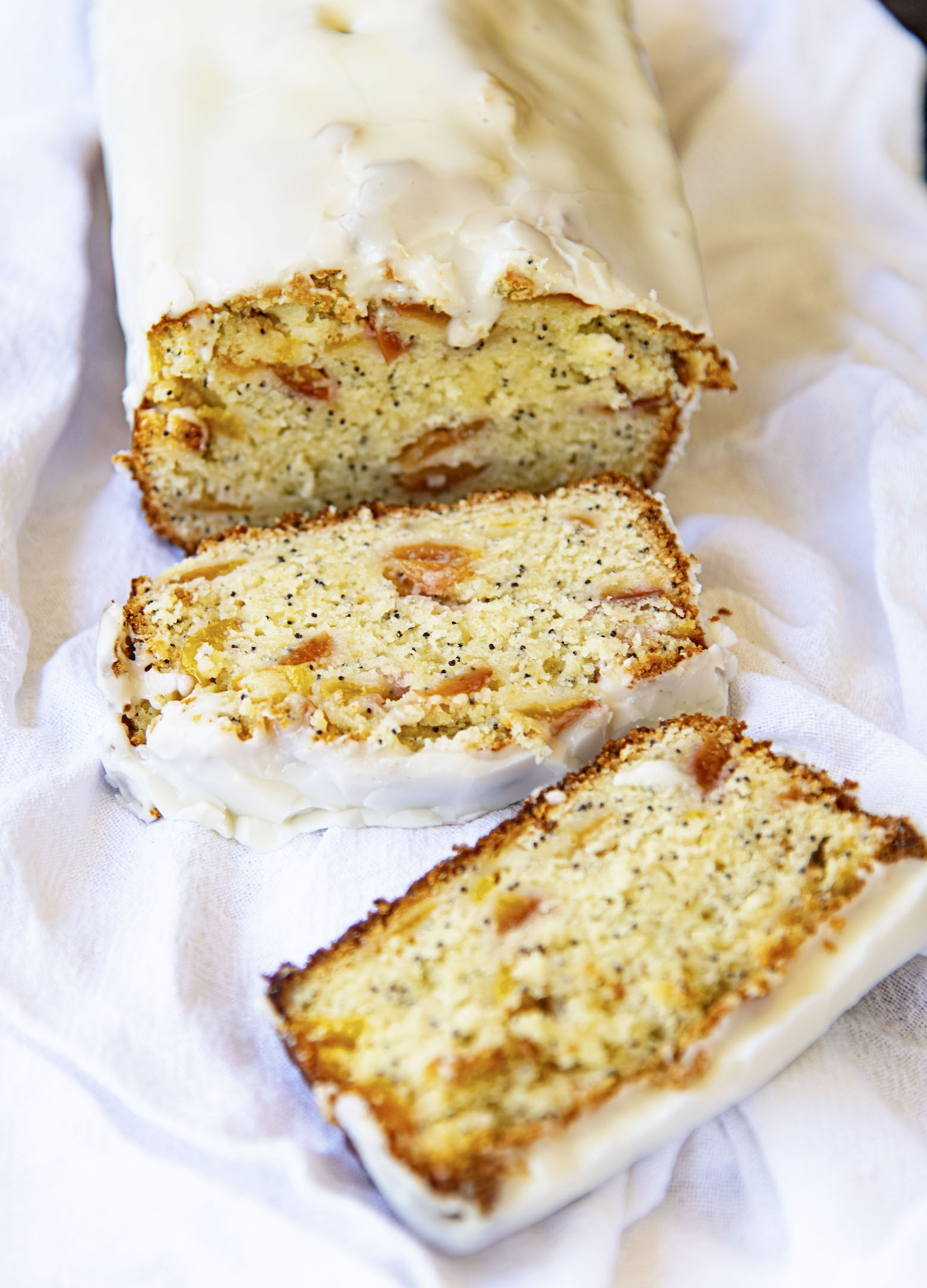 I love putting Rainier cherries in my lemonade (and maybe some vodka too).
So I figured a lemonade glaze seemed like a glaze to go with.
Plus this loaf cake is a play on a lemon poppy seed cake.
If you are not a poppy seed fan or maybe have a drug test coming up (kidding) you can skip the poppy seeds.
They cake will still hold together without them.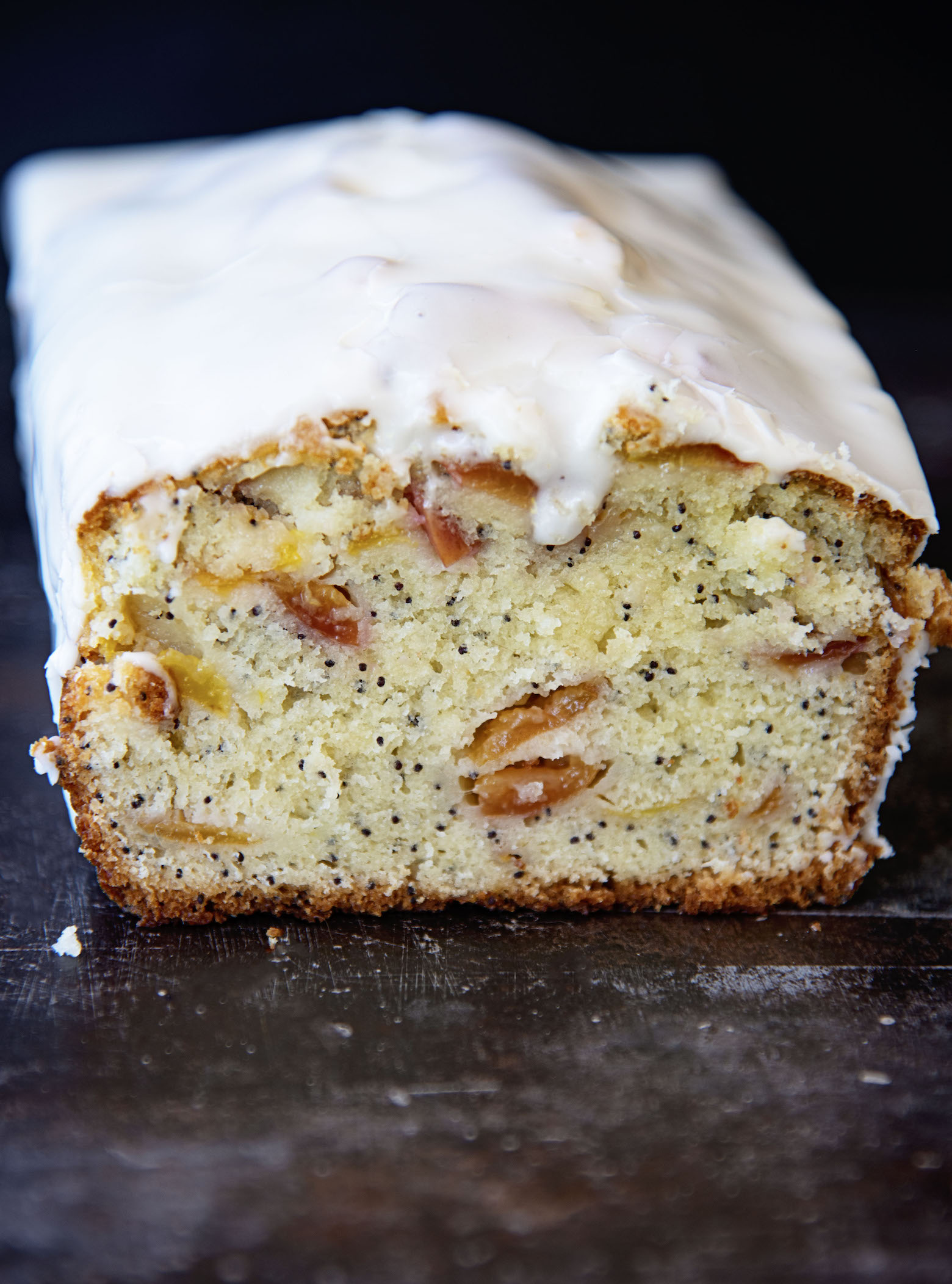 P.S. It's a great day to buy my cookbook Holy Sweet!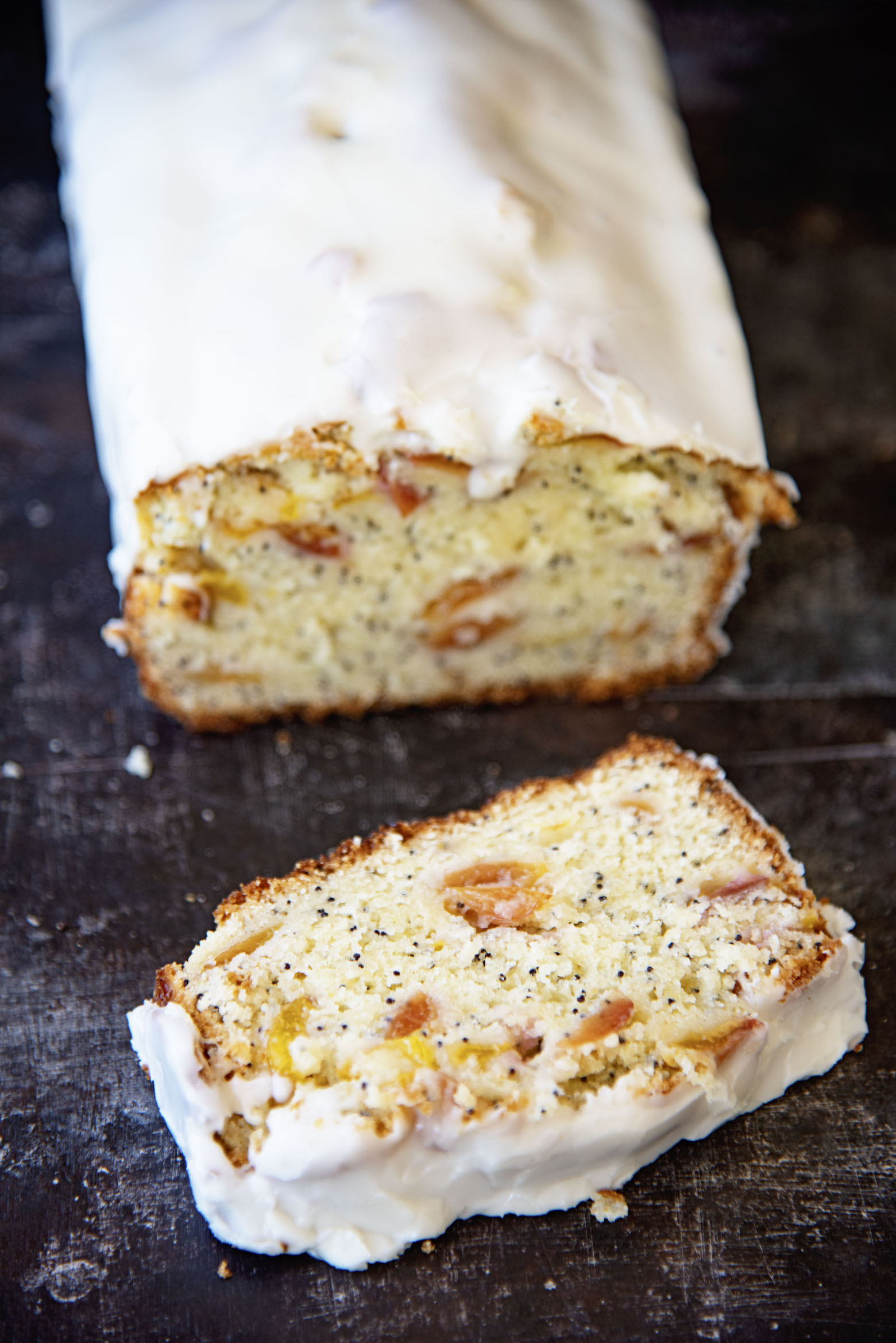 Want more Loaf Cakes?
Hummingbird Streusel Loaf Cake
Chocolate Peanut Caramel Quick Bread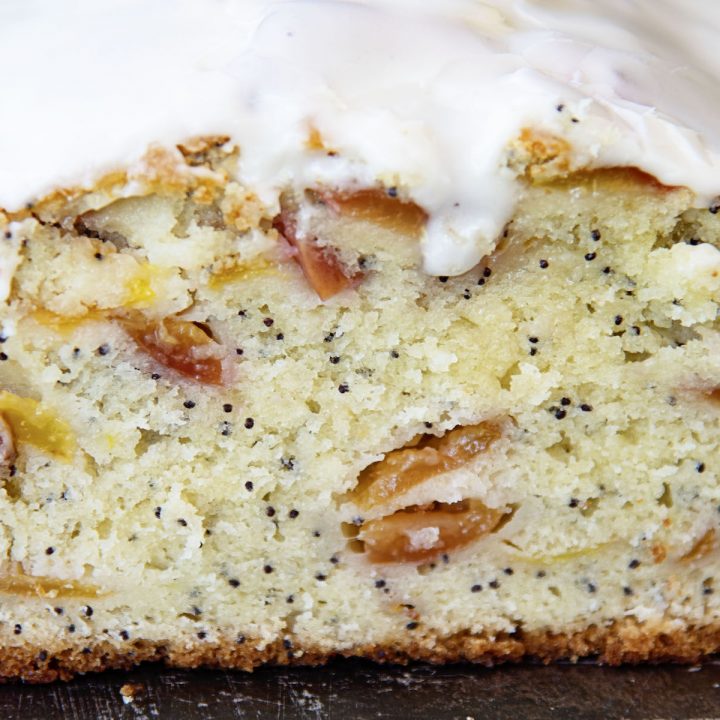 Fresh Cherry Poppy Seed Loaf
Ingredients
1 cup fresh cherries (I used Rainier)
1 2/3 cup flour + 1 TBSP flour
1/2 cup butter, at room temperature
1 cup granulated
2 eggs
1 TBSP lemon zest
2 TBSP poppy seeds
1 1/2 tsp baking powder
1/4 tsp salt
1/2 cup whole milk
For the glaze:
1/4 cup lemonade
1 cup powdered sugar
Instructions
Preheat the oven to 350F.
Spray a 9 x 5 inch loaf pan with cooking spray and line with parchment paper and spray the parchment paper as well.
Toss the cherries with 1 Tbsp flour and set aside.
Using a stand mixer with a paddle attachment cream together the butter and sugar until light and fluffy, about 2-3 minutes.
Add the eggs and lemon zest and beat until thoroughly combined.
Stir together the flour, poppy seeds, baking powder, and salt.
Add half of the mixture and mix on low speed just until combined.
Add half of the milk and mix on low speed just until combined.
Add the remaining flour, mixing just until combined, and then the remaining milk.
Fold in cherries and mix until combined.
Pour the batter into the pan and bake 55-60 minutes, until a skewer comes out with moist crumbs attached.
Cool the cake for 15 minutes and then remove it from the pan.
To make the lemonade glaze, combine the sugar and lemonade together in a small bowl.
Pour glaze over cake. Let set for about 30 minutes.