These Oatmeal Cream Pie Cereal Bars are made with Oatmeal Cream Pie Cereal and are topped with a white chocolate cream topping.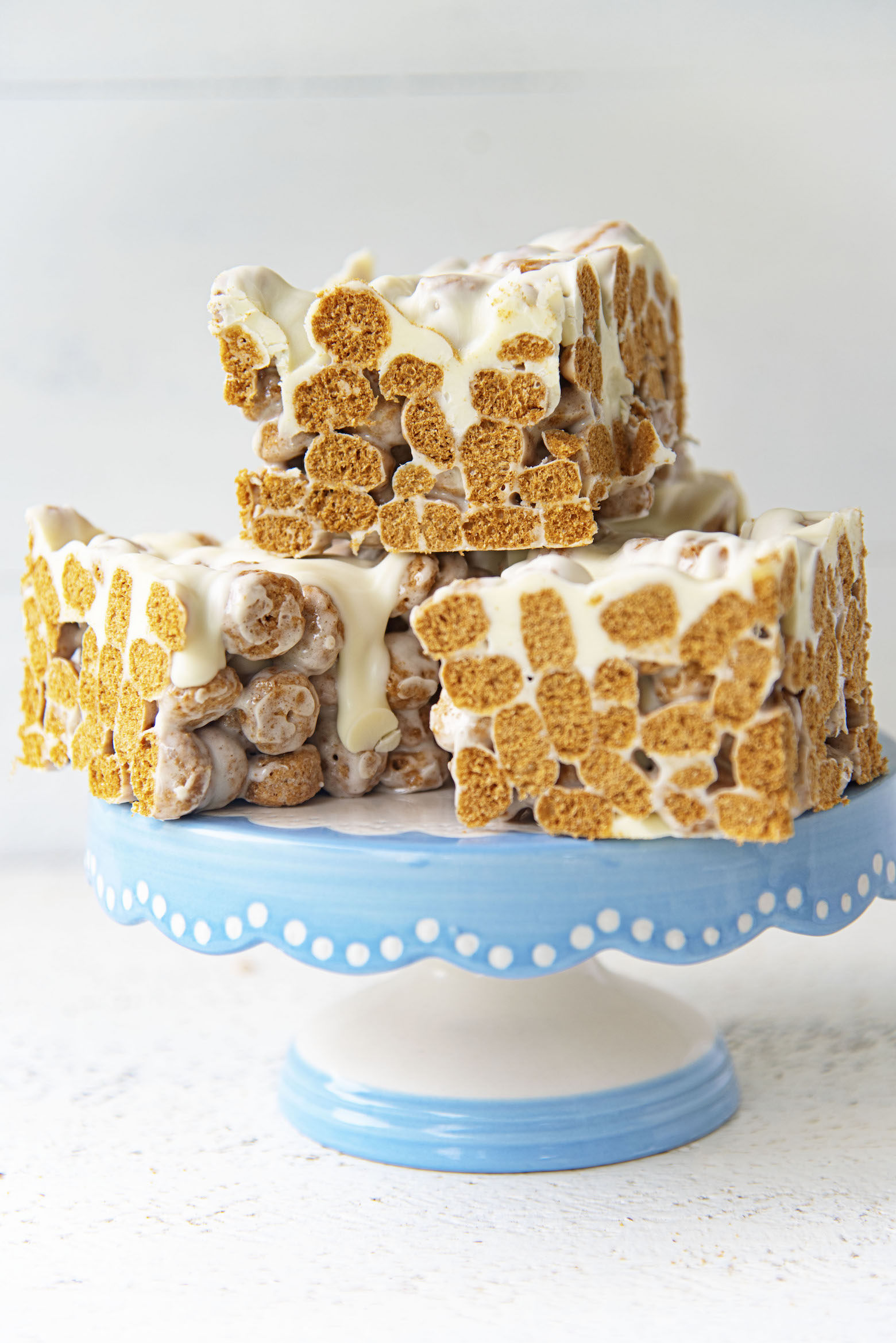 So a little while back Little Debbie came out with cereals that were based on their snack cakes.
One of those cereals was oatmeal cream pie.
I posted on Facebook about it and a lot of people said that it was very cinnamon flavored.
And I have to agree it is.
I'm not sure I would want just a big bowl of it.
But I thought it would be great as a bar.
So I made Oatmeal Cream Pie Cereal Bars.
Which are basically like rice krispie treats.
With a white chocolate cream coating.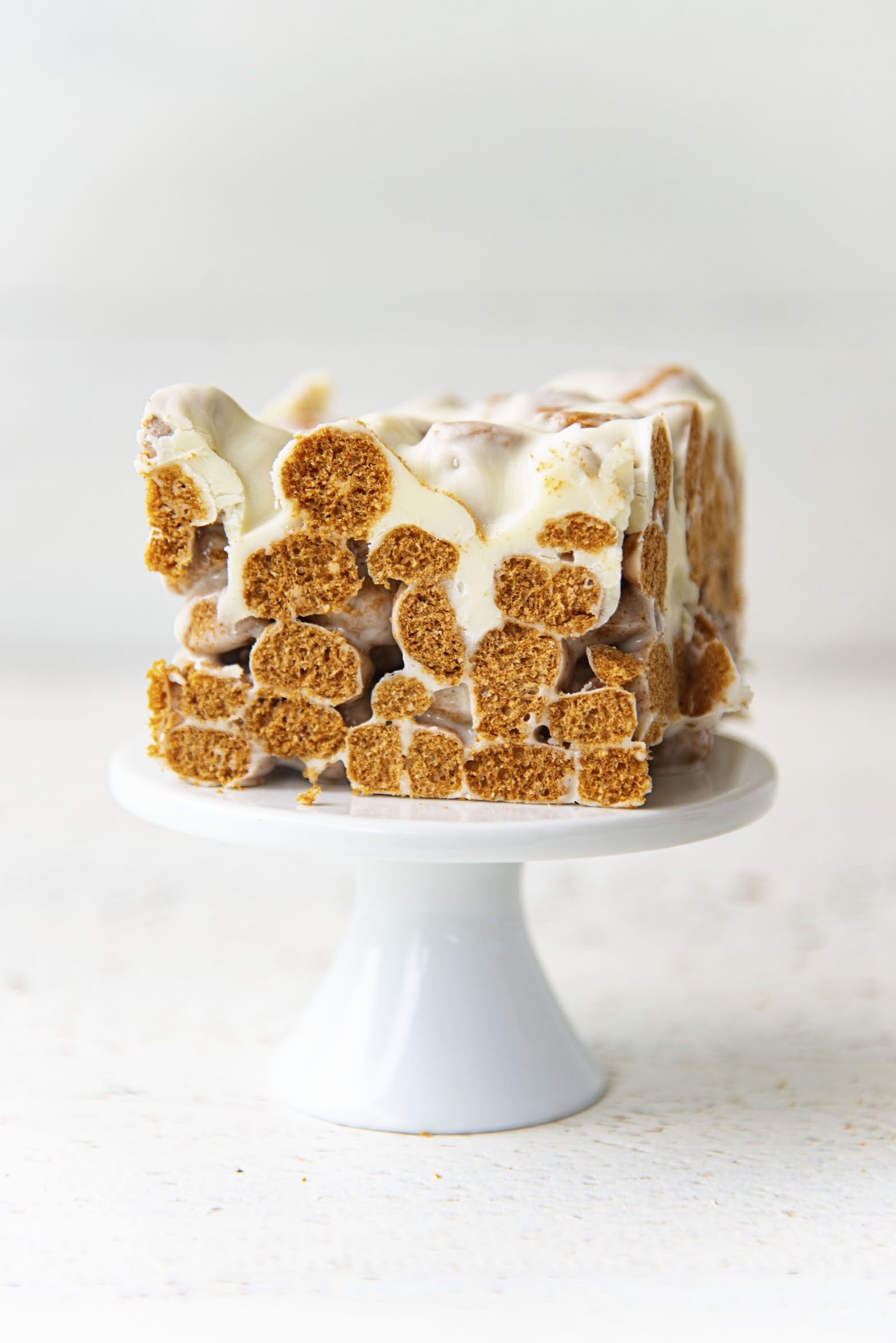 I found my cereal at Walmart.
A few people said they found theirs at Safeway.
So I think it's at major grocery stores.
If you can find it the Cheerios Oat Crunch Cinnamon can probably work in place of the Oatmeal Cream Pie Cereal.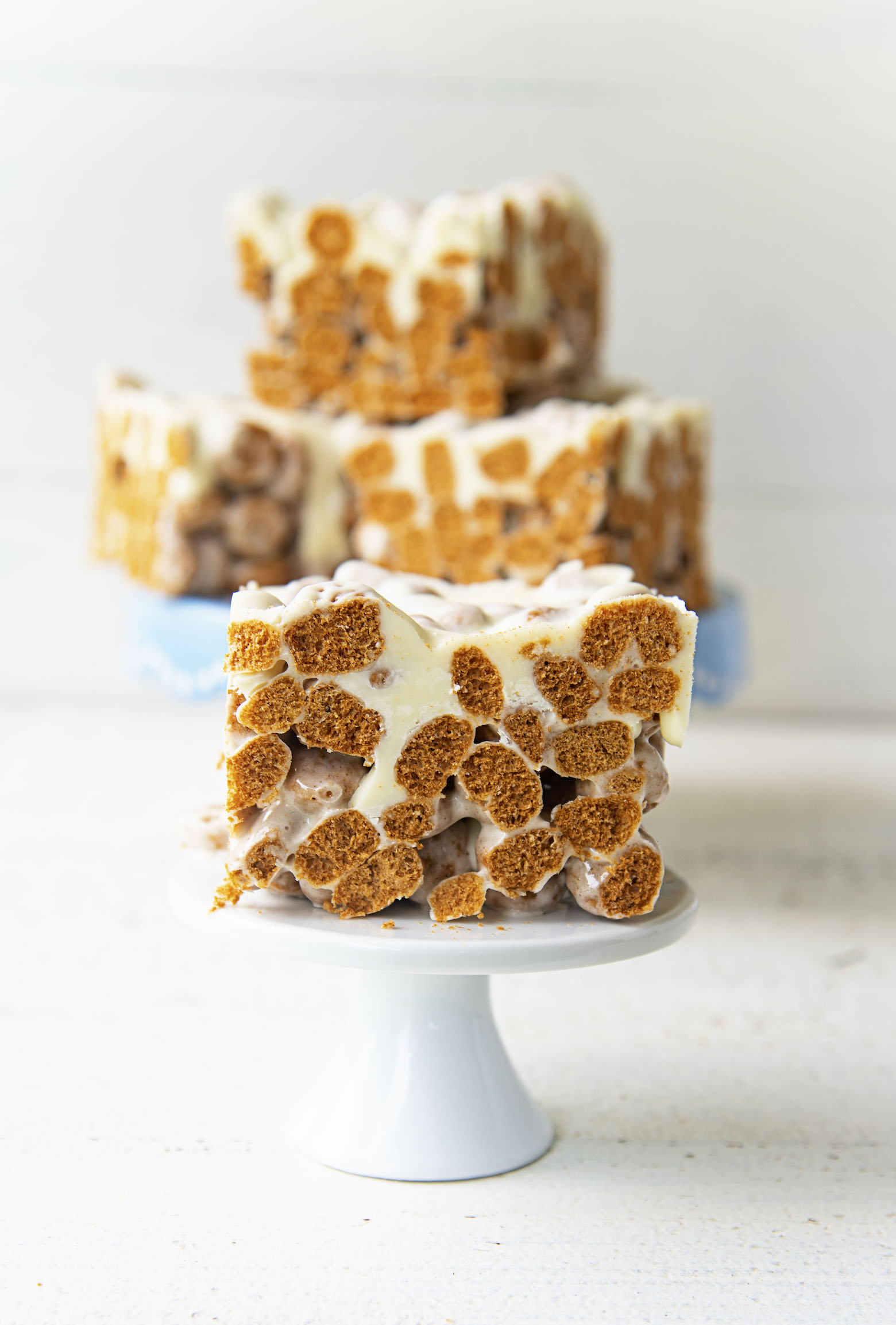 I know a lot of you will turn your nose up that this recipe uses vegetable shortening instead of butter.
Can you use butter?
Yes.
But you won't get the flavor I was going for.
When you make homemade oatmeal cream pies its a combo of marshmallow, vanilla, and vegetable shortening to make the filling.
While I'm not using marshmallow in the recipe you need the vegetable shortening to give it more of the cream pie flavor.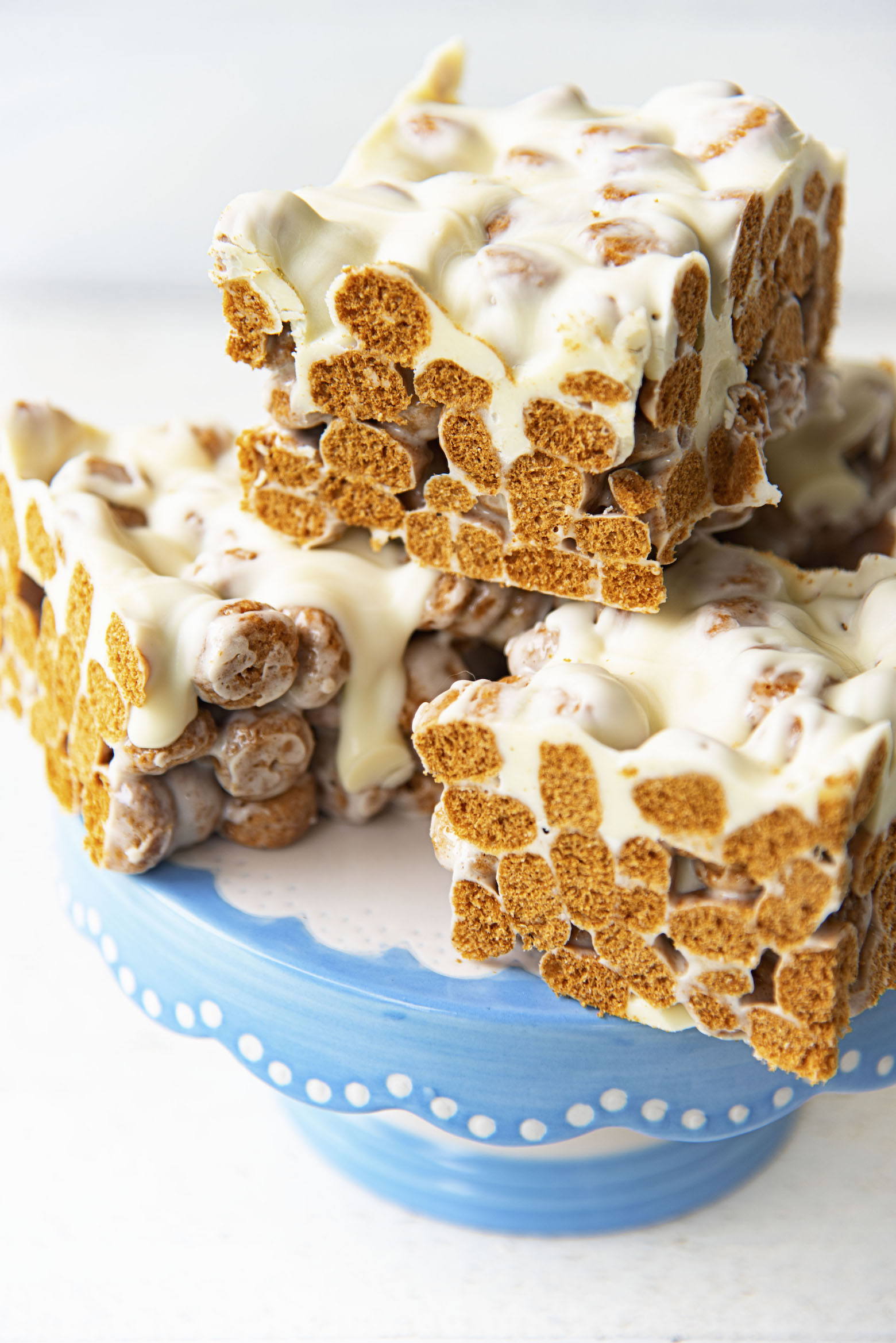 These are really quite tasty and turned out about how I expected.
Which is good. 🙂
While most of the white chocolate topping will stay on the top.
Some of it will leak down throughout the bars.
You want that to happen.
That way you get the cream pie effect throughout the bar.
P.S. It's a great day to buy my cookbook Holy Sweet!
Want More Cereal Bar Recipes?
Chocolate Chip Cookie Dough Rice Krispie Treats
Birthday Cake Batter Cereal Blondies
Cookies and Cream Rice Krispie Treats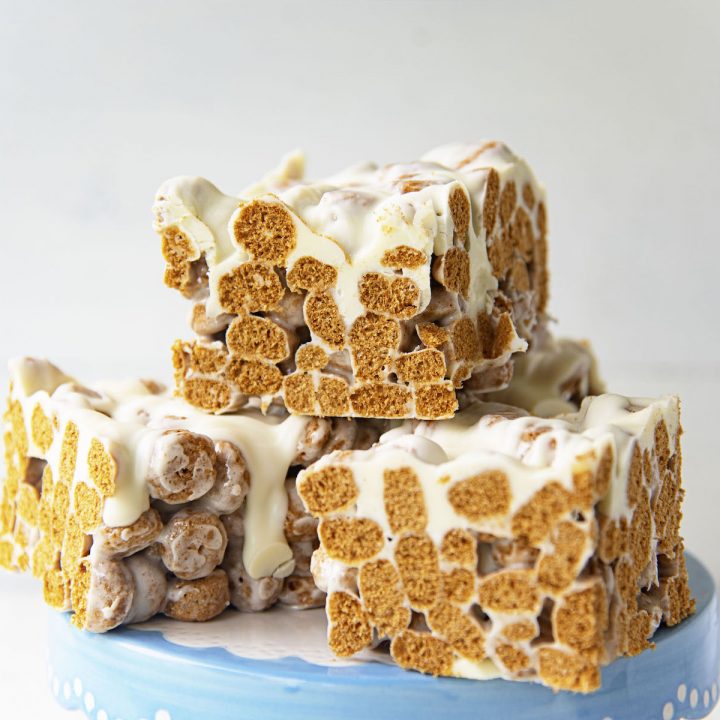 Oatmeal Cream Pie Cereal Bars
Ingredients
6 TBSP vegetable shortening (Crisco)
16 oz mini marshmallows (fresh, not the stale ones hiding in the back of your pantry that you forgot about)
6 cups Oatmeal Cream Pie Cereal (you can find it at Walmart or Safeway)
For the White Chocolate Topping:
12 oz white chocolate chips
3 TBSP vegetable shortening (Crisco)
1/2 tsp vanilla extract
Instructions
Butter a 9-x-13-inch baking pan. Or be lazy like me and spray it with non-stick baking spray. Set aside.
Over low heat melt vegetable shortening in a large pot (I like to use my stock pot because I am a messy person).
Once shortening has melted, add the marshmallows.
Continue to cook over low heat while they melt. It may take a little time. Don't turn up the heat to try and make it go quicker, you could end up with burned marshmallows or your treats could end up too hard once they firm up.
When most of the marshmallows have melted and they resemble marshmallow crème with a few lumps, remove from heat and add the cereal.
Using a wooden spoon, stir, stir, stir some more, until all the cereal is fully coated and other parts of the pot are not hogging all the marshmallows (so evenly coated).
Pour into prepared baking pan.
Take a rubber spatula and either spray it with non-stick spray or simply get some water on it (I just put mine under the faucet real quick). Using the spatula, press the cereal/marshmallow mixture down into the pan, attempting to create a flat, even surface.
Cover with foil and let sit for a few hours to firm up.
Take foil off.
In a microwave safe bowl combine white chocolate and shortening in a medium heat-proof bowl set over a medium saucepan of barely simmering water; stir until melted and smooth.
Add the vanilla and mix until fully incorporated.
Spread the white chocolate coating over the top of the cereal treats like you are frosting them.
Let the white chocolate top firm up, about 30 minutes depending on how cool it is in your house.
Cut into squares. Some would say 2-inch. But whatever size you would like works.