This Peach Dulce de Leche Cake has a peach buttermilk cake base, filled with peach jam, and a Dulce de Leche buttercream frosting.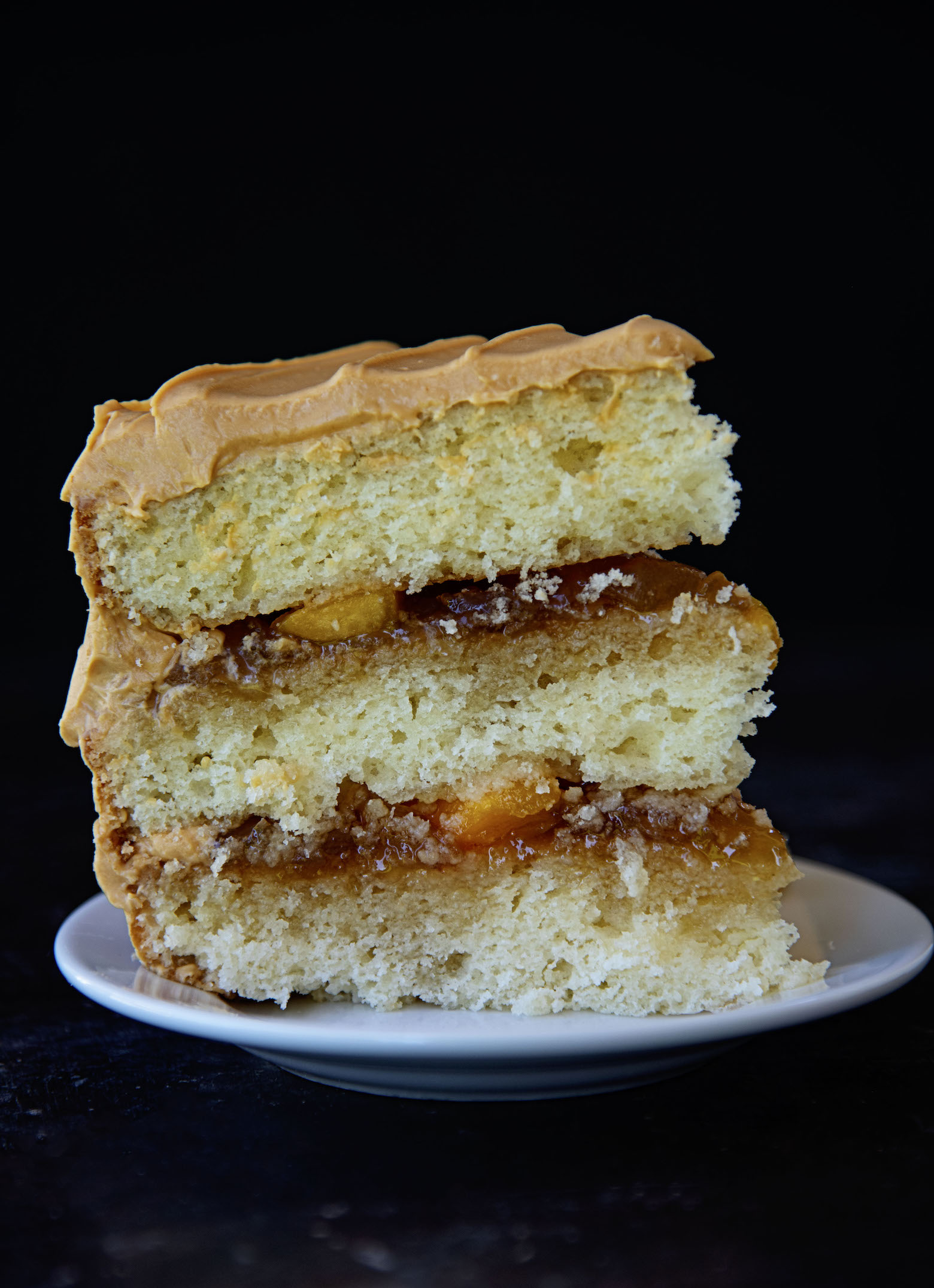 I've had this cake on my mind for awhile now.
A really long while. I saw a version of it many years ago in one of my favorite cookbooks, The Pastry Queen.
As much as I love the book, many of the recipes in the book take a lot of time.
They are multiple steps.
However, I had a giant box of peaches staring at me and decided I would take on the cake after all.
Making my version of a Peach Dulce de Leche Cake.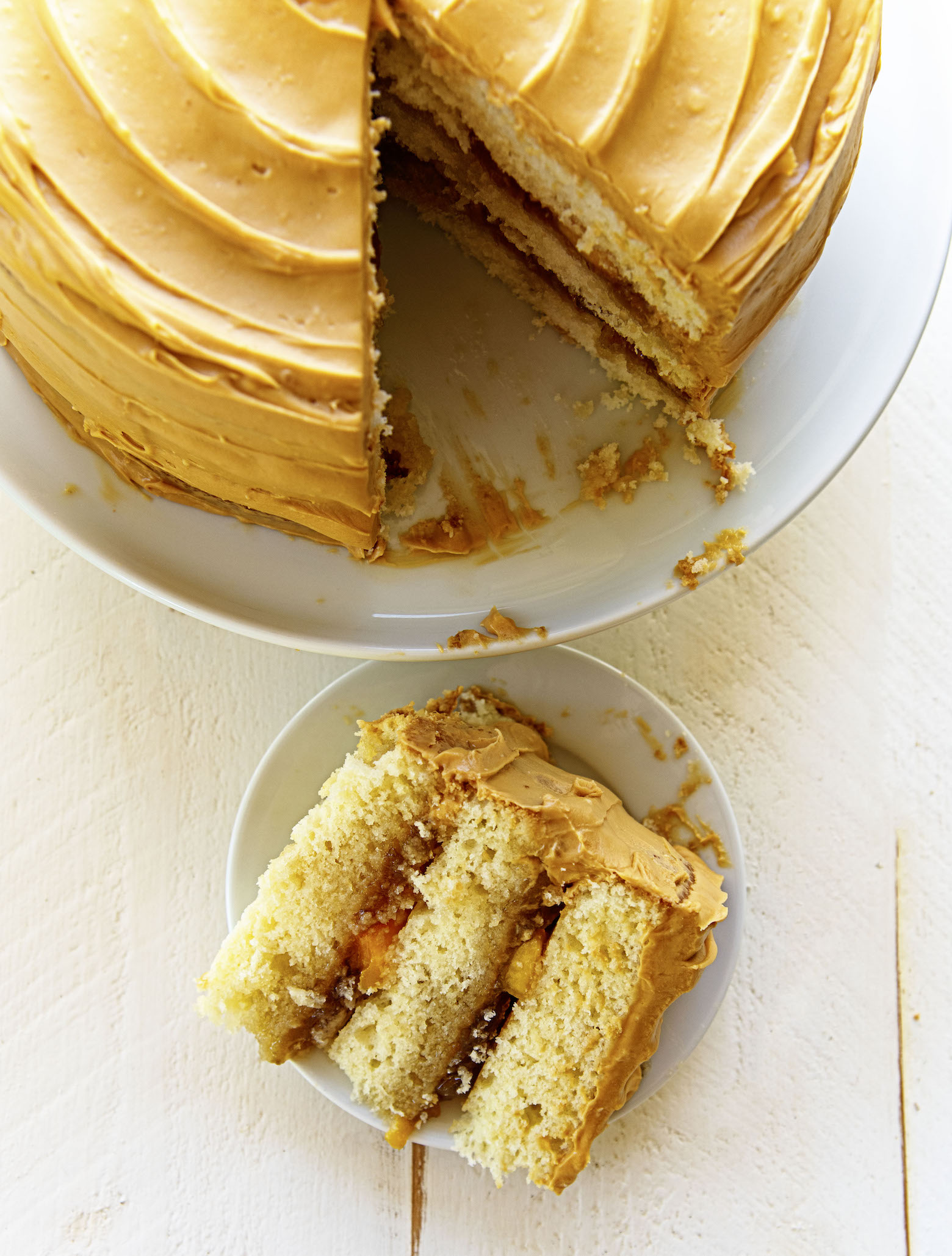 What is Dulce de Leche?
It's sweetened condensed milk that you cook down slowly over hours to make a yummy caramel like product.
The method I learned years ago has you boiling the unopened can in water for hours.
I then moved to the Instant Pot Method.
Or you can buy it.
Most grocery store chains carry it now and you can find it in the hispanic food section.
I always make sure to have a can at home because it really adds depth of flavor to recipes.
In the original version of this cake they use fresh peaches.
I chose to use freeze dried.
When I made it with the fresh peaches it just made the cake soggy in my opinion.
But with freeze dried you get all the peach flavor but none of the moisture.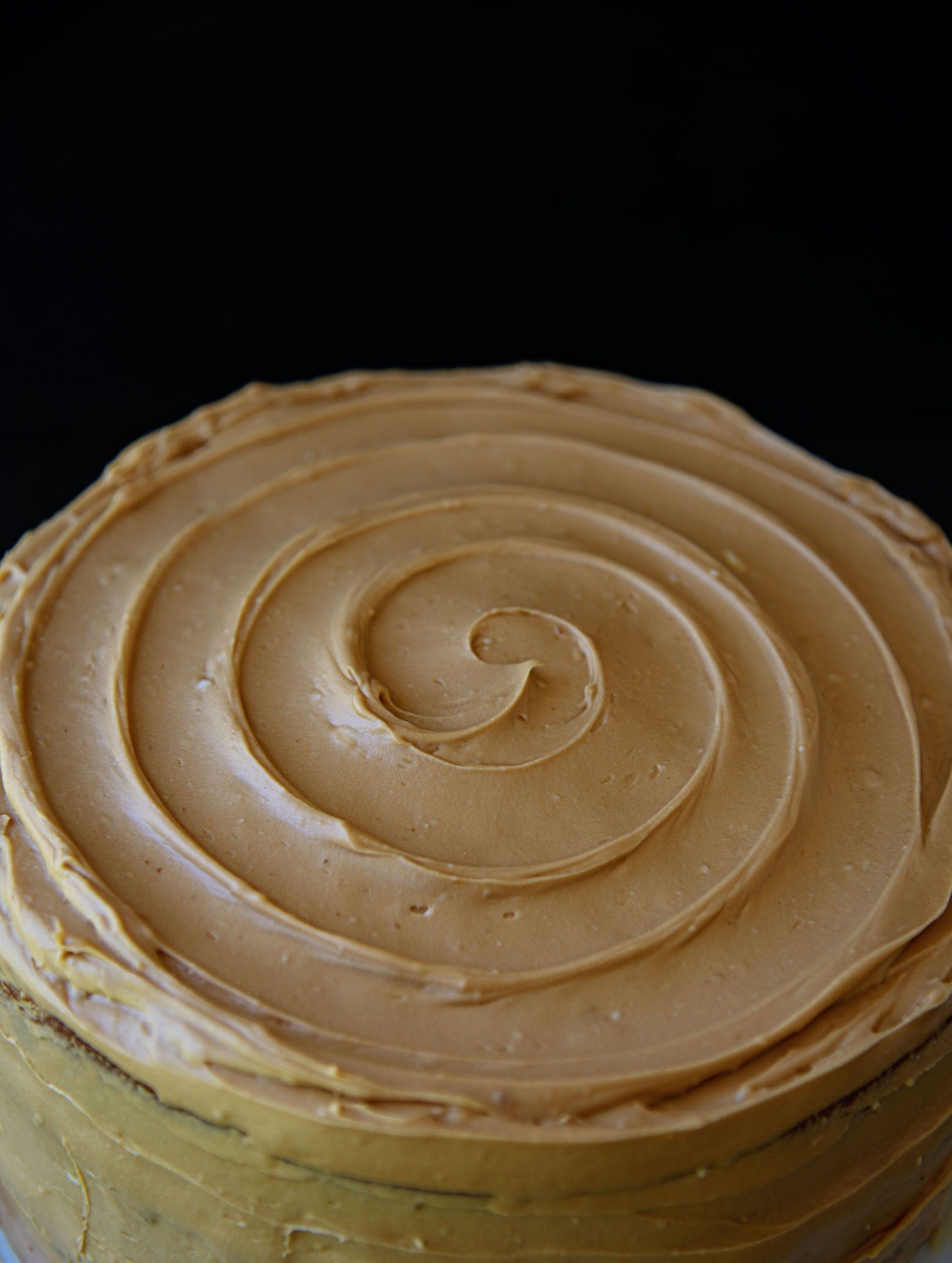 I saved the fresh peaches to add to the filling.
The original recipe just uses a peach jam.
And you can do that too.
But I just had such gorgeous peaches that I felt they needed to go in the cake as well.
I must say, I'm so very happy I finally got around to making this cake.
It lived up to my expectations.
P.S. It's a great day to buy my cookbook Holy Sweet!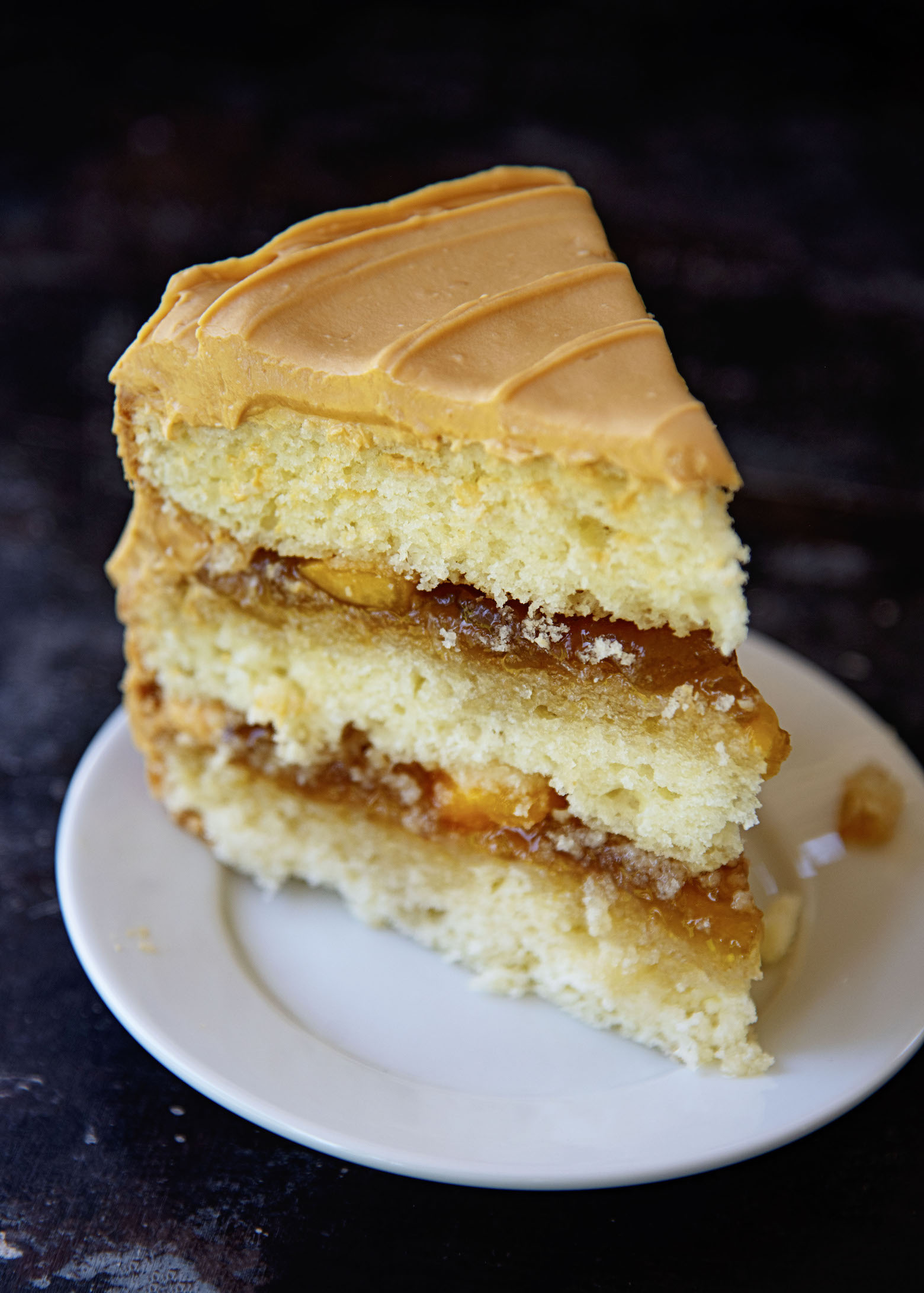 Want more Layer Cake Recipes?
Circus Animal Cookie Layer Cake
Strawberry Mascarpone Buttermilk Layer Cake
Chocolate Salted Caramel Popcorn Layer Cake
Strawberry Lemonade Layer Cake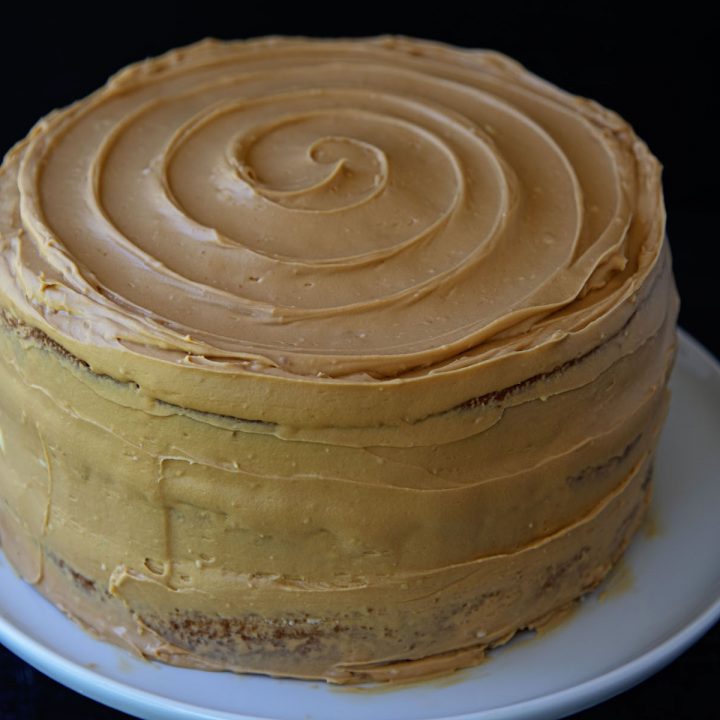 Peach Dulce de Leche Cake
Ingredients
For the Cake:
2 1/2 cups cake flour
2 tsp baking powder
1/2 tsp baking soda
1 tsp salt
1/2 cup freeze dried peaches, finely crushed
1 1/2 cups granulated sugar
3/4 cup unsalted butter, at room temperature
1 tsp vanilla extract
3 eggs
2 egg whites
1 cup buttermilk
For the Filling:
1 TBSP lemon juice
1 cup peaches, diced
1 cup brown sugar
1/2 cup peach jam
For the Frosting:
3 sticks unsalted butter, at room temperature
4 cups powdered sugar, sifted
1 tsp pure vanilla extract
Pinch of table salt
1 cup dulce de leche (you can make your own or buy it)
Instructions
For the Cake:
Preheat oven to 350 degrees. Grease and flour three 6″ round cake pans and set aside.
In a large mixing bowl, whisk together sugar, cake flour, baking powder, baking soda, freeze dried peaches, and salt. Set aside.
In a large measuring cup or mixing bowl, stir together the eggs, egg whites, buttermilk, and vanilla extract. Set aside.
Using a stand mixer with the paddle attachment beat together the butter and granulated sugar until light and fluffy, about 3 minutes.
Add 1 cup dry ingredients and mix on low for 30 seconds.
Then add the buttermilk mixture and mix on low for 30 seconds.
Add another cup of the dry ingredients and mix for 30 seconds.
Add the remaining buttermilk mixture and mix for 30 seconds.
Add the remaining dry ingredients and mix until fully incorporated.
Evenly distribute the batter between the three prepared pans.
Bake for about 25-28 minutes, or until a toothpick inserted into the center of the cake comes out clean.
Cool on a wire rack for 10-15 minutes before removing the cakes from their pans.
For the Filling:
In a large bowl add the lemon juice.
Add the diced peaches and coat the peaches with the lemon juice.
Place the diced peaches in a large saucepan and add the brown sugar.
Bring the mixture to a full boil over medium-high heat, stirring occasionally.
Do this for about 25-30 minutes until the mixture is thick.
Add the 1 cup peach jam and stir until combined.
Set aside to cool.
For the Frosting:
In the bowl of a stand mixer, beat the butter for 2 minutes, until fluffy.
Add in the powdered sugar, vanilla, and salt, and beat until combined, scraping the sides of the bowl as you go, about 1 to 1 ½ minutes.
Spoon in the dulce de leche and beat for an additional 2 minutes, until the buttercream is light and fluffy.
To assemble the cake:
Place one of the cake layers on a cake plate.
Using an offset spatula, spread half the peach jam filling over the cake.
Place the second layer on top of the peach filling.
Add the remaining peach jam filling and spread evenly across the layer.
Top with remaining cake layer.
Frost the cake.
The cake will keep covered at room temperature for 2 to 3 days if your kitchen temperature allows; if it is too hot, the frosting won't keep well so the cake can be kept, covered, in the refrigerator.