These Mixed Berry Millionaire Bars have a lemon shortbread base, covered with a mixed berry caramel, and then topped with white chocolate.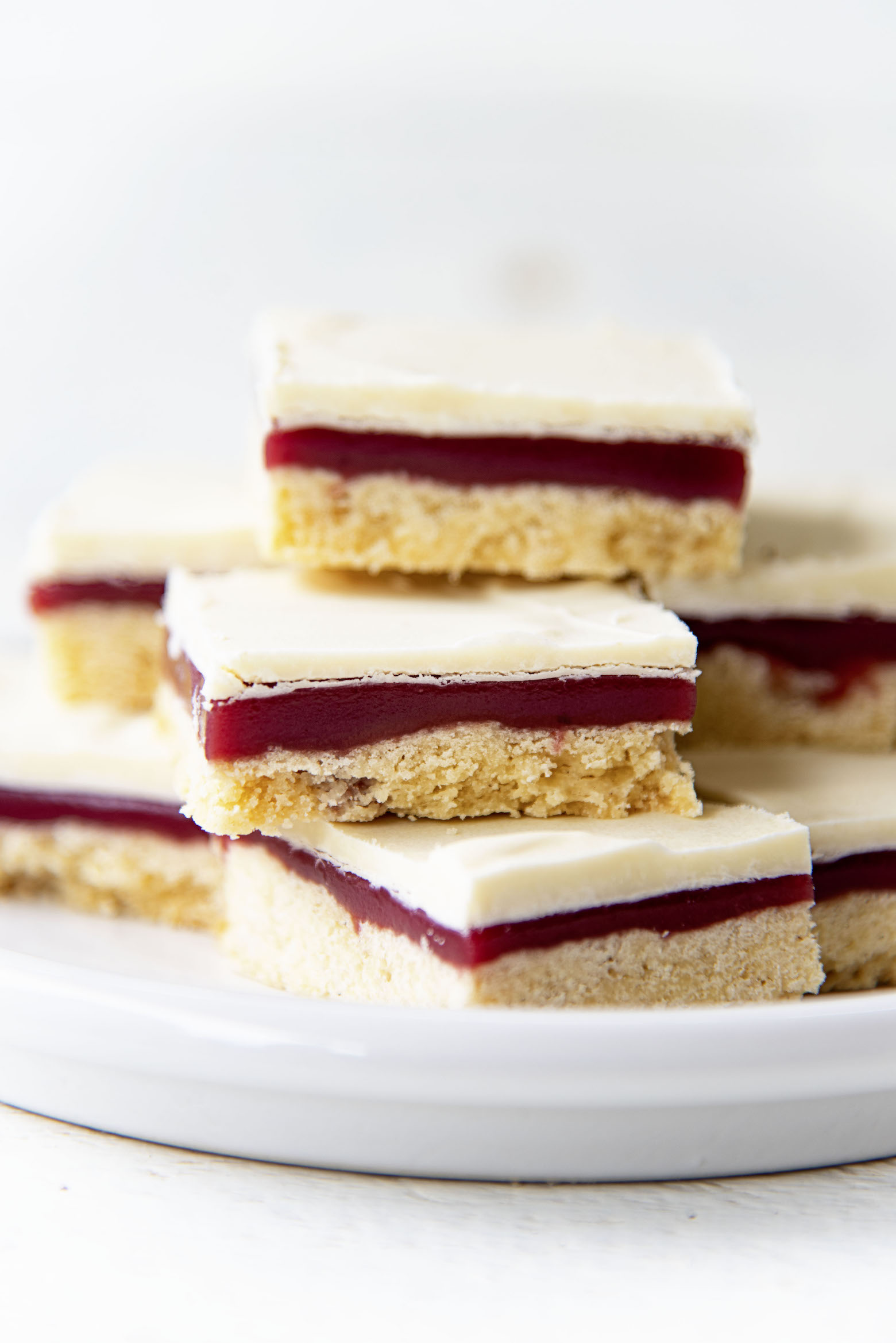 I'm not known for the usual, especially in candy making.
My fudge flavors tend to be out there.
As do my caramel flavors.
Every year in the summer I make Mixed Berry Caramels.
I finally put the recipe for them last year.
This year I made several batches but also wanted to incorporate them into a baked good.
These Mixed Berry Millionaire Bars are what I decided to go with.
And I'm so glad I did.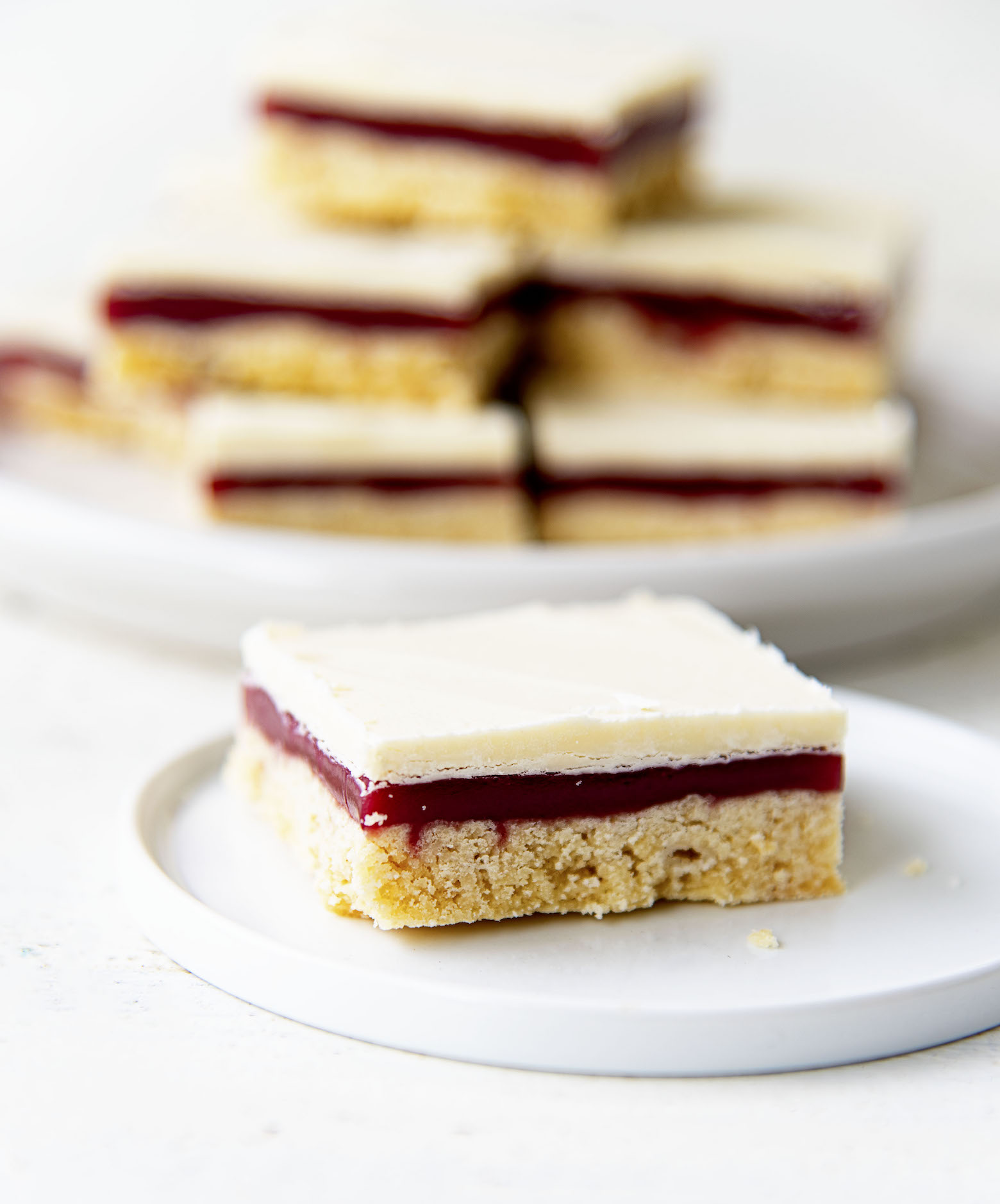 These bars start with a lemon shortbread.
Not a super lemon flavor just a little zest added in.
I do like berry with citrus flavors.
But if you are not a lemon fan you can just do all vanilla and these bars will still be lovely.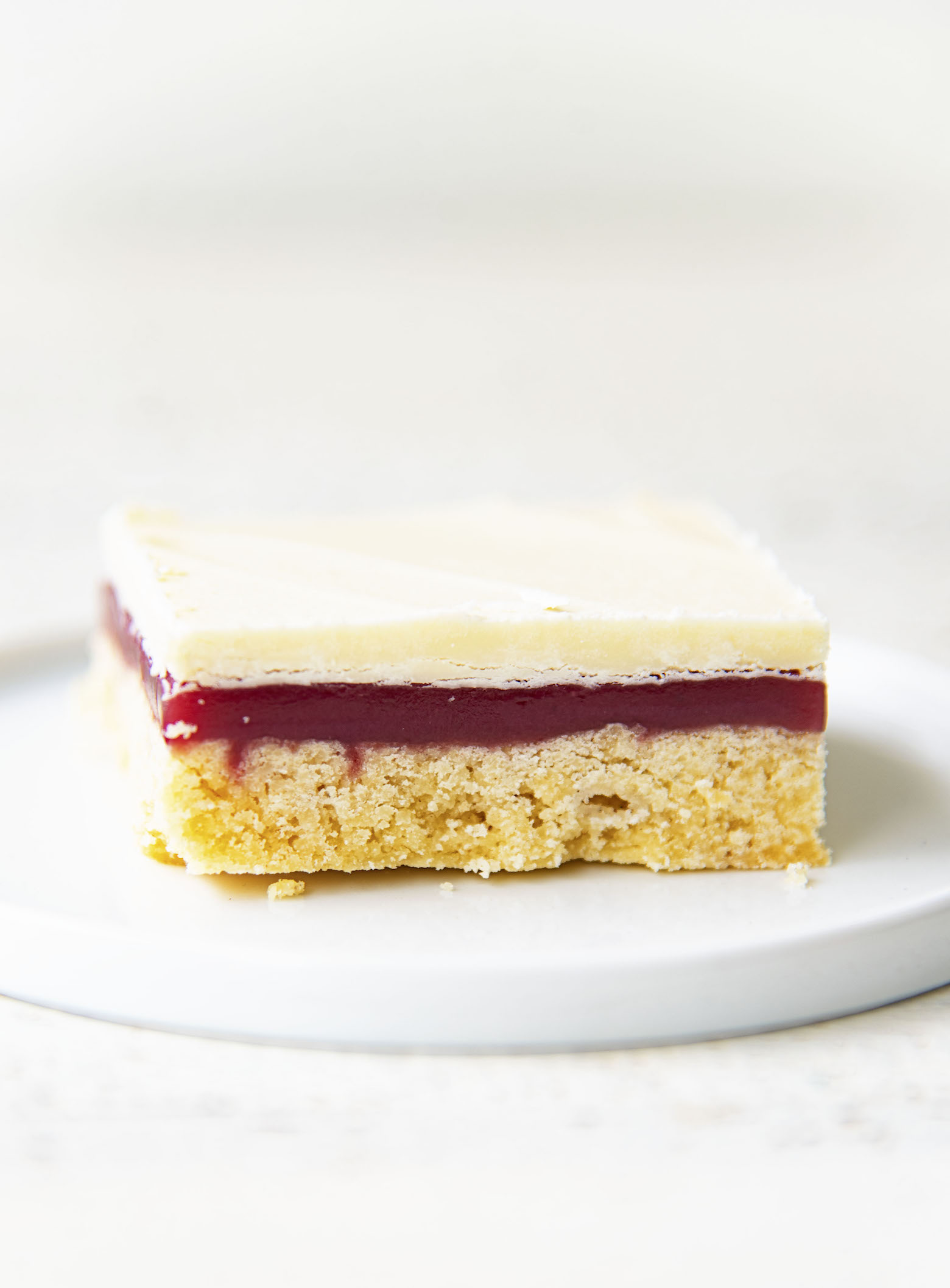 The caramel layer is the star of the show though.
My mixed berry caramels are always a hit because they are bursting with fresh berry taste.
People are never sure what to expect. When they hear caramel they think of traditional caramel.
Which caramel in this instant is more the texture and how you make them.
The flavor is all berry.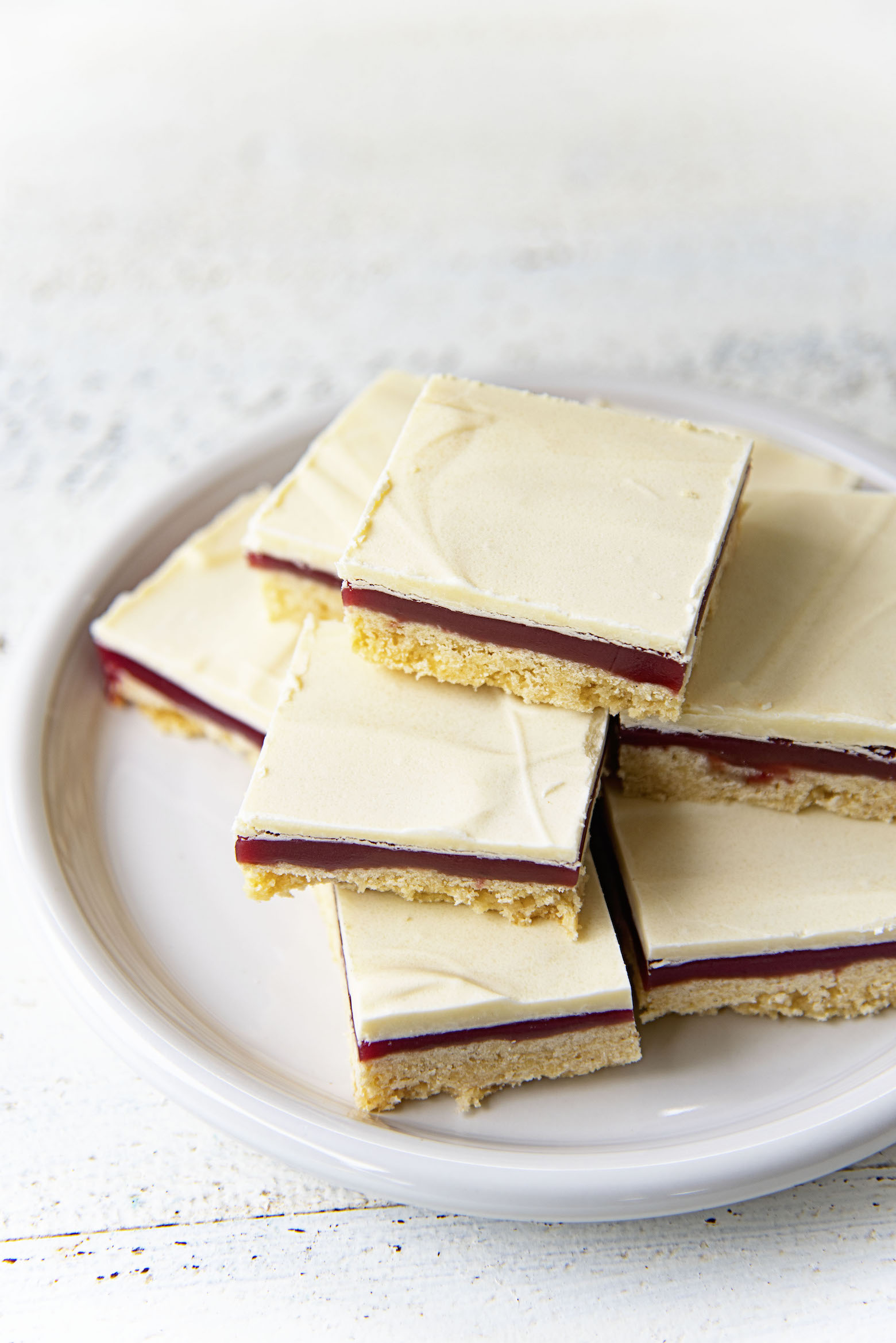 To finish the bars they are covered with a white chocolate coating.
I find that if I do just white chocolate the chocolate breaks when you cut them.
Adding the vegetable oil gives them a little shine and allows you to be able to cut them cleanly.
And as always it's a great day to order my cookbook.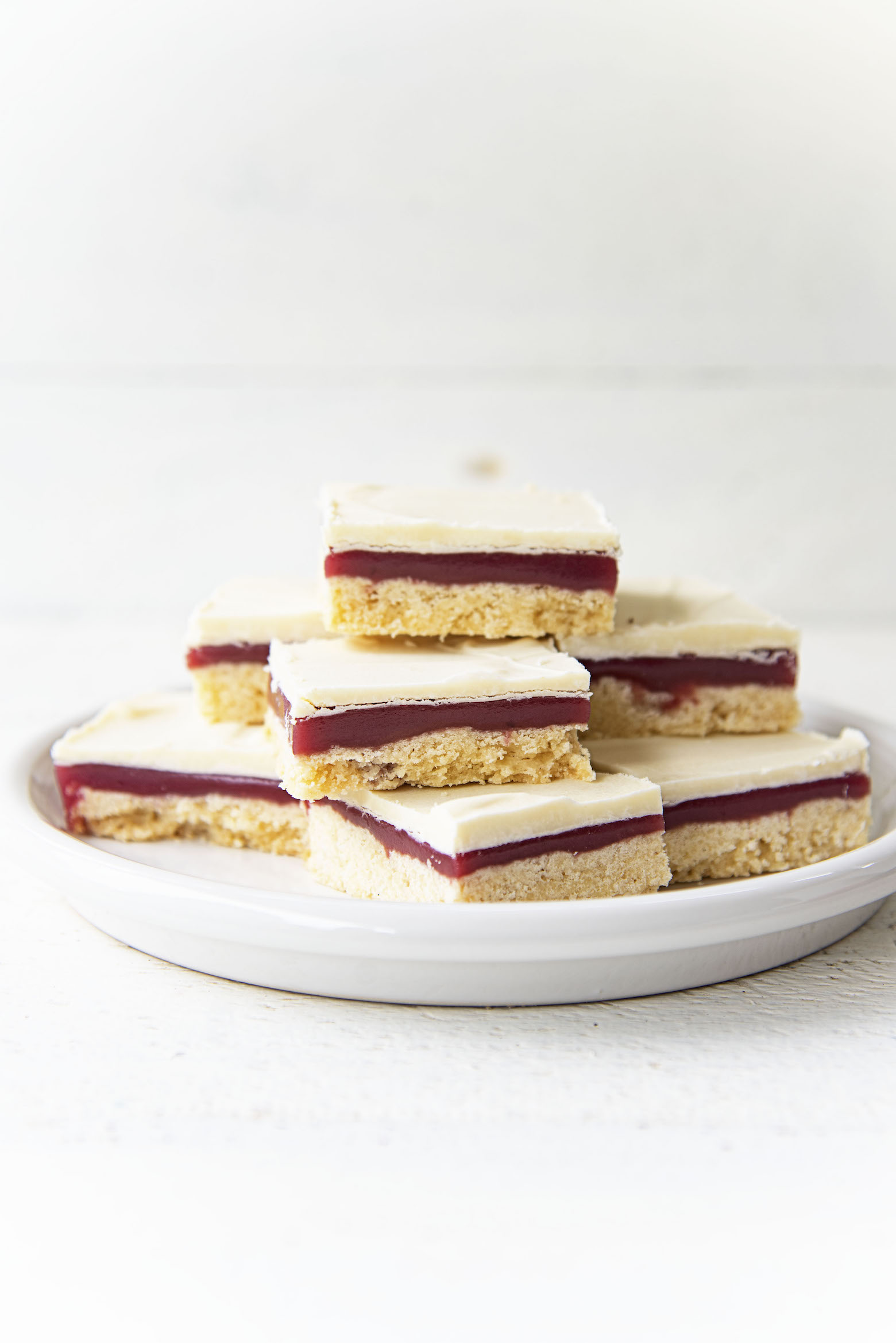 Want more Bar recipes?
Strawberry Lemonade Lemon Bars
Chocolate Chunk Churro Cookie Bars
Butterscotch Walnut Meringue Bars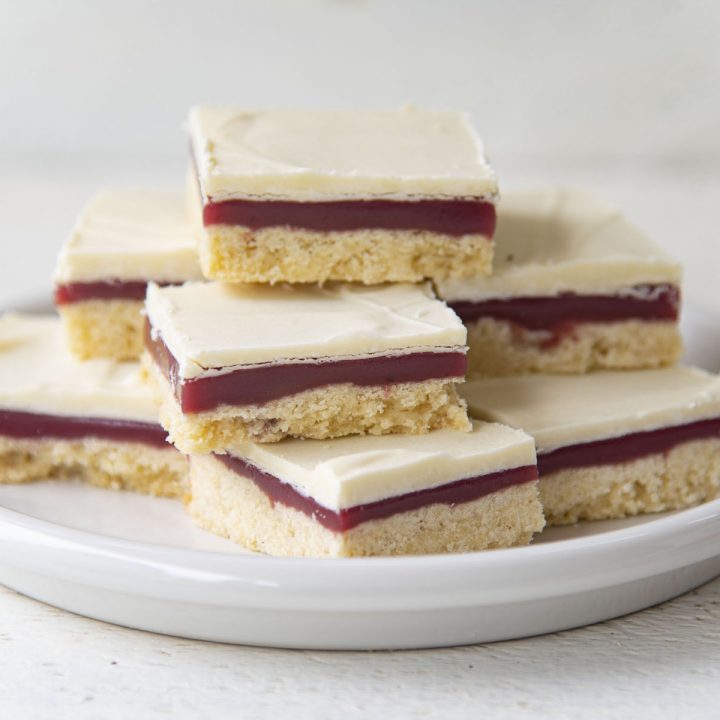 Mixed Berry Millionaire Bars
Ingredients
Lemon Shortbread:
1 cup unsalted butter, at room temperature
1 cup powdered sugar
1 tsp. vanilla extract
zest of one lemon
1/4 tsp. salt
2 cups all-purpose flour
Mixed Berry Caramel:
2 cups mixed berry juice
4 TBSP unsalted butter
3/4 cup granulated sugar
3 TBSP heavy cream
pinch of salt
Topping:
12 oz. white chocolate chips
3 TBSP vegetable oil
Instructions
For the Lemon Shortbread:
Preheat oven to 300F.
Prepare a 9x13" baking dish by lining with parchment paper so as able to lift the bars out when done.
Cream together the butter, powdered sugar, salt, vanilla, and lemon zest until smooth.
Add the flour and beat on medium speed until crumbly dough is formed.
Press dough evenly into the bottom of your prepared baking dish.
Poke several holes in dough with a fork, covering the entire surface.
Bake for 35-45 minutes until top is golden brown. Set aside to cool.
For the Mixed Berry Caramel Layer:
In a 2-quart saucepan, boil the berry juice until it reduces to 1/4 cup, this will take awhile. It took me 35 minutes.
Once the berry juice is reduced, lower the heat and add the butter, sugars, and heavy cream.
Raise the heat and bring the mixture to 255F over medium-high heat. Use a candy thermometer to ensure the proper temperature.
Immediately stir in the salt.
Then, pour the mixture onto the shortbread base.
Let cool to room temperature.
For the white chocolate layer:
Melt white chocolate chips in a microwave safe bowl.
Stir in the oil to thin it out and give it a shiny appearance.
With an offset spatula apply a thin layer of the chocolate on top of the caramel layer.
Once chocolate has set cut bars with a knife to desired size.