This Lemon Poppy Seed Jello Mold is made with lemon jello, greek yogurt, lemon curd, poppy seeds, Sprite, cream cheese, and Cool Whip. It's a tangy jello treat.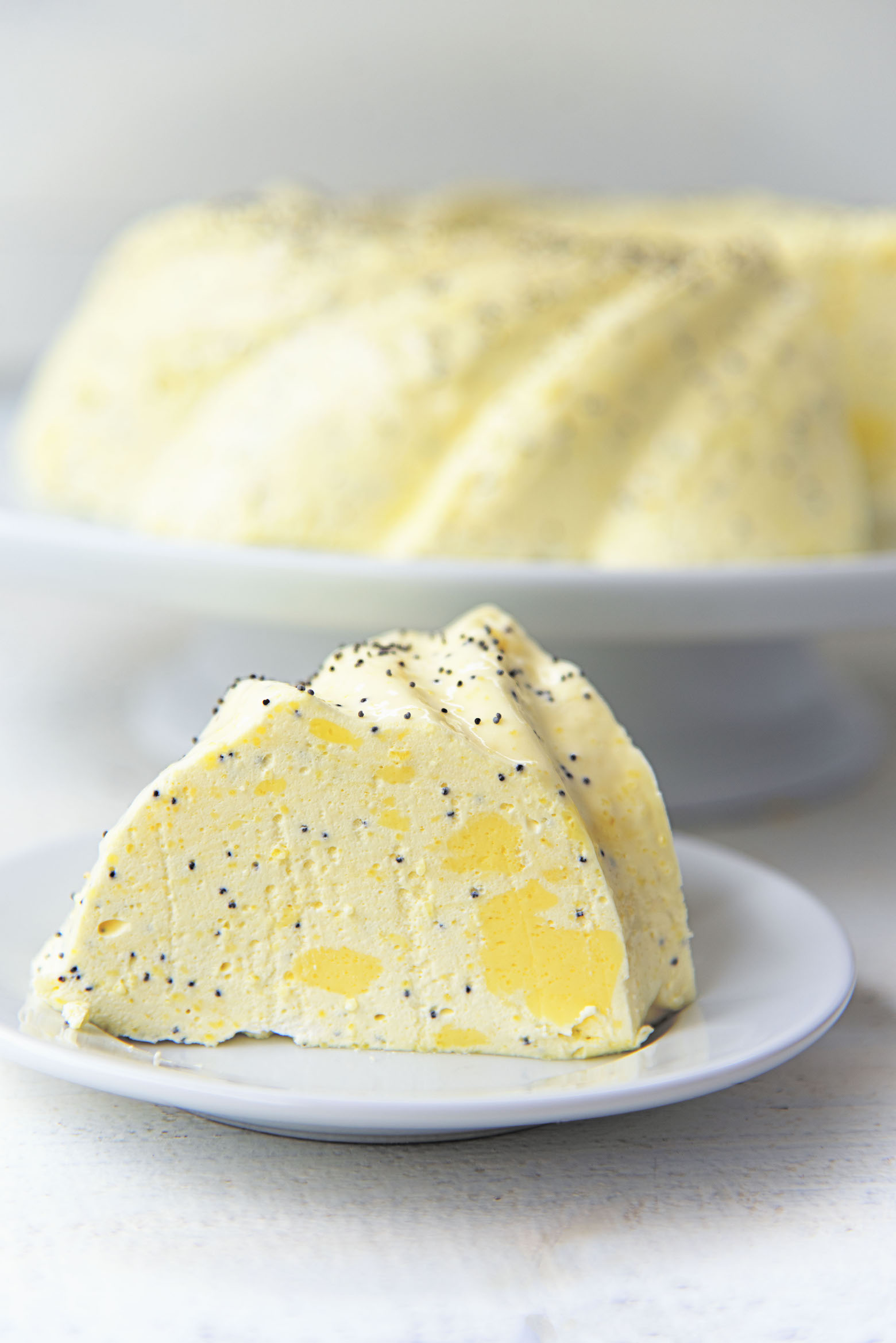 I spend way more time than one person should thinking about what I can turn into a jello mold flavor.
Some ideas work.
Others crash and burn.
There have been some epic fails.
But every now and then my crazy ideas work out just right.
This Lemon Poppy Seed Jello Mold came about thanks to British Bake Off and my husband.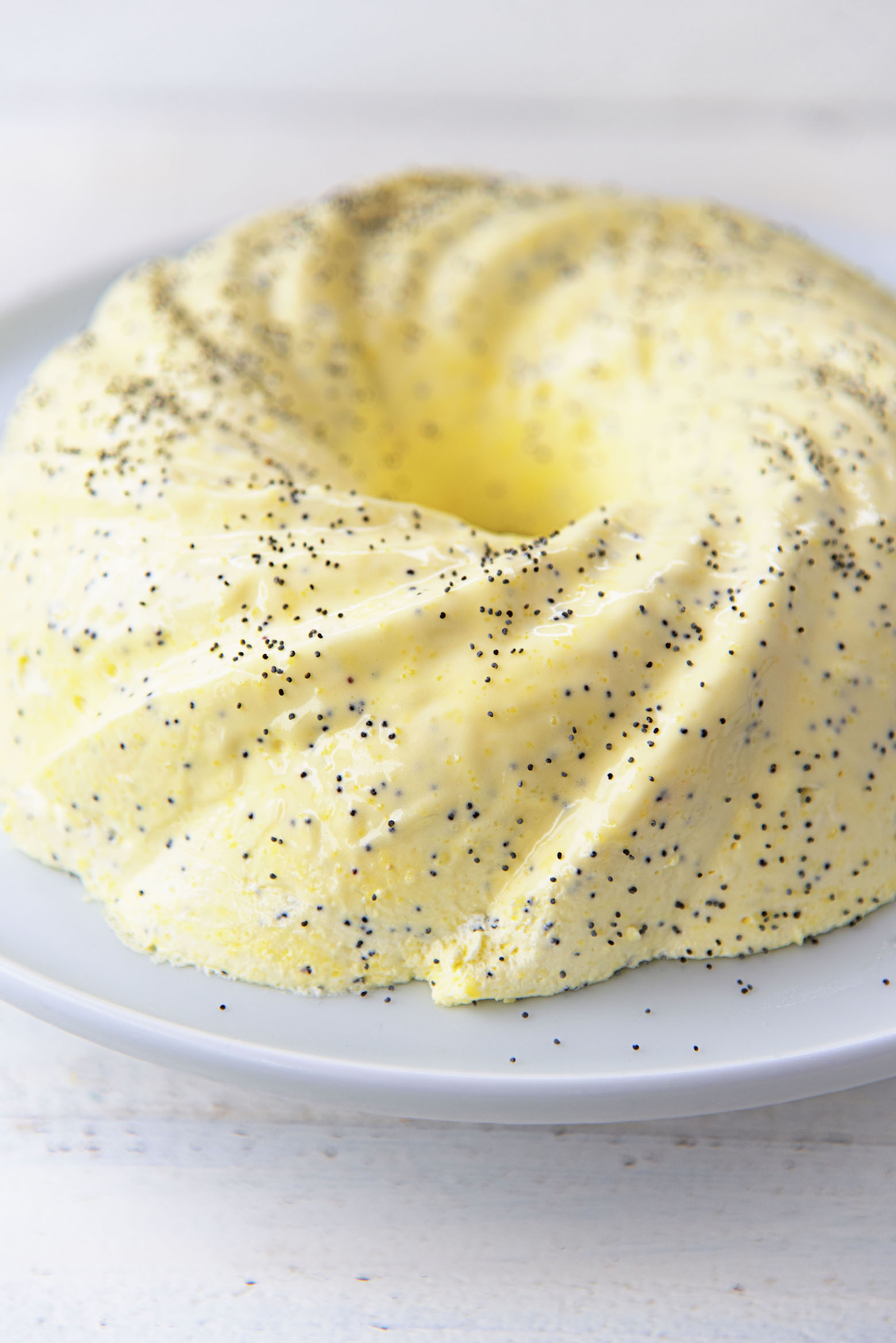 See, I never knew until we started watching British Bake Off that my husband liked Lemon Poppy Seed Cake.
I like really liked it.
No idea.
But someone was making the cake on GBBO and he commented.
And I set out that night to make lemon poppy seed anything. 🙂
This jello mold definitely counts as an anything.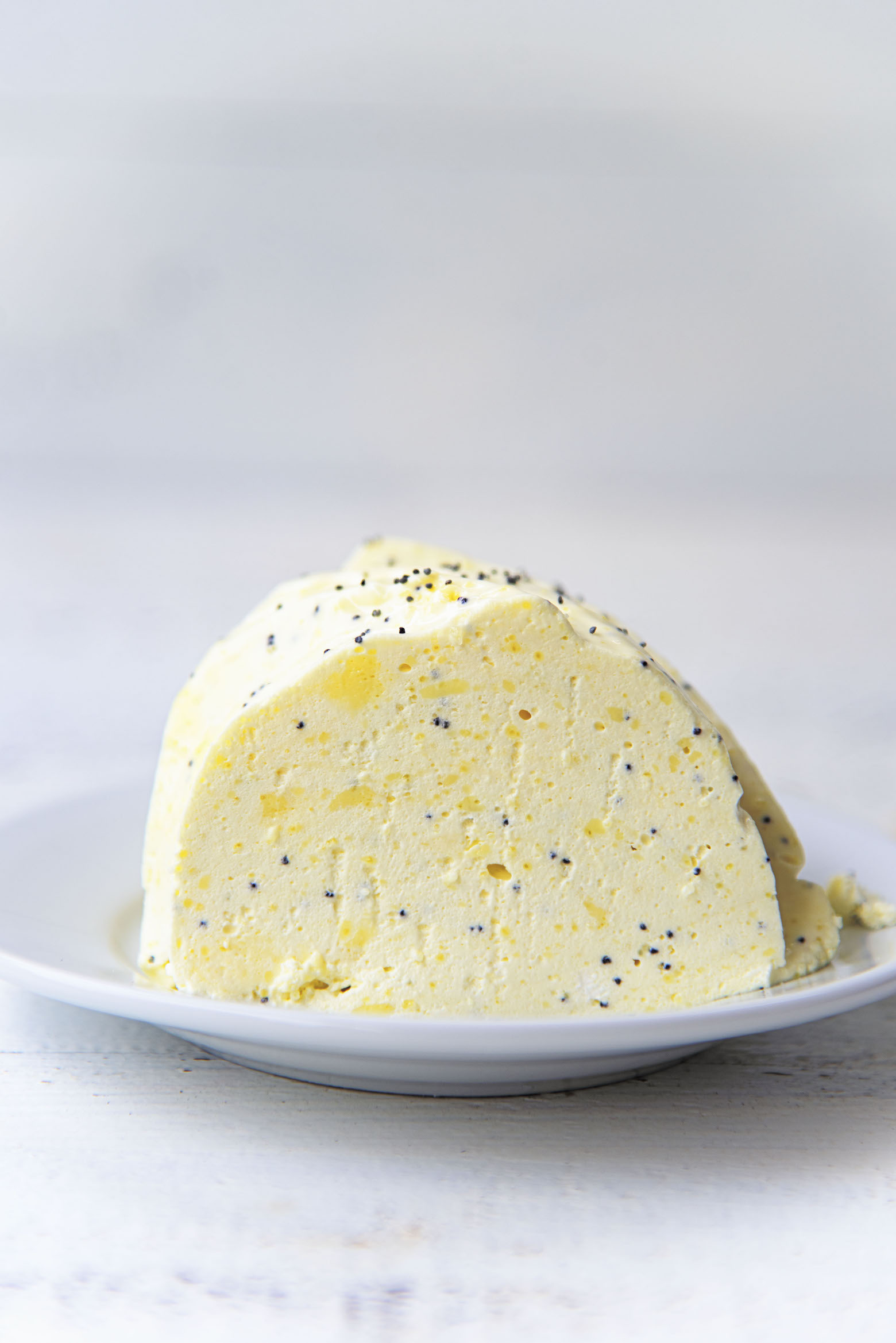 I often re-watch all the British Bake Off Shows.
They are happy.
People are baking.
It's funny.
And everyone is nice to each other.
While watching a rerun the episode involving the lemon poppy seed cake came on.
That's when I thought, I wonder if I can make that into a jello mold flavor.
Turns out, I can.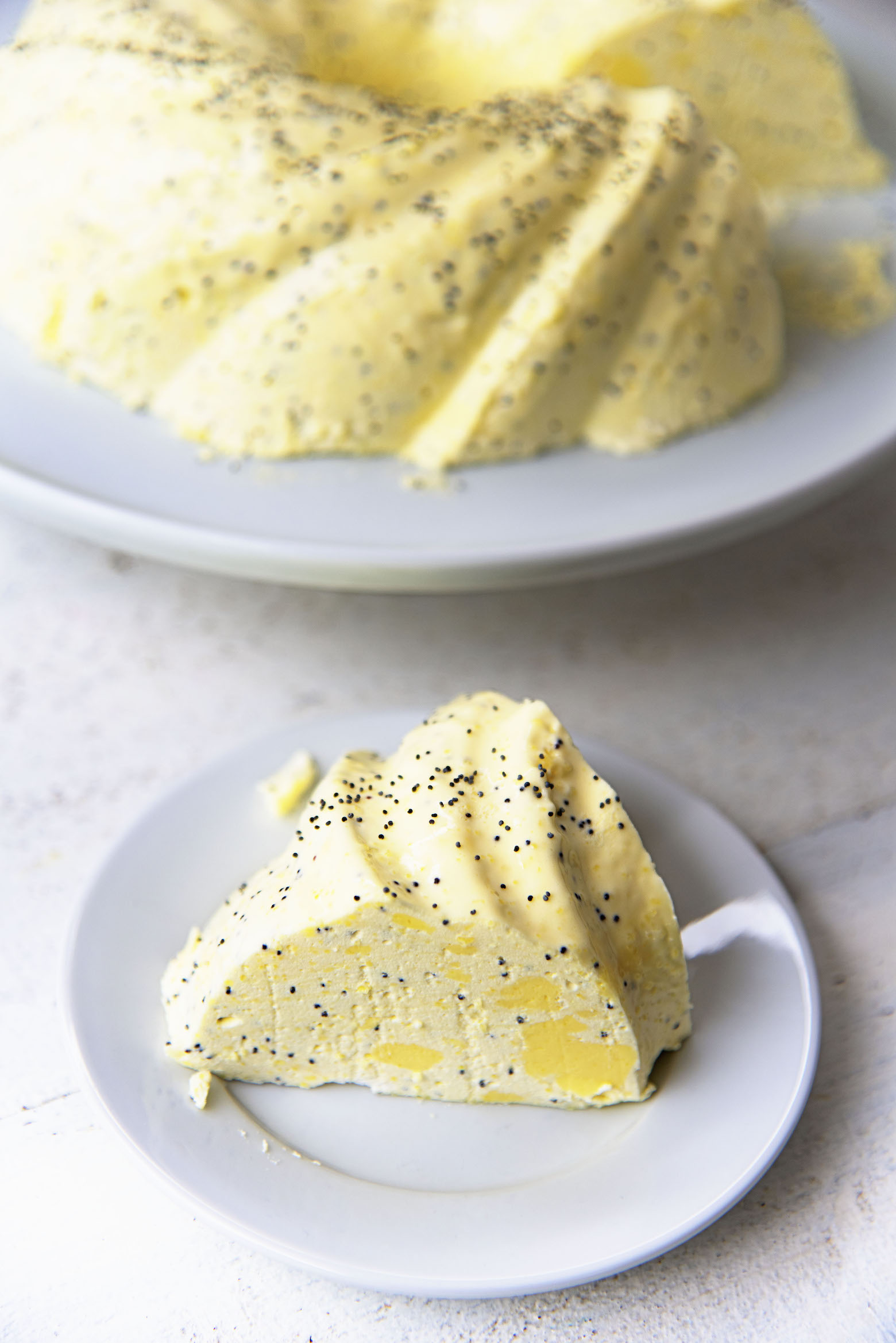 Though this jello mold proved to be a little more tricky.
Normally I put fruit in my molds.
Or at least marshmallows.
But that just didn't fit with the flavor profile I was going for.
So this mold is smaller than my usual ones.
Just because it has less stuff in it.
This one does have the addition of Greek yogurt.
You need to use full fat.
Could you try fat free?
Probably but honestly I'm not sure how it would turn out.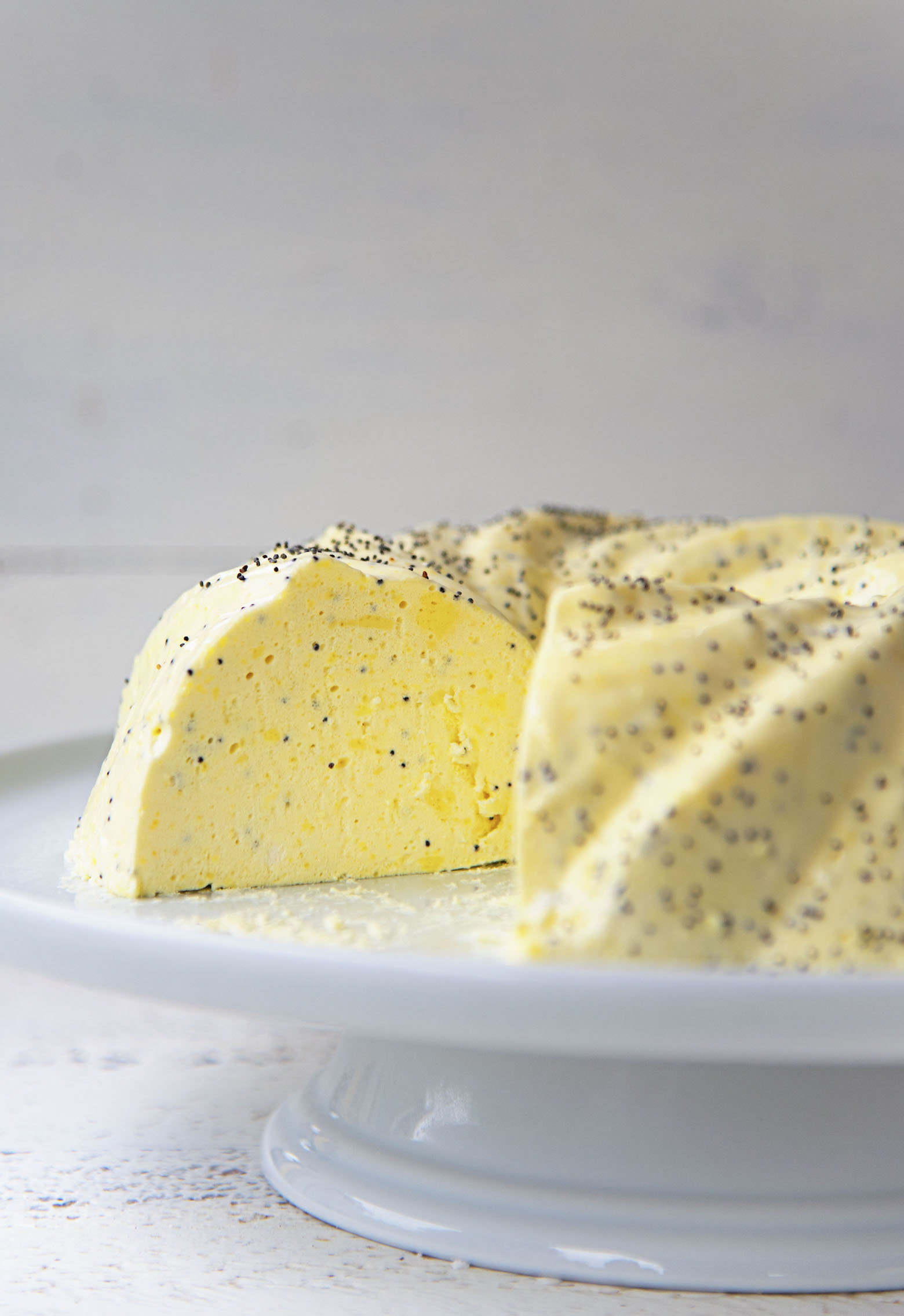 The little chunks of yellow you see throughout it is the lemon curd.
I chose not to really whisk it into the jello.
Just more of a light folding.
How many poppy seeds you want is really up to you.
You do want enough so that when you cut into it that you know it's a lemon poppy seed flavor.
This was a big hit with the hubs so I was happy about that.
Last but not least…it's a great time to order my cookbook. 😀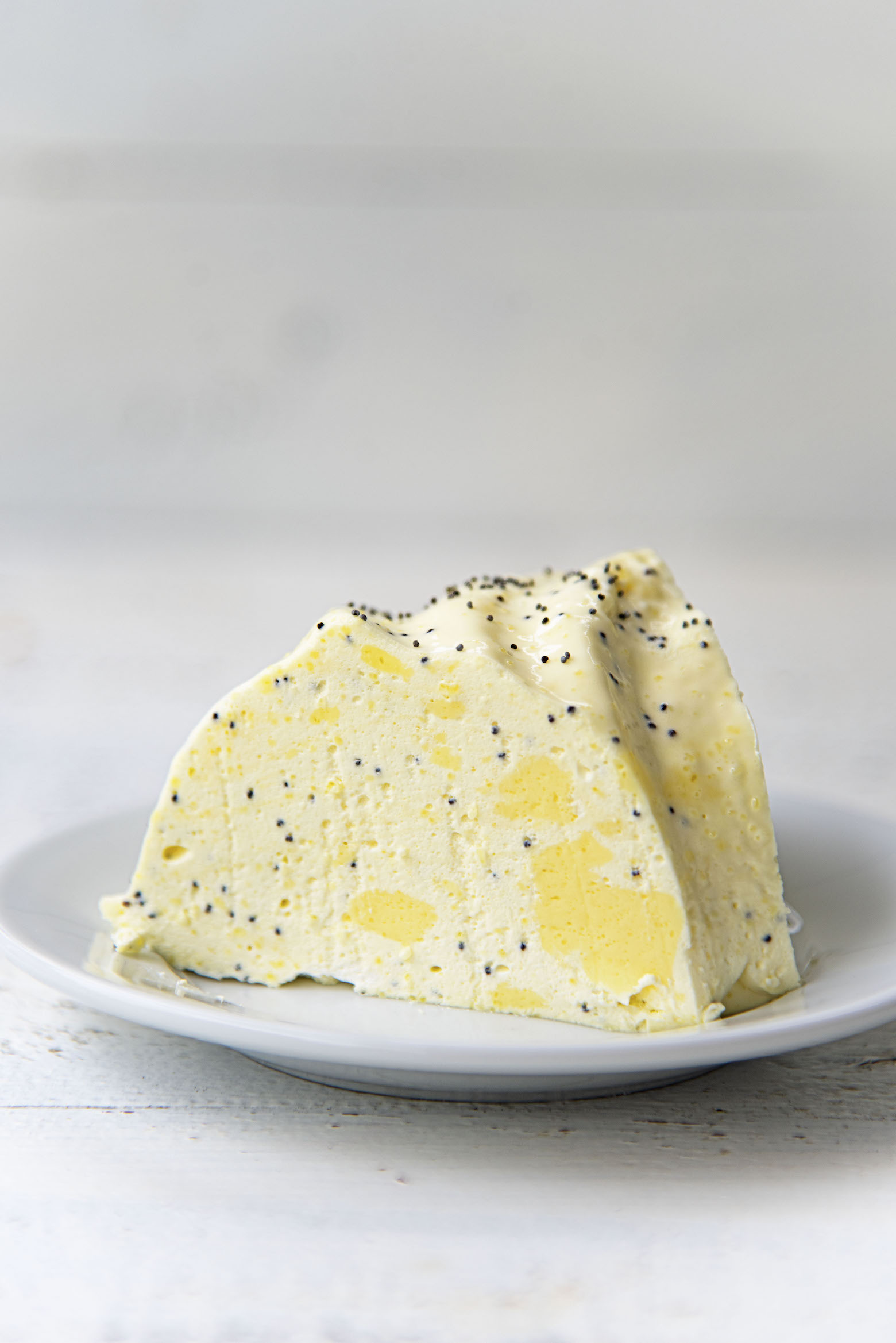 Want more Jello Mold recipes?
Creamsicle Marshmallow Jell-O Salad
Cherry Coke Float Jell-O Salad
Cranberry Marshmallow Jell-O Salad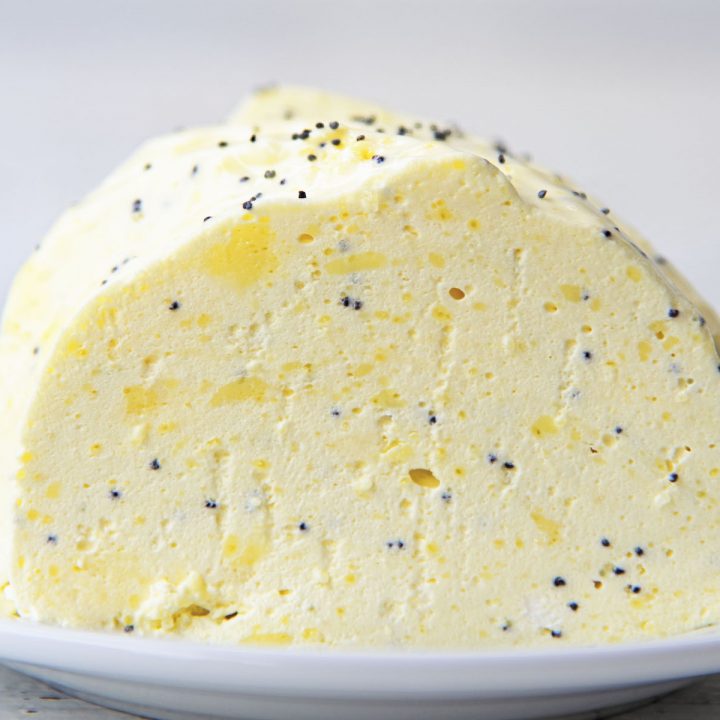 Lemon Poppy Seed Jello Mold
Ingredients
1 (6 ounce) package lemon Jello
1 cup boiling water
1 (8 ounce) package cream cheese, at room temperature
2 cups Greek Yogurt
1 cup Sprite
8 TBSP lemon curd
1 (8 ounce) carton of Cool Whip (or whipped cream)
1/3 cup poppy seeds
Instructions
Add lemon jello to a blender.
Add the boiling water to the blender.
Blend on low until the gelatin has dissolved.
Add the cream cheese to the blender and again blend on low and increase speed if needed until mixture is smooth.
Pour contents into a large bowl
Whisk in the greek yogurt until smooth.
Add in the Sprite and mix until smooth.
Chill the mixture in refrigerator for about 30-40 minutes, so that when you lift it with a spoon it is clumpy.
Fold in the Cool Whip, lemon curd, and poppy seeds.
Pour into a 9-x-9-inch pan or 6 cup Bundt pan. This makes a smaller amount than my usual jello molds because of no fruit in the mix.
Refrigerate for 3-4 hours or until firm.
Garnish with more poppy seeds if desired.
Remove the jello mold from the Bundt pan by dipping it quickly in warm water. Leave it too long and it will melt a little just like mine did. 🙂
Invert onto a serving platter or plate.