These Ocean Water Jello Shots are made extra fun with the addition of white chocolate waves and gummy sharks.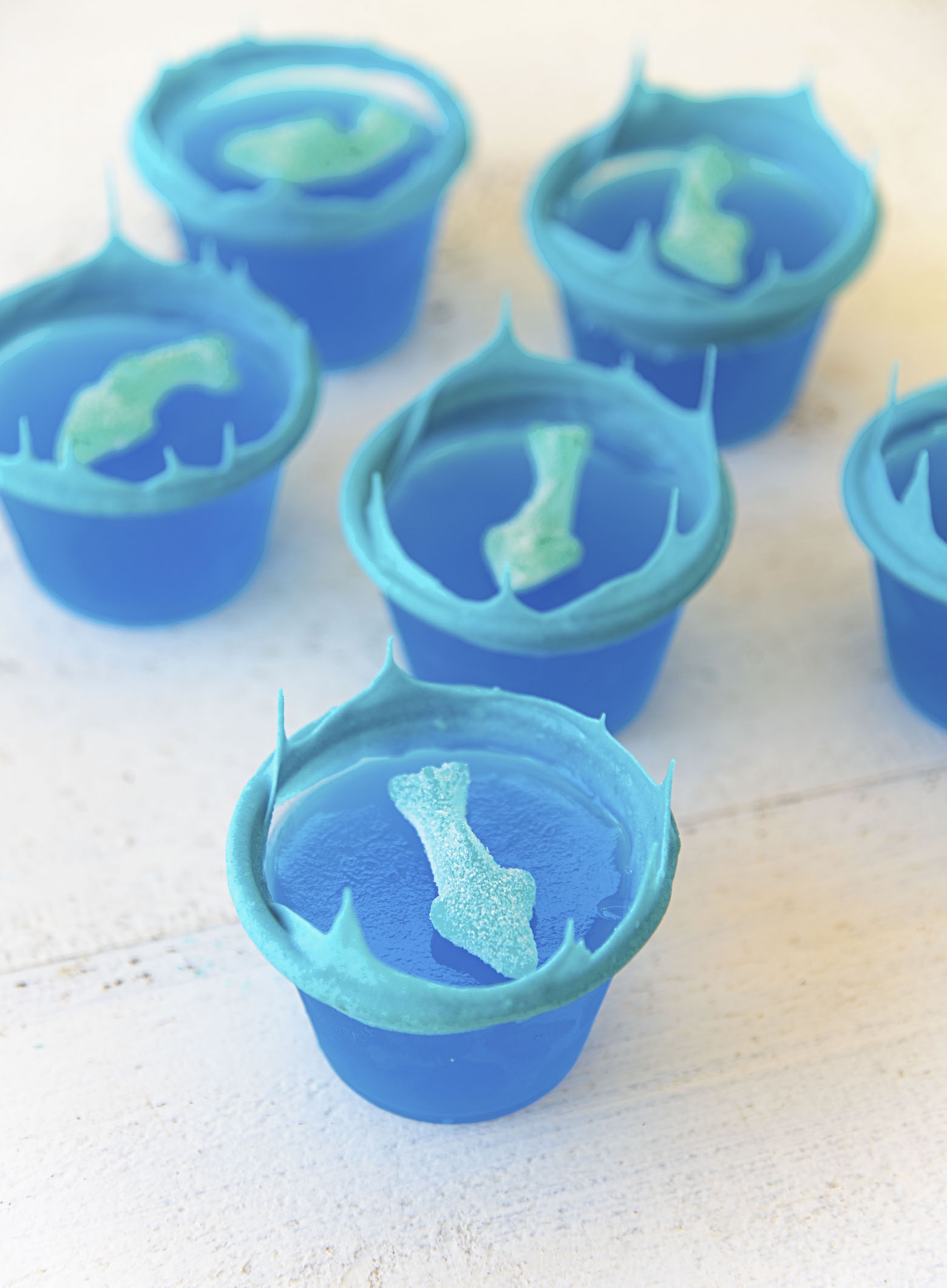 So I originally made these Ocean Water Jello Shots for Shark Week.
But I made them early.
You know, so I could be on top of things for once.
Only to not get them up until today.
After Shark Week has ended.
Haha. Typical me.
But really any week can be Shark Week these days thanks to streaming apps. 🙂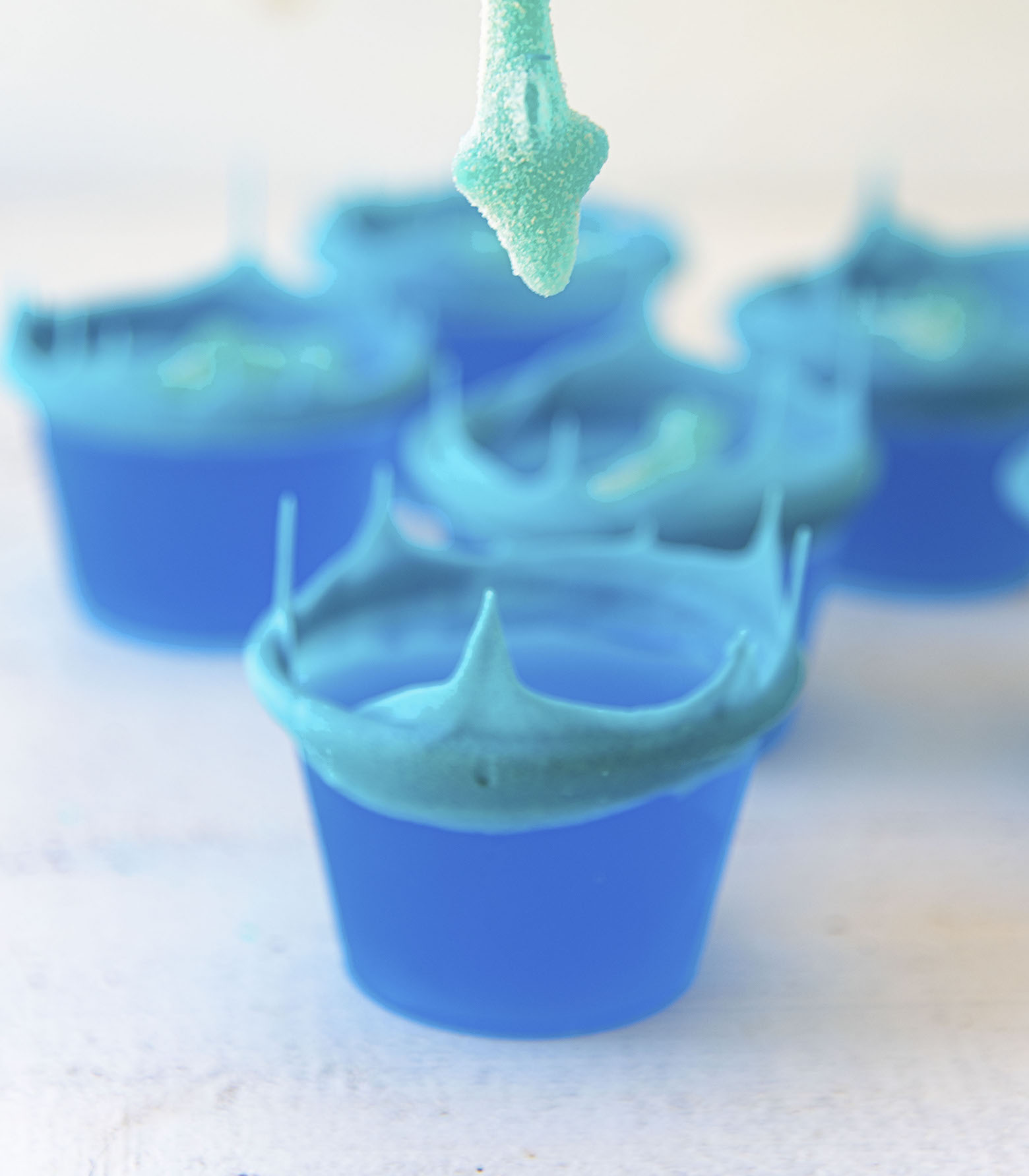 Now I had never heard of Ocean Water until I saw a friend raving about how happy she was to get one.
If you were like me and had no idea what it was, it's a drink from Sonic Drive In.
Up until a few years ago Washington state didn't even have a Sonic so it's not a stretch that I had not heard of it.
The flavor combo is simply coconut and Sprite.
So lemon lime coconut flavor.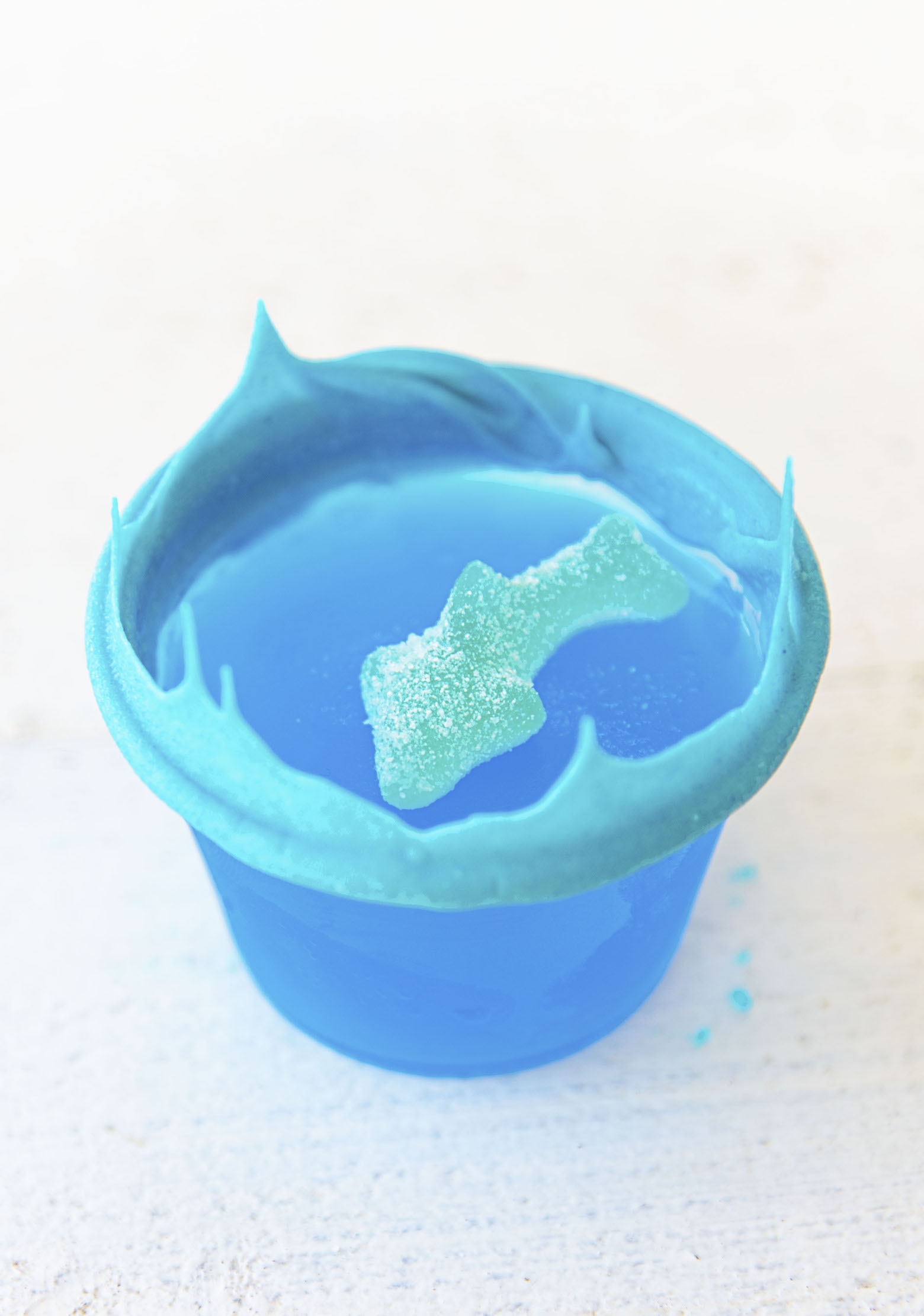 Then when searching for pudding flavors I discovered that Sonic makes an Ocean Water Gelatin.
Ummm, hello jello shots.
By the way, you can buy the gelatin at Walmart or on Amazon if you buy it in bulk like I do. 🙂
With a name like Ocean Water you pretty much have to go with a sea theme.
When I was a little kid I really wanted to be a marine biologist because I fell in love with Commerson dolphins at SeaWorld.
Though I always felt sad they were in such a tiny tank.
I also had a fascination with sharks.
Pacific Black Tip Sharks to be exact.
I even went in a cage at the aquarium to be up close with sharks.
So when shark week became a thing so many years ago now I was beyond excited.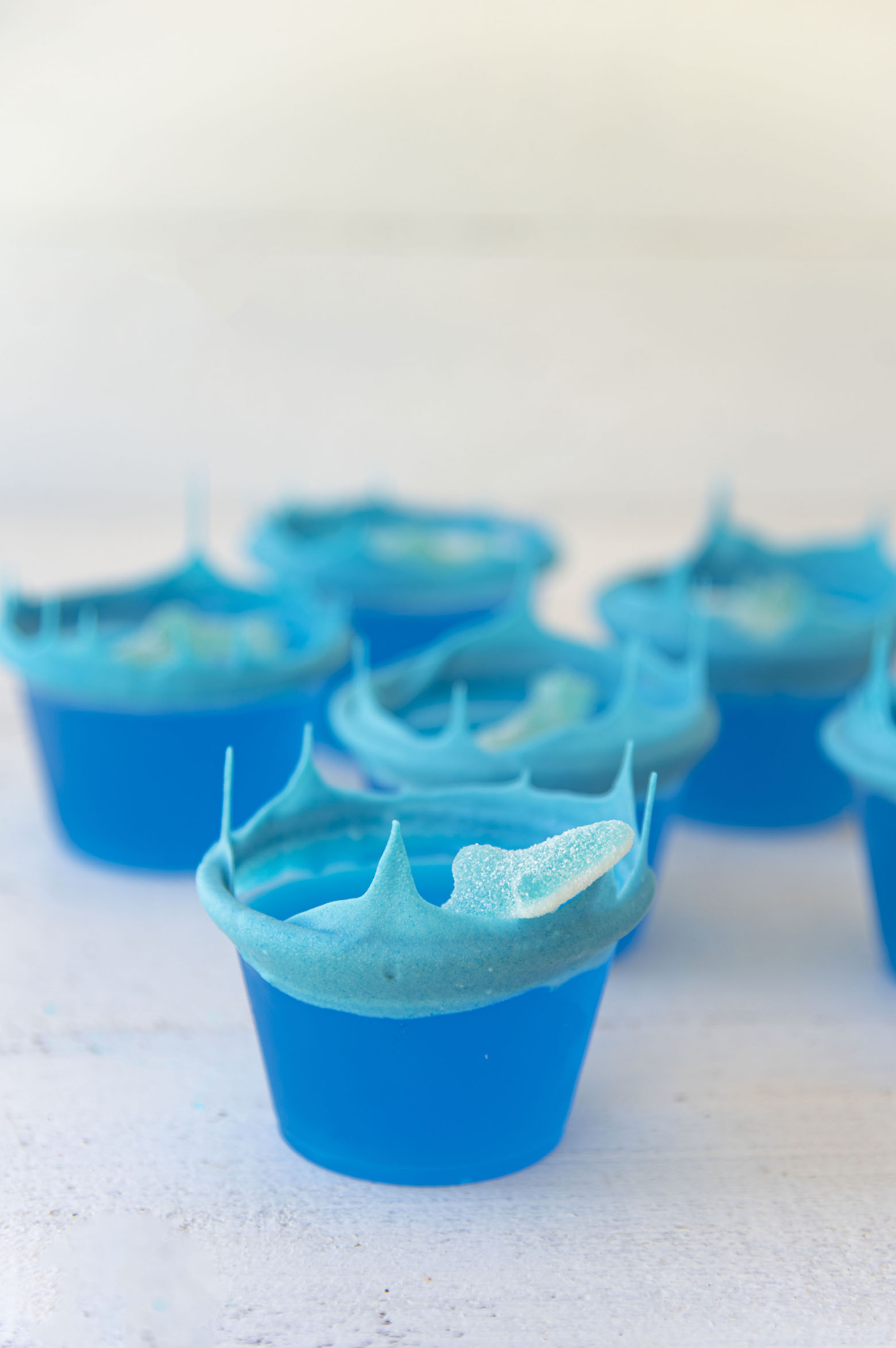 One thing you will notice with my jello shots is that there is no drops of red food coloring.
I have seen many a person make shark shots and do that.
But I'm going for a kinder, gentler shark.
My sharks don't bite because where they live they don't have to go to the shore to search for food because we fished all of their food away.
Last but not least…it's a great time to order my cookbook. 😀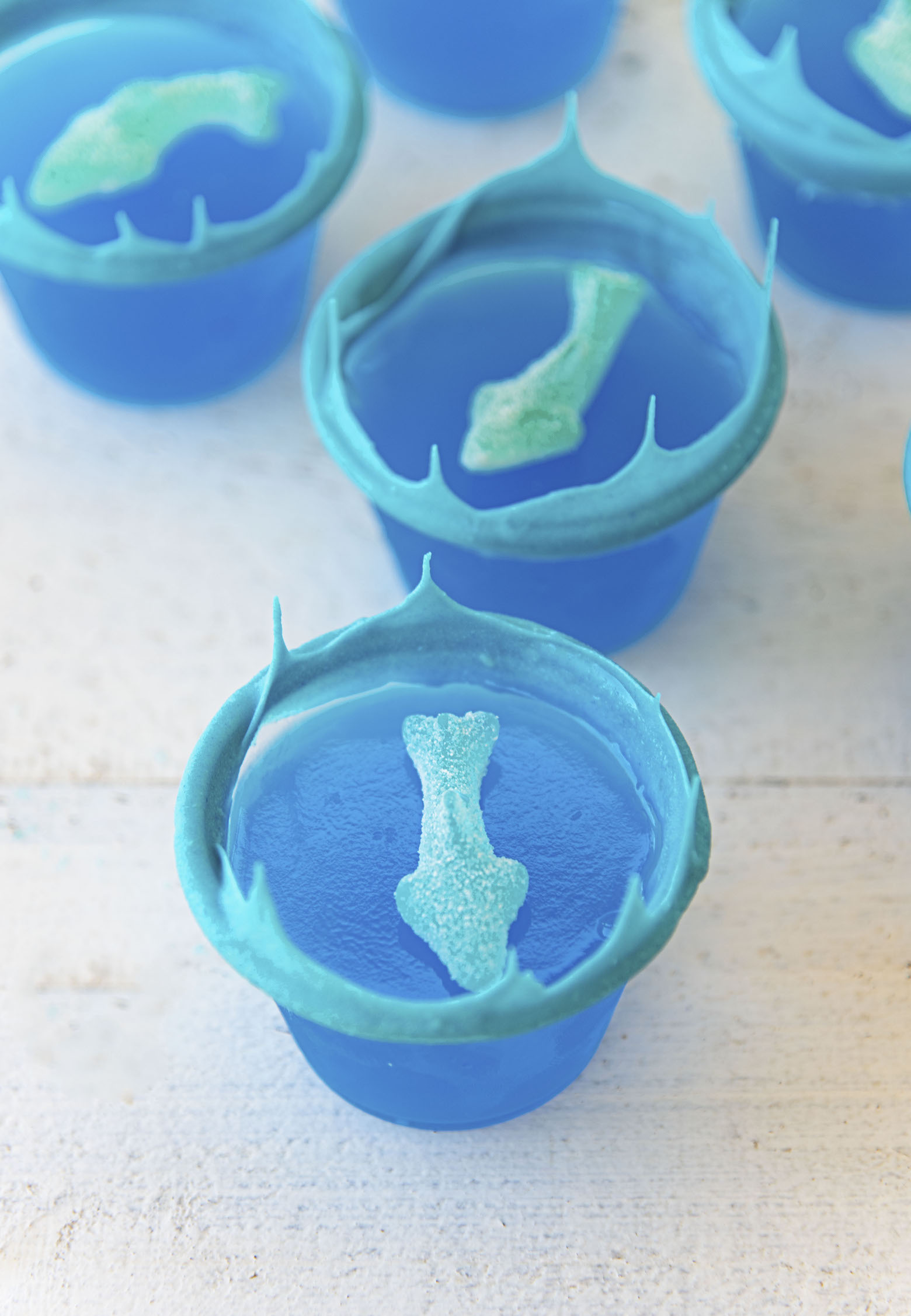 Want More Jello Shots?
Strawberry Pina Colada Jello Shots
Blue Hawaiian Rainbow Jello Shots
Fruit Punch Moonshine Jello Shots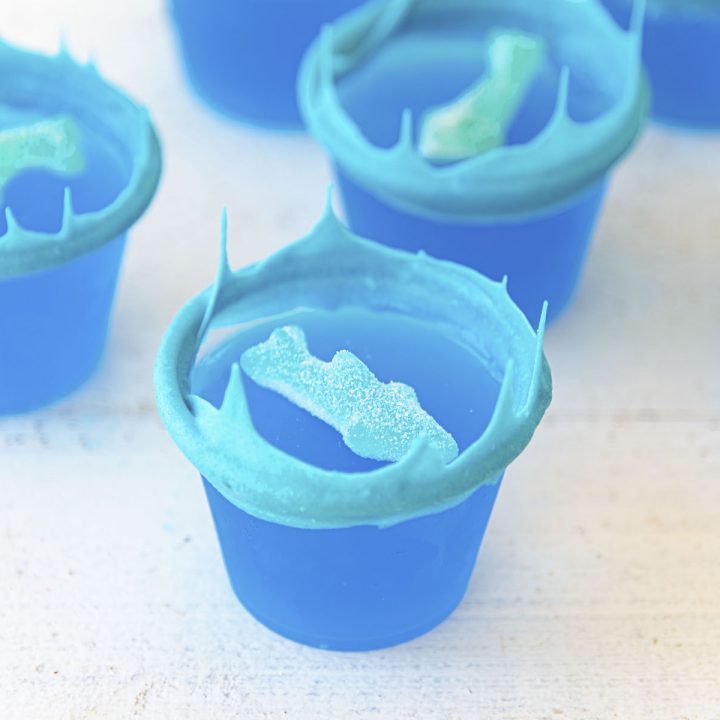 Ocean Water Jello Shots
Yield:
12 (4oz) Jello Shots
Ingredients
For the Decoration:
6 oz white chocolate chips
blue food gel
sour gummy sharks
For the Jello Shots:
1 cup water
2 cups Sprite
1 cup Malibu Rum
Instructions
For the Decoration:
In 30 second increments, heat the white chocolate in a microwave safe bowl. Heat until all the chocolate has melted and is smooth.
Add a drop or two of blue food gel and mix quickly until you turn all the chocolate blue.
Take your jello shot cup (I used 4oz size) and dip the rim of the cup into the chocolate. You may have to do this a few times. You are trying to get little mini waves.
Once you have the little mini waves do not tip the cup back up. You want to leave it hanging so that they waves will keep their shape. I put my cups over the top of wine bottles to set up. Luckily I'm a lush and had a lot of wine bottles to us.
Repeat until the remaining 11 are done. If making smaller shots than the 4 oz you will have more than 12 shots.
Let the chocolate fully set up before putting them in the fridge while you make the jello shots.
For the Jello shots:
Bring water to a boil.
Empty gelatin powder into a large mixing bowl and add the boiling water.
Continue stirring for two minutes or until the jello is completely dissolved.
Add in the Sprite and Malibu Rum.
Stir until mixed. Let the mixture cool slightly. If too hot and you pour into the chocolate lined rims the chocolate could melt.
Carefully pour the mixture into the prepared cups.
Place in fridge and let set up for at least 2 hours, preferably at least 4.
When ready to serve add a little gummy shark (or other sea gummy) for garnish.