This Fruity Marshmallow Raspberry Jello Pie is a fun pie made with Jello, fruit, fruity marshmallows, and Cool Whip in a graham cracker crust.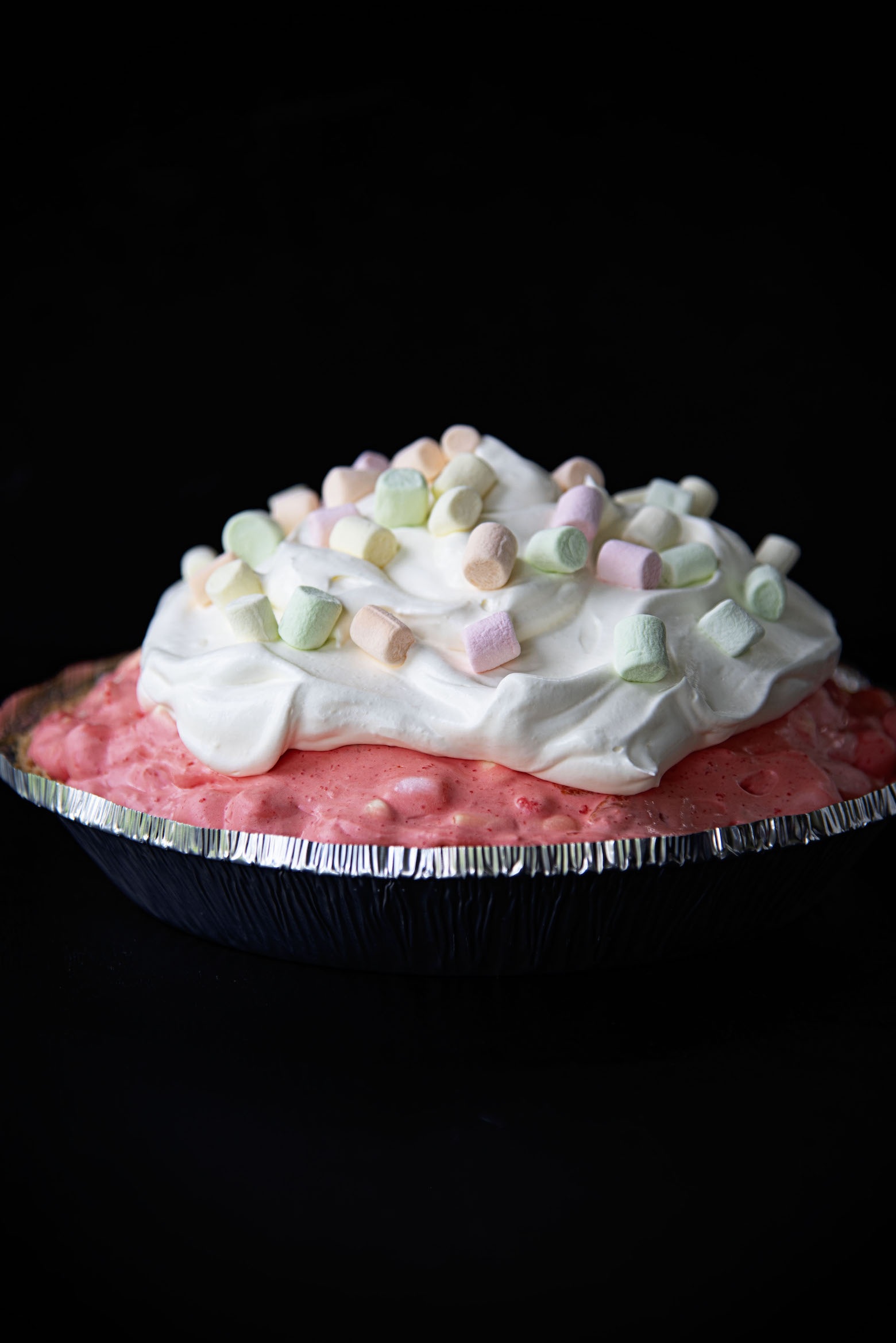 Way Back in 2008 I posted a recipe for a Lime Green Jello Salad that we make every Easter.
The post was about my grandmother's obsession and conspiracy theory that her nursing home always giving her green jello.
Then Joy the Baker came along and decided to turn that into Peabody's Grandmother's Lime Conspiracy Pie.
She no longer has it up on her site but Google archives everything so I was able to find it. 🙂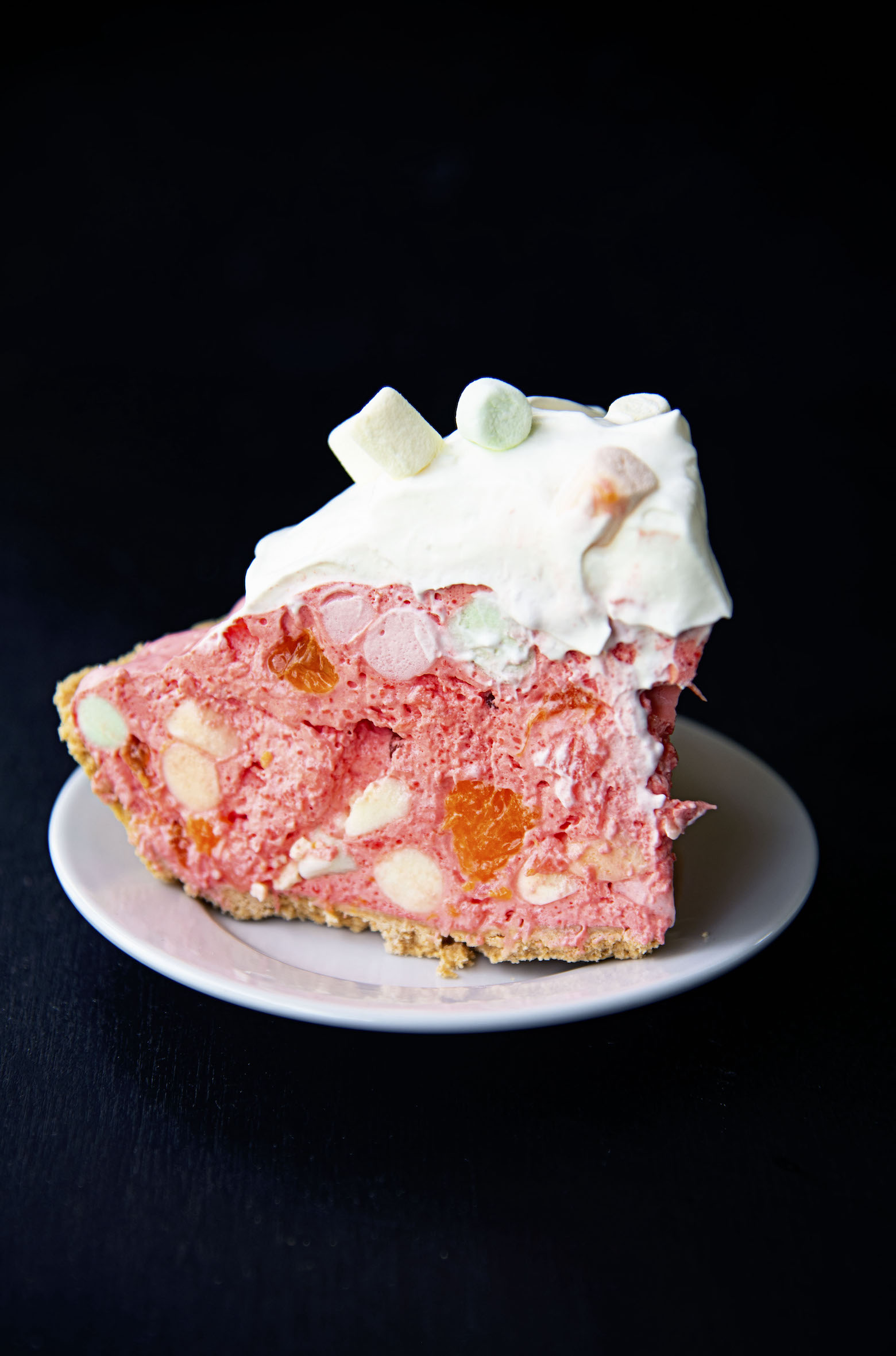 Joy basically took my Jello salad, added some fruity mini marshmallows, and made it into a pie.
Since then I have wanted to do that.
Yet never have.
Until this year.
Just 13 years later is all. 😛
I have made a ton of Jello molds and salads between then and now.
But I will fully admit that making it into pie made it more fun.
This ended up being a Fruity Marshmallow Raspberry Jello Pie.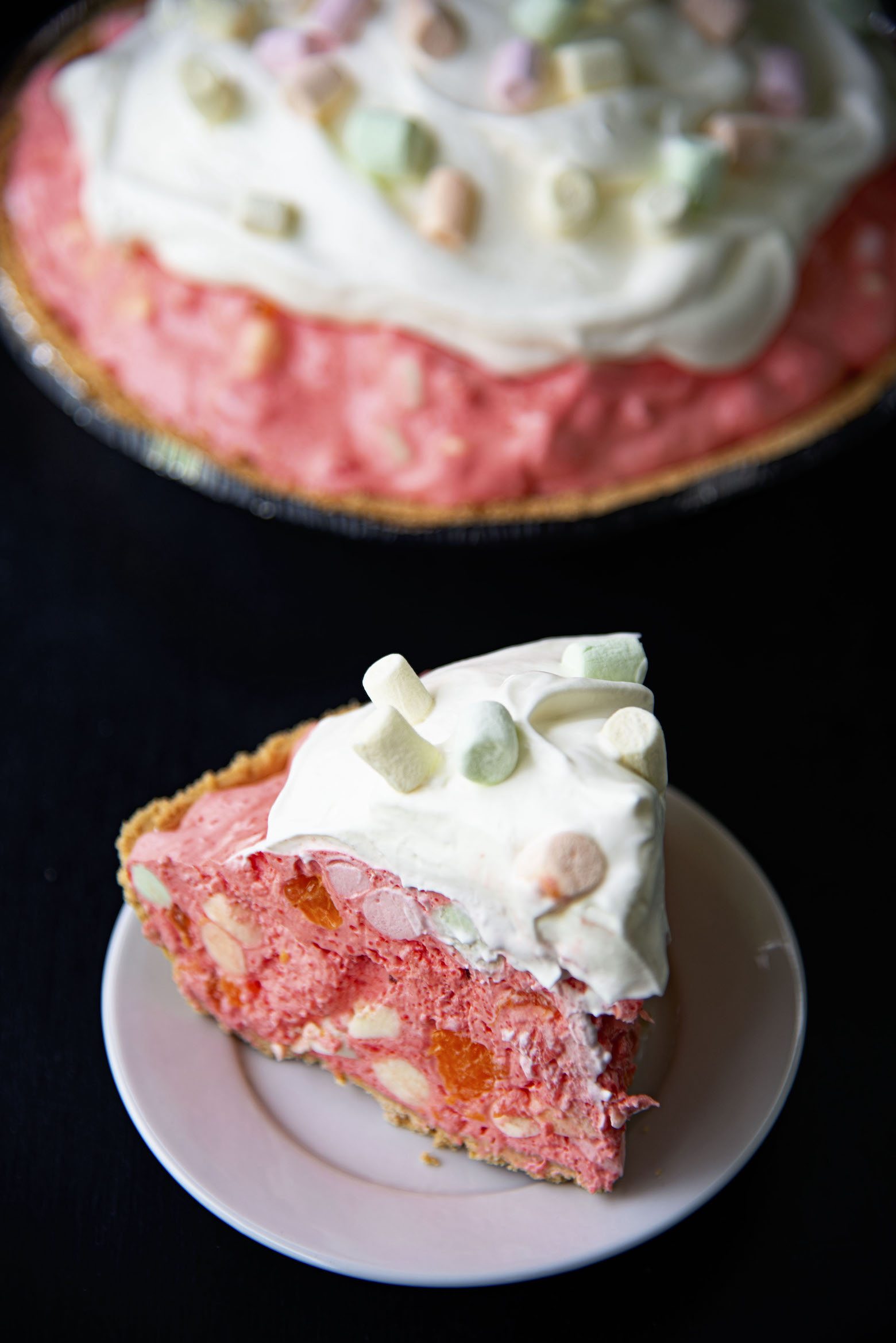 Why raspberry?
Because I didn't have 6 oz of green Jello in the house. 🙂
And I really don't have that many raspberry Jello salads in my rotation.
But you can use just about any Jello flavor you want it will turn out.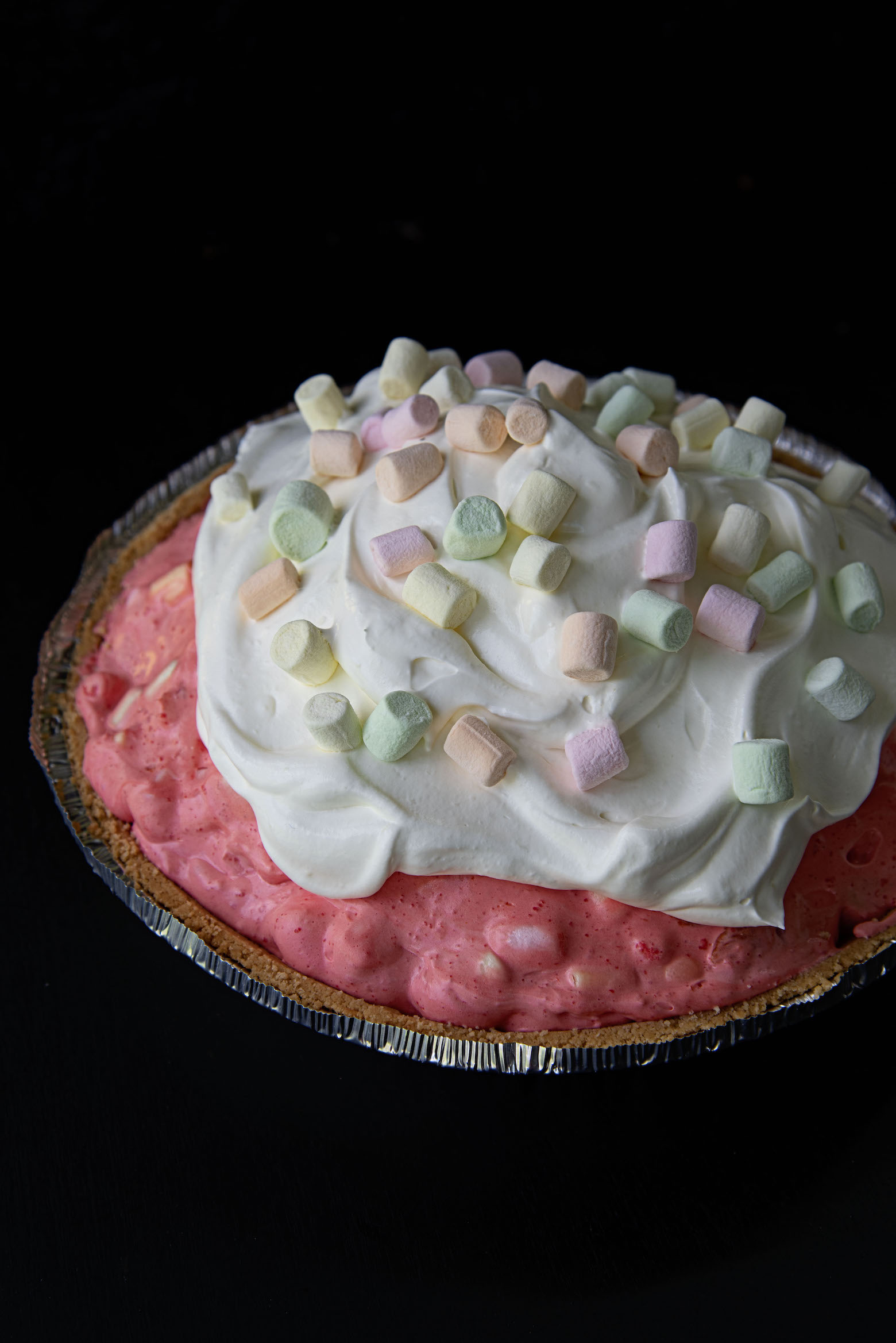 Do you have to use Cool Whip is the question no doubt someone will ask.
You can use regular whipped cream.
I just make it with Cool Whip because that is what I grew up with and so it just doesn't taste the same to me without it.
Now it does kind of look fresh out of the 70's…which kind of makes me love it a little more.
And you will definitely be seeing more Jello salad in a pie.
It's a great day to buy my cookbook.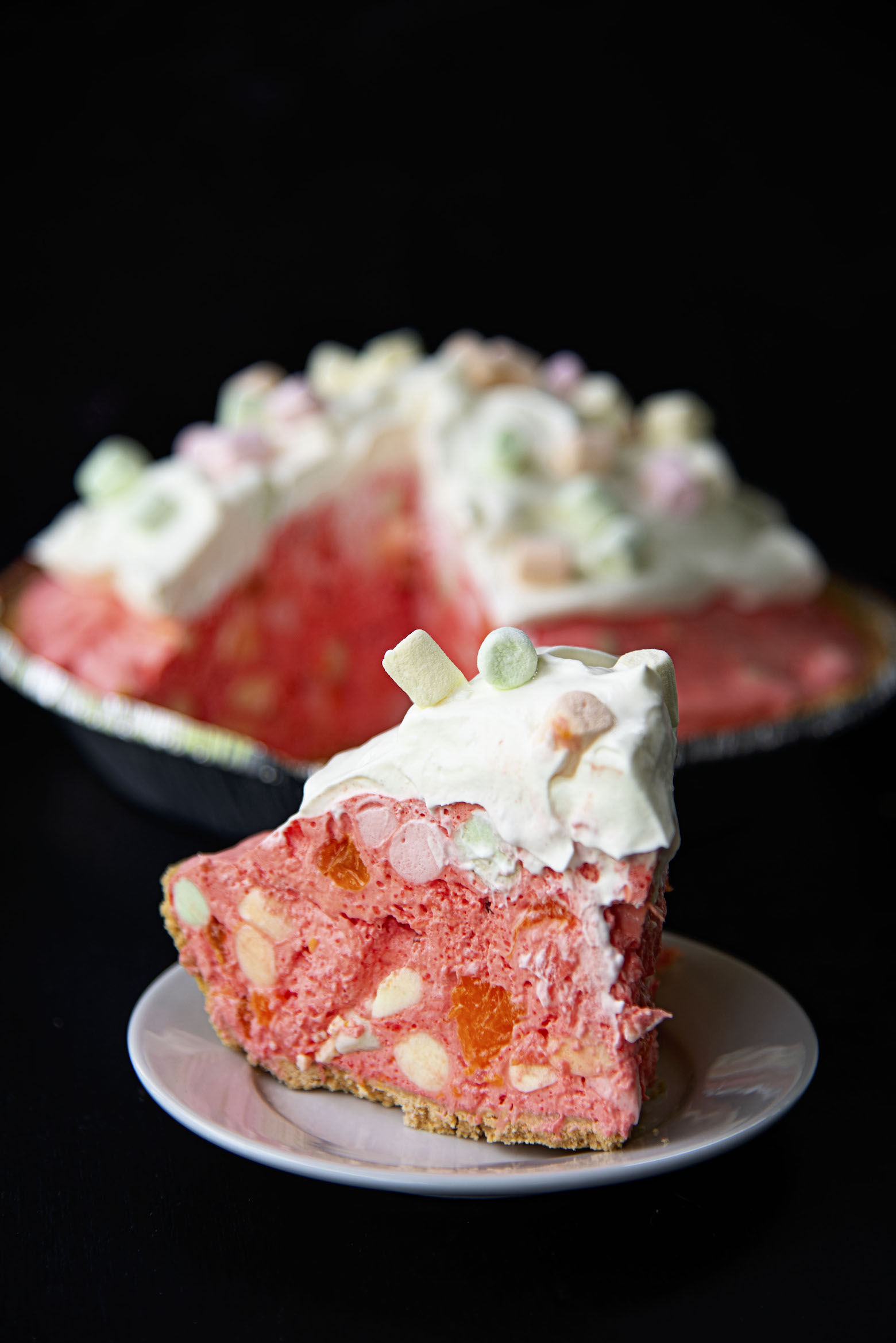 Want more Jell-O mold recipes?
Strawberry Prosecco Jell-O Mold
Lemon Meringue Pie Jell-O Mold
Creamsicle Marshmallow Jell-O Salad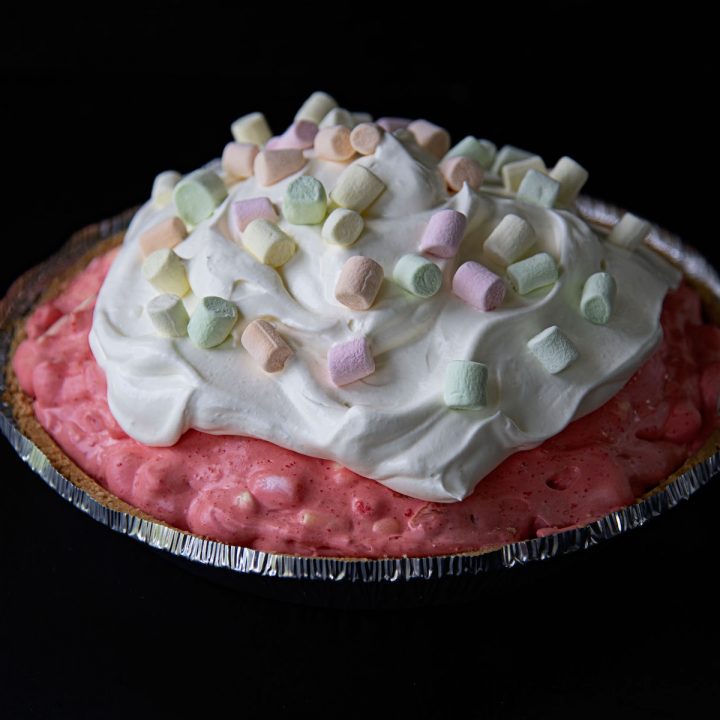 Fruity Marshmallow Raspberry Jello Pie
Ingredients
For the Pie:
1 9-inch graham cracker crust
1 (6 ounce) package Raspberry Jello
1 cup boiling water
1 (8 ounce) package cream cheese, at room temperature
½ tsp vanilla extract
1 (15 ounce) can Mandarin oranges, drained
1 (8 ounce) can crush pineapple, drained
1 cup Sprite(or other lemon-lime soda) or Cream Soda
10 oz fruity mini marshmallows
1 (8 ounce) carton of Cool Whip, thawed,
For the Whipped Cream:
1 cup heavy cream
3 TBSP powdered sugar
mini fruity marshmallow as garnish
Instructions
For the Pie:
Dissolve Jello in water.
In a mixing bowl, beat the cream cheese and vanilla until fluffy.
Stir in Jello and beat until smooth. If it's not looking smooth I often run it through the blender to make sure all the ingredients are fully combined.
Add pineapple, oranges, and soda. Mix until incorporated.
Chill the mixture in refrigerator for about 30-40 minutes, so that when you lift it with a spoon it is clumpy.
Fold in the Cool Whip.
Pour into the graham cracker crust. I like to build mine up high in the middle for visual effect.
Refrigerate for 3-4 hours or until firm.
For the Whipped Cream:
Using a stand mixer (or hand mixer) beat the cream on high for two minutes.
Add the powdered sugar and beat until stiff peaks form.
Pile onto pie and top with extra marshmallows.