These Rudolph Red Nose Jell-O Shots are made with cherry Jell-O, Whiskey, Big Red Cream Soda, and Amaretto. Topped with a glowing red cherry.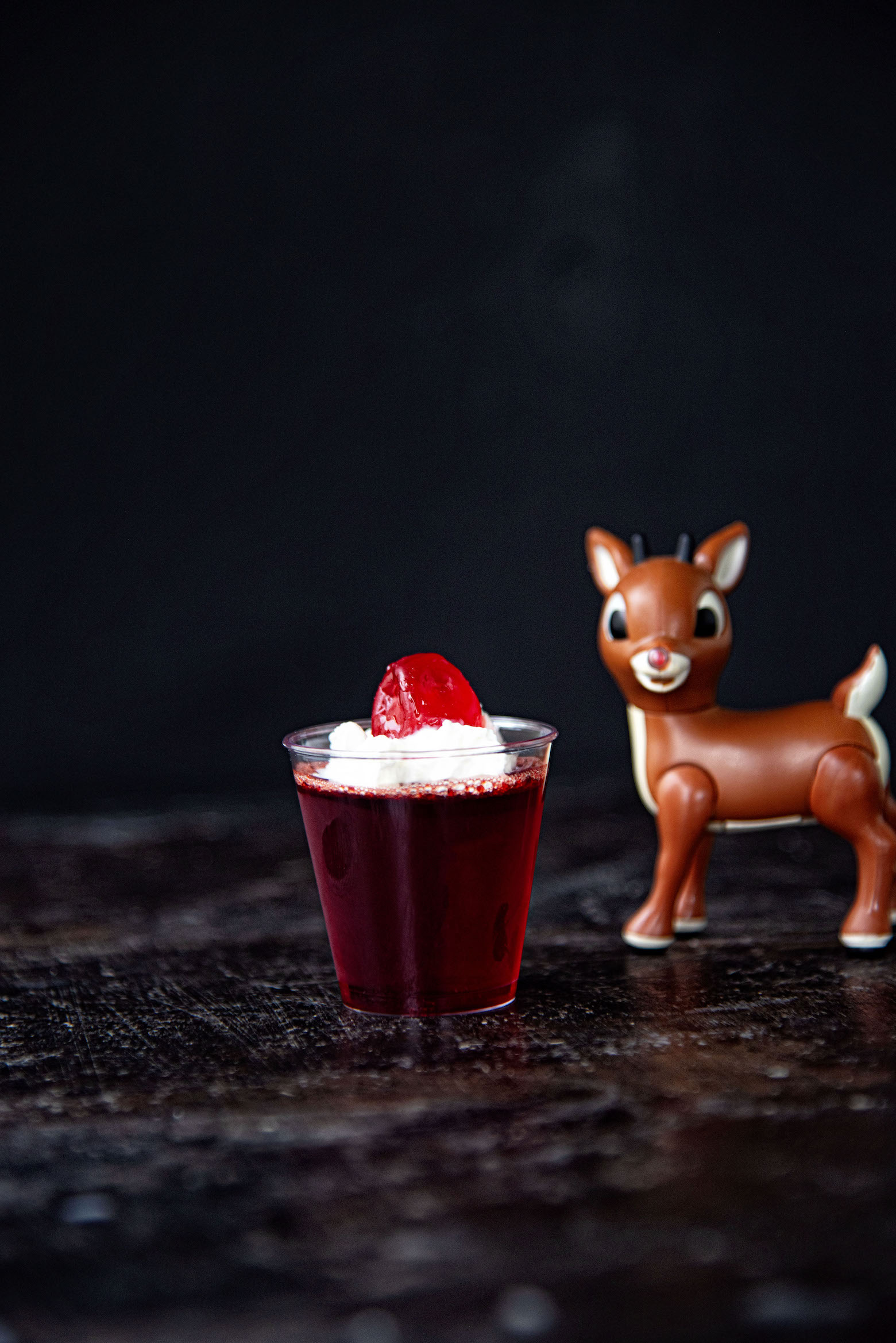 Photos pop up all the time in the FB memories section.
One photo was from 2015 when I first started Booze on the Shelf.
Which I did skip this year since basically every day is booze on the shelf in 2020.
Proof?
Jell-O shots are all over the top 25 recipes searched this year on my blog.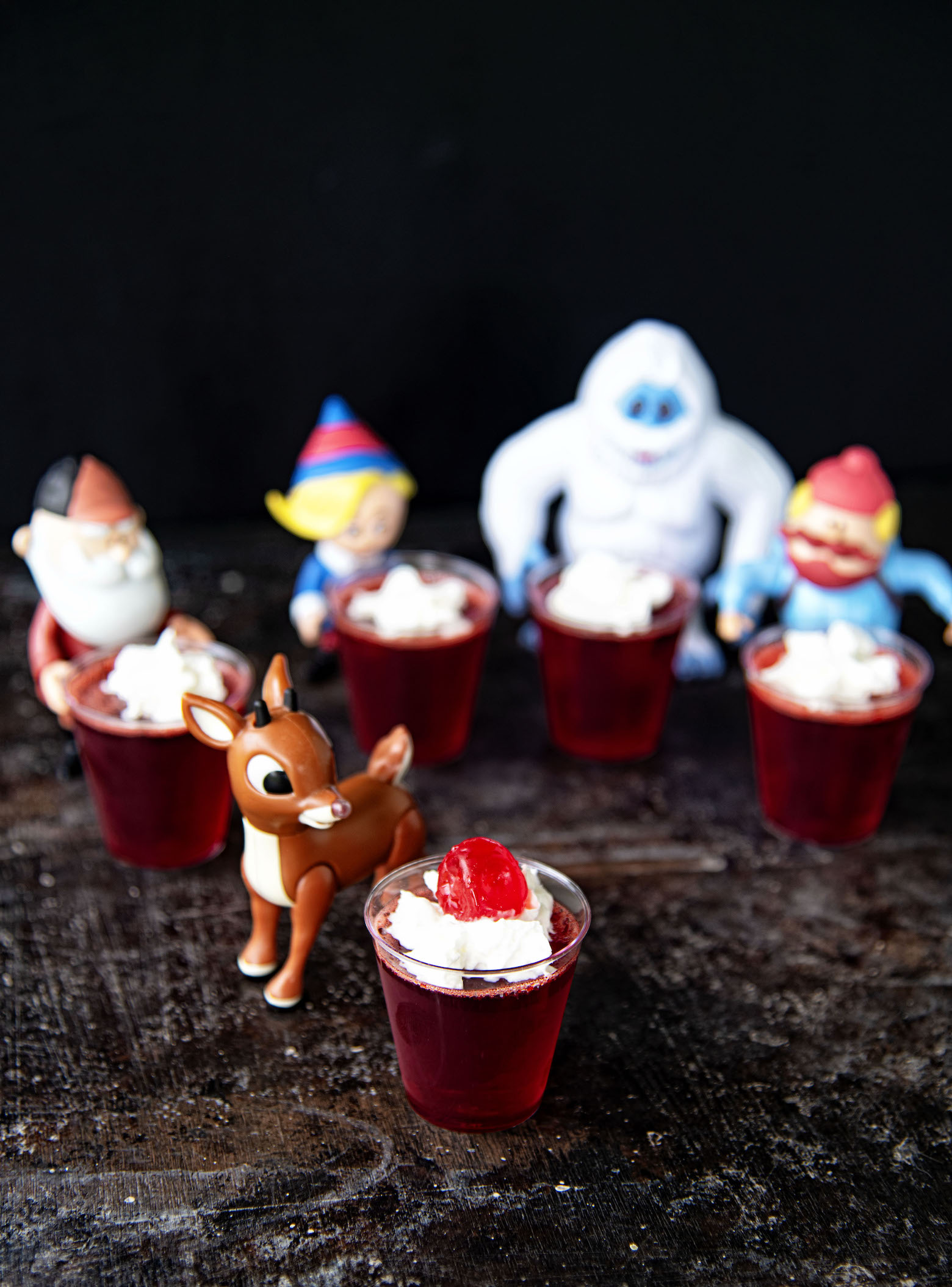 Anyway there was a photo of my stuffed Rudolph the Red Nose Reindeer on the kitchen counter.
Next to him was a can of Big Red (cream) Soda, Jack Daniels, and a bottle Amaretto.
I don't remember drinking it but I must have as there was a tall glass filled with red liquid sitting in front of Rudolph.
Now when I do Booze on the Shelf, I don't post every drink I make.
It didn't get posted on the blog.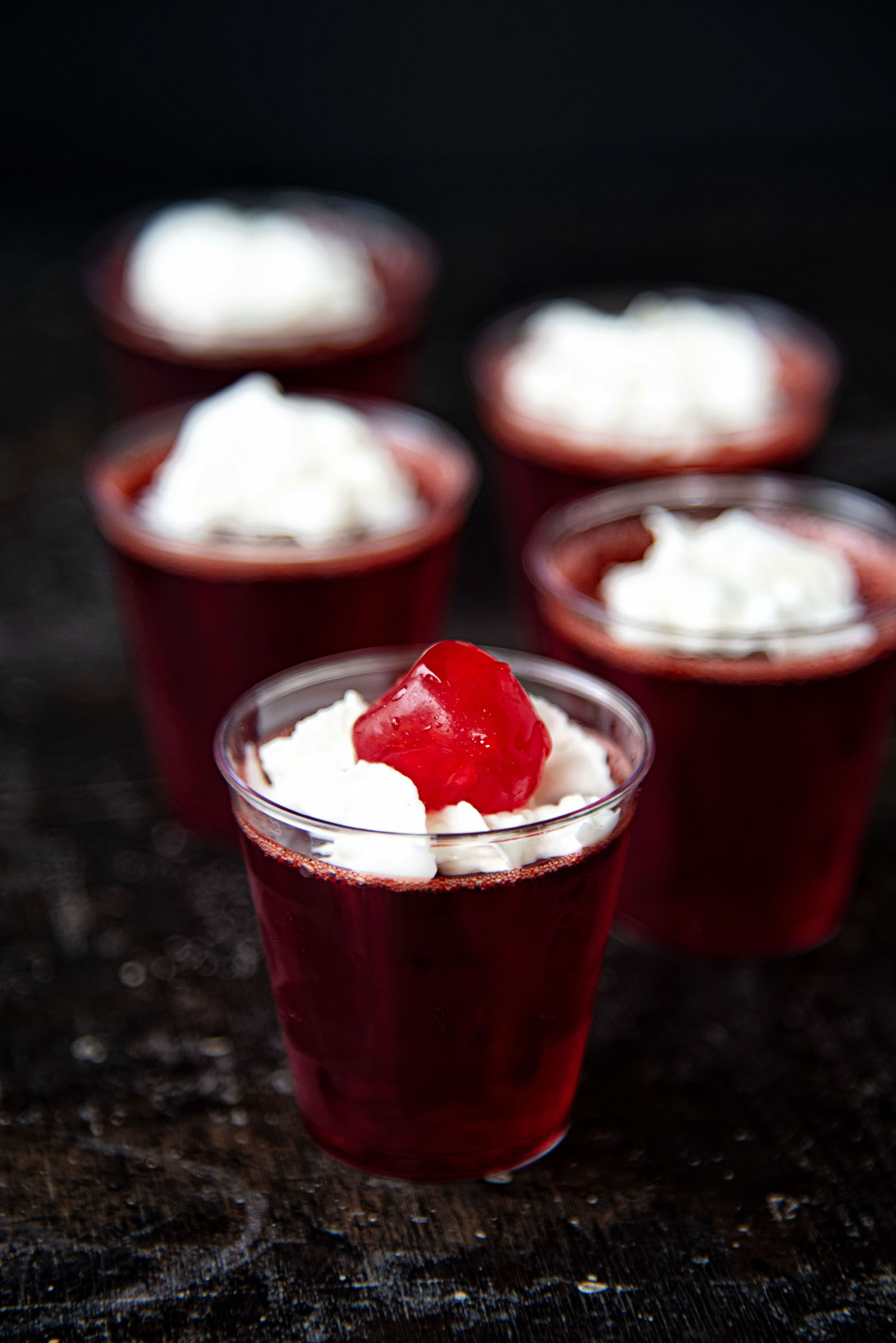 And so I figured I would make it into Jell-O shots.
I like cherry and Amaretto together so I picked cherry Jell-O.
Turned out to be the right move.
These turned out to be a big hit and I will have to make them again next year when people other than my husband and I get to have them.
I mean Bumbles love them.
Because apparently while Bumbles bounce…they also do shots. 😀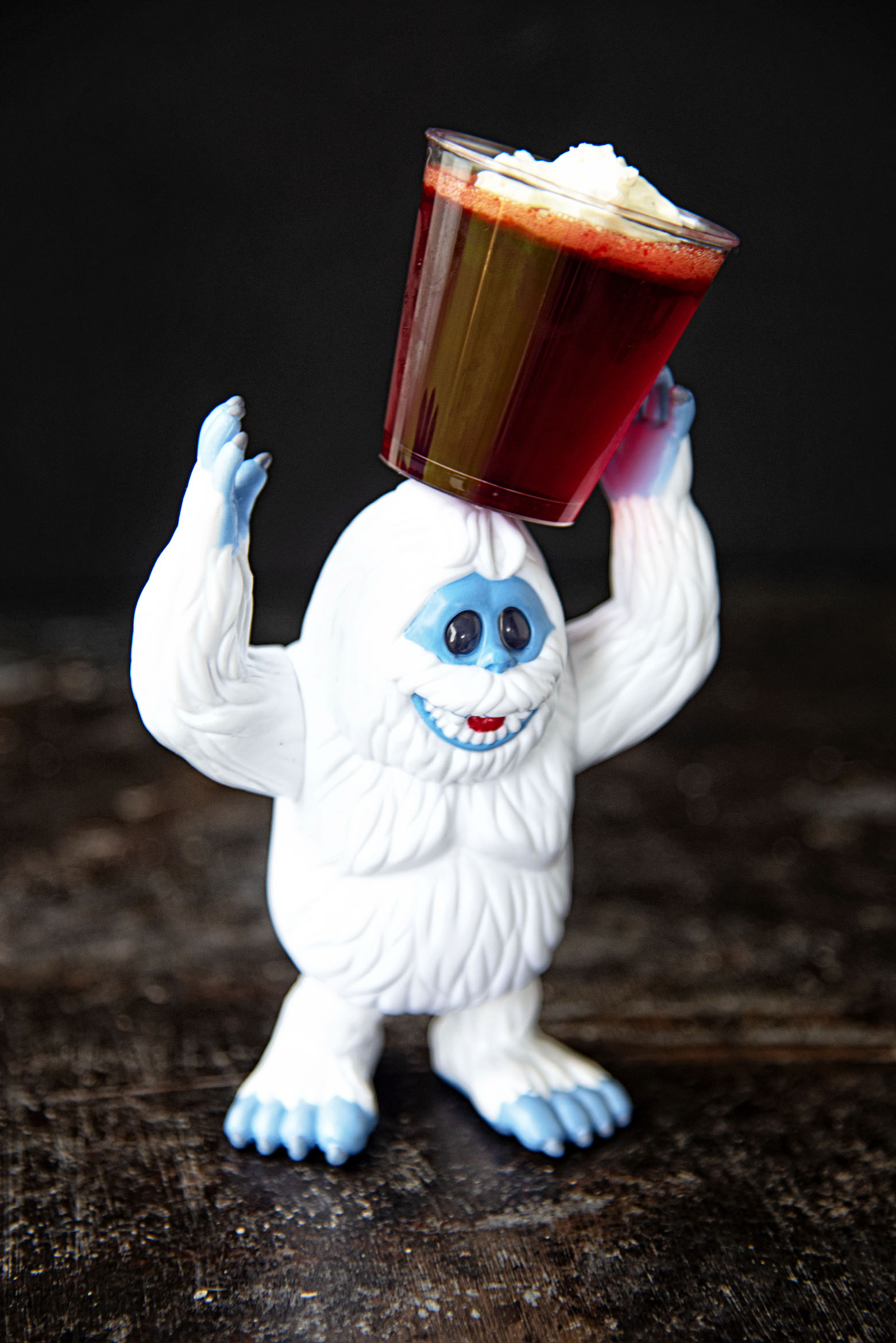 The shots use Big Red which is a red colored cream soda.
If you can't find Big Red then just use cream soda.
Since the Jell-O is red it won't make a difference in the color.
But they do need to be red since I named them Rudolph Red Nose Jell-O Shots.
Which also means you need to find yourself some of those glowing candied red cherries.
Because they make the best noses for Rudolph.
P.S. It's a great day to buy my cookbook Holy Sweet!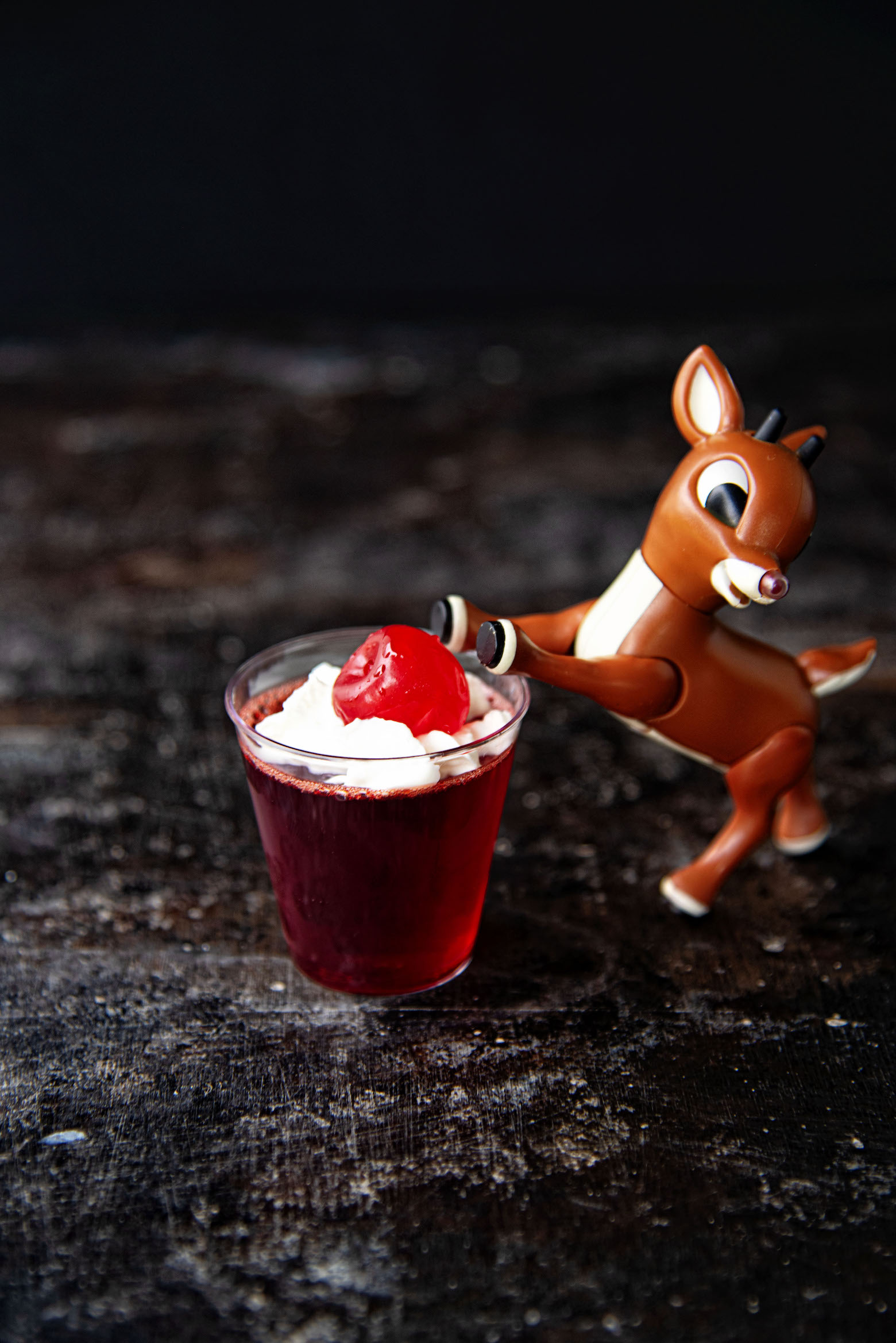 Want More Jell-O Shot Recipes?
Peanut Butter Grape Jelly Jell-O Shots
Dole Whip Pineapple Jell-O Shots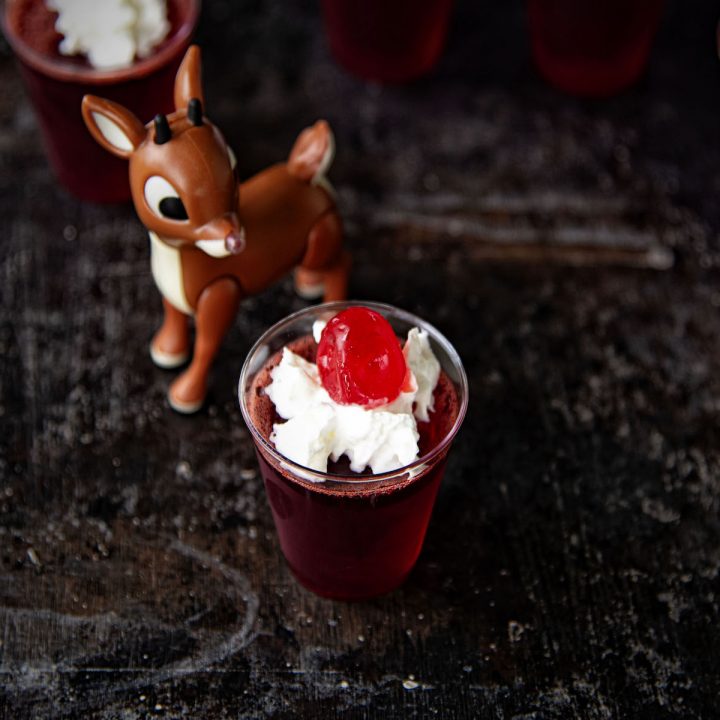 Rudolph Red Nose Jell-O Shots
Ingredients
3 cup Big Red Cream Soda, divided
2 (3 oz) packages cherry Jell-O
1/2 cup whiskey
1/2 cup Amaretto
whipped cream for garnish
candied red cherries for garnish
Instructions
Bring 1 1/2 cups Big Red Cream Soda to a boil.
Empty gelatin powder into a large mixing bowl and add the boiling soda.
Continue stirring for two minutes or until the jello is completely dissolved.
Add in the cold Big Red Cream Soda, whiskey, and Amaretto.
Stir until mixed and pour into 2oz. cups filled 1/2 to 3/4 of the way.
Top with a whipped cream and candied cherry on top.