This Chipotle Tomato Corn Chowder is filled with chipotle peppers, sun dried tomatoes, corn, potatoes all topped with a Queso Fresco Goat Cheese Crouton.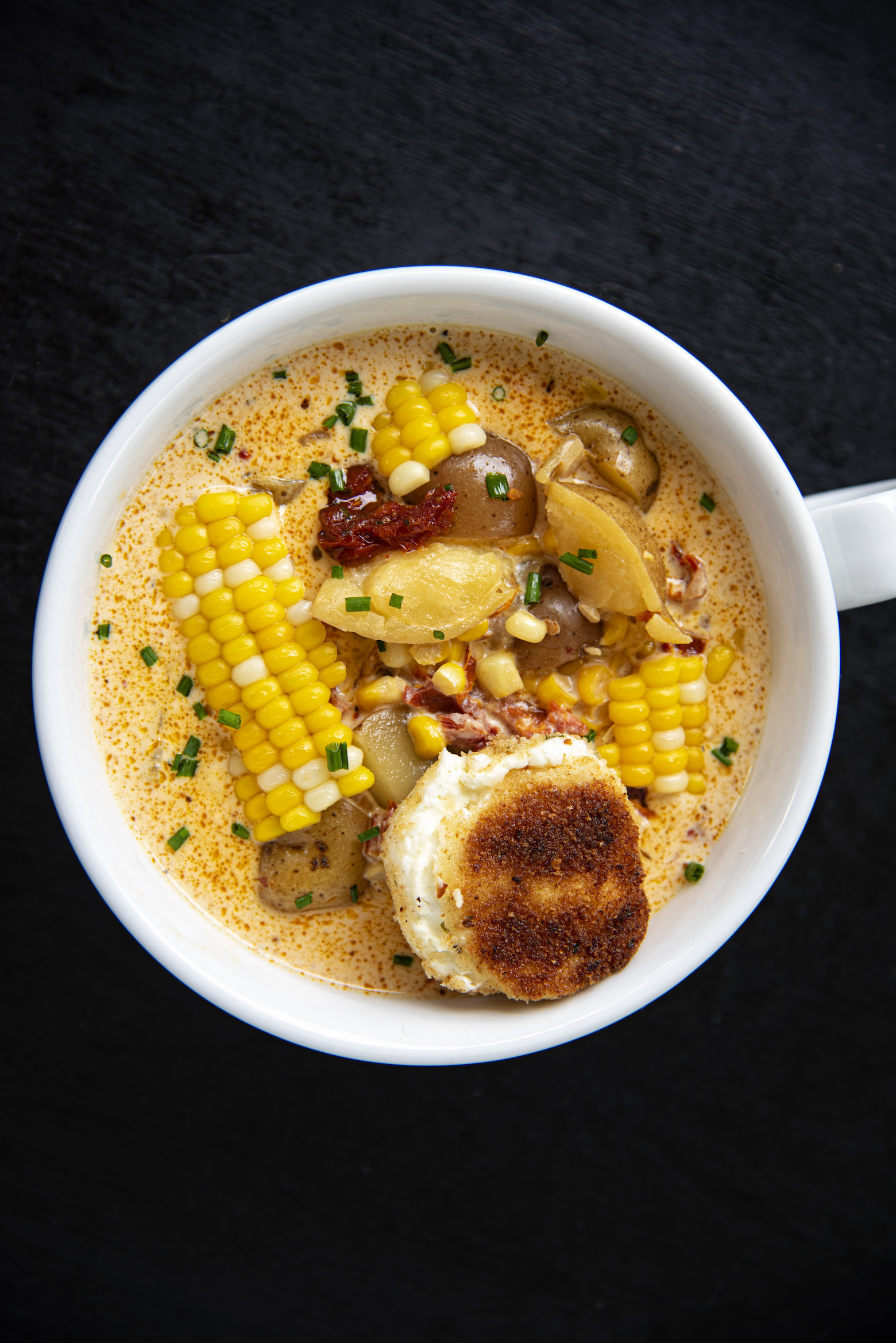 I probably make one recipe a week for dinner from How Sweet Eats.
Jessica and I have similar taste preferences and so I tend to gravitate towards her recipes.
Plus they are always styled so lovely.
I loved her styling of the soup so much I stole it. 🙂
Well, the corn part.
Sometimes I make her recipes exactly as they are.
And sometimes I mix things up.
This is one of those mix up times.
I made a small batch of her Sun Dried Tomato Corn Chowder with Crispy Goat Cheese Chowder and loved it.
But that was for me.
My husband likes to add heat to his food.
Usually when I make any soup he can be seen sprinkling hot sauce into the mix.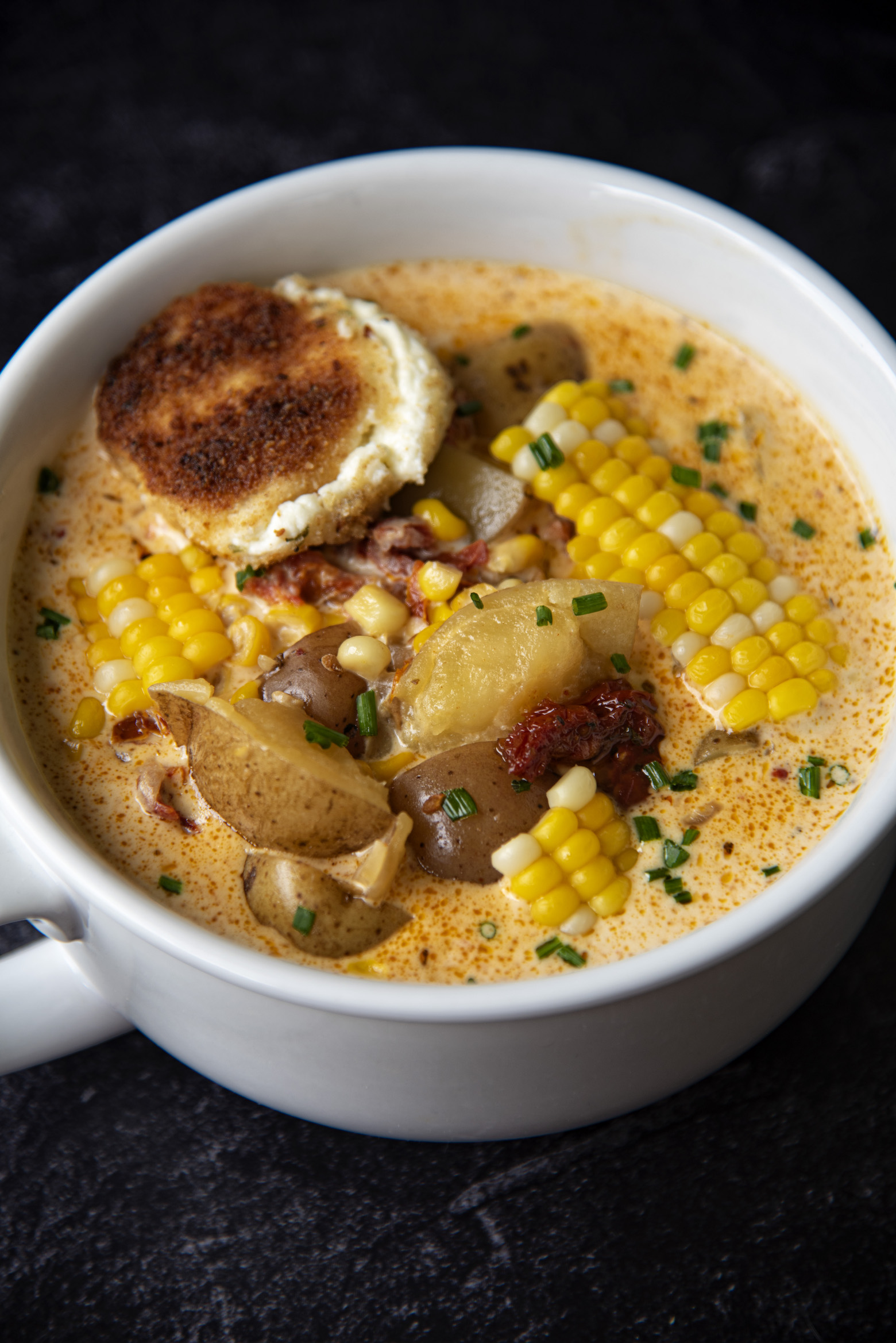 I don't add hot sauce or any heat to the original soup because I'm allergic to capsaicin.
Which is the active component of chili peppers.
The hotter a chile the more capsaicin it has in it.
And the more likely it is I have to stab myself with an epipen.
Anaphylactic shock can really put a damper on the mood so I do my best to skip the spicy stuff.
So there is little heat to my meals.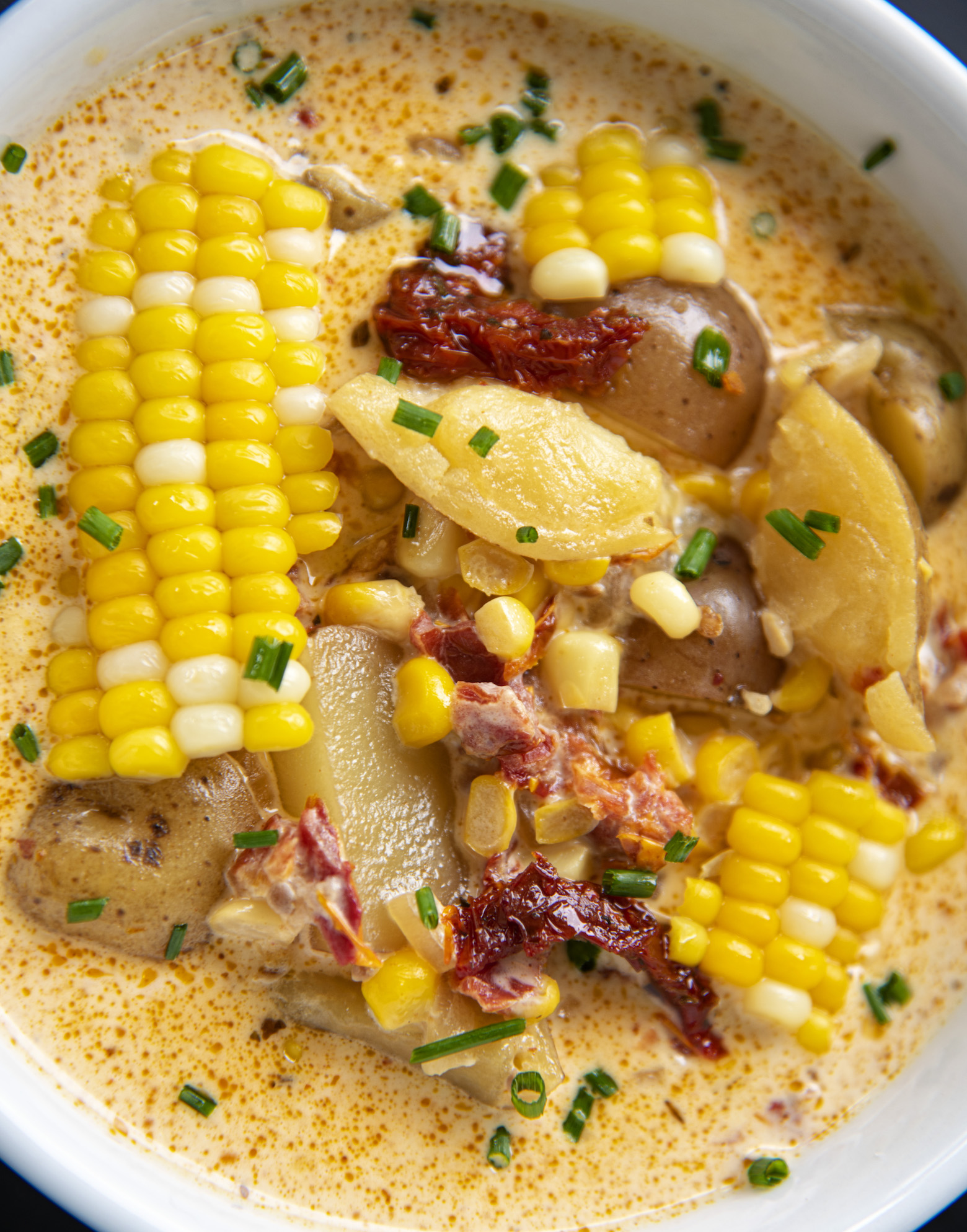 Her recipe has smoked paprika in it which I omitted since the chipotles in adobo sauce have their own smoky flavor.
The hubby is also not a lover of goat cheese.
He doesn't hate it but he's not seeking it out.
Since I was making the soup have a little more Mexican flare with the chipotle I decided to change the crouton up a bit.
Still has some goats cheese but I add cream cheese, queso fresco, and queso cotija to the mix.
I mix it all up and form it into a log and slice it.
I also add some chipotle chili powder to the bread crumb mix for a touch more spice.
This Chipotle Tomato Corn Chowder was definitely a hit.
Another great inspiration from How Sweet Eats.
If for some reason you have never seen her blog…go now.
You should check out her cookbooks Seriously Delish: 150 Recipes for People Who Totally Love Food and The Pretty Dish: More than 150 Everyday Recipes and 50 Beauty DIYs to Nourish Your Body Inside and Out: A Cookbook as well.
And speaking of cookbooks don't forget to order my cookbook. 😀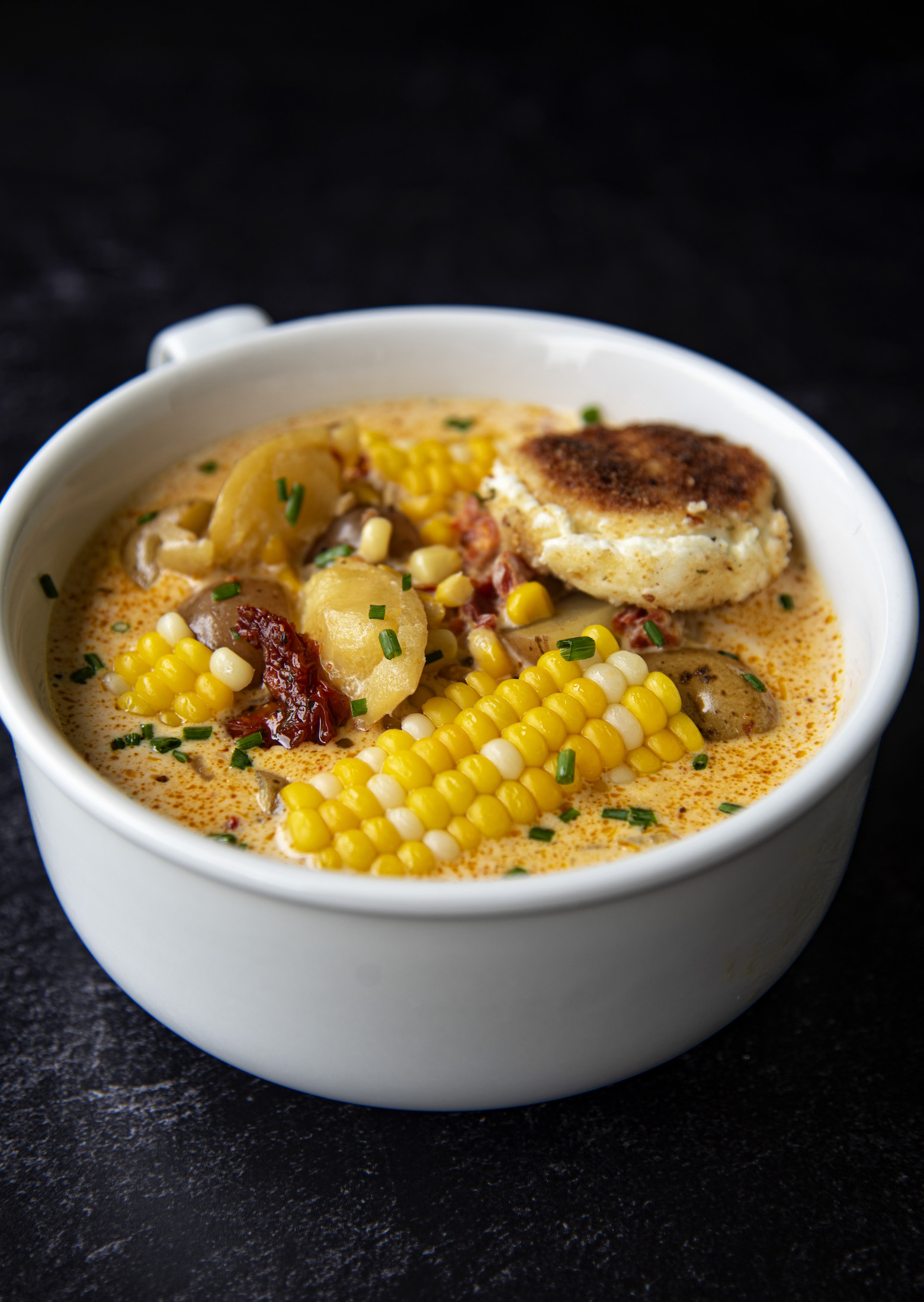 Want More Chowder Recipes?
Smoked Bacon Corn Cheese Chowder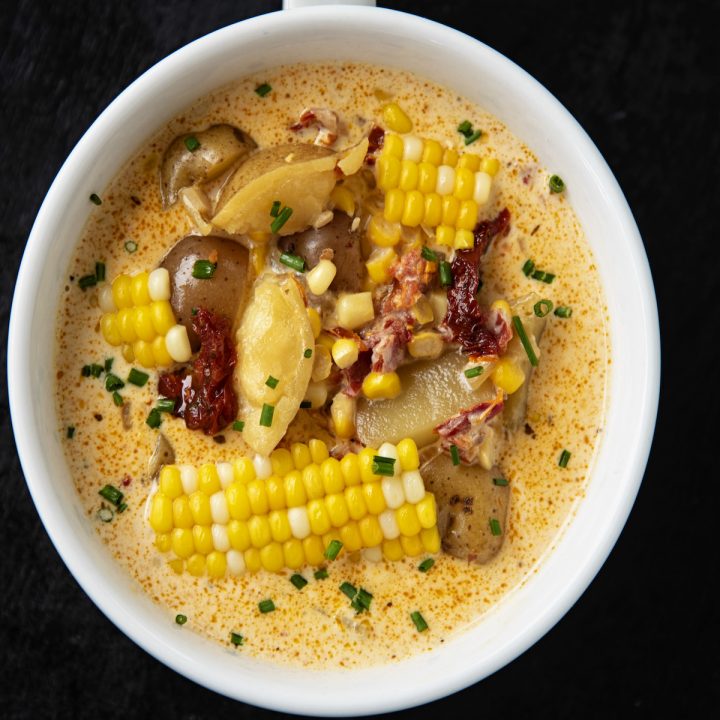 Chipotle Tomato Corn Chowder
Ingredients
Queso Fresco Goat Cheese Croutons:
6 oz. soft goat cheese
6 oz. Queso Fresco
2 oz. cream cheese, at room temperature
2 oz. Queso Cotija
¼ cup flour
1 large egg, lightly beaten
1 cup seasoned bread crumbs
1/4 tsp Chipotle Chili Pepper
olive oil, for pan frying
For the Soup:
1 TBSP olive oil
1 small sweet onion, finely diced
2 garlic cloves, minced
½ tsp salt
½ tsp freshly ground pepper
1/3 cup chopped sun dried tomatoes, drain if they are in oil, plus more for topping
3 TBSP canned chipotle chiles in adobo sauce, diced in sauce
2 1/2 cups corn kernels, cut fresh from the cob, plus extra for topping
1 ½ cups chopped yukon gold potatoes
4 cups vegetable stock
1 1/2 cups heavy cream
1 1/2 tablespoons flour
¼ cup fresh chopped chives
Instructions
For the Queso Fresco Goat Cheese Croutons:
In a medium sized bowl mix together the cheeses until combined.
Roll into a log and wrap in plastic wrap. Place in fridge for an hour.
Remove from plastic wrap and slice into 8 slices.
Toss the breadcrumbs and the chipotle powder together and set aside.
Place the flour on one plate, the beaten egg on another and the breadcrumb mixture on a third.
Heat a large skillet over medium heat and add 2 tablespoons olive oil.
Dip each cheese piece in flour, then in egg, then in breadcrumbs.
Place it in the hot oil and cook for 1ish minute per side until it's golden and crispy.
Remove with a slotted spoon and place it on a paper towel to remove excess grease.
For the Soup:
Heat the olive oil in a large pot over medium-low heat.
Stir in the onions and garlic with a pinch of salt and pepper and cook, stirring often, until softened, about 5 minutes.
Stir in the chopped sun dried tomatoes and chipotle chiles and cook for another 1 to 2 minutes.
Stir in the corn, potatoes and stock.
Bring the mixture to a boil, reduce it to a simmer and cover, cooking until the potatoes are fork tender, about 15 to 20 minutes.
In a shaker bottle, add the flour to the heavy cream and shake well until it is combined.
Slowly pour it into the soup mixture while stirring.
Simmer the mixture for 5 minutes – it should thicken up.
Taste and season additionally if needed.
Stir in most of the chives, reserving a few for topping.
Serve, topping the bowl with extra sun dried tomatoes, fresh corn off the cob and a Queso Fresco Goat Cheese Croutons.