These Bourbon Butterscotch Sweet Rolls are filled with brown sugar, bourbon, and butterscotch chips and topped with a butterscotch glaze.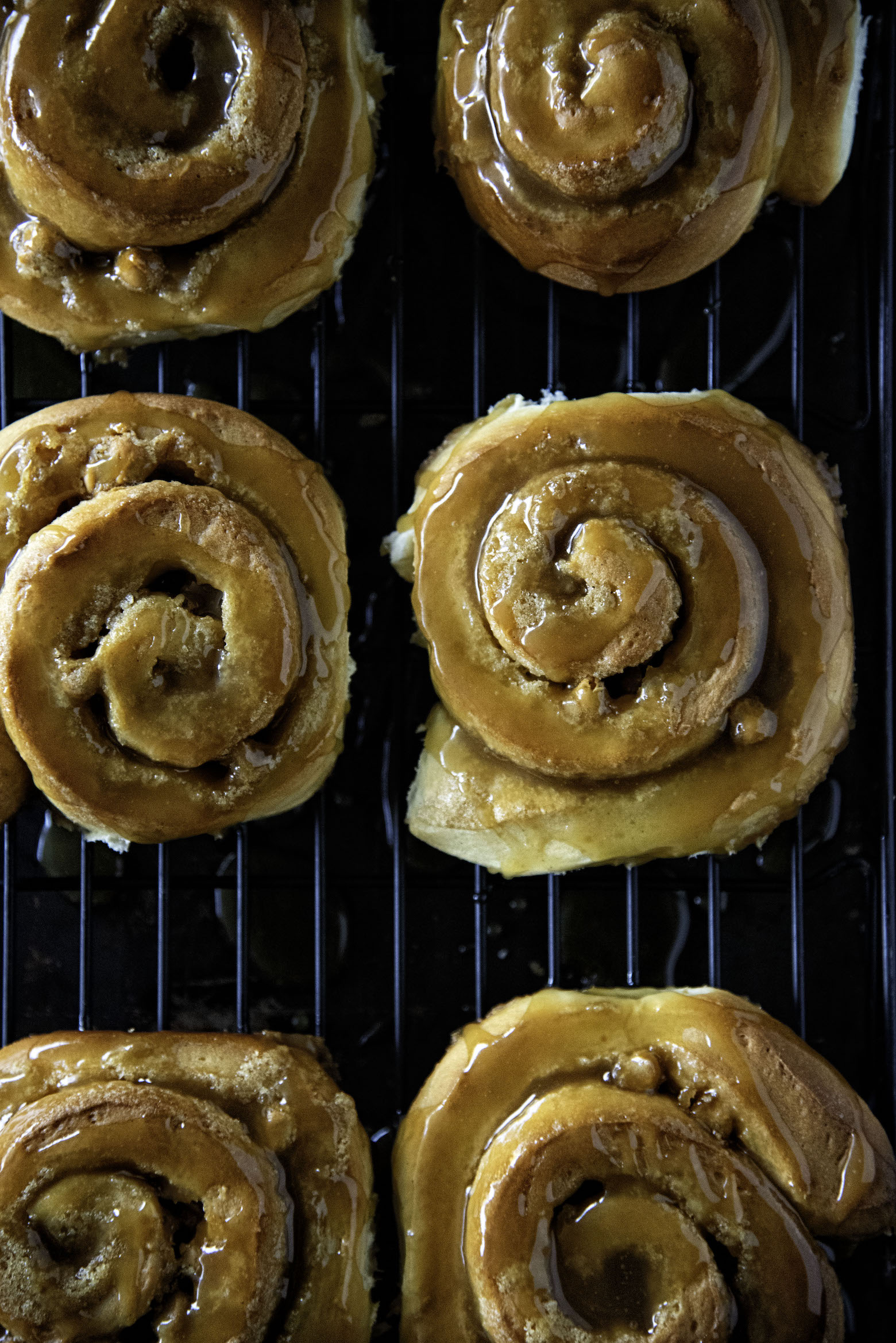 So I'm obsessed with the The Great British Bake Off (renamed The Great British Baking Show in the states and Canada).
Number one because it's all baking.
Oh sure some of it is super weird baking that I would never attempt just to throw them off a little…but it's baking nonetheless.
The other reason why I love it is because of how nice they are to each other.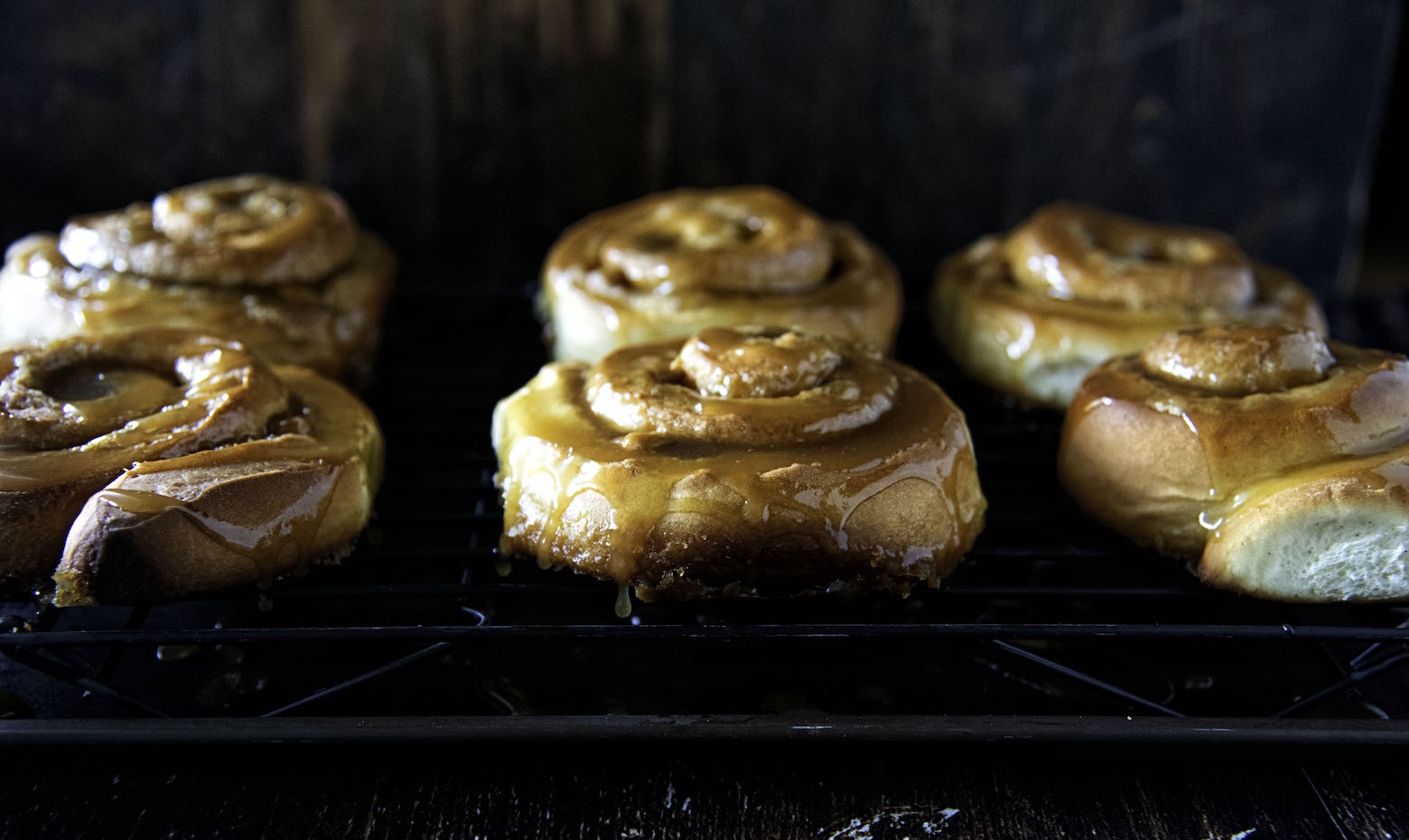 In a society these days that is quite divided and cruel to each other from behind the keyboard it's refreshing to see people in a competition being friendly towards each other.
Just how friendly?
Well, during many of the challenges when a baker finishes early the go over to the other bakers to give them a hand if they need it.
If one of the bakers is having a meltdown you can see them trying to calm them and give them hugs.
If you follow any of them on social media you see that after the show is over they often meet up for dinner and even go on holiday together.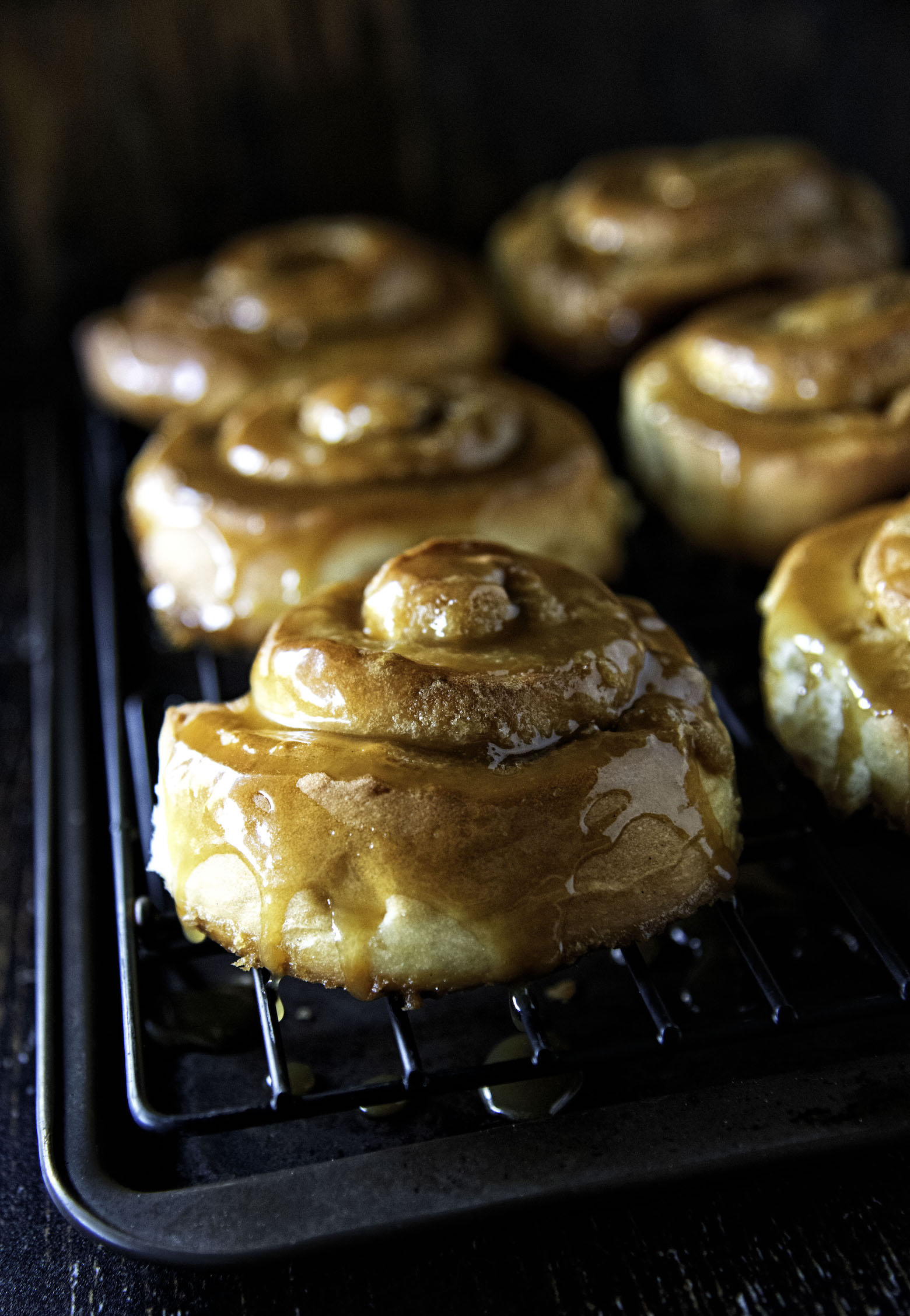 A common bond over the joy of baking.
It actually reminds me of the early days of how food blogging used to be.
When people didn't go into food blogging to be a business, it was simply a way to express your love of food and recipes.
To connect with others who also loved food and recipes.
And those of us old school bloggers really miss those days of connections.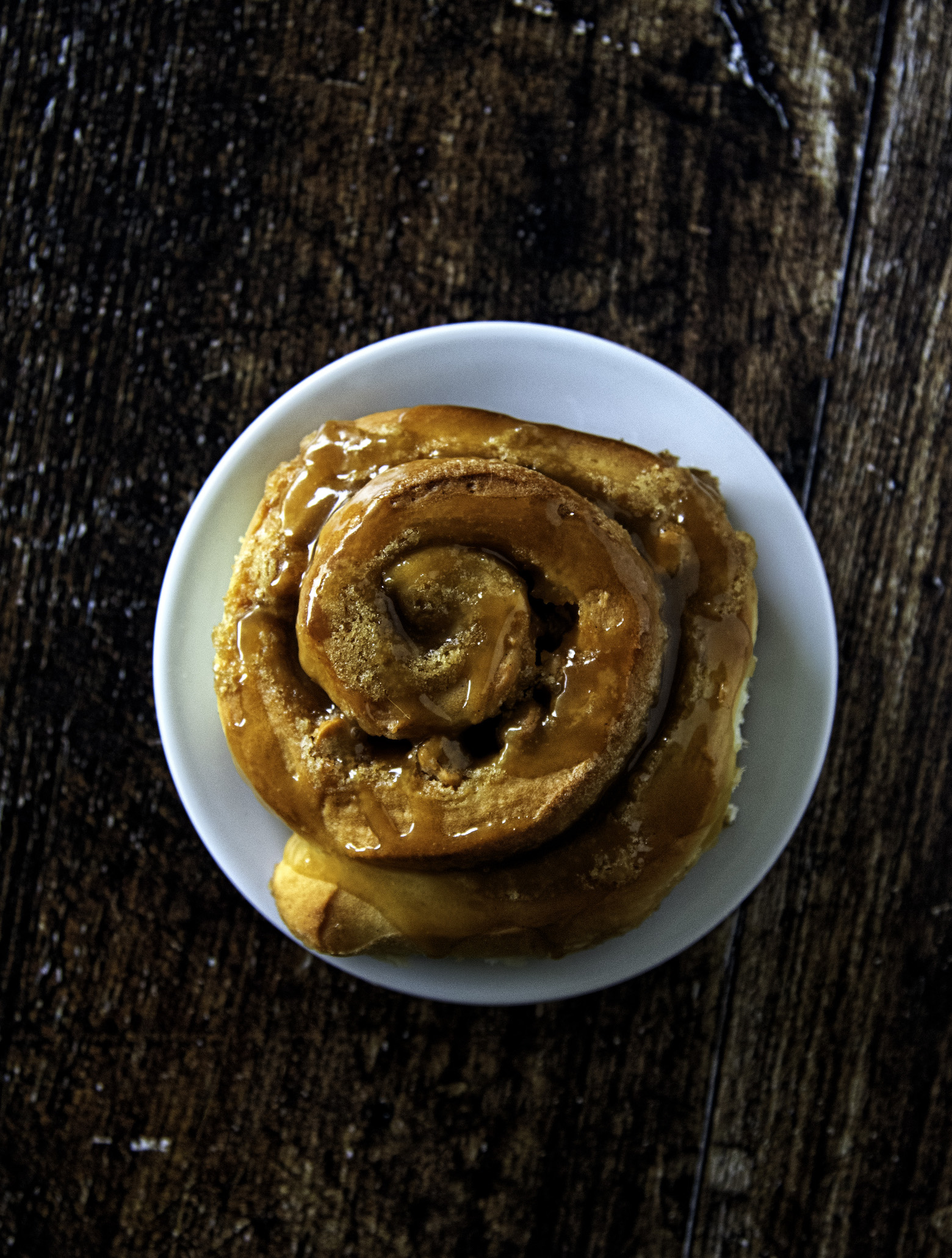 I still think there are people out there wanting that connection like there used to be in blogging.
To me that's why the show is so popular.
Who wouldn't want to go and bake with people who also love baking every week?
With people who cheer for you when you get star baker and cry when you leave the tent.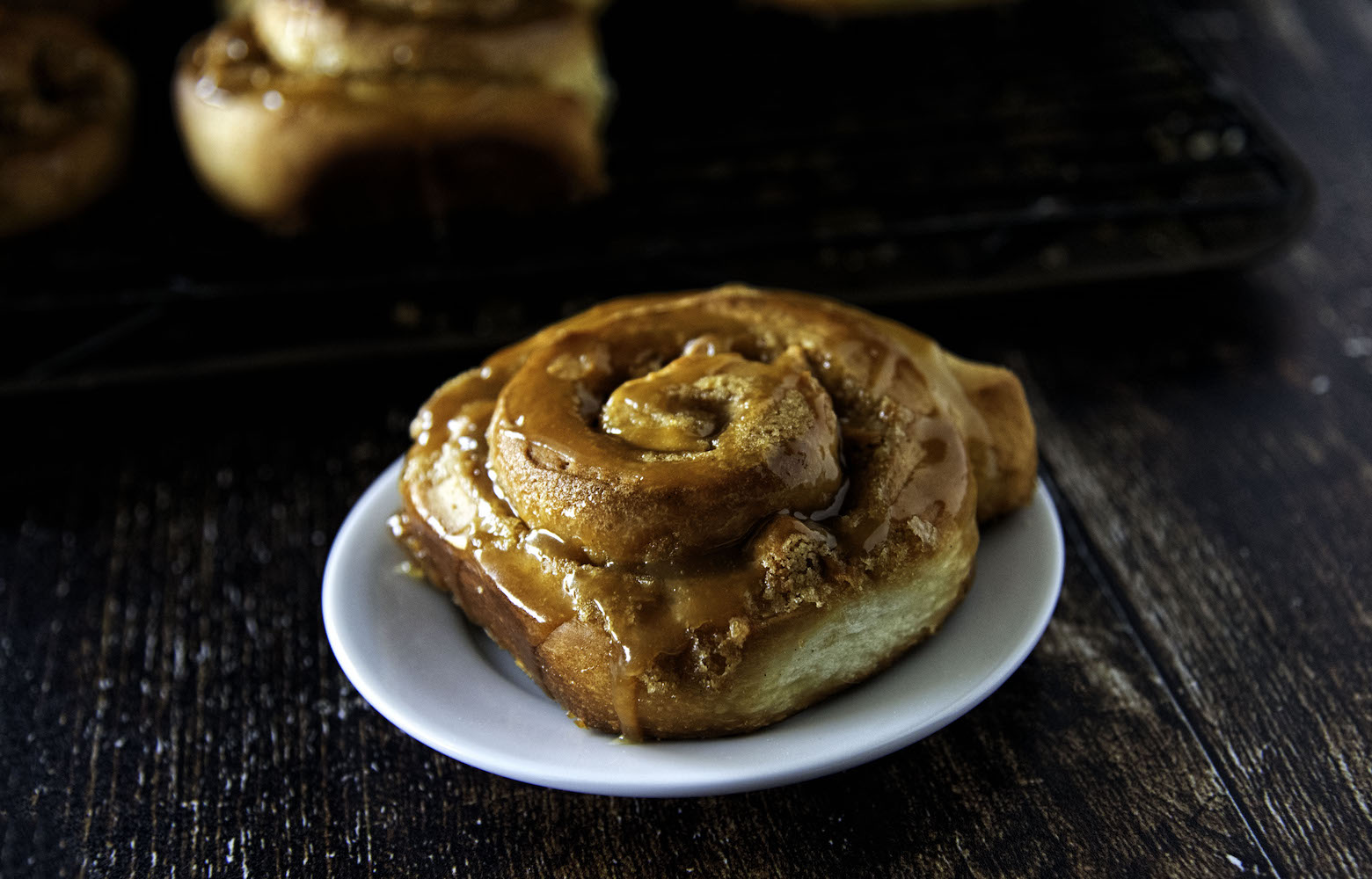 If you also watch British Bake Off then you know they call these Chelsea Buns.
We usually call them sweet rolls.
These Bourbon Butterscotch Sweet Rolls are filled with brown sugar, butter, bourbon, and butterscotch chips.
However many chips you want is really up to you.
I said a cup but my husband loves butterscotch chips and he commented that he wanted more next time.
Noted.
The glaze when first heated up is very thin.
You are going to want it to get too cool down so that it gets nice and thick.
Yes, this glaze does make the rolls sticky…and they are awesome so grab a napkin and enjoy.
P.S. It's a great day to buy my cookbook.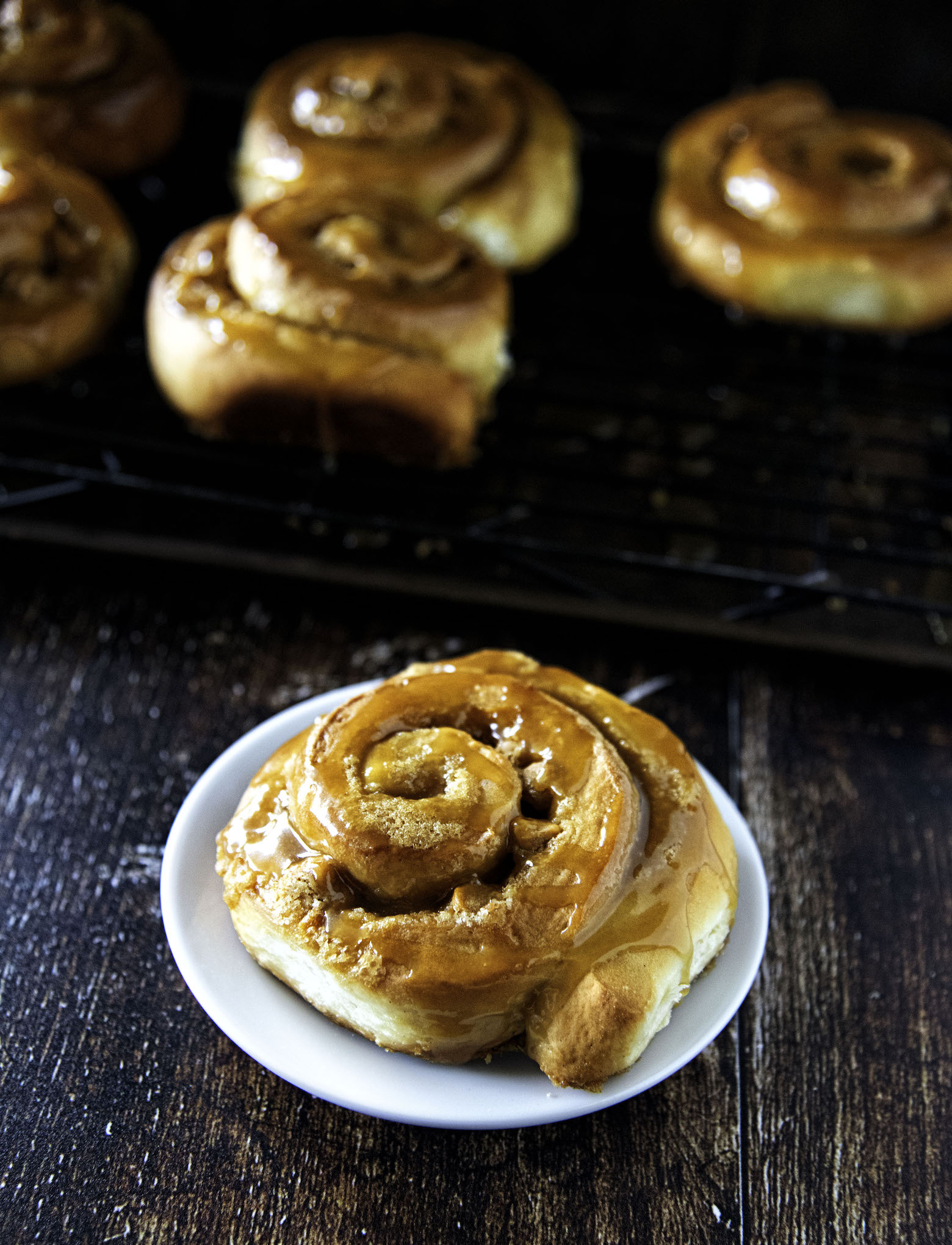 Want more sweet roll recipes?
Giant Cinnamon Roll with Cake Batter Frosting
Snickerdoodle Cookie Dough Cinnamon Rolls
Oatmeal Raisin Cookie Stuffed Cinnamon Rolls with Caramel Glaze
Coconut Cream Pie Breakfast Buns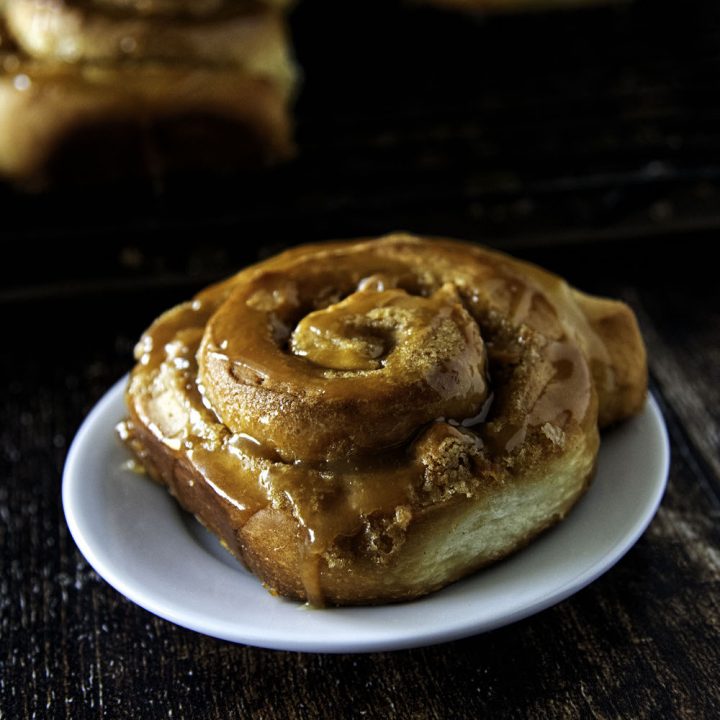 Bourbon Butterscotch Sweet Rolls
Ingredients
For the Dough:
1/2 cup warm water, 110 - 115F
1 TBSP active dry yeast (I used Red Star Yeast Platinum)
1/2 cup buttermilk at room temperature
2 large eggs
1/2 cup plus 1/2 tsp granulated sugar, divided
1 tsp. salt
2 tsp. vanilla bean paste (I use Rodelle)
6 Tbsp unsalted butter, melted and slightly cooled
3 1/2 - 4 cups bread flour
For the Filling:
6 TBSP unsalted butter, at room temperature
1 cup Brown Sugar, loosely packed
2 TBSP Bourbon
1 cup butterscotch chips
pinch of salt
For the Bourbon Butterscotch Glaze:
1 cup brown sugar
1/2 cup light corn syrup
3 tbsp unsalted butter
1 1/2 tsp kosher salt
1/2 cup heavy cream
1 TBSP bourbon
Instructions
For the Dough:
Using a stand mixer with the paddle attachment add the yeast, warm water, and 1/2 tsp. granulated sugar.
Let rest for 5-10 minutes to proof…the batter will puff up. If it does not then your yeast is bad and rolls won't rise so best to throw out and start again with different yeast.
Add in room temperature buttermilk, eggs, 1/2 cup granulated sugar, salt, vanilla, and melted butter and mix until fully combined.
Add in 2 1/2 cups of the flour and mix until fully combined.
Switch to a hook attachment then add another 1 cup flour. Knead mixture until combined.
Continue to knead on low speed about 5 - 6 minutes while adding a little more flour as needed to reach a soft and moist dough (Dough shouldn't stick to the sides of the bowl but does stick to the bottom).
Transfer dough to an oiled bowl, cover with plastic wrap (I find press and seal works best) and let rise in a warm place until doubled in volume, about 1 1/2 hours.
Grease a 12-x-16-inch jelly roll pan with baking spray. Set aside.
When the dough has doubled in size lay it on the a floured work surface and roll it out to about 20 X 16, with the SHORTEST side closest to you.
Make the filling by mixing together the butter, brown sugar, bourbon, and salt. It will be clumpy.
Sprinkle the filling all over the dough, going all the way to the outside edges.
Sprinkle the butterscotch chips on top of that. Beginning on an -inch side tightly roll dough into a cylinder. Pinch the seam to seal (brushing a little egg white underneath helps if needed or I just use a toothpick).
Cut into 12 equal portions using a large sharp knife (they should be 1 1/2-inch each).
Cover with plastic wrap loosely.
Let rise in a warm place until doubled in volume, about 1 1/2 hours.
Preheat oven to 350F near the last 20 minutes of rolls rising.
Bake rolls in preheated oven until centers are no longer doughy, about 25-30 minutes.
While rolls are cooling make the glaze.
For the Glaze:
Bring the brown sugar, corn syrup, butter, and salt to a boil in heavy bottom skillet, whisking to dissolve sugar.
Boil until for about 3 minutes until syrupy and slightly reduced.
Remove from heat, add cream and bourbon and stir until smooth.
Set aside too cool and thicken.
Once glaze is thickened pour over the rolls.