This Halloween Vanilla Sprinkle Quick Bread is a simple and festive quick bread flavored with vanilla and butter emulsion and filled with tons of sprinkles!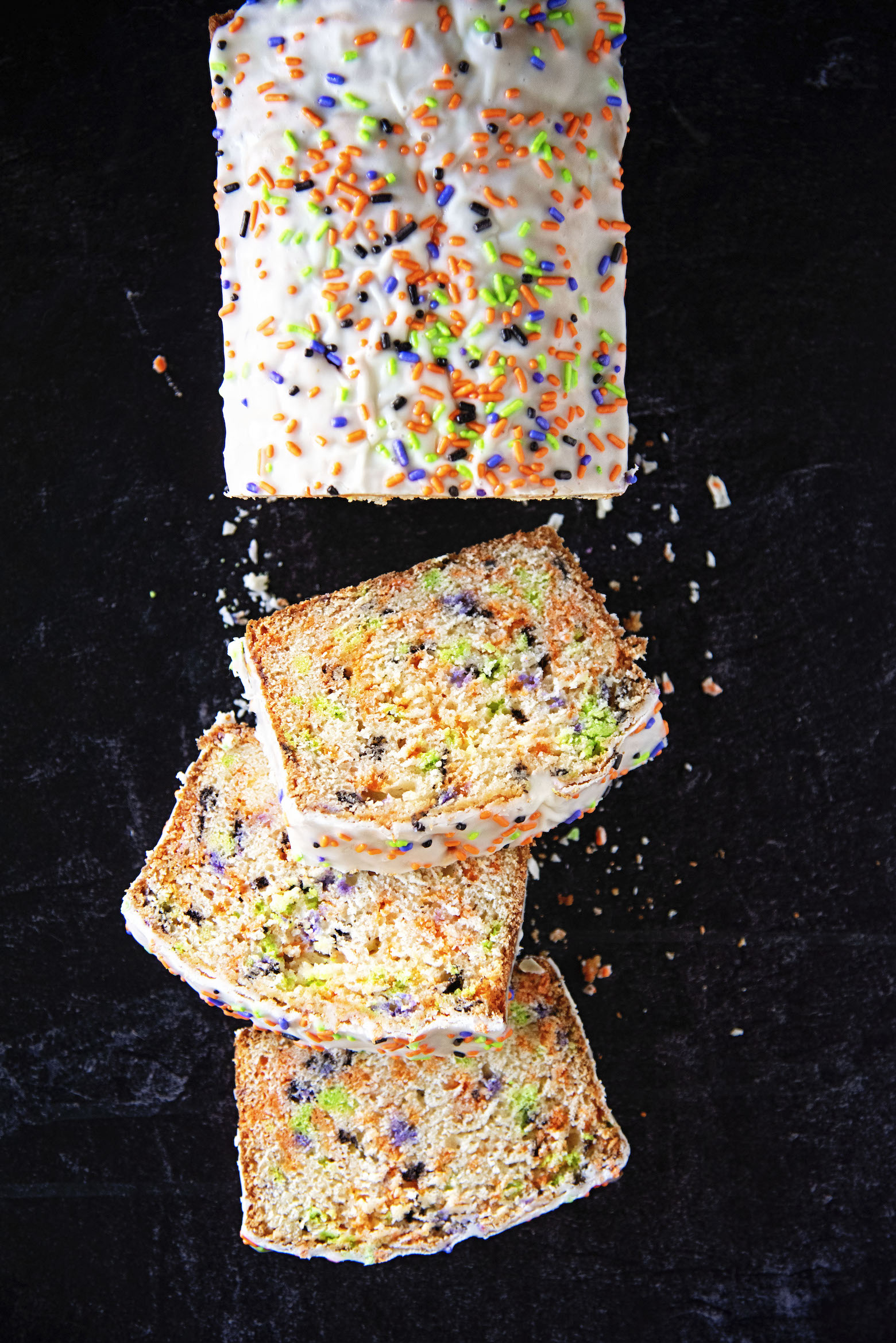 My local grocery store has a wonderful bulk section.
With a lot of the usual things you find in bulk but then some rather interesting items.
One of those is sprinkles.
They have the best sprinkles and I don't know who makes them.
The grocery store might even be the ones who do because they make a lot of their own stuff.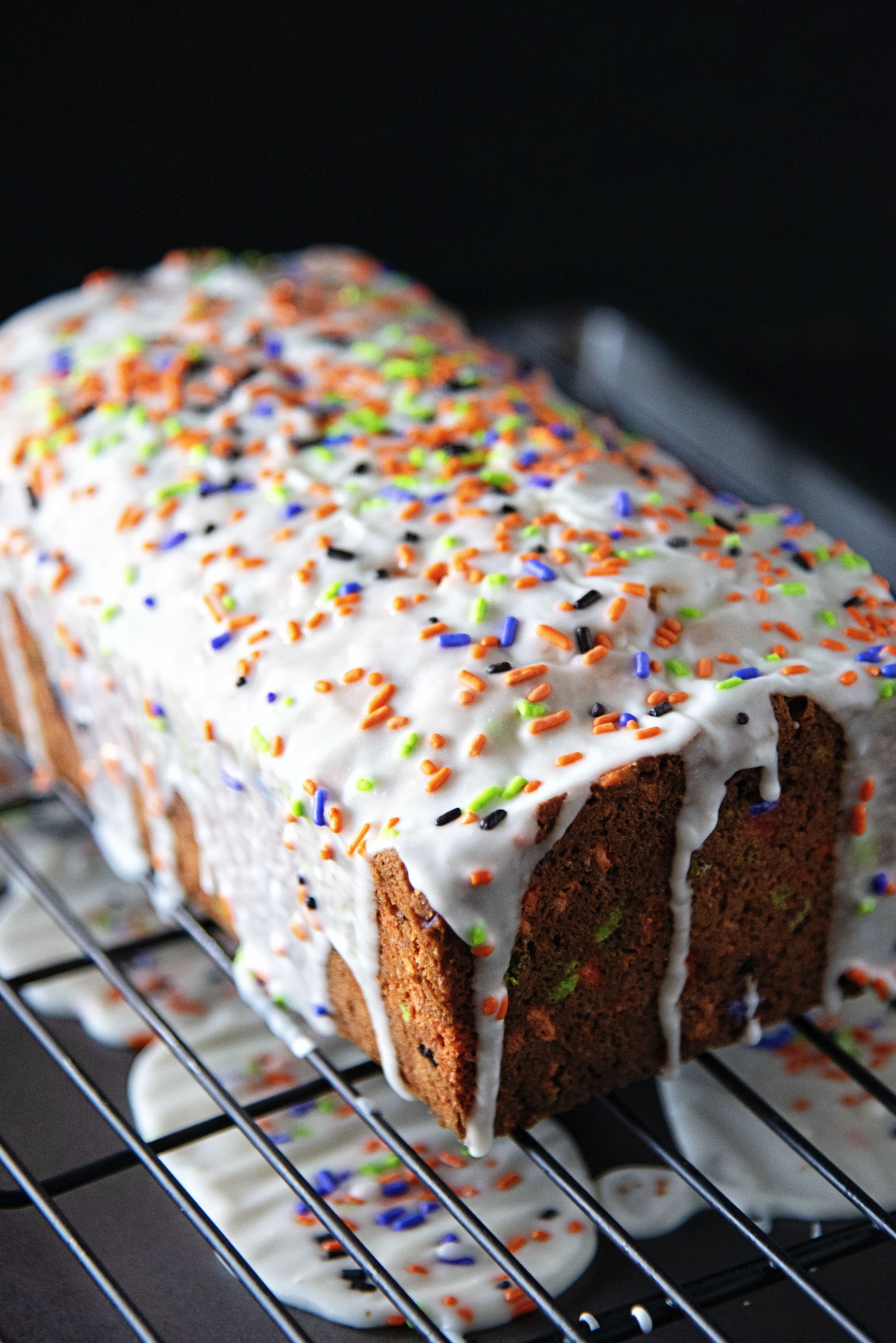 I didn't see the Halloween ones this year until this week.
I almost passed getting some because I thought nah, Halloween is almost here.
But how can you pass up sprinkles that are that vibrant and fun?!?
You can't.
Since October is almost over I wanted to create a recipe that was just a base basically.
One that you can use year round but with just different sprinkles.
So I made this Halloween Vanilla Sprinkle Quick Bread.
This comes together so quick and easy.
Which it should with it being quick bread and all. 🙂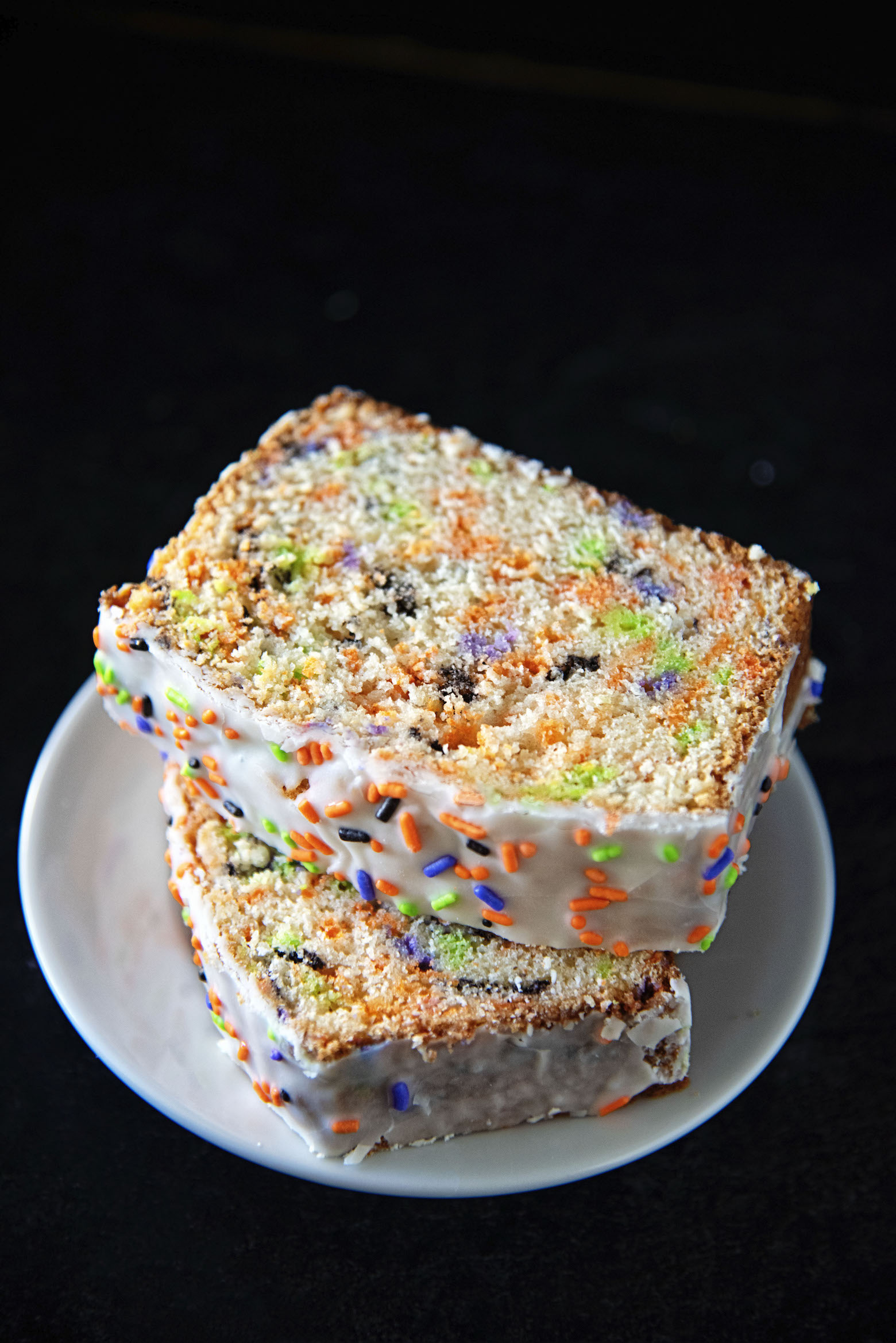 This recipe calls for FULL fat buttermilk.
Yes, you need the full fat buttermilk.
I know that a lot of stores only seem to carry the low-fat version.
Not sure why?
I don't know too many people who use buttermilk outside of baking.
If that is not an option at your store I suggest using sour cream or Greek yogurt in place of it.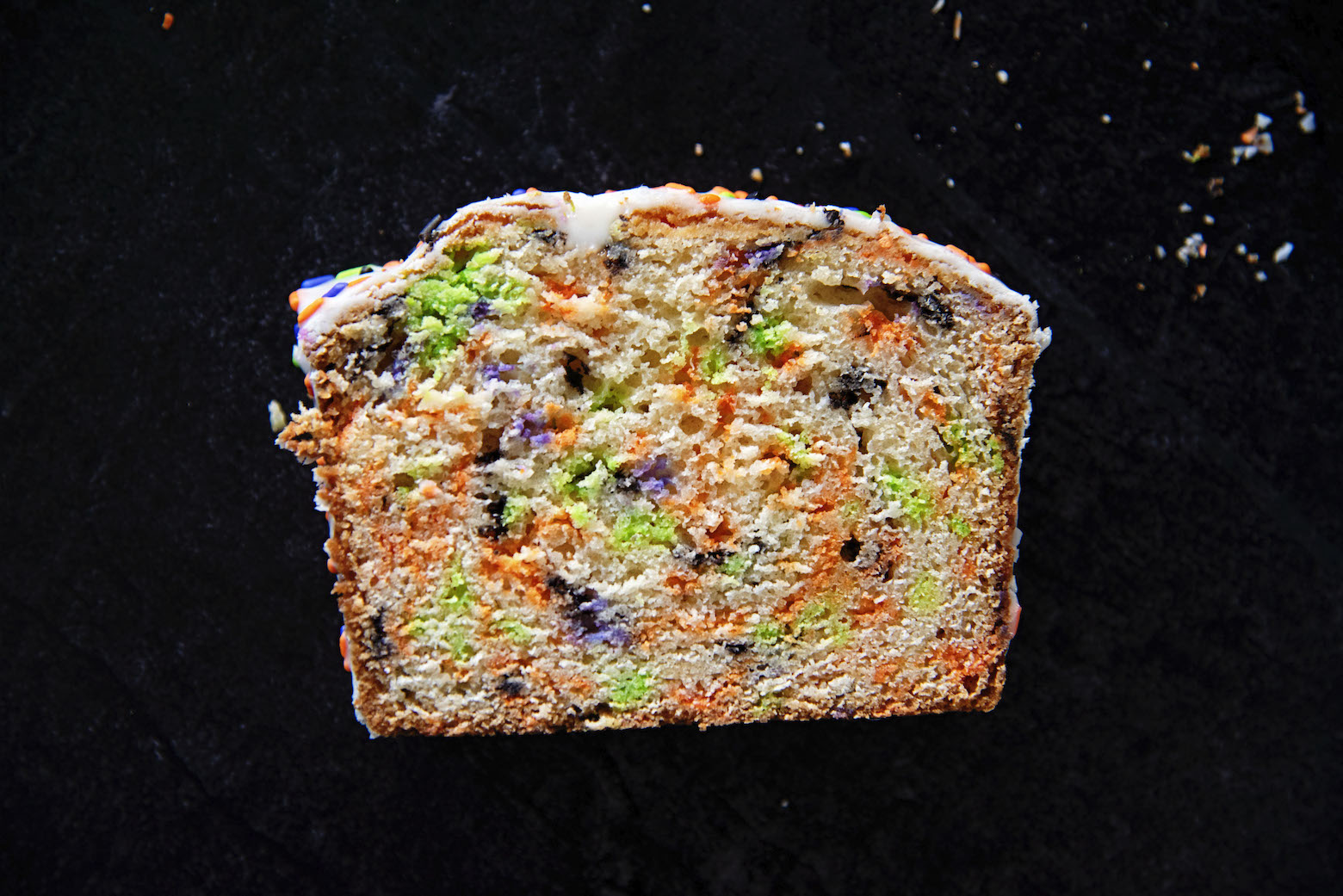 I don't recommend using your stand mixer with this recipe.
Yes, it makes it that much easier to make.
But I find when making quick bread and muffins you can over mix the batter.
And when you overmix the batter with a quick bread it can become tough rather quickly.
Which you do not want.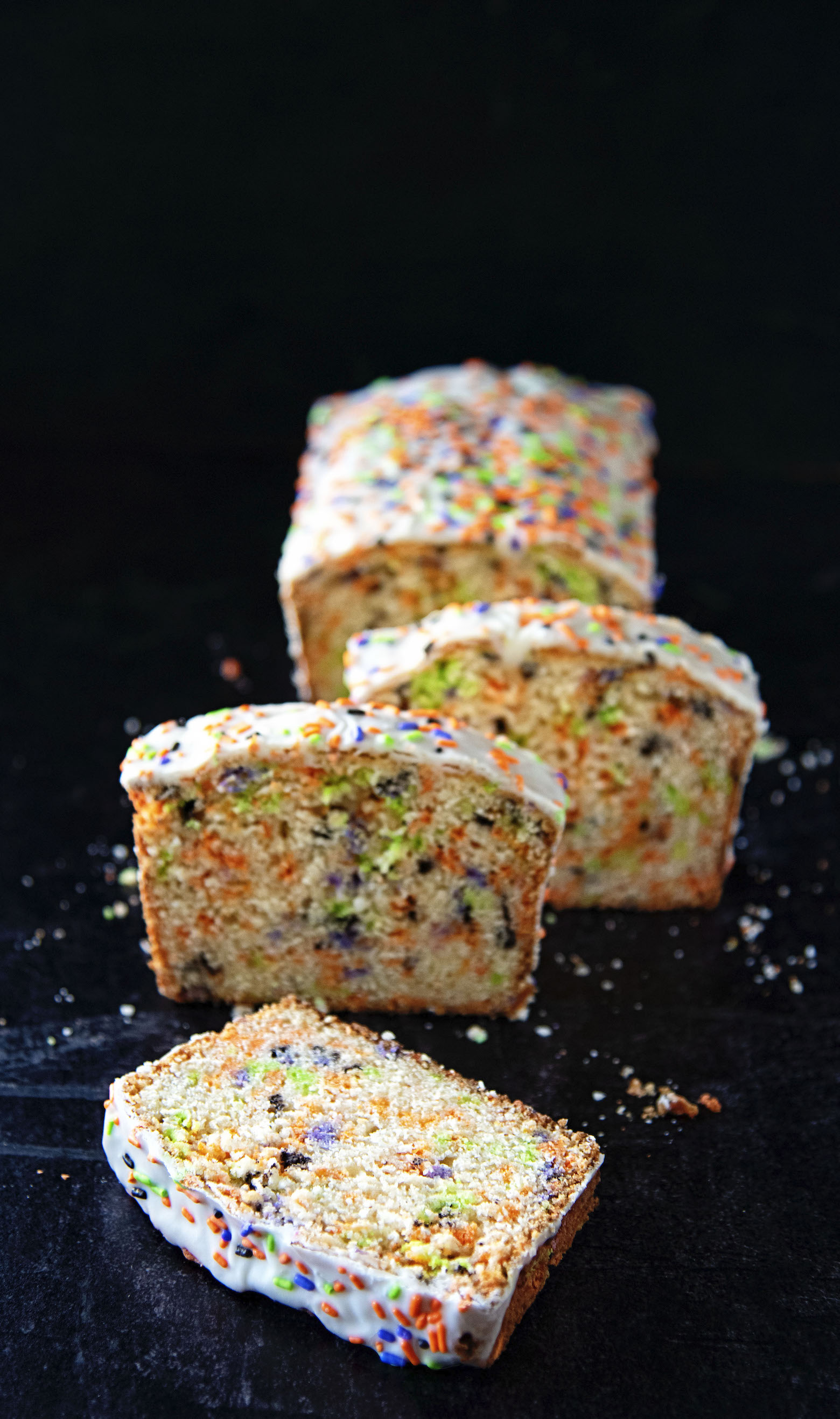 The recipe also calls for Buttery Sweet Dough Emulsion.
Which is an extract.
It gives baked goods that Funfetti kind of taste you get in the cake mix that you don't usually get when you make homemade.
Definitely a key to making the bread taste a certain way is the extract so don't skimp on it.
Buttery Sweet Dough Emulsion can be found on Amazon and usually in places like Michaels or Joann's that sells cake supplies.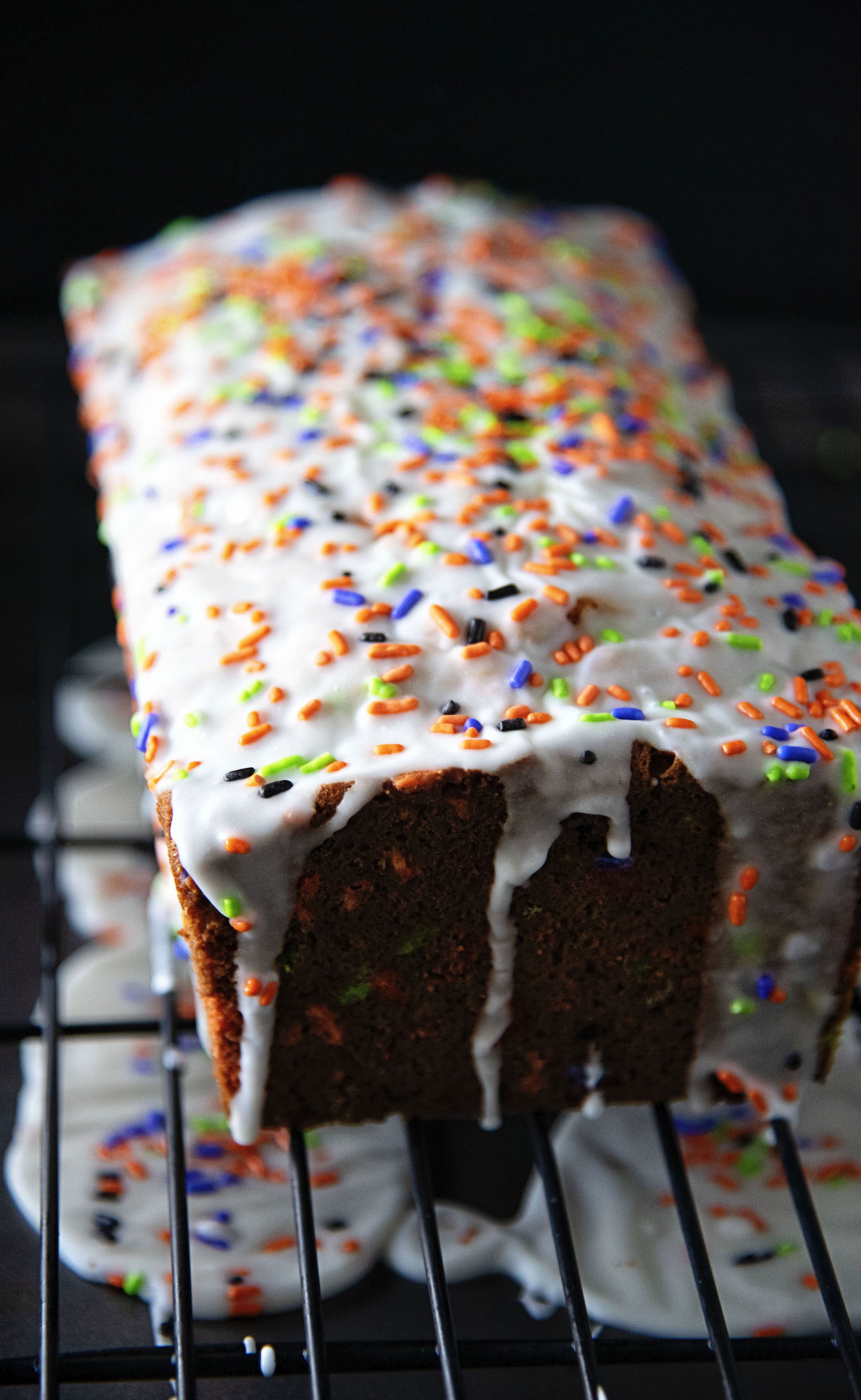 So break out the loaf pan and make one last Halloween recipe until next year.
Or go find some Thanksgiving sprinkles (I'm sure it's a thing somewhere) and make a Thanksgiving loaf.
Better yet go get Christmas ones and make a loaf so everyone can tell you it's too soon. 😛
And as always it's a great day to order my cookbook.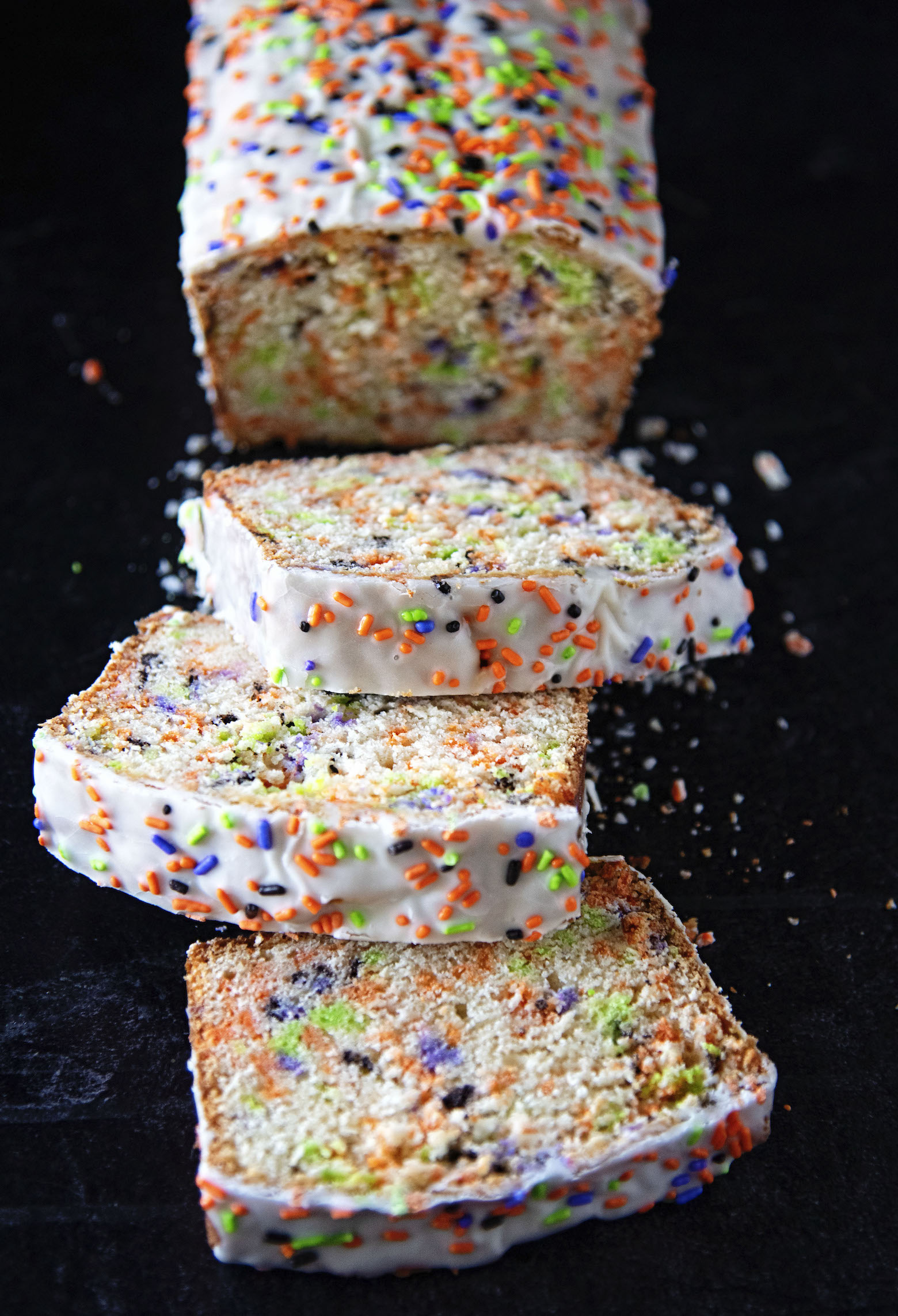 Want more Quick Bread Recipes?
Apple Cinnamon Buttermilk Bread
Chocolate Peanut Caramel Quick Bread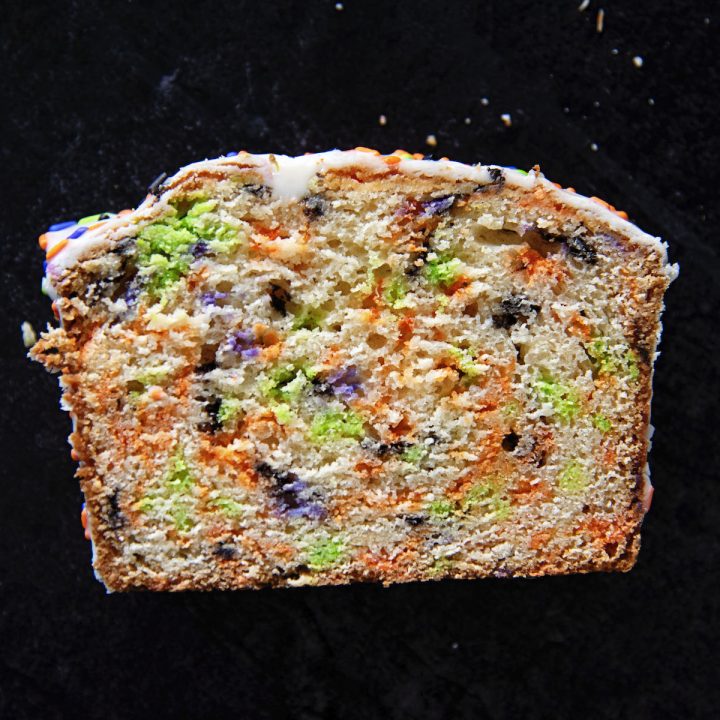 Halloween Vanilla Sprinkle Quick Bread
Ingredients
For the Bread:
2 cups all-purpose flour
1 cup granulated sugar
1 1/2 tsp. baking powder
1/2 tsp. baking soda
1 tsp. salt
1 cup whole buttermilk
1 large egg
1/2 cup unsalted butter, melted
1 tsp. vanilla extract
1/2 cup sprinkles
For the Glaze:
2 cups powdered sugar
2 TBSP whole milk
1 TBSP light corn syrup
sprinkles for garnish
Instructions
For the Bread:
Preheat oven to 350°F
Spray a 9 x 5" loaf pan with baking spray.
In a large bowl whisk together flour, sugar, baking powder, baking soda, and salt
In a medium bowl, whisk together buttermilk, egg, melted butter, and extracts.
Poor buttermilk mixture over flour mixture.
Fold it until flour is almost incorporated. Be careful not to over-mix.
Add sprinkles, and gently fold until flour is just moistened.
Scoop batter into prepared pan.
Bake until a wooden pick inserted in center comes out clean, 45 to 50 minutes.
Let cool in pan for five minutes.
For the Glaze:
In a medium bowl, whisk together powdered sugar, milk, and corn syrup.
Drizzle over cooled loaf.
Top with sprinkles if desired.