This Oatmeal Cream Pie Cake has layers of oatmeal brown sugar cake layered with creamy marshmallow filling all topped with oatmeal cookie crumbles.
It's National Oatmeal Cookie Day.
The cookie I think gets overlooked and shouldn't.
Part of it is because people have issues with raisins in cookies.
For the record, I am not one of those people.
I love me some Oatmeal Raisin Cookies.
Really love me some Oatmeal Chocolate Chip Cookies.
And I loved Oatmeal Cream Pies as a kid.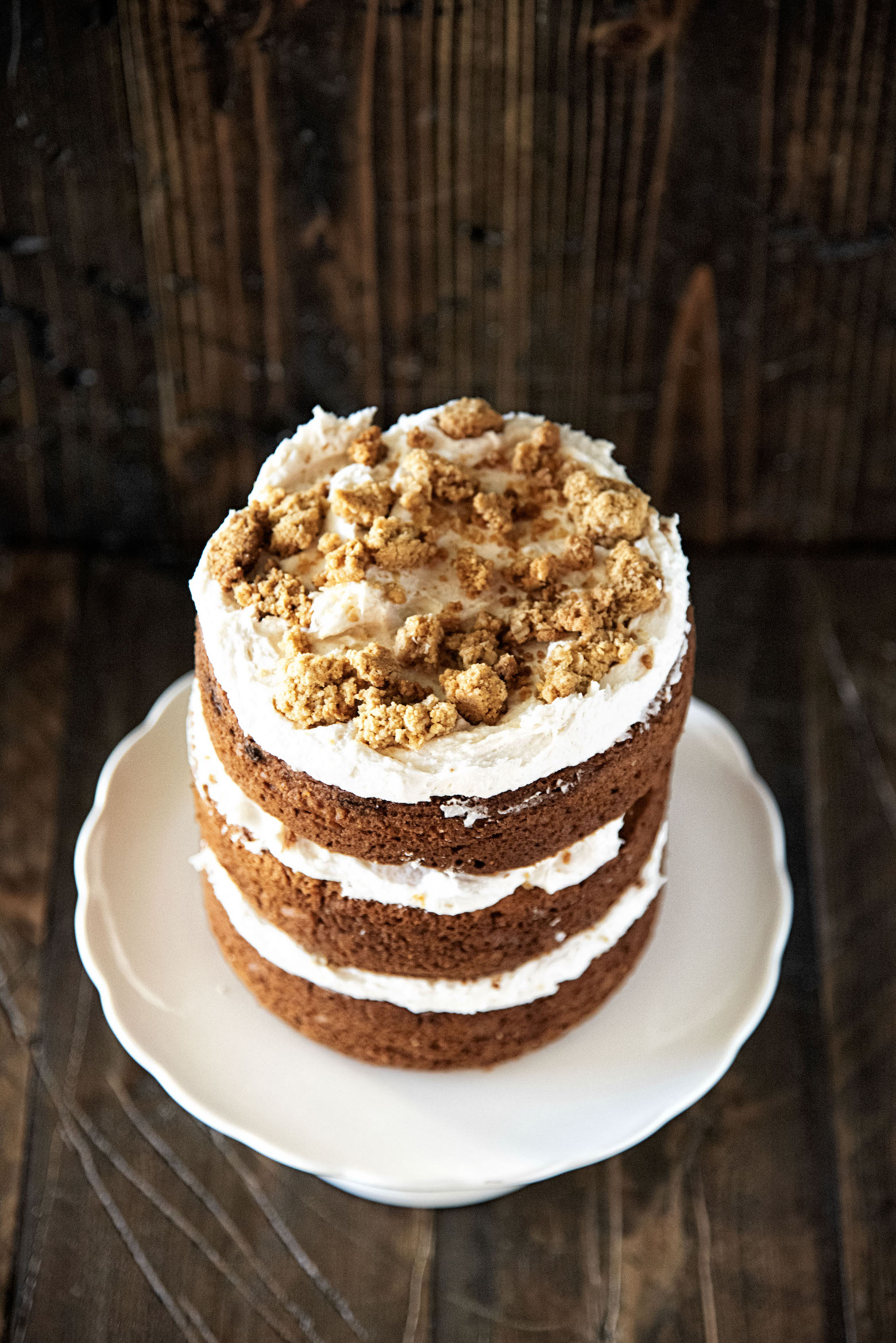 I had seen a recipe for Oatmeal Cookie Cake in Tessa Huff cookbook Layered.
Love that book.
While the original cake had an oatmeal raisin filling I decided I would pay tribute to the Oatmeal Cream Pie.
So the cake stayed mostly the same though I added oatmeal and omitted some ingredients.
But I added the marshmallow filling.
Don't use butter instead of shortening on the filling…it does not taste the same.
You will have a ton of crumbles left but don't toss them out!
They are fantastic on ice cream!
And as always, stay safe and order my cookbook. 😀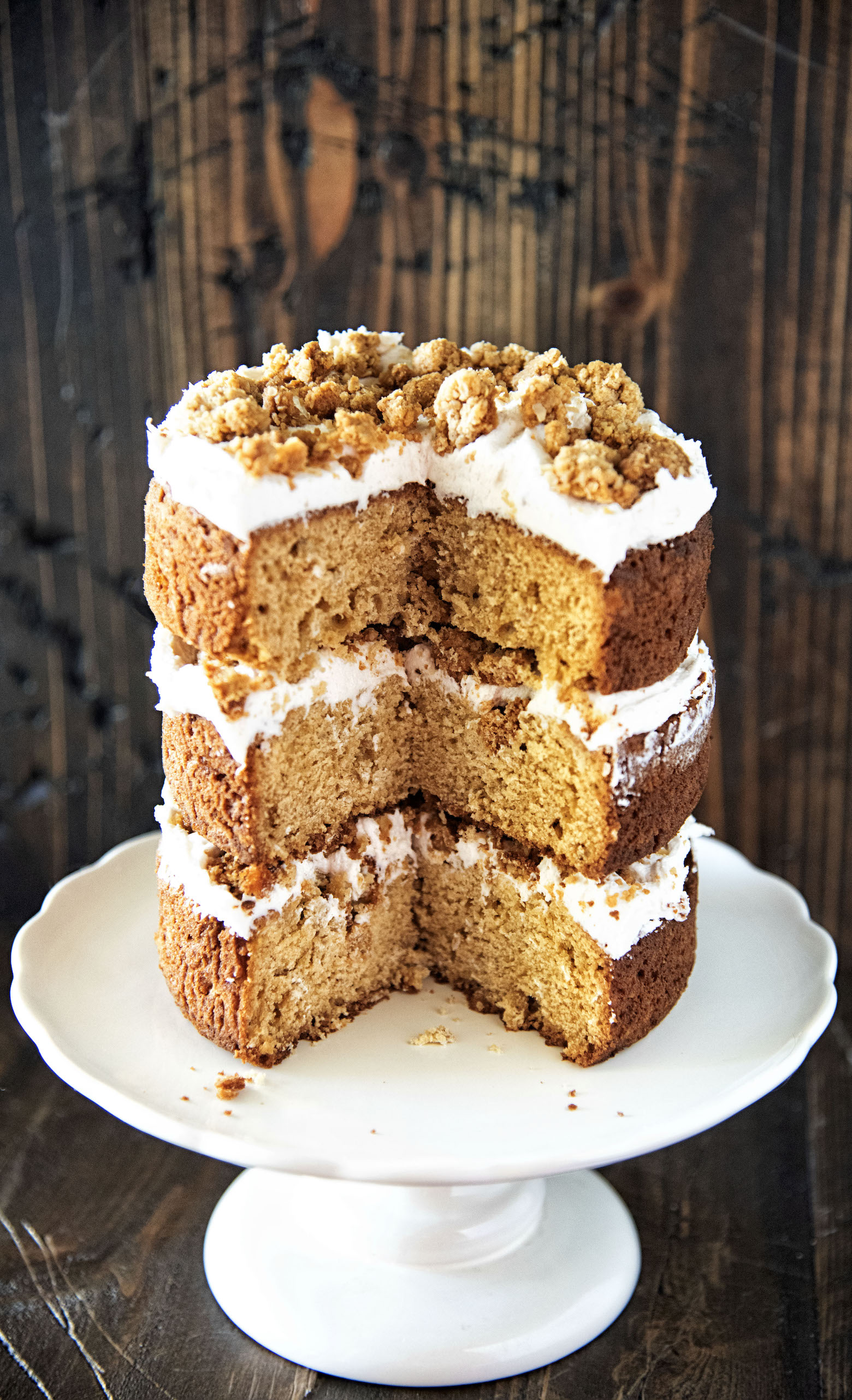 Want more recipes like this? Try these:
Oatmeal Cookie Irish Cream Cheesecake Pie
Mixed Berry Oatmeal Cookie Cobbler
Oatmeal Raisin Cookie Bread Pudding
Snickerdoodle Oatmeal Butterscotch Chip Cake
Oatmeal Raisin Cookie Caramel Corn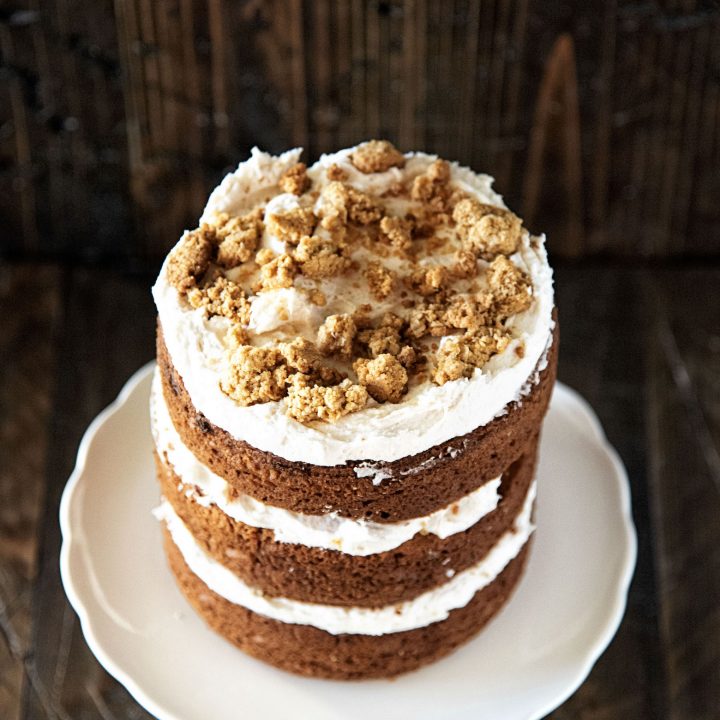 Oatmeal Cream Pie Cake
Ingredients
For the Cake:
3 cups cake flour
3/4 cup uncooked oatmeal
2 tsp. baking powder
1 tsp. baking soda
1/2 tsp. salt
1 cup unsalted butter, at room temperature
1 cup light brown sugar, firmly packed
1/2 cup granulated sugar
2 TBSP molasses
2 tsp. vanilla extract
3 large eggs
2 large egg yolks
1 cup plus 2 TBSP full fat buttermilk
For the Filling:
1 cup shortening
1 cup powdered sugar
1 (7oz) jar marshmallow fluff
1 1/2 tsp. Vanilla extract
For the Crumbles:
1 (17.5 oz) Oatmeal Cookie Mix (I used Betty Crocker)
1/2 cup unsalted butter, melted
Instructions
For the Cake:
Preheat oven to 350°F.
Grease and flour three 6 inch pans and set aside.
Sift together the flour, oatmeal, baking powder, baking soda, and salt set aside.
In the bowl of a stand mixer fitted with a paddle attachment, beat the butter on medium speed until smooth.
At the sugars and mix on medium high until the butter is light and fluffy, about three minutes.
Stop the mixer and scrape down the bowl.
The mixer to medium low and add the molasses, vanilla, and the eggs and egg yolks, one at a time until combined.
Stop mixer and scrape down the bowl.
Turn the mixer to low and add the flour mixture in three batches, alternating with the buttermilk, beginning and ending with the flour mixture.
Mix on medium for no more than 30 seconds after the last streaks of dry ingredients are combined.
Evenly divided the batter between the prepared pan.
Bake for 30 to 35 minutes or until a toothpick inserted into the center of the cakes comes out clean.
Let them cool on wire rack for 10 to 15 minutes before removing the cakes from their pans.
Keep the oven at 350F for the crumbles.
For the Crumbles:
Mix together the cookie mix and melted butter.
Mix with your hands until crumbles form.
Spread out the mixture onto a baking pan lined with parchment paper.
Bake for 10 minutes.
Then flip the crumbles with a spatula and bake another 5-10 minutes depending how crunchy you want your crumbles to be.
You will have extra crumbles. They are great on ice cream.
For the Filling:
Cream the shortening, powdered sugar, and vanilla together until smooth.
Add the marshmallow fluff and mix until fully combined.
Putting the cake together:
Place a cake layer on a cake pan.
Take 1/3 of the filling and spread it on top of the layer.
Add 1/2 cup of crumbles.
Repeat until all the filling and cake layers are gone.