This Chocolate Gingerbread Cake with Gingerbread Buttercream consists of chocolate cake, gingerbread Italian meringue and a chocolate glaze.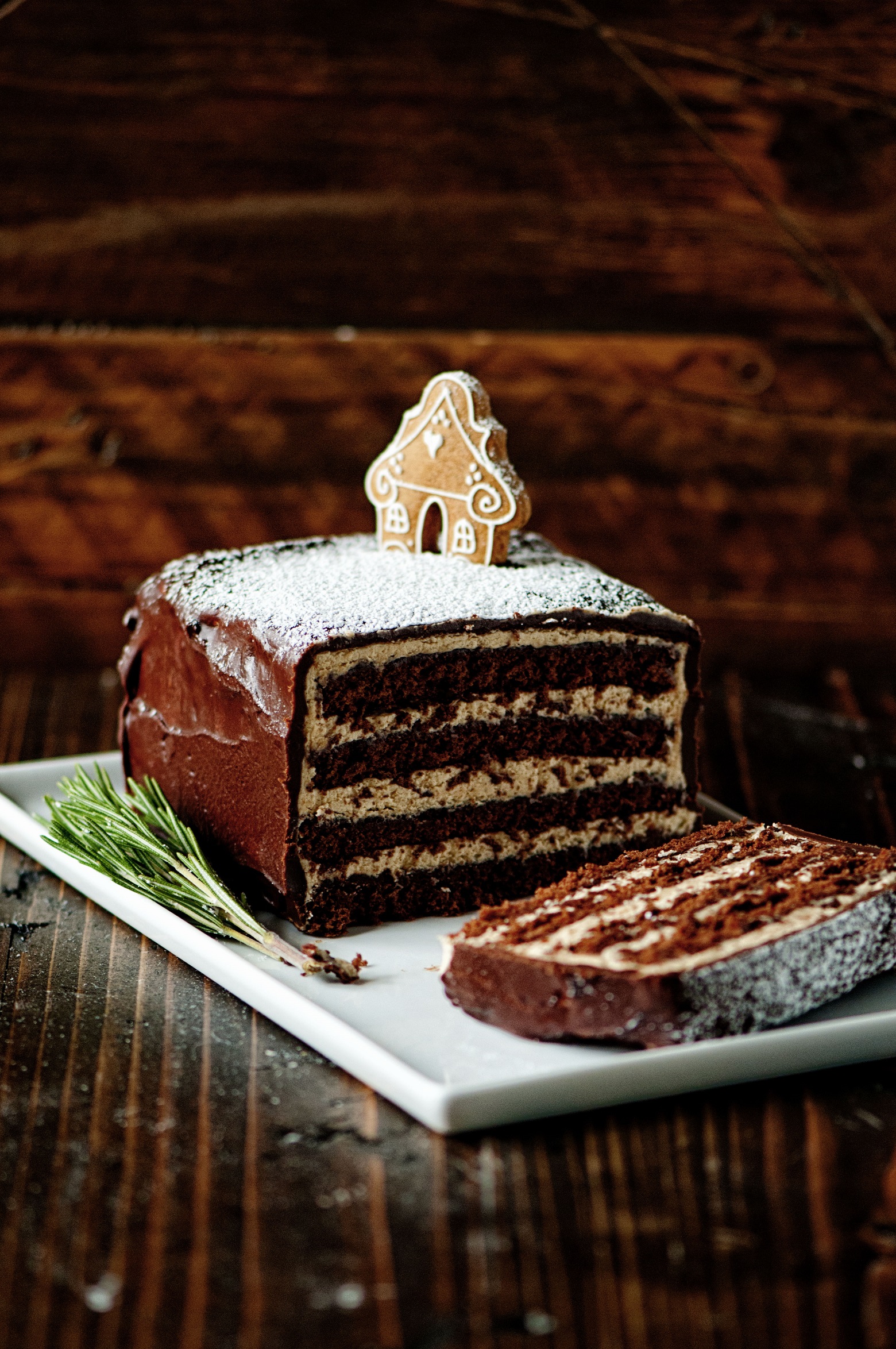 By now your holiday baking mojo should be in full swing.
My holiday baking mojo has been a bit off due to the dog being sick and due to us not getting to go to my parents for Thanksgiving.
We didn't get to go this year because we have to go over a mountain pass and change elevations and when your dog has a middle ear infection that is a no-no.
But this weekend it showed up and in full force.
This time of year I like to set up a baking station.
Since I tend to bake almost daily during the holiday season it's easier to have it all in one place than searching the cabinets.
My station, of course, is filled with my favorites.
That includes Rodelle.
If you are a long time reader of this site you know that I love Rodelle products SOOO much. So much.
I've been one of their brand ambassadors for I don't even know how long now…but I do know it's a long time.
I have promoted their products even before I was an ambassador and love their company.
I love the people who work for them.
Usually, I am singing the praises of their vanilla extract, vanilla beans, and vanilla bean paste!
Lesser-known (but shouldn't be) is their Rodelle Gourmet Dutch Processed Baking Cocoa Powder.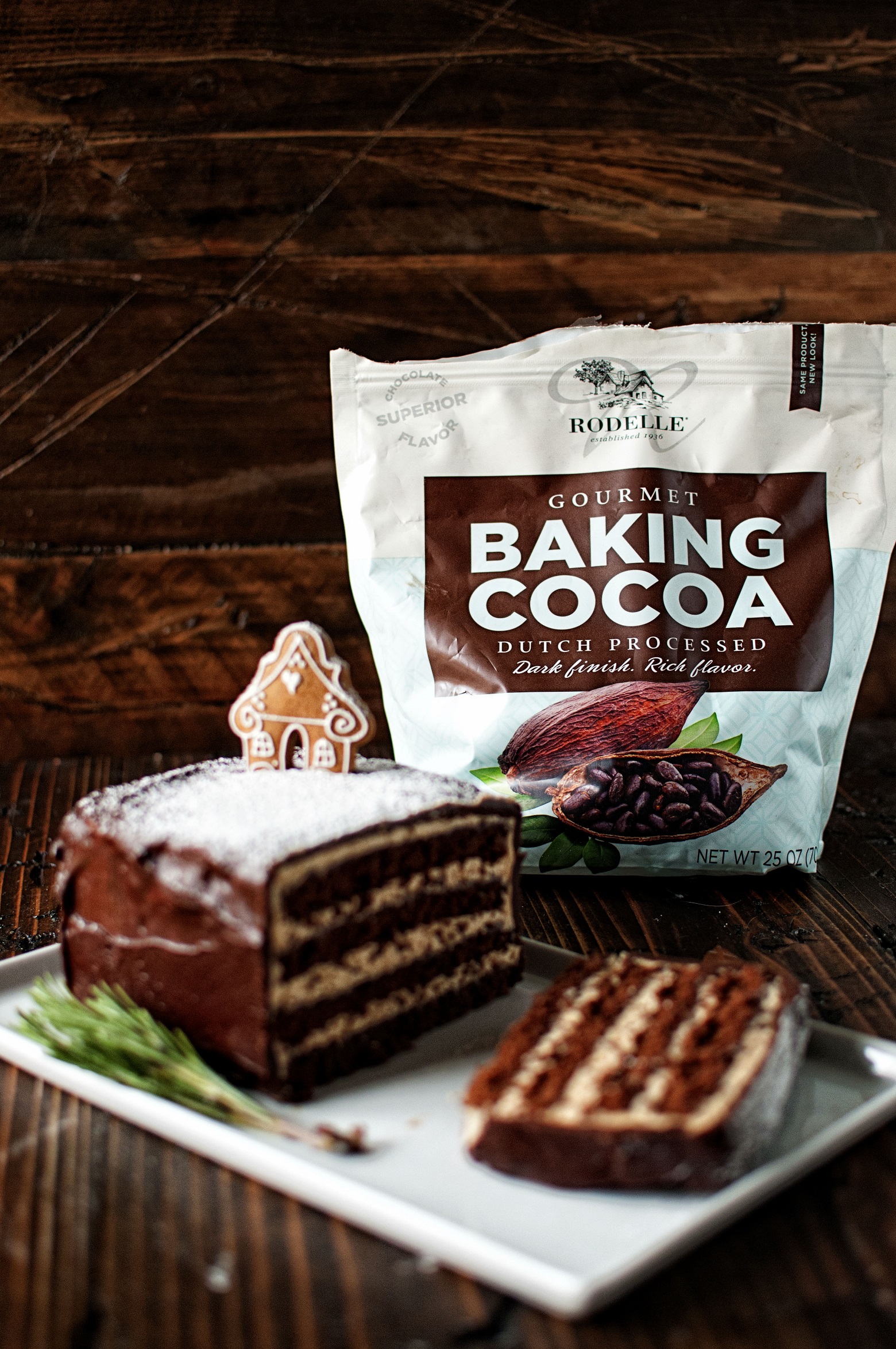 I decided for my sponsored post for them that I would highlight their cocoa instead of their vanilla. For inspiration using Rodelle vanilla you can go here, or here, or here.
This cake does pull out all the stops.
It does take steps.
It does take time.
Annnd it is so worth it.
The scariest thing about this cake is the Italian buttercream.
Scary because every time I make it I get impatient and think I screwed up when all I need to do is have patience and just let it come together.
Rationally I know this.
But the real me still freaks out every time. Every time.
If you have never made Italian Buttercream…oh it's an amazing thing.
Once you make it you will want to make it all the time.
To eat…or to possible bath in. 🙂
The great thing about this cake is that you get to pour chocolate glaze all over it to cover your (or more like my) lack of ability to frost nicely.
Plus everything is better covered in chocolate glaze.
You can top the cake with whatever décor you like. Rosemary, sugared cranberries, gingerbread men, gingerbread houses, powdered sugar…it's up to you.
You will be glad you put the effort in to make this cake.
Be sure and support Rodelle for supporting my blog and for making such great baking products!
And as always it's a great day to order my cookbook.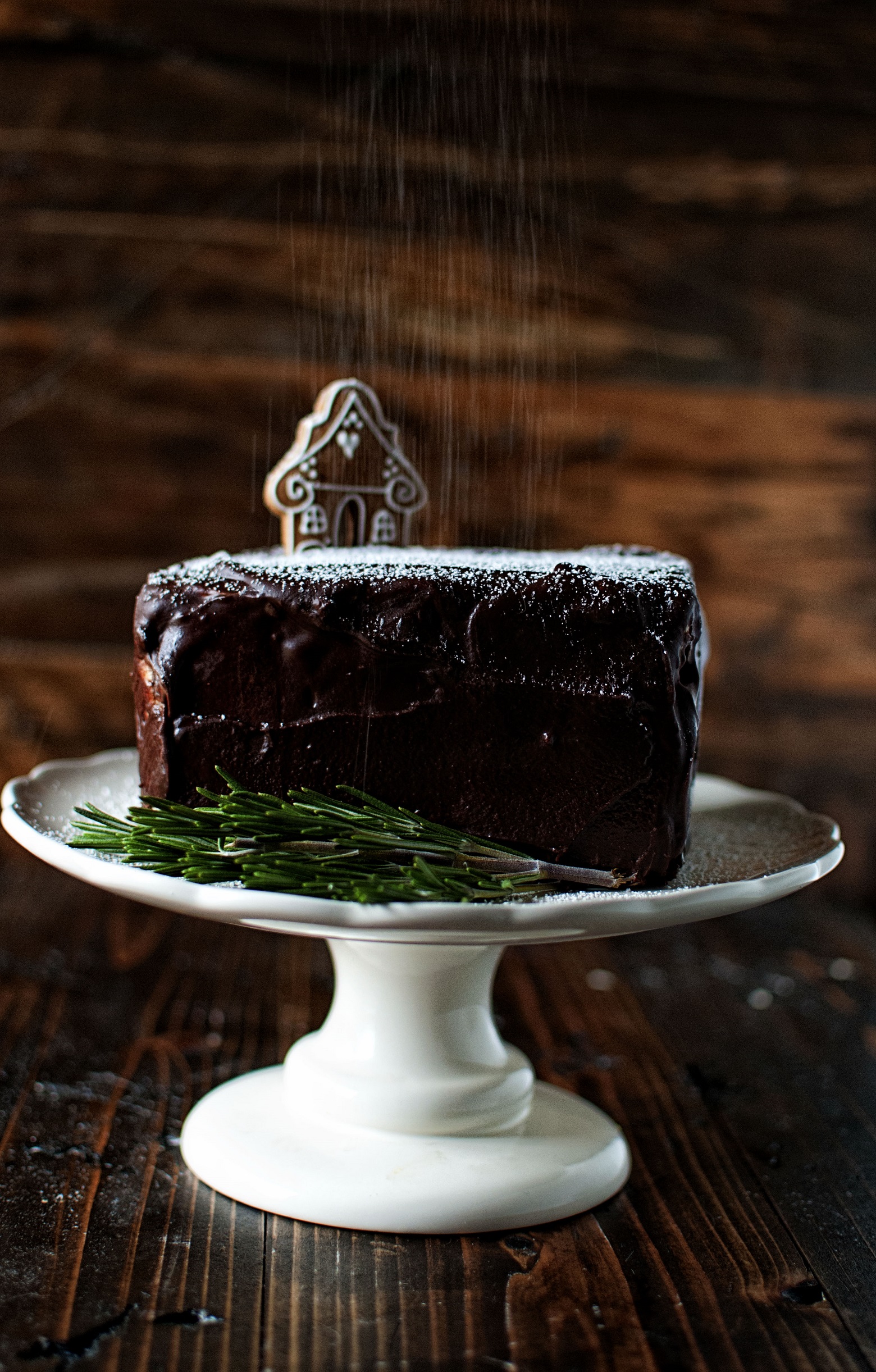 Want More Holiday Cakes?
Bourbon Eggnog White Chocolate Layer Cake
Chocolate Gingerbread Layer Cake
Chocolate Peppermint-White Chocolate Layer Cake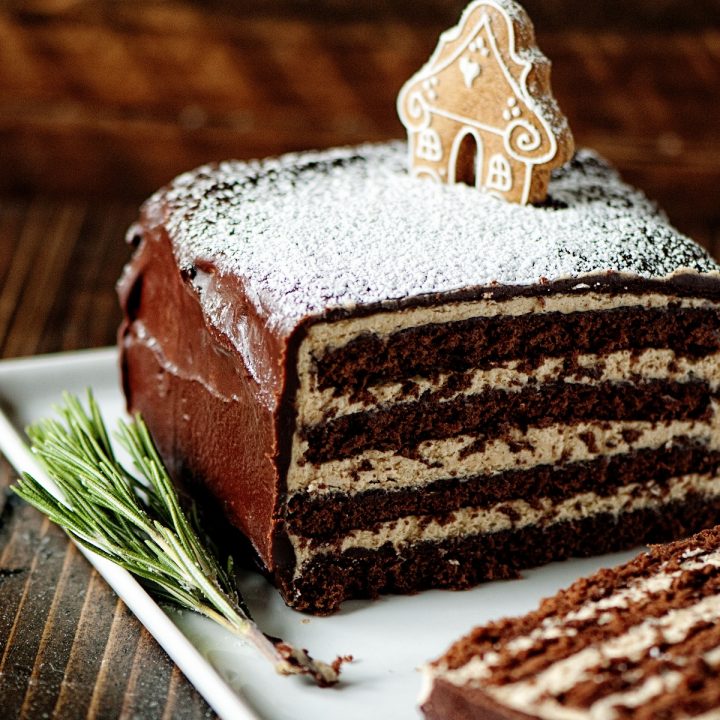 Chocolate Gingerbread Cake with Gingerbread Buttercream
Ingredients
For the Genoise:
1 cup pastry flour
½ cup Rodelle GourmetBaking Cocoa Powder, Dutch Processed
6 large eggs
1 ½ cups granulated sugar
1 tsp. cream of tartar
¼ cup butter, melted and cooled
2 tsp. gingerbread spice
For the frosting:
1 ¼ cups granulated sugar, divided
¼ cup water
5 egg whites
2 cups unsalted butter, room temperature, cut into TBSP
2 TBSP molasses
2 tsp. gingerbread spice
For the chocolate glaze:
¾ cup chocolate chips (semisweet)
3 TBSP unsalted butter
1 TBSP light corn syrup
¼ tsp. vanilla extract (I used Rodelle)
Instructions
For the Genoise:
Preheat oven to 350F.
Spray an 11-x-17-inch baking pan with baking spray. Line with parchment. Spray parchment with baking spray.
In a medium bowl sift together the flour and cocoa and set aside.
Using a stand mixer metal bowl, place the eggs and sugar in it and whisk until combined.
Place the bowl over a pan of simmering water (creating a double boiler) and wait until it reaches 100F…this won't take that long.
Place bowl into a mixer and add the whisk attachment.
Whip eggs and sugar until they are frothy and then add the cream of tartar.
Continue mixing until the egg mixture has tripled in volume and is a pale creamy color, about 10 minutes.
Remove the bowl from the mixer and use a spatula to gently fold in the dry ingredients.
Slowly pour the melted butter around the edges of the batter and then continue to fold until it is fully incorporated.
Gently pour the batter onto a prepared pan using a spatula to spread evenly.
Bake for 10-12 minutes or until the center of the cake springs back when lightly touched.
Remove the cake from the oven and allow it to cool completely in the pan.
For the buttercream:
Boil 1 cup sugar and ¼ cup water over medium heat until it reaches 245F.
As it cooks begin meringue so it's ready when syrup is done.
Whip egg whites with a wire whisk in a stand-up mixer on high until soft peaks form. About 1-2 minutes. Sprinkle in ¼ cup sugar.
Beat until incorporated.
Slowly pour the hot syrup into the meringue steadily with the mixer still on high.
Beat the frosting for 7-10 minutes until the outside of the bowl has cooled down to room temperature.
Beat in butter by the tablespoon. The butter will deflate the frosting a bit…don't panic.
When all butter is incorporated add the molasses and spice.
It will curdle the frosting a bit…don't panic. Continue to let it mix and it will come back together.
To assemble cake:
Once cake is fully cooled, cut it into 4 equal rectangular parts.
Place the bottom layer of the cake on a wire rack.
Using a large offset spatula spread this layer with the buttercream.
Repeat with the next two layers.
Add the fourth layer on top and coat the entire exterior of the cake as evenly and smoothly as possible with the remaining buttercream.
Place in fridge for an hour on a wire rack.
When the hour is almost up, prepare the glaze.
For the glaze:
In a double boiler over hot, but not boiling water, combine chocolate chips, butter, and corn syrup.
Stir until chips are melted and the mixture is smooth, then add vanilla.
Spread warm glaze over top of cake, letting it drizzle down the sides.
Use an offset spatula to evenly coat the sides and top of cake.
If adding a gingerbread cookie or house to top add while glaze is still warm so when it cools it will stick.
Let sit for 30 minutes as the chocolate sets up.