This Peach Bellini Jam Star is a beautiful pull apart bread made with peach jam and Prosecco. Sure to impress at any brunch.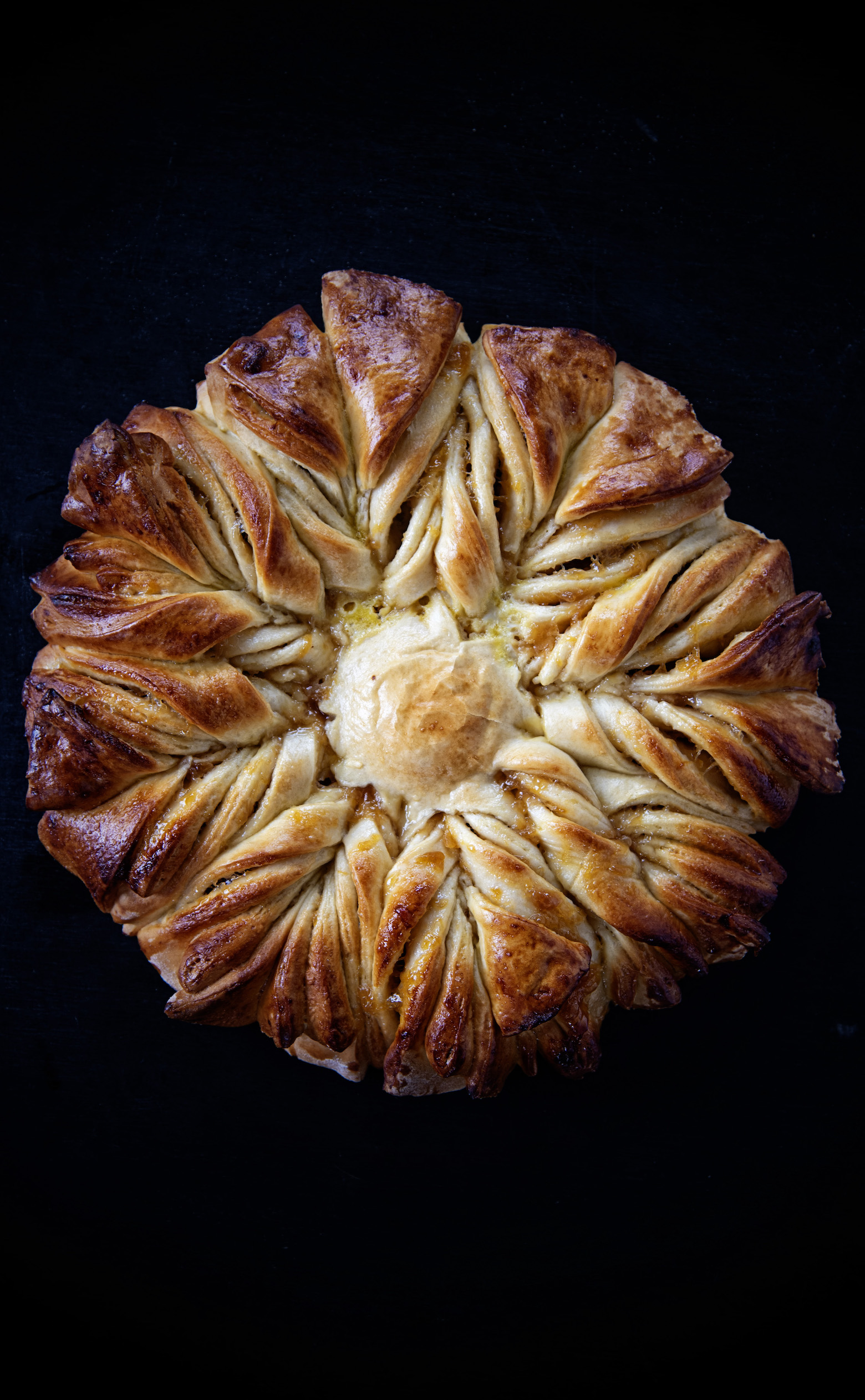 First off I cannot get Madonna's Lucky Star out of my head.
Just thought I would share that so that maybe it will stick in your head too. 😛
Star breads I tend to only make around the holidays.
They technically really are not that hard.
The dough itself is rather easy and it's usually just a simple filling.
In this case it's peach jam with some Prosecco.
Putting them together is the tricky part.
Though once you get the technique down it becomes pretty easy.
I must admit it becomes harder to do if you finish off the Prosecco before you make the bread. 😀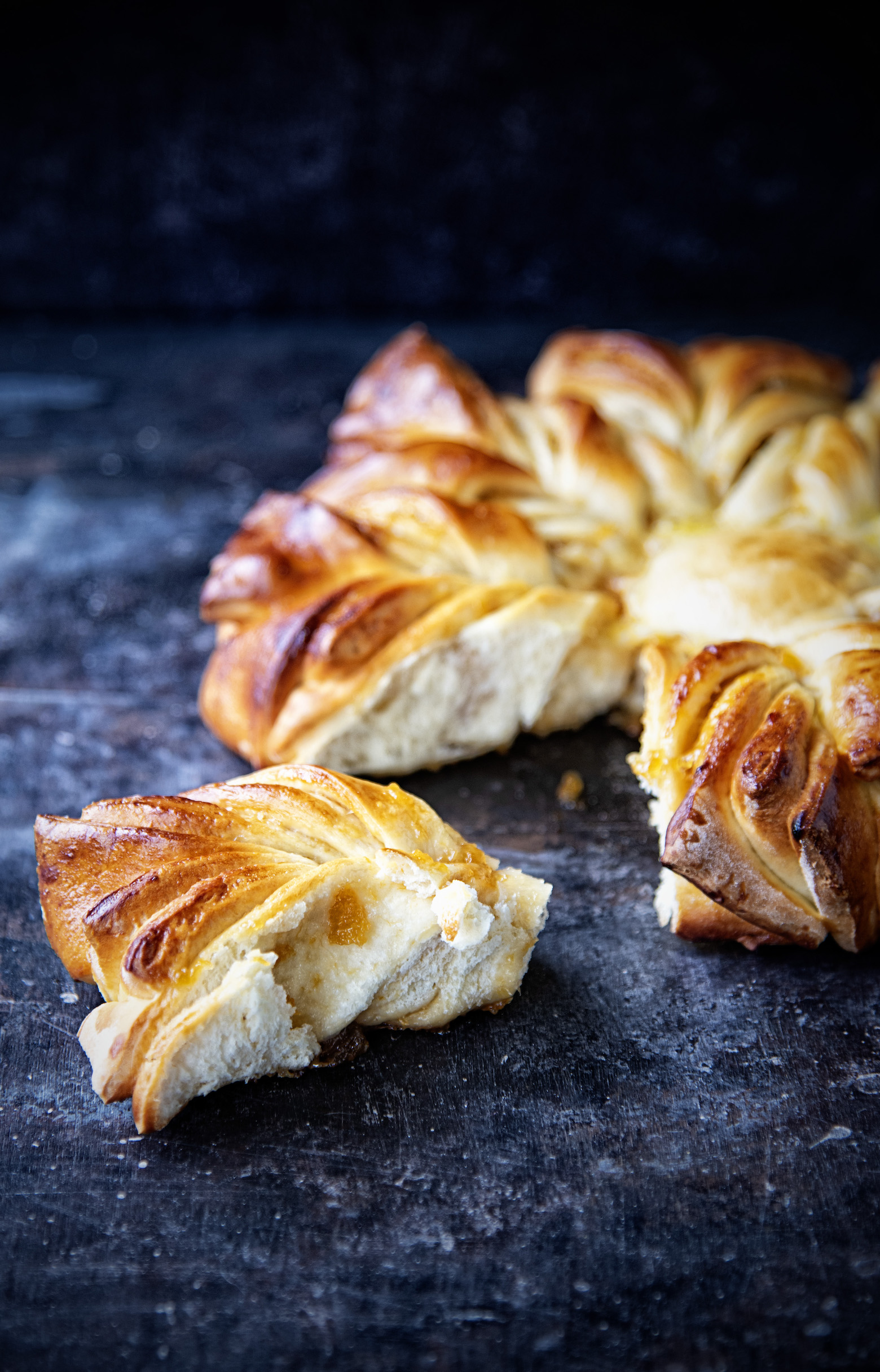 Most star breads have a tapered end.
I wasn't in the mood for that but you can see how to do that in this video.
Mine was more a snowflake than a star.
Probably because it was snowing when I started the dough (I made this awhile ago).
No matter what shape you end up with it's a pretty bread that most people oh and aw over.
And it would make for a great presentation for say a Mother's Day brunch.
Which sadly most of us won't be spending this year with our mothers but it's the thought that counts.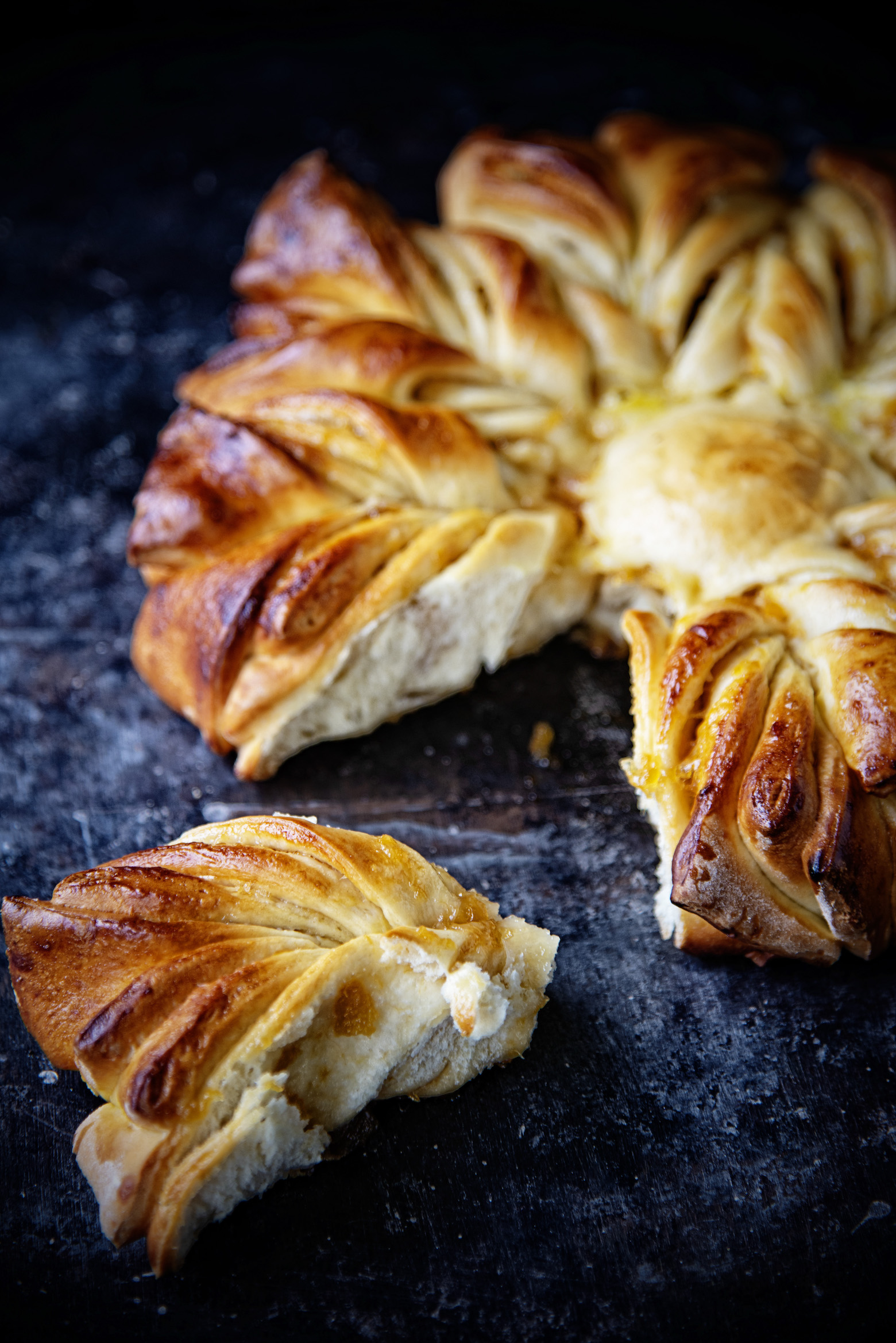 Jam stars can be made with any jam.
Since I was going with a brunch theme I decided that this would be a Peach Bellini Jam Star.
Trader Joes used to make a Peach Bellini Jam that I liked so of course my store stopped carrying it.
Not sure if you can find it at other Trader Joes.
So I had to mix my peach jam with some Prosecco which was fine by me because then oh no almost a whole bottle of Prosecco just sitting there open.
Calling my name. 😛
It's a great day to order my cookbook.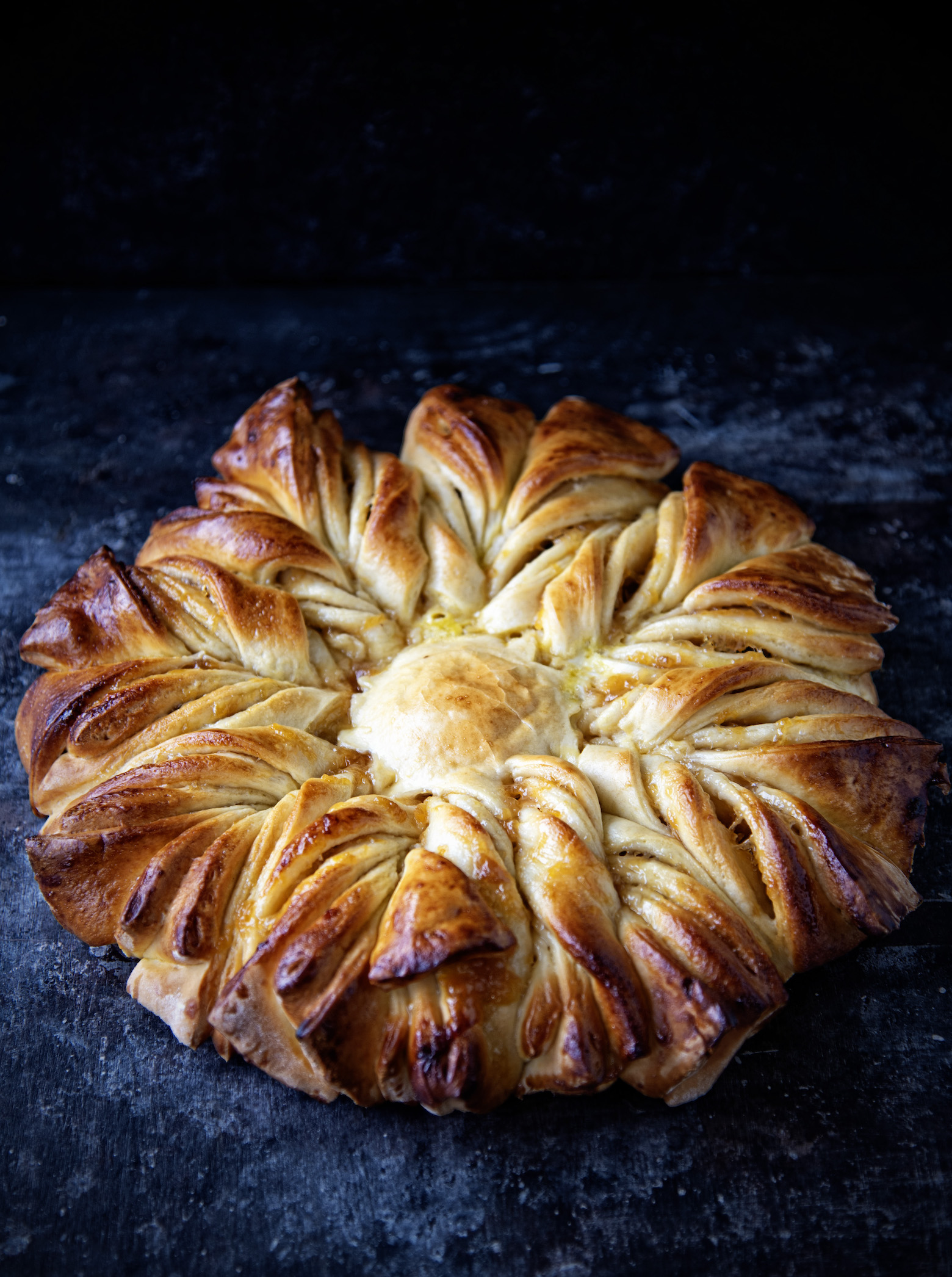 Want More Yeast Bread Recipes?
Oatmeal Chocolate Chip Cookie Babka
Brown Sugar Spiral Banana Bread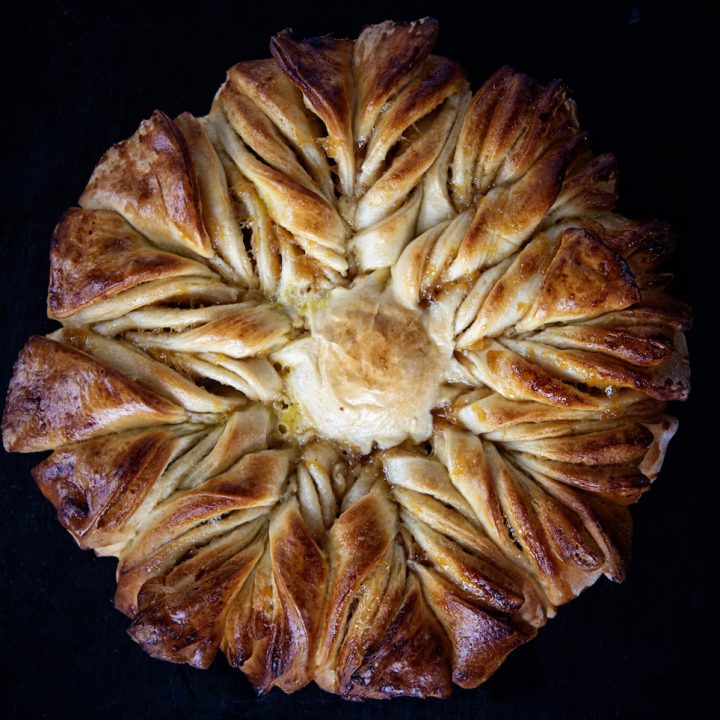 Peach Bellini Jam Star
Ingredients
For the Dough:
⅔ cup warm whole milk (105°F to 110°F)
1 TBSP granulated sugar
2 1/4 tsp active dry yeast
3¼ cups all-purpose flour, divided
¼ cup unsalted butter, melted
2 large eggs
1 tsp salt
For the Star:
5 TBSP Peach Jam
2 TBSP Prosecco or Champagne
1 large egg, lightly beaten
Instructions
For the Dough:
In the bowl of a stand mixer fitted with the paddle attachment, combine warm milk, sugar, and yeast.
Let stand until mixture is foamy, about 10 minutes.
With mixer running on low speed, add 1 cup flour, beating just until combined.
Add melted butter and ½ cup flour, beating until combined.
Beat in eggs.
Gradually add salt and remaining 1¾ cups flour, beating until a soft dough forms. (Dough will be sticky.)
Spray a large bowl with cooking spray.
Place dough in bowl, turning to grease top. Loosely cover and let rise in a warm, draft-free place (75°F) until doubled in size, about 1 hour.
On a lightly floured surface, turn out dough. Punch dough down, and gently shape into a ball. Cover and let rest for 10 minutes.
To make the Star:
In a small bowl whisk together the jam and Prosecco. Set aside.
Divide dough into 4 equal pieces, and shape each into a ball.
Roll first ball into a 9½-inch circle, and place on a sheet of parchment paper on a baking sheet.
Press a 9-inch round cake pan over dough to make an indention that will serve as your guide.
Spread 1½ tablespoons jam onto dough, being careful to stay inside the impression you created with the pan.
Roll second ball of dough into a 9½-inch circle (it doesn't have to be perfect—the edges will be trimmed), and place on top of the first jam layer.
Make another indention with cake pan, and spread with 1½ tablespoons jam.
Roll third ball into a 9½-inch circle, and repeat procedure.
Roll fourth ball into a 9½-inch circle, and place on top.
Mark the edge with the cake pan, and trim around edges of all four layers with a sharp paring knife, discarding excess dough.
Cover loosely with plastic wrap, and refrigerate until slightly firm, 20 to 30 minutes.
Mark the center of the circle, and make a 2½-inch diameter indention around it with a round cutter or measuring cup.
Using a paring knife, make 16 cuts equidistant from the outer edge of the inner circle to the edge of the large circle, cutting through all four layers.
Take two adjacent strips, and twist them away from each other twice. Use your finger to seal the inner seam. Turn the outer corners under, and press to seal. Repeat with all remaining strips.
Cover loosely with plastic wrap, and refrigerate for at least 30 minutes or up to 2 hours.
Preheat oven to 350°F.
Uncover, and brush star with beaten egg, and bake until golden and puffed, 23 to 30 minutes.