This Vegan Sweet Potato Salsa Chili is made with sweet potatoes, onions, tomatoes, black beans, corn, chipotle, spices, and fresh salsa.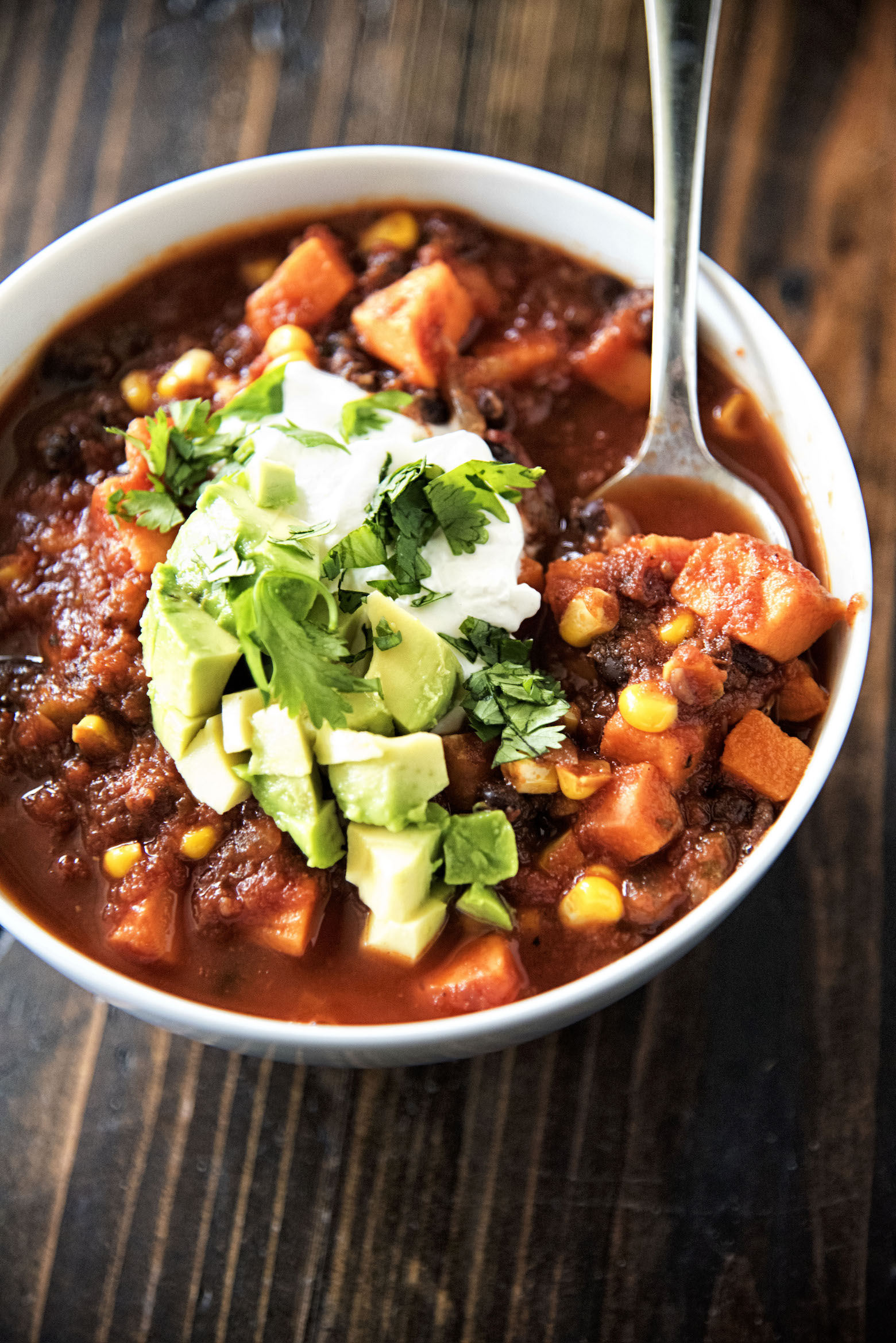 I mentioned that we had a party over this past weekend.
We had won two hours with a food truck…for dogs.
Yes, you read that right.
And it's awesome.
You can see photos of it here on the dogs Instagram account.
Since it was a gift we had to wait until the truck was done with it's regular business hours.
Which was more than fine with us.
So that meant they were coming during dinner time and meant that I was going to get to cook.
I haven't really cooked for people in awhile.
Forgot how much I love doing it.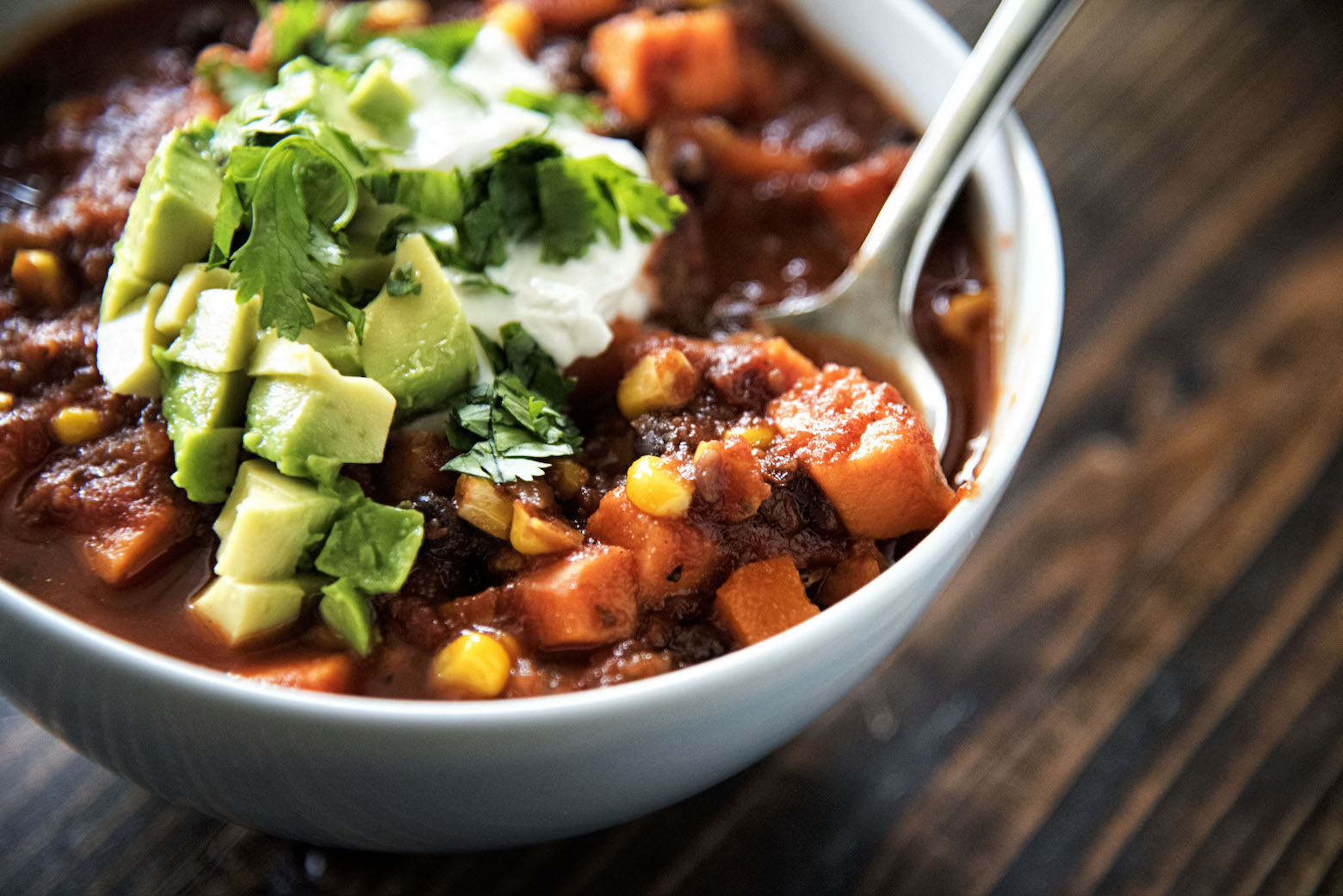 Our weather was supposed to drop to rainy and cold so I decided soup and chili would be best.
Luckily for us the temperature did not drop too much and we avoided the rain that day!
The chili that I chose to serve was this Vegan Sweet Potato Salsa Chili.
Except don't tell people it's vegan…say it's vegetarian.
Don't know what it is about people but if I tell them something is vegan they run far from it…but if you say vegetarian than for some reason that is fine.
I only made one batch of it because there were soups and quiche.
Totally figured there would be leftovers.
There were not.
So I had to make a batch the next day again for my husband.
What is a different about this chili from others is the use of salsa.
It really adds a freshness to the chili and also allows you to decide how spicy you want your chili.
I just used a medium salsa but if you like the heat then use a hot salsa.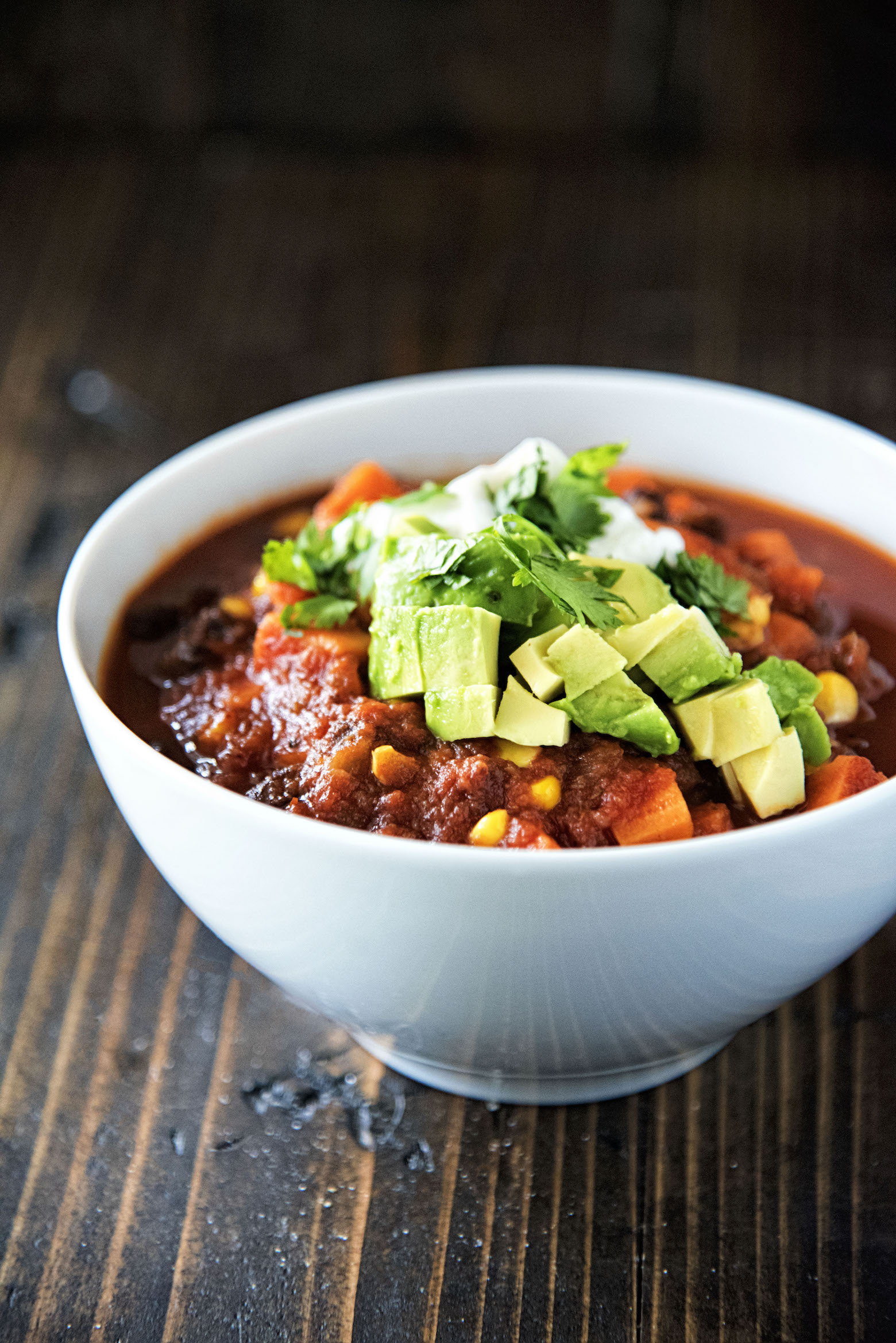 Want More Meat-Free Recipes?
Cheesy Hash Brown Topped Vegetarian Shepherds Pie
Sweet Corn Parmesan Oven Risotto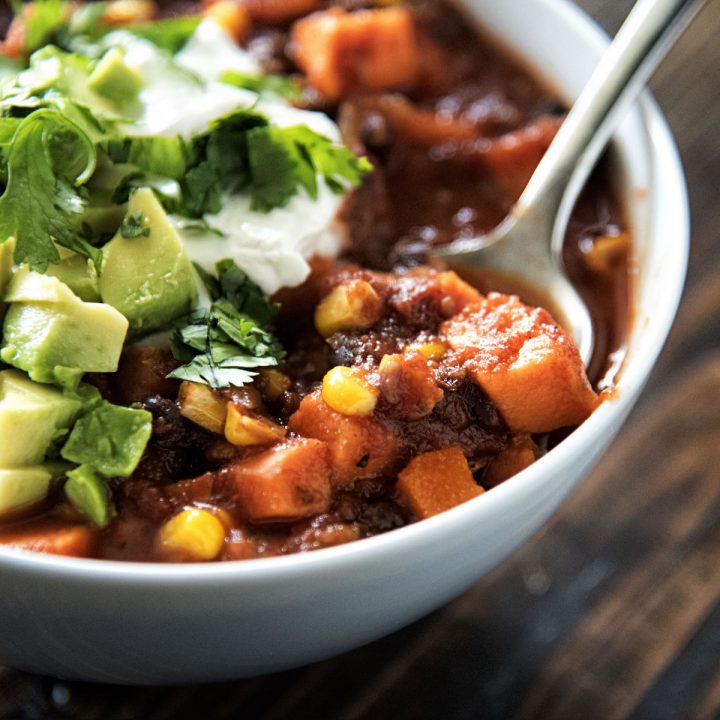 Vegan Sweet Potato Salsa Chili
Ingredients
1 TBSP olive oil
One pound (16 oz)  sweet potatoes, peeled and diced
1 1/2 cups sweet onion, diced
1 TBSP garlic, minced
2 TBSP chipotle chilies in adobe sauce, minced
1 TBSP chili powder
1/2 tsp. ground cinnamon
1 cup vegetable broth or chicken-less chicken broth
One 28 oz. can crushed tomatoes
16 oz. fresh salsa (heat depends on how spicy you want your chili)
Two 15oz. cans black beans, drained and rinsed
1 cup fresh corn kernels
1/4 cup chopped cilantro
salt and pepper to taste
Instructions
Bring 4 cups of water to a boil.
Add the sweet potatoes to the water and boil for 5 minutes.
Remove immediately and drain. Set aside.
In a large stock pot heat oil for one minute over medium heat and then add onions.
Cook onions until translucent, abut 10 minutes, and then add garlic and cook for one more minute.
Add the sweet potatoes and cook for one more minute.
Stir in the chili powder, cinnamon, and minced chipotle and cook for one minute.
Deglaze pot with the vegetable stock.
Pour the tomatoes and salsa into the pot and reduce heat to medium-low and simmer for about 10 minutes.
At this point check to see if you can get a fork through your sweet potatoes. If you can then proceed, if not, then simmer until they are fork tender.
Finally add in the beans, corn, and cilantro and simmer another 5 minutes.
Serve with vegan sour cream (or regular depending on your diet), chopped cilantro, and avocado if desired.