Christmas Tree Light Bark is a easy and fun holiday bark made using green mint chips and mini M and M's as lights. Fun for the kids.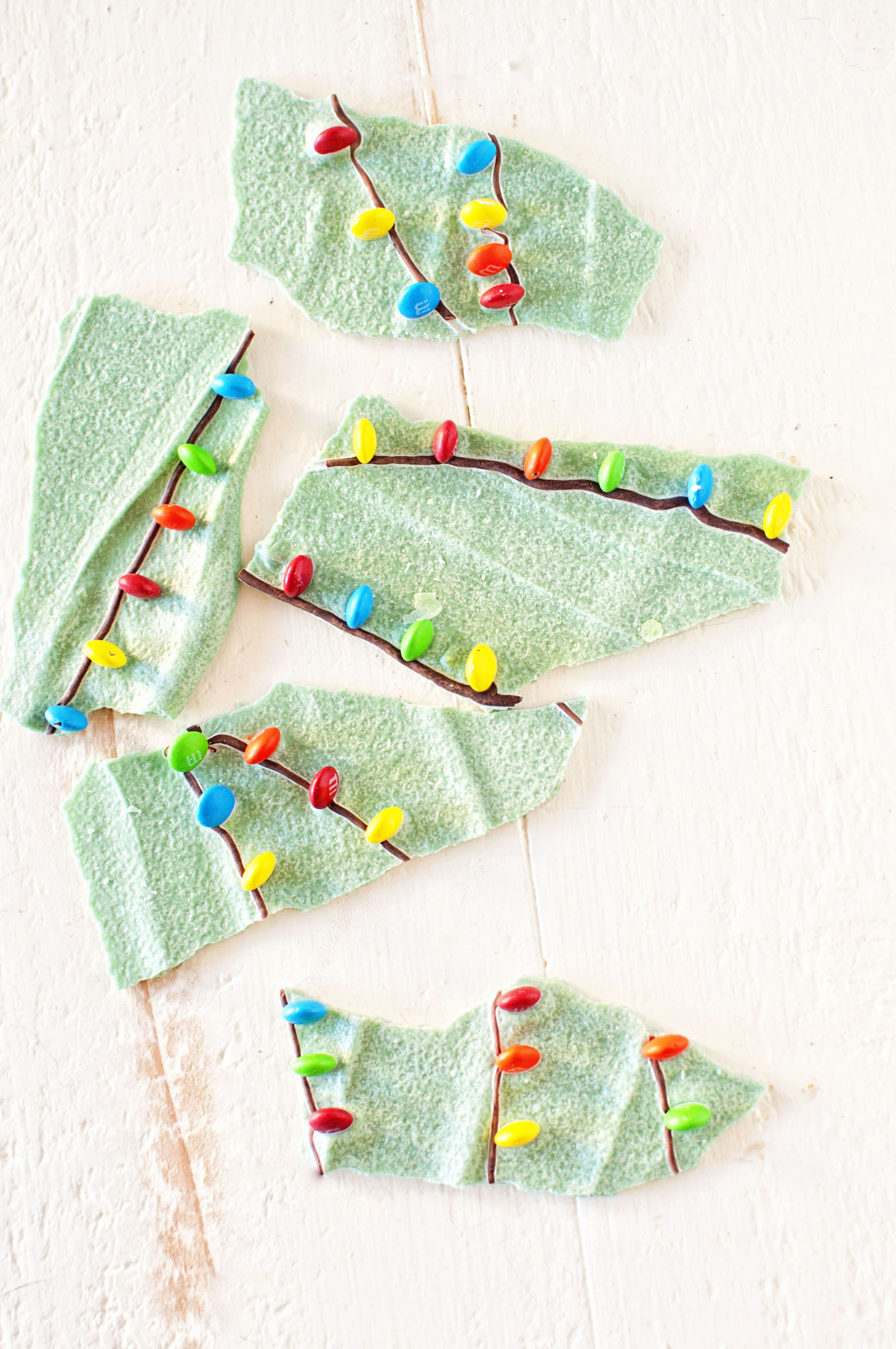 No doubt your kids have been home on holiday break just long enough to ask yourself…why is it we had kids? 😛
If you have more than one child they are most likely reaching the don't touch me, mom he hit me, mom she won't give me that back stage.
They young ones you can still threaten Santa but the older ones not so much.
So you are searching Pinterest in a frantic what can I do to keep them busy kind of project for the older kids.
Enter this Christmas Tree Light Bark.
I've seen the Christmas lights using mini M and M's on cookies and even cupcakes and thought it would be cute and way easier on bark.
Yes, and no.
Yes, because bark is literally spreading out chocolate or in this case melted mint chips.
But no because sorting the mini M and M's and making a pattern with them (which I messed up because I was watching a movie) will take awhile.
As will getting the M and M's to stay sideways.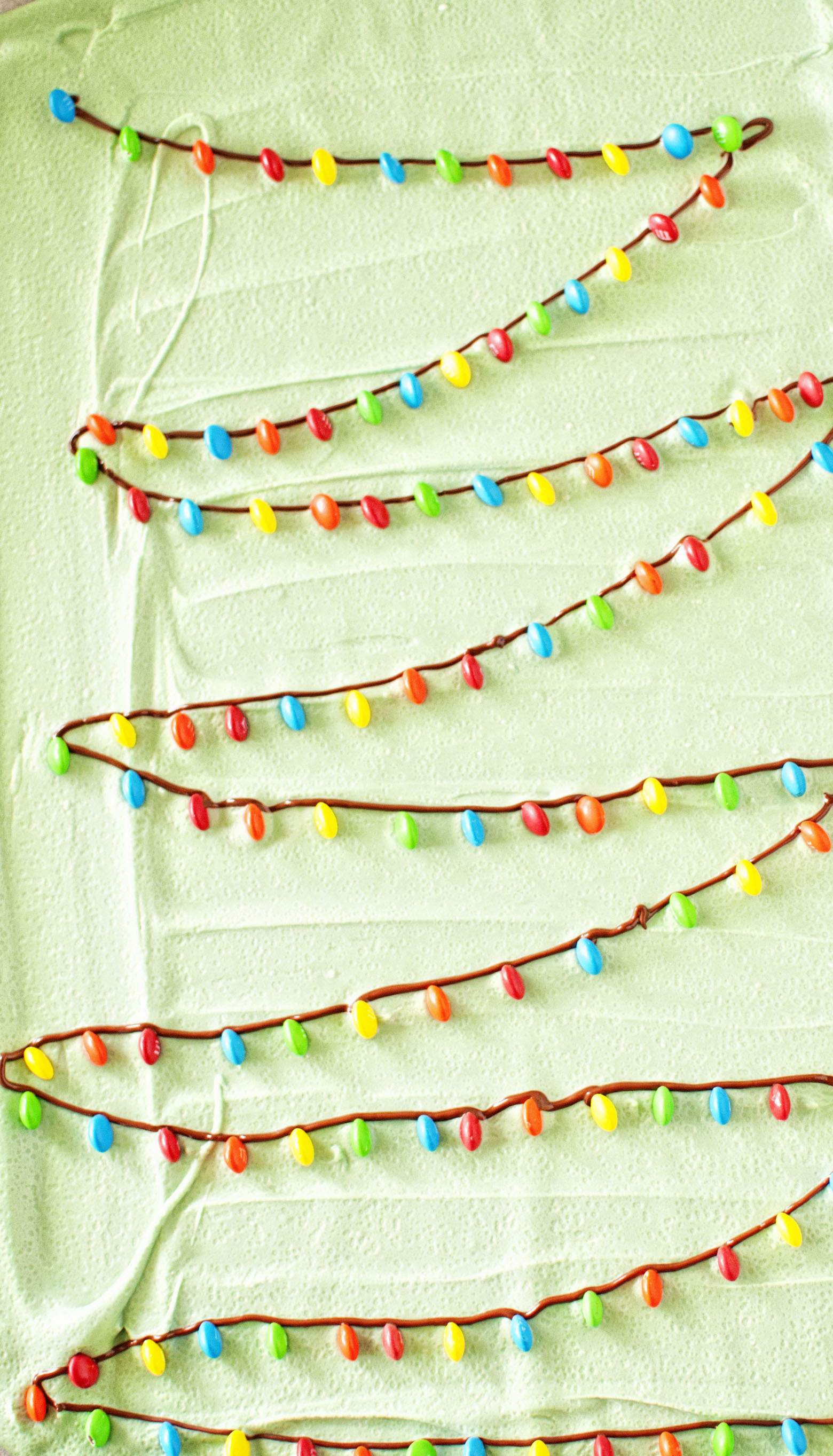 Project.
Yay.
My bark is really thin because I thought I had two bags of mint chips when I only had one.
I forgot that I blew through them when making the Grinch cupcakes.
Definitely use the full two bags.
I had sent my husband to the store for the mini M and M's as I only had red and green baking ones. I told him to find the regular bag of mini ones in the baking section.
He came back and told me they didn't have it and bought me a bunch of the mini canisters from the candy aisle.
Magically when I went the next day there were bags of mini baking M and M's in the baking section. Hmmm.
I'm sure they were just put out. 😉
Stay sane people!
It's a great day to buy my cookbook.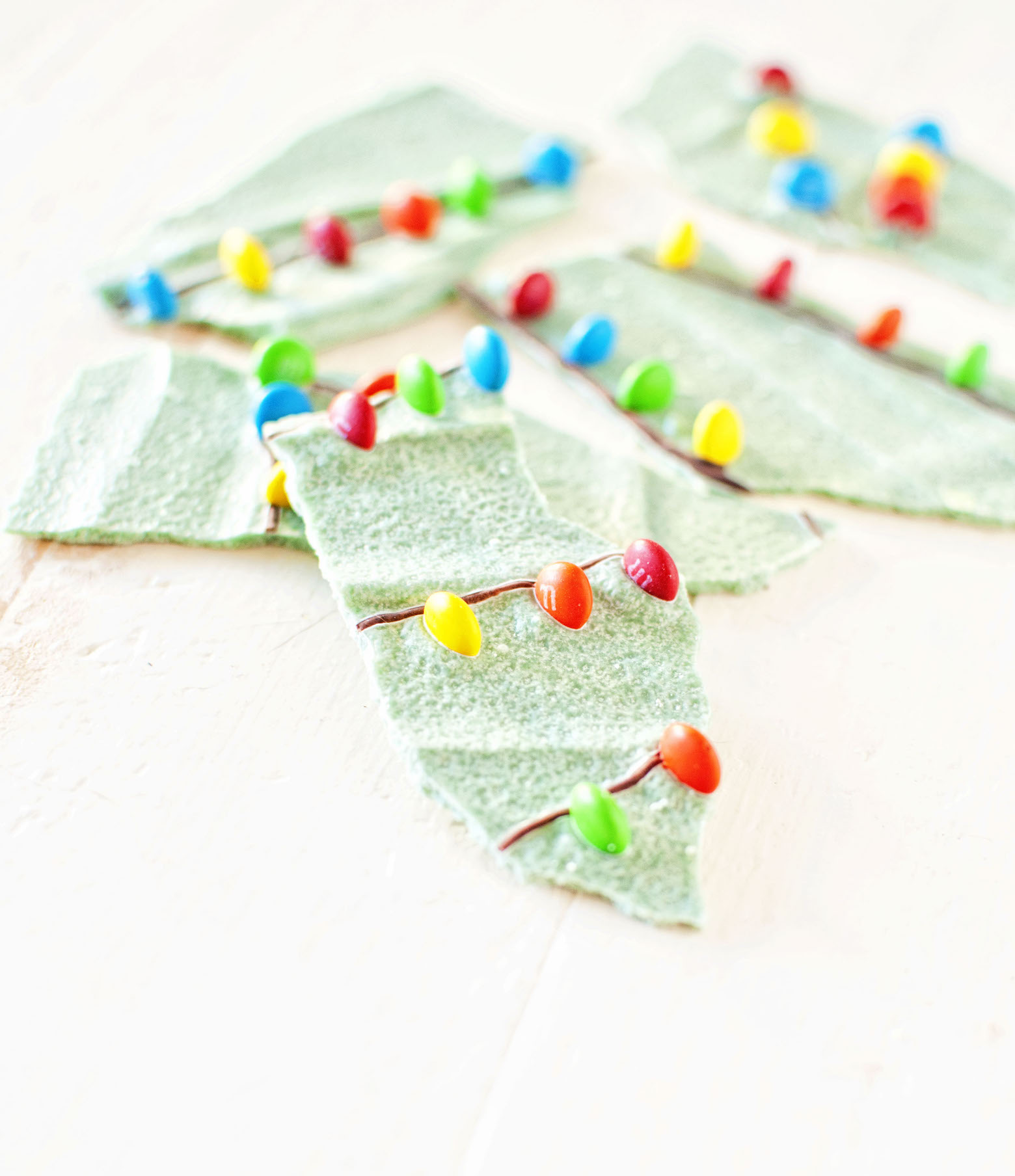 Want More Fun Christmas Ideas?
Tangled Christmas Lights Cookies
Gingerbread Cookie Dough Truffles
Rice Krispie Treat Gingerbread Houses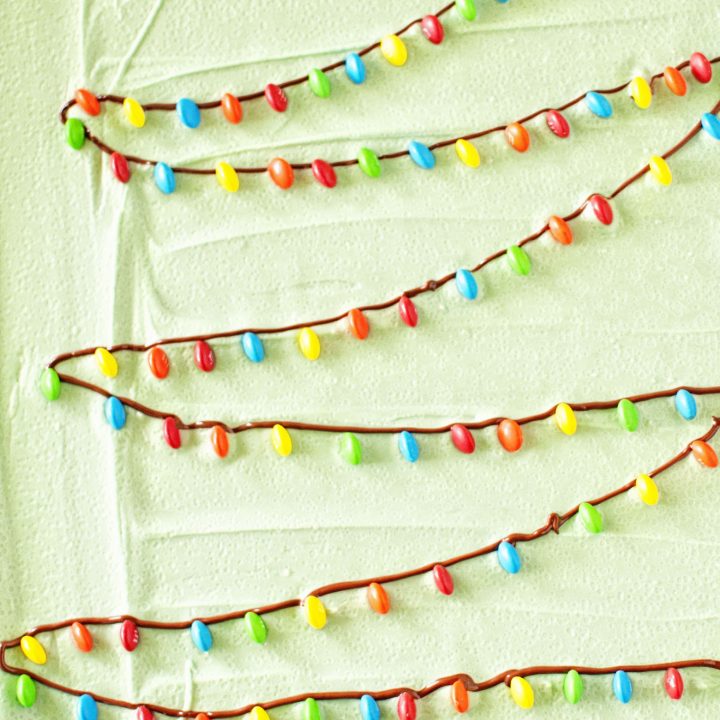 Christmas Tree Light Bark
Ingredients
2 (12 oz) bags mint chips
1/2 cup mini M and M's give or take
green food coloring
1/3 cup semisweet chocolate
Instructions
Prepare a baking sheet lined with parchment paper.
Sort your M and M's into colors. You can use brown if you want I've just never seen brown lights but hey it's your tree.
In a microwave safe bowl, melt the mint chips 30 seconds at a time until melted and smooth.
Add some green food coloring if desired. I don't like the straight color of the green chips so I added to it. You don't have to.
Spread the melted mint chips evenly as best you can in a thin layer over the parchment paper making a rectangle.
Melt the semisweet chocolate and place in a piping bag with a fine tip (for writing words usually).
Pipe strings of chocolate to hold the lights, aka M and M's.
Place the mini M and M's on their side on the chocolate strings.
Place pan in fridge to set up.
Break bark into pieces.