This Brown Butter Pumpkin Pie Layer Cake is pumpkin cake filled with nutty brown butter filling and covered gingersnap Swiss buttercream.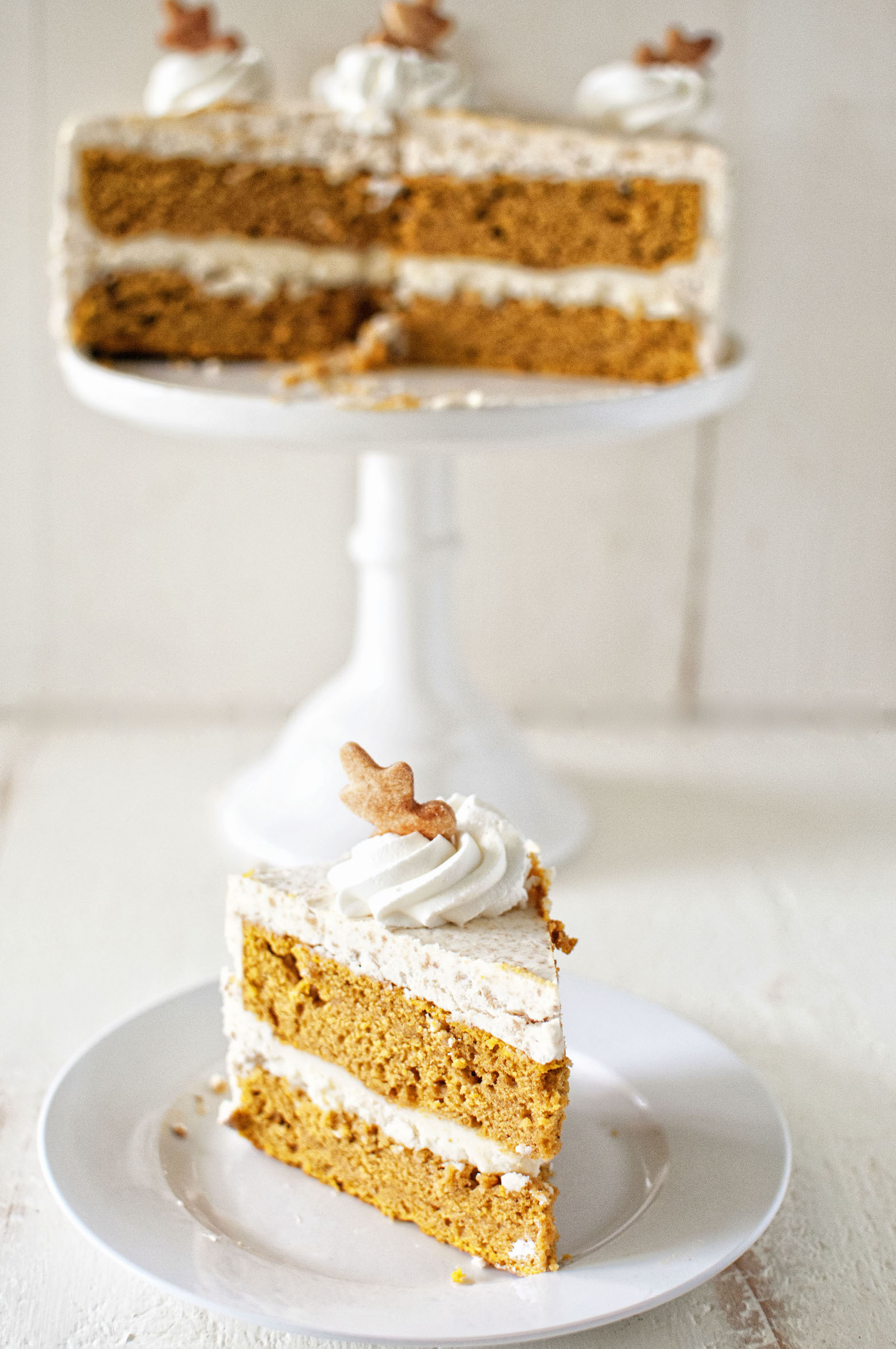 As a general rule, my family, when it comes to the holidays are traditionalist.
Most of those traditions I still follow today with a few of my own.
My mom is a touch of a control freak especially when it comes to food at holiday time.
Even when we go to another's house (which is not often) for Thanksgiving or Christmas dinner my mom always volunteers to bring food.
To help the person….but also to make sure she is getting her staples.
She also tends to make a full dinner at home so that we can have "leftovers".
In my mom's defense we have had food poisoning and were served cold canned potatoes (I had no idea it was a thing) when eating at other people's house. 😀
But as she got older she would experiment a little more in new dishes.
However, the year she switched our sweet potatoes (the kind covered in marshmallows) to a sweet potato soufflé the family revolted.
So now, we have all the traditional food and one or two more items.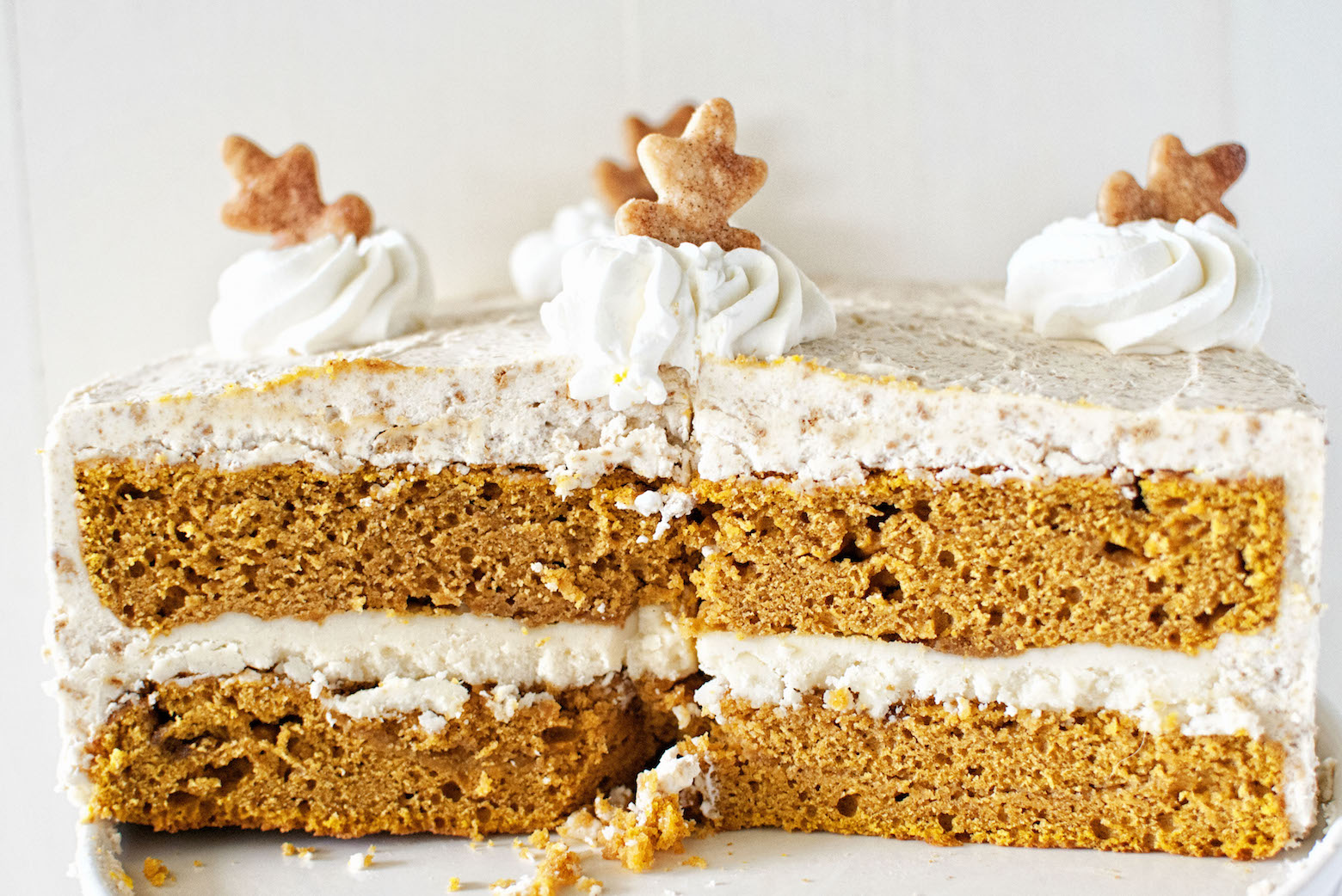 Starting when I was a undergraduate, I was the one in charge of the alternative dessert.
We always had our traditional pies, but it was up to me to come up with something new.
We've had cheesecakes, bread puddings, Bundt cakes, and alternative pies.
Every year I set out on a quest to find what will be the alternative.
I came across this cake over summer when going through a cookbook.
I loved the idea of it but knew one key thing would need to change.
The original recipe uses graham cracker crumbs which I thought would be too bland for the cake so I switched to gingersnap cookie crumbs.
Glad I did.
I really love the gingersnaps in this.
This cake, I won't lie, is going to take some time to make.
It took me 5 hours.
But that was start to finish.
And this can be partially made ahead of time.
The cake is very dense and moist. You can keep it two layers or make it four.
I can't find my cake leveler so two layers it was. 🙂
The brown butter filling is basically American buttercream using brown butter…which makes everything taste better.
The Gingersnap Swiss Buttercream is to die for…probably both figuratively and literally since it is four sticks of butter. 😛
It's soo good. 
Don't skip the step of the cut out pie dough pieces.
It's fun for decor but also helps add to the pie feel.
You can make whatever shape you want but I used these mini leaf cookie cutters.
So, I think at least for this year the quest is over…I have found my Thanksgiving dessert.
P.S. It's a great day to buy my cookbook Holy Sweet!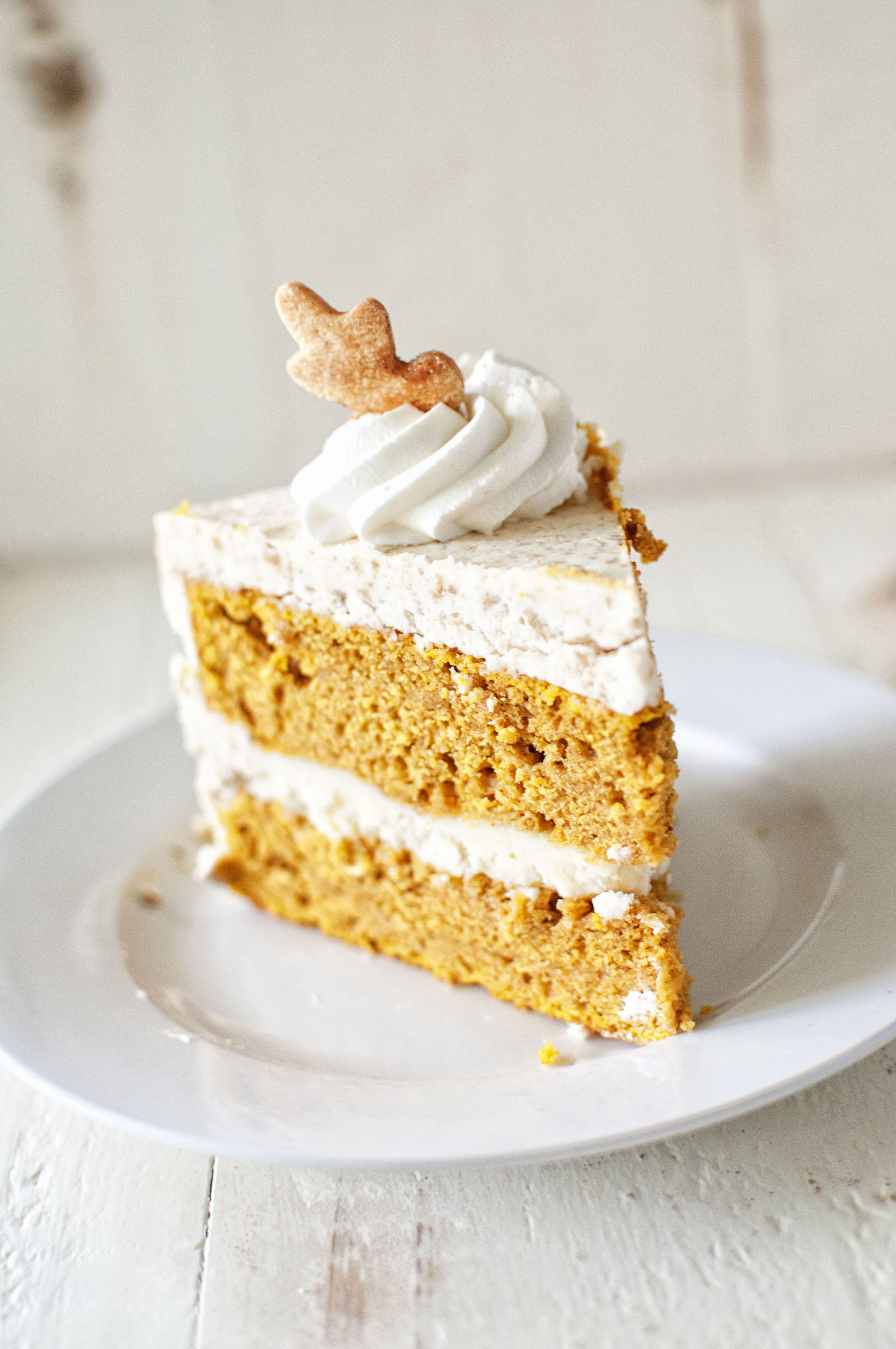 Want More Pumpkin Recipes?
Pumpkin Creme Brûlée Tartlets with Chocolate Ginger Crust
White Chocolate-Pumpkin Topped Blondies
Pumpkin Pecan Pie Gingerbread Bars
Brown Butter Pumpkin Pie Layer Cake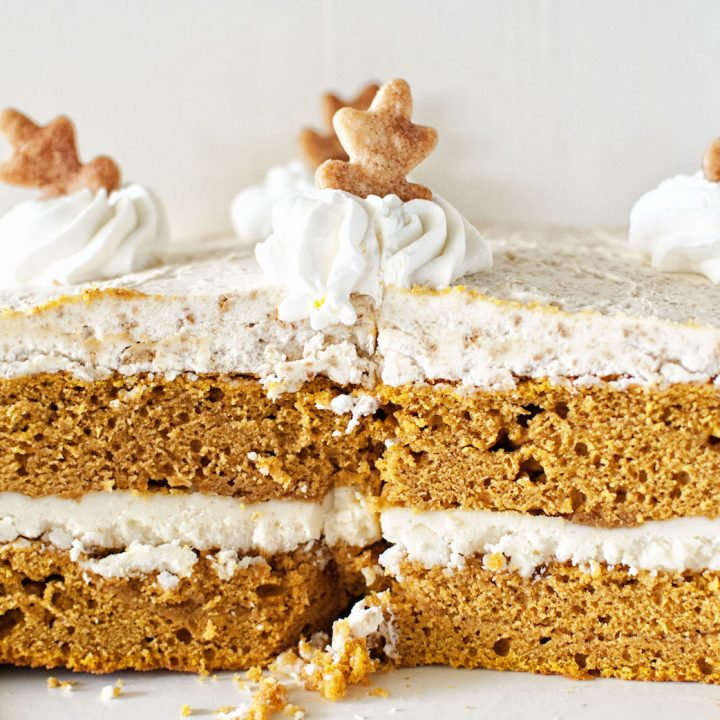 Brown Butter Pumpkin Pie Layer Cake
Ingredients
For the Brown Sugar Pumpkin Cake:
3 cups all-purpose flour
1 TBSP baking powder
1 1/2 TBSP pumpkin pie spice
1/2 tsp. salt
3/4 cup vegetable oil
1 1/2 cups packed brown sugar
1/2 cup granulated sugar
4 large eggs
2 cups pumpkin puree
For the Brown Butter Filling:
3/4 cup unsalted butter
2 3/4 cup powdered sugar
1/2 tsp. vanilla extract
2 TBSP heavy cream
pinch of salt
For the Gingersnap Swiss Buttercream:
1 1/2 cups egg whites (this was 6 egg whites for me but best to measure as each egg is different)
1 1/4 cups fine granulated sugar
1 tsp. vanilla extract
2 cups unsalted butter, at room temperature
1 cup fine gingersnap crumbs
Pie Dough Cut Outs:
1 refrigerated pie dough
cinnamon sugar to sprinkle.
Instructions
For the Pumpkin Pie Cake:
Pre-heat oven to 350°F.
Grease and flour two 8-inch cake pans and set aside.
Sift together the dry ingredients and set aside.
Using a stand mixer fitted with the paddle attachment, mix together the oil, brown sugar and granulated sugar for about 3 minutes.
With the mixer on low, add in the eggs, one at a time.
Stop the mixer and scrape down the sides and bottom of the bowl.
With the mixer on low, add in the dry ingredients in two additions, mixing well in between.
Just as the last streaks of flour begin to disappear, stop the mixer.
Add in the pumpkin and mix until combined.
Evenly distribute the batter between the two pans and bake for 30 to 35 minutes or until a toothpick inserted into the center of the cakes comes out clean.
Let cool on a wire rack for 10 to 15 minutes before removing the cakes from their pans.
Once cool, carefully slice each cake in half horizontally with a serrated knife to create four even layers.
I chose to keep mine as two layers due to the fact that I could not find my handy dandy cake cutter. It's in a moving box somewhere. 🙂
For the Brown Butter Filling:
Place 3/4 cups of butter in a light-colored medium saucepan.
Over medium-low heat, melt then brown the butter.Turn the heat to medium-high and brown the butter, about 8 minutes.
Stir the butter to keep the milk solids from sticking and burning to the bottom of the pan.
When done, the butter will be very fragrant and nutty, light-medium amber in color, with dark brown bits at the bottom of the pan.
Strain the browned butter with a mesh sieve into a heat-safe container and chill in the refrigerator until it reaches the same consistency as room temperature butter.
Place butter in the bowl of a stand mixer and beat on medium-low until smooth.
Add the powdered sugar, vanilla extract, and heavy cream and mix on low until incorporated.
Turn mixer onto medium-high and beat until the filing is fully combined and smooth.
For the pie crust cut-outs:
Cut the dough into desired shapes. I chose mini leaves.Bake about 375F until puffed and golden (about 8 to 12 minutes).
Sprinkle on some cinnamon sugar before baking.
Gingersnap Swiss Buttercream:
Place the egg whites and sugar in the bowl of a stand mixer.
Gently whisk them by hand to combine.
Fill a medium saucepan with a few inches of water and bring to a simmer.
Place the mixer bowl on top of the saucepan with create a double-boiler.
Whisking intermittently, heat the egg mixture until it reaches 160°F (70°C) on a candy thermometer.
Carefully fit the mixer bowl back onto the stand mixer.
With the whisk attachment, beat the egg white mixture on high speed for 8 to 10 minutes, the mixture holds medium-stiff peaks and the outside of the bowl returns to room temperature.
Touch bottom of bowl to see if at room temperature. You want no heat coming out at all…everything should be room temperature.
Stop the mixer and swap out the whisk for the paddle attachment.
Turn the mixer down to low and add in the vanilla and unsalted butter a couple tablespoons at a time. This will take about 10 minutes.
Turn the mixer to medium-high and beat until the buttercream is silky smooth, 3 to 5 minutes. Add the gingersnap crumbs and mix until combined.
Assembly
pre-made pie crust
sweetened whipped cream
Place one layer of cake on a cake board or serves dish. Spread on about 1 cup of brown butter filling and smooth with an offset spatula. If using two layers, all the brown butter filling goes in.
Top with the next layer of cake and repeat with remaining layers.
Frost the cake with the buttercream.
To decorate, pipe dollops of whipped cream and finish with a pie crust cut-out.
Serve at room temperature.
Store in the refrigerator overnight and let stand at room temperature about an hour before serving.
Notes