This Snickerdoodle Cookie Dough Truffle Fudge is snickerdoodle flavored fudge filled with mini Snickerdoodle cookie dough truffles.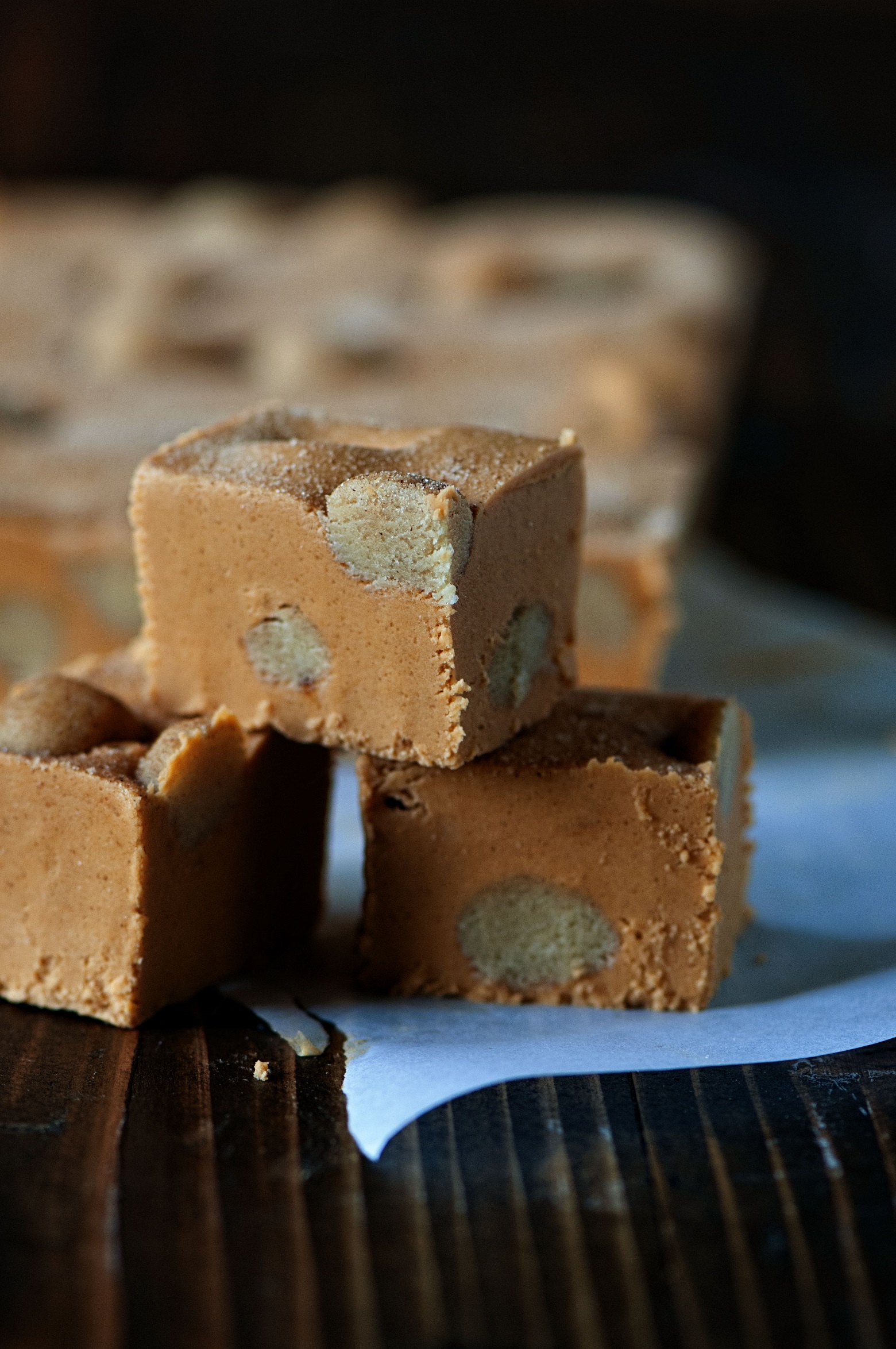 Like I said in the Sweet Tea fudge post…sometimes certain things just remind me of people.
My BFF and I have bonded over our mutual love of all things Snickerdoodle.
Well, we have bonded over a lot of things but Snickerdoodles is one of them.
She gets very excited when I make Snickerdoodle anything on this blog and was one of those people hoping I would make an all Snickerdoodle cookbook.
But alas, no publishers have been knocking down my door so that won't be happening anytime soon. 🙂
After I made the Milk and Cookies Fudge I decided I needed to do a Snickerdoodle version. And then I didn't make one.
I've made a couple versions now of Snickerdoodle fudge…none of which have made it onto this blog.
Originally because I had planned on doing an all-fudge E-book but then didn't. 🙂
I thought about putting crushed up Snickerdoodle cookies in this but then decided against it.
I really like to be able to have a smooth cut of fudge for some reason. But feel free to if you like.
This Snickerdoodle Cookie Dough Truffle Fudge turned out just like I thought it would…which is a good thing because I think I finally found a version I am happy with. 🙂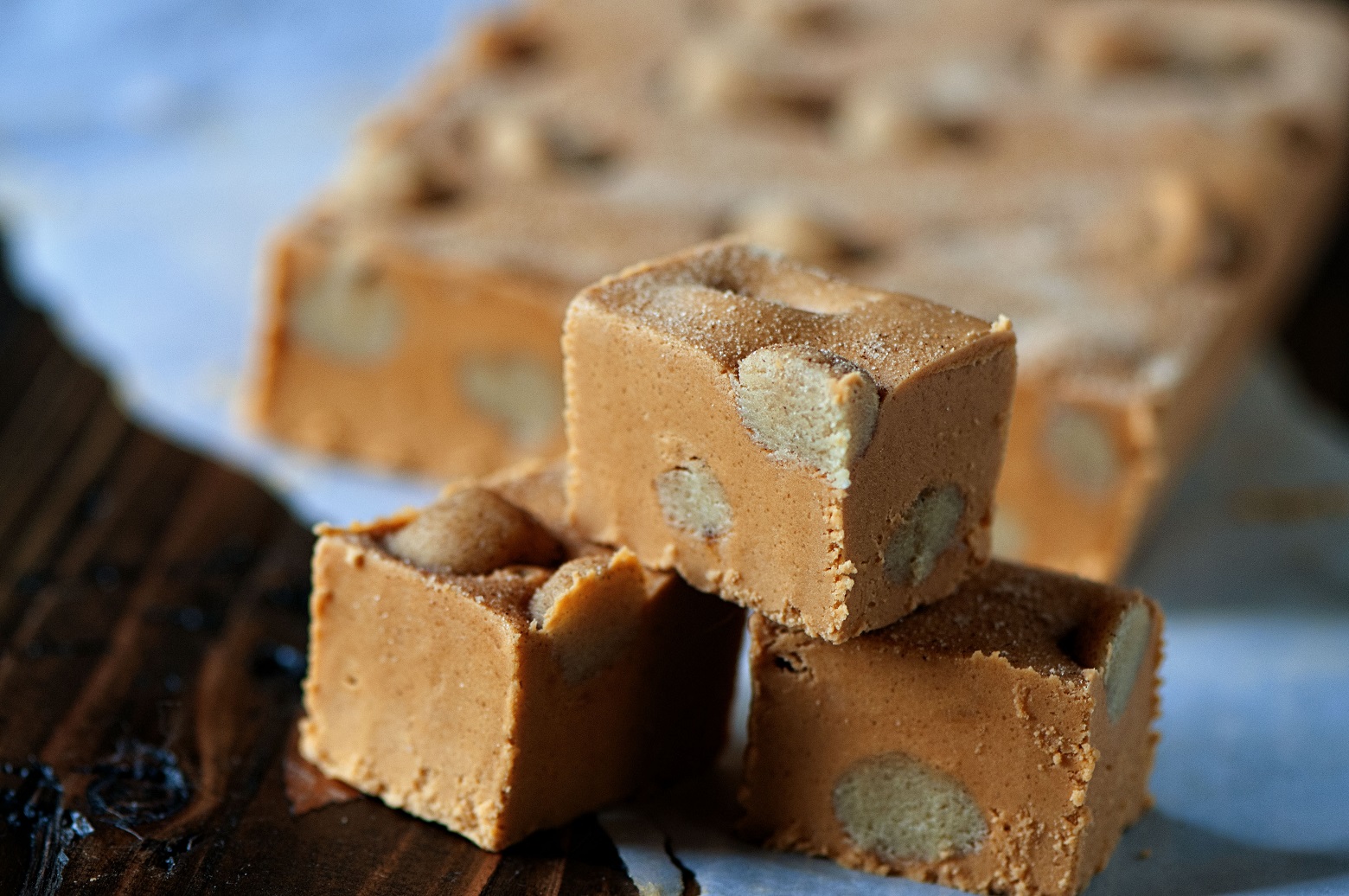 Keys to Successful Fudge:
Have a thermometer. I don't like the old fashioned ones that you clip to the side.
Those never work for me. I like digital and use this one.
Use Baker's sugar.
Also known as caster or superfine sugar. I don't always follow my own rule because I don't always have it on hand but it makes for a less gritty fudge.
If you don't have it you can run the sugar through a dry blender or food processor to make it superfine.
Use good butter. Preferably European.
They higher the butterfat content the better. Cheaper butter often has too much water in it and will cause your fudge to separate.
Same goes for your chocolate.
The cheaper the chocolate the more likely it is to separate.
If using chips I tend to use Guittard.
And when making extra special fudge I used TCHO.
P.S. It's a great day to buy my cookbook Holy Sweet!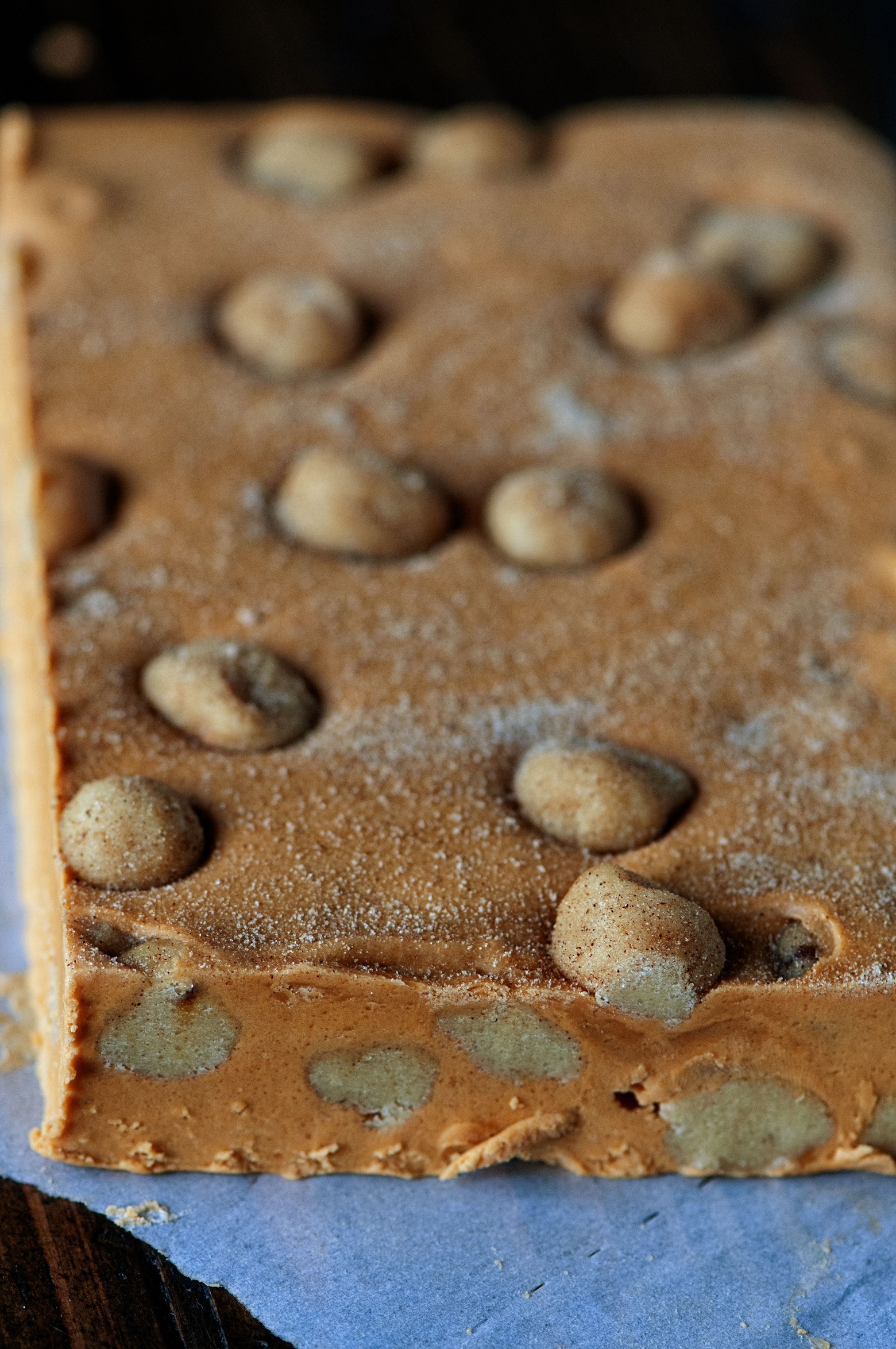 Want More Fudge Recipes?
Monster Cookie Chocolate Fudge
Pineapple Upside Down Cake Fudge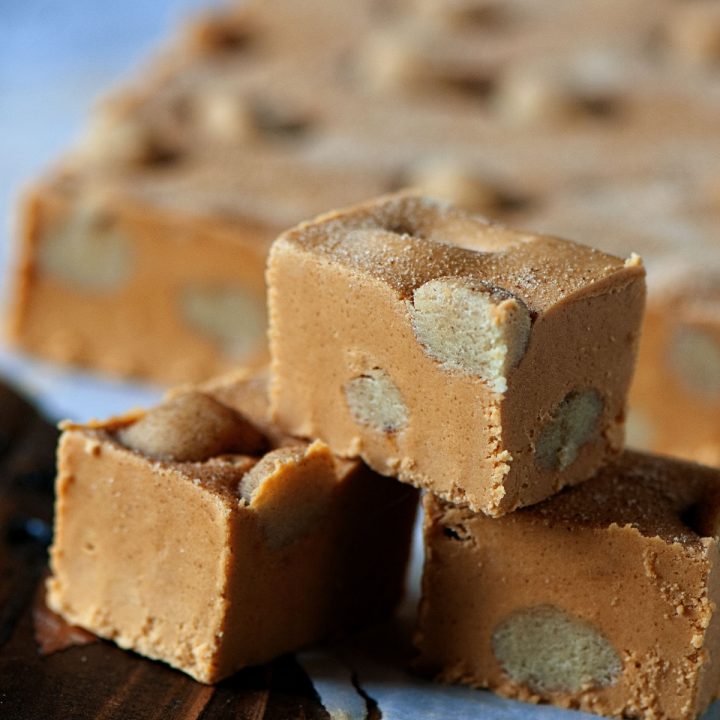 Snickerdoodle Cookie Dough Truffle Fudge
Ingredients
2 cups granulated sugar
4 oz. unsalted butter
½ tsp. fresh ground nutmeg
½ tsp. cream of tartar
1 cup white chocolate chips
1 cup cinnamon chips
7 oz. jar marshmallow crème
30 mini Snickerdoodle Cookie Dough Truffles (link to recipe at the bottom of this recipe)
Cinnamon sugar (garnish)
Instructions
Line an 8×8 inch pan with parchment with an overhang so you can lift the fudge out later and coat with baking spray.
Scatter half the cookie dough truffles at the bottom of the pan. Set aside.
Combine sugar, butter, heavy cream, nutmeg, and cream of tartar into a large heavy bottomed sauce pan and bring to a boil over medium heat.
Once boiling, attach a candy thermometer and reduce the heat to a hair above medium low and cook for 7-10 minutes until your thermometer reads 234°F (soft ball stage) , stirring constantly.
Once you reach 234F remove from heat and add the white chocolate chips and cinnamon chips, stirring vigorously with a wooden spoon until the chocolate has melted and the mixture is smooth.
Add the marshmallow crème and mix until well blended.
Pour into prepared pan.
Add the remaining cookie dough truffle pieces.
Sprinkle with cinnamon sugar.
Let cool to room temperature. Then lift out of the pan and onto a cutting board.
Cut into whatever amount you want. I got 24.
Notes
For the Snickerdoodle Cookie Dough Truffles...go here.