These Hot Chocolate M&M Fudge Cookies are super chocolatey cookies filled with Hot Chocolate M&M's and Mallow Bits. Comfort in a cookie.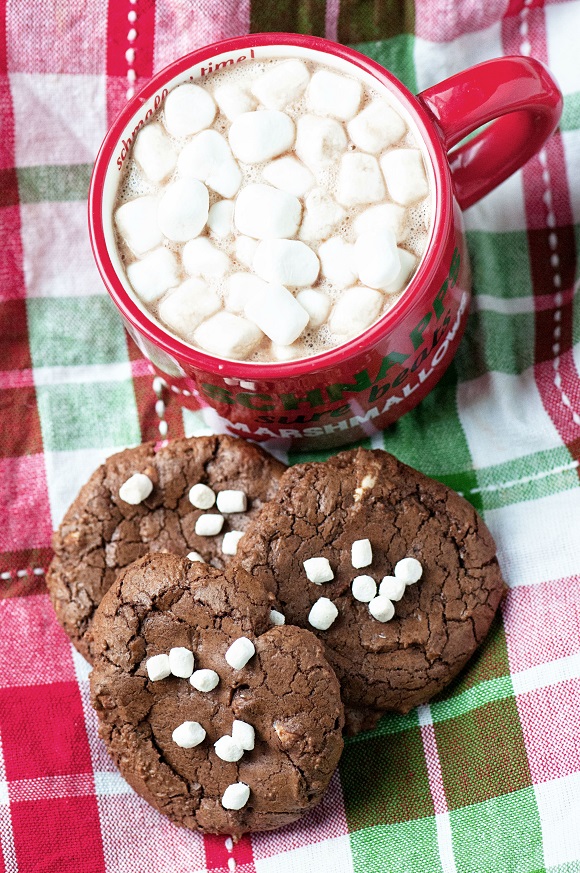 As a food blogger we are always in search of new products to use in our cooking/baking.
Each year more and more companies come out with limited edition items.
This year was no exception.
I never did find the Key Lime or Cinnamon Bun Oreo but boy did I look.
So I didn't really hold my breath that I would find the new M&M flavor of Hot Chocolate.
Plus I was a little scared it would disappoint like the last few M&M flavors.
But then I found myself in a Super Walmart there they were…along with a few other finds that I snatched up.
I sat in the car and took an Instagram photo. 🙂
I took a bite with almost no expectation especially since they are dark chocolate and I don't really like dark chocolate.
Verdict?
Hey, these are good.
They need to be dark chocolate because they do have a marshmallow flavor to them and milk chocolate would make them crazy sweet.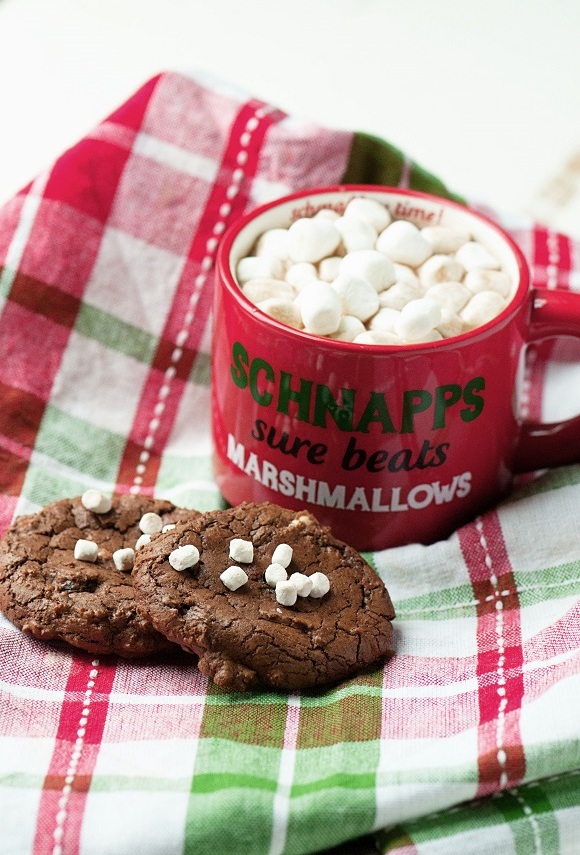 I normally wait a full season to see if they bring back the limited edition but I had such interest on FB that I thought I would go ahead and feature what I made with them.
If you can't find the Hot Chocolate M&M's I suggest you get the dark chocolate M&M's.
If you want the marshmallow flavor that comes in them you can add a drop of marshmallow oil (it's a thing) to give some marshmallow flavor to the cookie.
Also be sure to use Mallow Bits and not mini marshmallows as mini marshmallows will melt.
These Hot Chocolate M&M Fudge Cookies are kind of half brownie and half cookie as far as texture goes and they are oh so tasty.
I went with bittersweet and unsweetened chocolate since I was adding M&M's to it but feel free to use semi sweet if you would like a sweeter cookie.
Obviously this goes great with hot chocolate or as someone suggested perhaps a White Russian…I'm off to try that last suggestion out. 🙂
P.S. It's a great day to buy my cookbook Holy Sweet!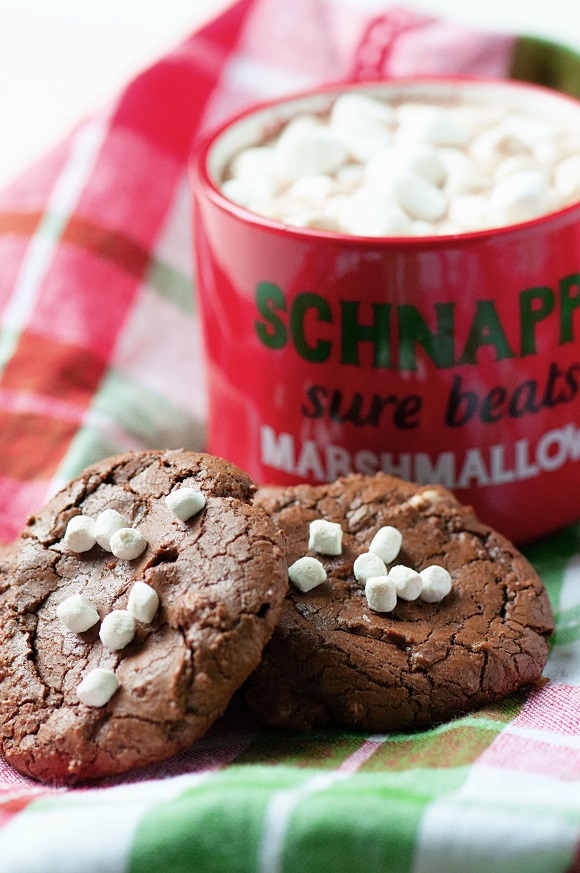 Want More Hot Chocolate Recipes?
Hot Chocolate Millionaire Bars
Red Velvet Hot Chocolate Brownies
Peppermint Hot Chocolate Babka
Hot Chocolate Marshmallow Brownie Bar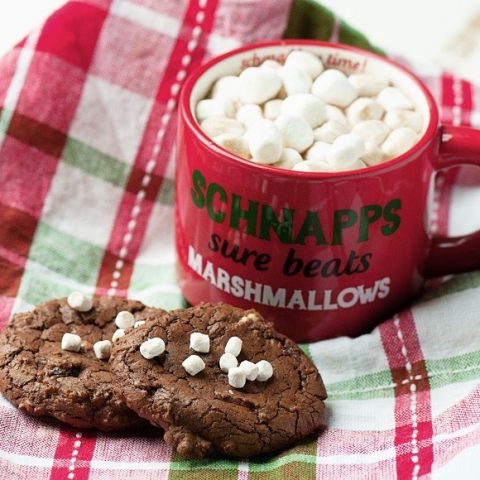 Hot Chocolate M&M Fudge Cookies
Ingredients
6 TBSP unsalted butter
8 ounces bittersweet chocolate, coarsely chopped
3 ounces unsweetened chocolate, coarsely chopped
3 large eggs
1 cup granulated sugar
2 tsp. vanilla extract (I used Rodelle)
½ cup all-purpose flour
¼ tsp. baking powder
¼ tsp. salt
1 cup Hot Chocolate M&M's
½ cup mallow bits
Instructions
Preheat the oven to 350F.
Line baking sheet with parchment paper.
Melt the butter, bittersweet chocolate, and unsweetened chocolate in a small saucepan set over low heat.
Stir occasionally, watching carefully to make sure the chocolate does not burn.
Remove the pan from the heat to cool.
Using a mixer fitted with a paddle attachment, beat the eggs and sugar in a large bowl on medium speed for about 3 minutes, until fluffy.
Add the vanilla and melted chocolate.
Beat on medium speed about 2 minutes, until the dough is thick and glossy.
Add the flour, baking powder, and salt to the chocolate mixture, stirring just until incorporated.
Stir in the M&M's and mallow bits.
Let the dough rest for 20 minutes, which makes it easier to scoop.
Use a cookie scoop to drop spoonfuls of dough on the prepared baking sheets, spacing them at least 1 ½ inches apart.Wet your fingertips lightly with water and gently flatten the cookie dough (no need to press hard, just press out the hump) and add extra mallow bits if you would like.
Bake for 12-14 minutes, until the tops begin to crack and look glossy.
Cool the cookies for 10 minutes before removing them from the baking sheets.
Get about 2 dozen.