Flaky Apple Biscuit Cobbler served with cinnamon whipped cream. You won't want cobbler any other way after you make this.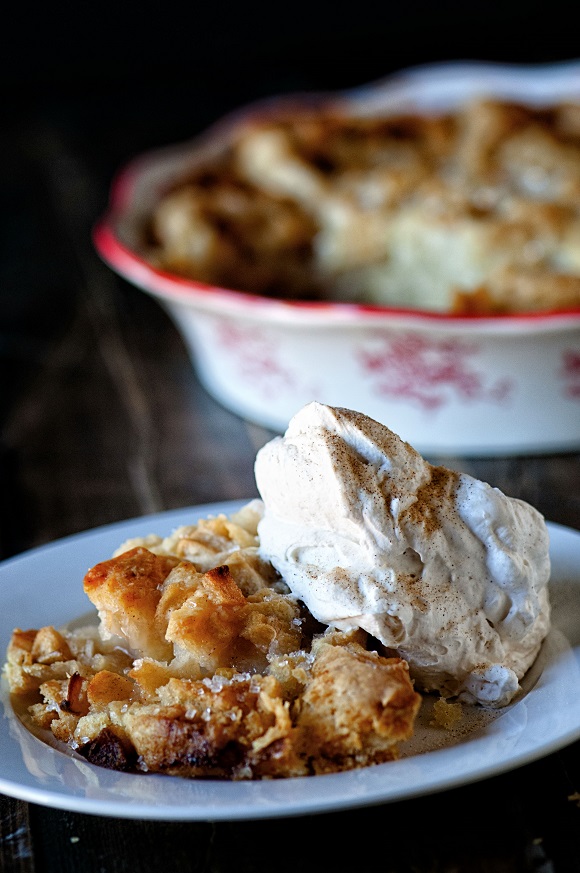 *Yes, this post was sponsored by the wonderful butter makers… Plugrá European-Style Butter. A butter I have always used and a company I have a long standing relationship with. All the words and opinions and atrocious grammar are all mine.

Growing up my parents always had people over or we were always going over to someone else's house.
They threw parties, had game nights (usually cards), and found just about any reason to get together.
People just don't seem to do that anymore.
And the dinner party?
I can't remember the last time I was invited to one of those.
So I was really excited when I joined the Plugra Butter Brigade years back because you were asked to throw a dinner party each year.
Okay, twist my arm.
Last year's dinner party was definitely more upscale so to speak (Surf and Turf) and I found it made people a little uncomfortable.
They were worried how to dress, how to act, etc.
So this year I decided to throw a more casual dinner party.
I think we need more casual dinner parties to get people back in the swing of just having people over.
Dinner party planning is fun, well at least to me.
I love picking a theme and planning a menu around it.
If you need ideas, Plugra Gourmet Club has quite a few to get you started.
Or you can browse their hundreds, and hundreds of recipes to get ideas.
This dessert is one I don't make often.
Not because it's isn't amazing.
But because I eat it all.
Most apple desserts I have very little control over when it comes to eating it all.
Since I was having 5 people total eating it, I was hoping I wouldn't end up eating the whole thing. 🙂
Which I didn't since they all ate it.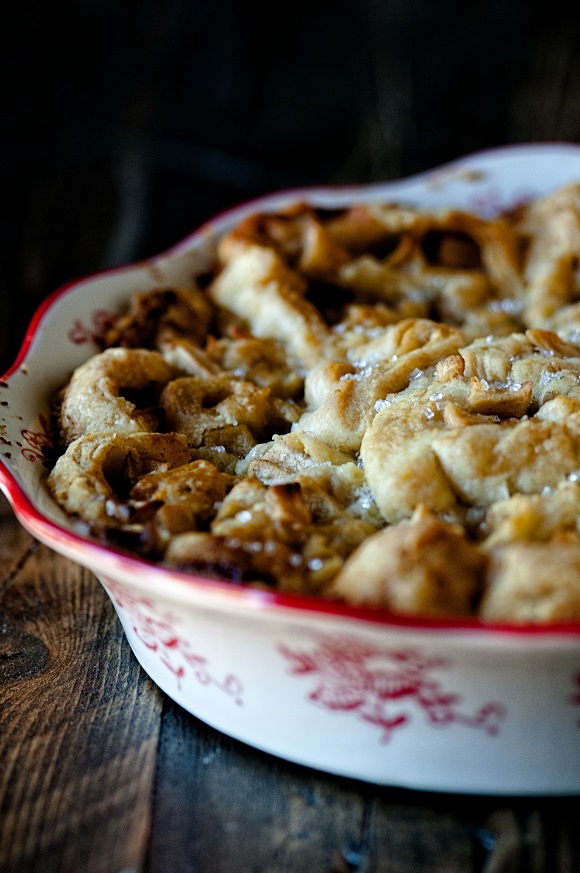 This Apple Biscuit Cobbler is weird.
The first time I tried it this was I was like pour sugar water over it?
The fruit fell out of the biscuit (still does).
The dough was floating and I thought to myself what a freaking disaster.
And yet it turned out fantastic and this is my favorite way to make cobbler.
Of course you are going to want to make this with Plugra European Style Butter.
This recipe has few ingredients and so you are going to want quality.
P.S. It's a great day to buy my cookbook Holy Sweet!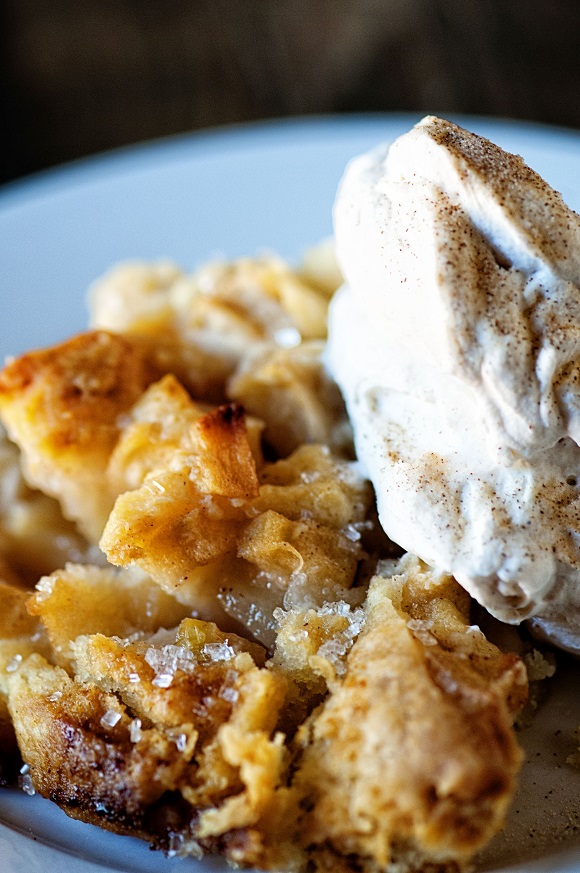 Want more recipes? Try these:
Mixed Berry Oatmeal Cookie Cobbler
Cherry Toaster Strudel Cobbler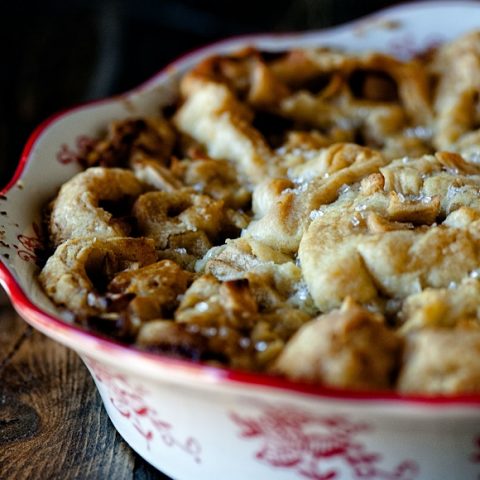 Apple Biscuit Cobbler
Ingredients
For the Cobbler:
1 stick (1/2 cup) unsalted butter (I used Plugra)
1 cup water
1 ¼ cup granulated sugar, divided
1 1/2 cups self-rising cake flour
1/3 cup whole milk
1/2 tsp. cinnamon
3 cups apples, peeled and diced
2 TBSP cinnamon sugar or large sugar crystals
For the Cinnamon Whipped Cream:
1 cup heavy whipping cream
¼ cup granulated sugar
1 tsp. cinnamon
Instructions
For the Cobbler:
Preheat oven to 350°F.
In a medium saucepan, add the apples, cinnamon, and ¼ cup granulated sugar over medium heat and let cook until apples are firm but turning soft, about 6 minutes. Set aside.
In a 10-inch glass pie plate or baking dish melt 1/2 stick (2 oz) butter in oven.In a small saucepan combine water and 1 cup sugar and heat over moderate heat, stirring occasionally, until sugar is completely dissolved.
Chop the remaining butter into 1 inch pieces.
In a food processor pulse together flour and the cut up butter until mixture resembles fine meal.
Add milk and pulse just until a dough forms.
Turn dough out onto a lightly floured surface and with a floured rolling pin roll into an 11- by 9-inch rectangle.
Scatter apple mixture evenly over top of dough.
Beginning with a long side roll up dough jelly-roll fashion and cut into 1 1/2-inch thick slices. (Slices will come apart and be messy).
Arrange slices, cut sides up, on melted butter in pie plate or baking dish.
Pour sugar syrup over slices, soaking dough, and bake cobble in middle of oven 45 minutes.
Sprinkle the cinnamon sugar or sugar crystals (whatever you are using) over cobbler and bake 15 minutes more, or until golden.
Serve cobbler with cinnamon whipped cream.
Cinnamon Whipped Cream:
Pour heavy cream into chilled glass bowl or use your stand mixer with the whisk attachment.
Beat on high speed.
Slowly add sugar and cinnamon.
Continue beating until stiff peaks form.
Serve with cobbler.