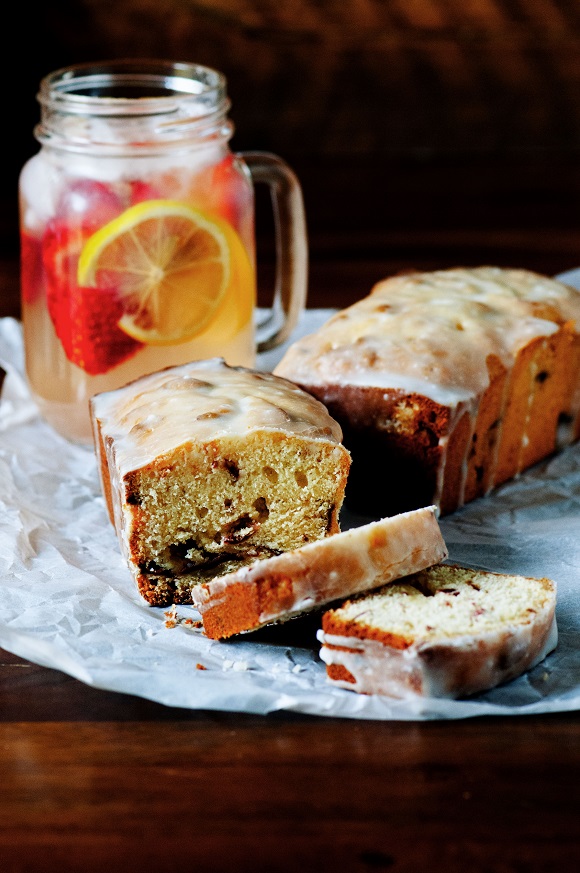 Summer is coming. I'm less thrilled than normal. I know people love summer. I am not one of those people. For one we are going to have an "unseasonably" warm summer. I moved away from warm on purpose. Seattle isn't equipped for warmth. Most buildings don't have A/C and I will probably go to the ice arena a whole bunch this year…and the movies. I'm going to guess that malls around here and movie theatres paid Mother Nature off to make it warm to force us to seek out cool. While I suffer, the one who really suffers is Mr. Squishy Face. His illness becomes worse in warm weather and that makes me sad.
Before the real heat starts showing up in a couple of days I wanted to make sure to get some baking in. Since it is summer (official as of a couple days ago) I decided to convert a summertime drink into a dessert. Strawberry Lemonade.
The dessert I chose is pound cake…well, sort of; it does have a little baking soda in it, so not a true pound cake…so sue me. Okay, don't sue me, you won't get much. When you make a pound cake the first thing you need is butter. Good butter. We all know good butter to me means Plugrá European-Style Butter. I cannot express enough that when you are working on certain recipes, especially in baking, that your butter does matter.
I didn't really know how this would turn out at first, it was a true experiment. I made it a few times to get it right and when I did get it right, oh boy was this good! Once again my new obsession with freeze dried fruit was used; I just really think it has such flavor, way more than dehydrated or dried.
I also doubled the amount of glazed used because I am a glaze-a-holic…if that's not a thing I'm starting it. Imagine the meetings…everyone brings coffee and heavily glazed cinnamon rolls.
Dang. I kind of want that to happen now. Someone start a chapter of glaze-a-holics not so anonymous in my area, please.
*If you are new to my blog and unaware of my undying love to Plugrá European-Style Butter then you can learn all about it on their site here. I am fortunate enough to be part of their Butter Brigade and this post is sponsored by them. But the words, opinions and bad grammar, as always are mine.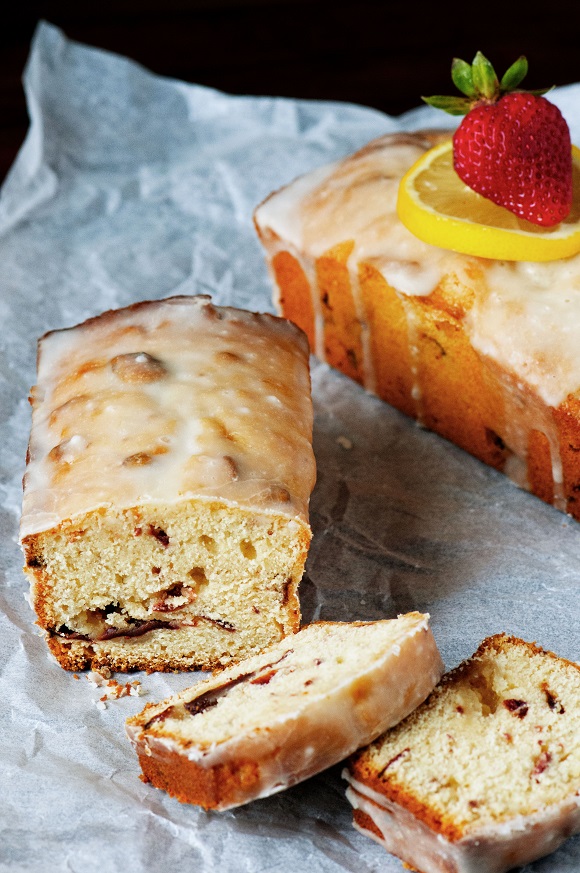 Strawberry Lemonade Pound Cake
8 oz. unsalted butter; at room temperature (I used Plugra)
2 1/2 cups granulated sugar
4 large eggs, at room temperature
1 egg yolk
3 cups all-purpose flour
1/2 tsp. baking powder
1/2 tsp. baking soda
1 tsp. salt
3/4 cup frozen lemonade concentrate (still frozen)
3/4 cup milk, at room temperature
1 ½ cup freeze dried strawberries
For the glaze:
3 cups powdered sugar, sifted (I'm lazy and never do but feel free to )
½ cup frozen lemonade concentrate (thawed)
Preheat the oven to 350 degrees F.
Grease and flour 2 (8 1/2 by 4 1/4 by 2 1/2-inch) loaf pans or 4 (5-3/4 by 3-1/4 by 2-1/4¬) pans. I made the 4 minis.
Using a stand mixer fitted with the paddle attachment, cream the butter and sugar until light and fluffy, about 5 minutes.
With the mixer on medium speed, add the eggs, 1 at a time, and then the egg yolk.
Scrape down the bowl after each addition.
Sift together the flour, baking powder, baking soda, and salt in a bowl.
Mix the milk and lemonade concentrate together…it may curdle, that's okay, think of it like buttermilk.
Add the flour and milk mixtures alternately to the batter, beginning and ending with the flour.
Fold in the freeze dried strawberries.
Divide the batter evenly between the pans, smooth the tops, and bake for 45 minutes to 1 hour, until a cake tester comes out clean. Even the smaller cakes take as long.
When the cakes are done, allow to cool for 10 minutes.
Remove the cakes from the pans and set them on a rack set over a tray or sheet pan. Allow the cakes to cool completely.
For the glaze, combine the powdered sugar and the lemonade concentrate in a bowl, mixing with a wire whisk until smooth.
Pour over the tops of the cakes and allow the glaze to drizzle down the sides.