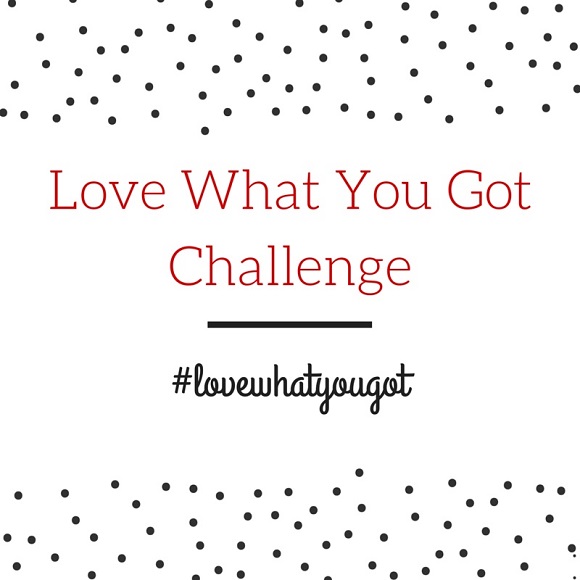 Welcome to the Love What You Got Challenge!
I just want to first say how awesome it is that you want to love what you got. Body acceptance is a very hard and long process so the sooner you start the easier it becomes. I've been promoting it for years and am truly happy to see that society is starting to jump on board to this idea.
I want to first say that I am not against weight loss. I'm not a big fan of diets as I have seen (as a Weight Watcher leader) the majority of people never become satisfied with the number on the scale or on the tag on their pants. Oh they say they just want to be a size 8, until they get to a size 8 and realize they have all the same issues…so then they go for a size 6 because that will solve everything and so on. I'll let you in on a little secret, it will not. Now of course there are health reasons why one might have to lose weight and you need to go on a diet, but that doesn't mean you can't love what you got while you are doing that. If you love who you are before you start on a diet, then you will not freak out if you gain 2 pounds one week instead of lose. You will know that a number does not define you.
The one thing that I ask besides the daily challenges is that you move your body for 10 minutes each day. That can be all at once or throughout the day. Of course, if you want to move it more then by all means please do. Ideally you should start the day with a little movement. If I know that I'm not going to be able to go to the gym or play hockey until way later in the day I will wake up and do jumping jacks. It helps get the blood flowing and wakes me up.
I may ask you to do a couple things that seem silly or make you uncomfortable…do them anyway. 🙂 If you have an Instagram account I would love to follow along with you over the next 15 days! Use the hashtag #lovewhatyougot . If you don't have an Instagram account you can either start one or just do all the challenges on your own.
July 1st: Find a photo of yourself that you feel represents your true self. Not necessarily the one you look best in but the one you feel is the real you. Post it to Instagram or if it's an older photo, perhaps one from your childhood, take a picture of the picture. Then list three words as to why this photo represents you.
July 2nd: It's my birthday! Eat cake. Preferably with Sprinkles. Or ice cream. But something that you would want on your own birthday! Celebrate with me!
July 3rd: Wear a piece of jewelry you don't normally wear. Do you always wear the same little stud earrings? Change that up. Never wear bracelets? You get the idea. If you are a guy participating in the challenge then I say wear an accessory you would not normally. Always wear baseball caps? Try a flat cap instead or if you always wear a hat don't wear one at all (don't apply this to underwear 😛 ).
July 4th: Happy Independence Day! Claim a little independence of your own. Carve out 30-60 minutes to do whatever the heck you want. If that is sitting and reading a book, eating a snack you've been hiding from the kids, going for a walk, read trashy magazines, etc. You may have to get up a little early or stay up a little late but make it work.
July 5th: Which song makes you the happiest? That you just have to dance to? Put that on and move your body. Too embarrassed to dance around people, just go shut yourself in your room (I mean it really is only going to be about 4 minutes) put on headphones and dance around.
July 6th: Find a role model. This is NOT a thinspo moment. You aren't to go find some tiny person with no thigh gap and put them on the fridge kind of thing. I mean find a person who you admire not for how their body looks but for what they stand for. Definitely find someone who is body positive! That does not mean they have to be plus size just means that you get a vibe that they like themselves as a person.
July 7th: This one is hard. Pick your least favorite body part. The whole day today is going to be celebrating how amazing that body part is. How much you love it. All the amazing things it does for you. I believe in the power of attraction and so if you are always talking negative about say your thighs then you will continue to feel bad about your thighs. You will never change how you feel about your body if you are always critical and say horrible things to it. Instead switch your thinking. I personally love my thighs since without them I would not be able to play hockey. They are good and strong and take me all the places I need to go. Write down three ways this body part is amazing and repeat throughout the day why that body part is amazing. Thank it for being amazing. Now you may be thinking this is stupid. Well guess what, so is going around saying that your thighs are too fat and ugly. But you are saying it. So why not say something productive instead of harmful?
So that's the first half. The second half of the challenge will go up Tuesday July 7th with a reminder in the weekly email on the 8th.
Again don't forget to hashtag #lovewhatyougot so I can see what you are doing!
Peabody