This Key Lime Pound Cake is a sweet and tart take on your traditional pound cake. Key lime adds a fresh perspective to a classic favorite.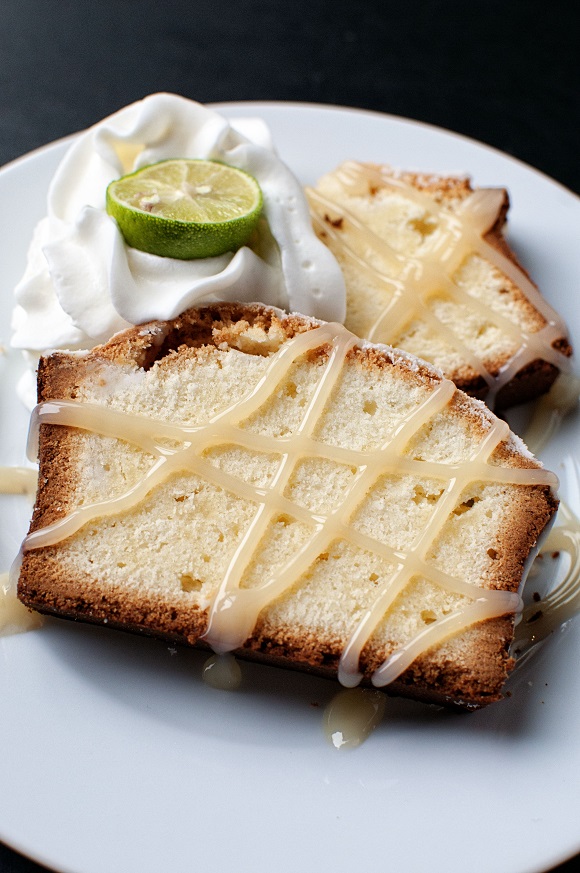 March?!?!
How is it March already?
My tree is still up (yes for real…but it now has Easter ornaments on it so I'm only partially crazy 😀 ).
March is a big birthday month around here.
The twins turn 17…just typing that seems odd.
It's literally their last year as "children".
It's not nearly as strange to me since I have always know them as teens (they were 13 when started living part time with us) but I'm sure for my husband it's very surreal.
Watching them evolve over the years into the adults they are going to be has been a privilege; I know they will do great things.
Also, God willing Crazy Cocker Spaniel will be turning 15 in the middle of the month…it's kind of our goal right now.
This cake was actually made way back in January and was the first dessert for my husband and I's first Date Night In.
I will admit we have been slackers as of late.
Not because we haven't been doing dates but because we have been doing them out (as we have an amazingly odd amount of gift cards to places from people) which have been very helpful on the budget.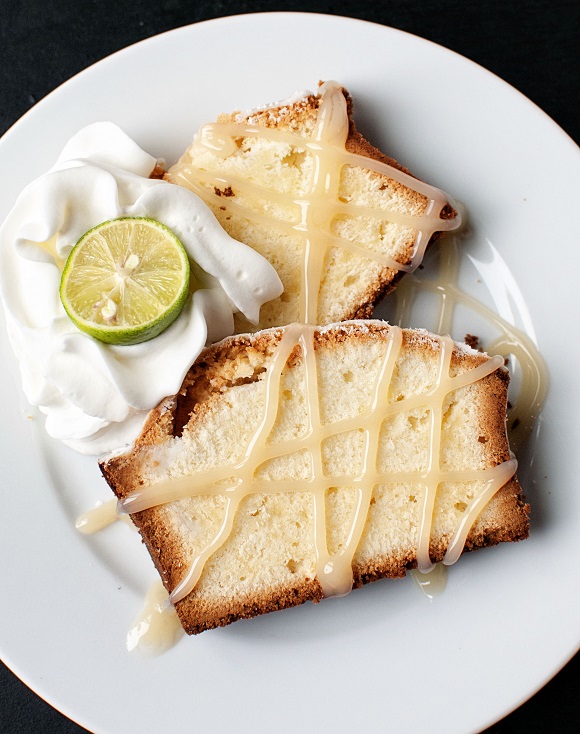 My husband loves key lime and so I knew that the first dessert we would have would be key lime.
You can pretty much never go wrong with pound cake?
So Key Lime Pound Cake it is.
One question I get a lot on this blog is why do the eggs have to be room temperature?
It's a texture thing.
Will your cake not turn out if your eggs are cold?
It will still turn out, no worries there.
But you will get a better texture out of your cake if you allow your eggs to be at room temperature.
Also don't even think about not putting the glaze on this cake…it's what really makes it.
P.S. It's a great day to buy my cookbook. 
Want More Pound Cake Recipes?
Bourbon Brown Butter Chocolate Chip Cake
Strawberry Lemonade Bundt Cake
Whiskey Glazed Apple Buttermilk Pound Cake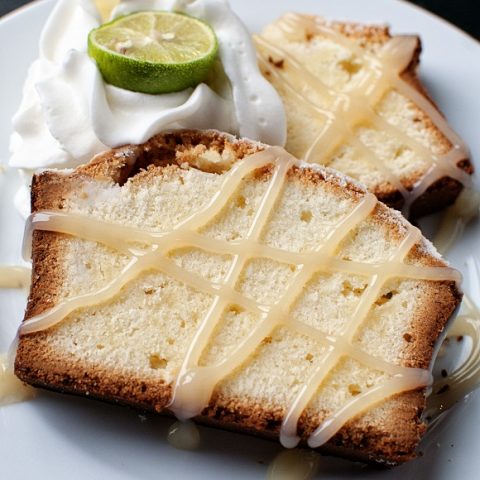 Key Lime Pound Cake
Ingredients
For the Cake:
2 cups unsalted butter, at room temperature (I used Plugra)
8 oz. cream cheese, at room temperature
3 cups granulated sugar
6 eggs, at room temperature
3 TBSP key lime juice
½ tsp. salt
3 cups cake flour
For the glaze:
2 cups powdered sugar
¼-1/3 cup key lime juice (maybe even more)
Instructions
For the Cake:
Prepare two 9x5x3-inch loaf pans with baking spray.
Using a stand mixer with a paddle attachment, beat together the cream cheese, butter, and sugar until light and fluffy, about 3 minutes.
Beat in eggs, one at a time, scraping down the sides and bottom of the mixer after each addition.
Add the key lime juice and salt and beat another minute.
With the mixer on low, add the flour, and mix for 2-3 minutes until the batter is smooth and you see no lumps.
Scrape down the sides and bottom and beat again for another minute.
Pour into cake loaf pans, making sure to equally distribute the batter.
Gently tap the base of the pans on the counter top a few times so that any air bubbles get reduced significantly.
Bake for 1 hour 15 minutes or until done.
Let cool for 15 minutes in pan.
Run a butter knife along the sides of the pan. Grab each side of the pans and gently shake the pan up and down and side to side to loosen the cake; invert it onto a wire rack to cool. Allow the cake to completely cool then add glaze.
For the Glaze:
Whisk the sugar and juice together until it's a thick but pourable glaze.
Pour over cake.
Let glaze set up and eat.