This Kahlua Peppermint Mocha Fudge is a chocolate fudge infused with Kahlua Peppermint Liqueur and coffee powder.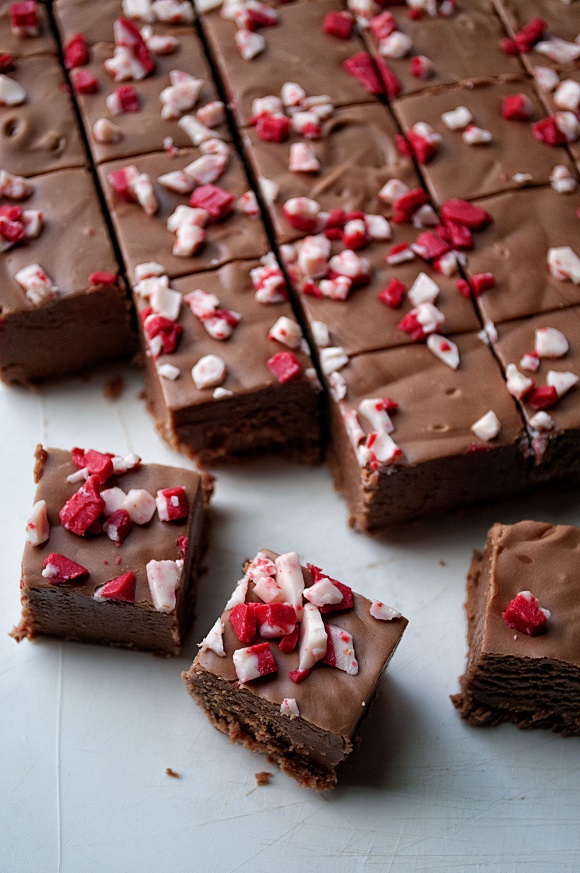 I have a weakness for all the holiday limited edition food stuff.
Especially peppermint.
So when I was at the liquor store looking for the Pumpkin Spice flavor of Kahlua I was very excited to see a Peppermint Mocha flavor.
I may or may not have also purchased the Cinnamon Spice and the Gingerbread Spice version as well. 😀
I had originally thought about making peppermint patties with them but the lovely Naomi of Baker's Royale already did that.
They look fantastic! Totally going to make some.
So I thought okay, I'll make fudge.
I've become quite the awesome fudge maker.
It did not start out that way.
I remember when my mom gave me her recipe for Fantasy Fudge that she makes every year at Christmas.
She doesn't use a candy thermometer (don't suggest that) so I figured I didn't need to either.
My mom kept saying how easy it was.
After the 4th failed batch I gave up for years.
It would always be so dry and crumbly or fudge sauce.
Taste fine but just wasn't the soft amazing fudge my mom made.
Then I decided I needed to start back up…this time with a candy thermometer.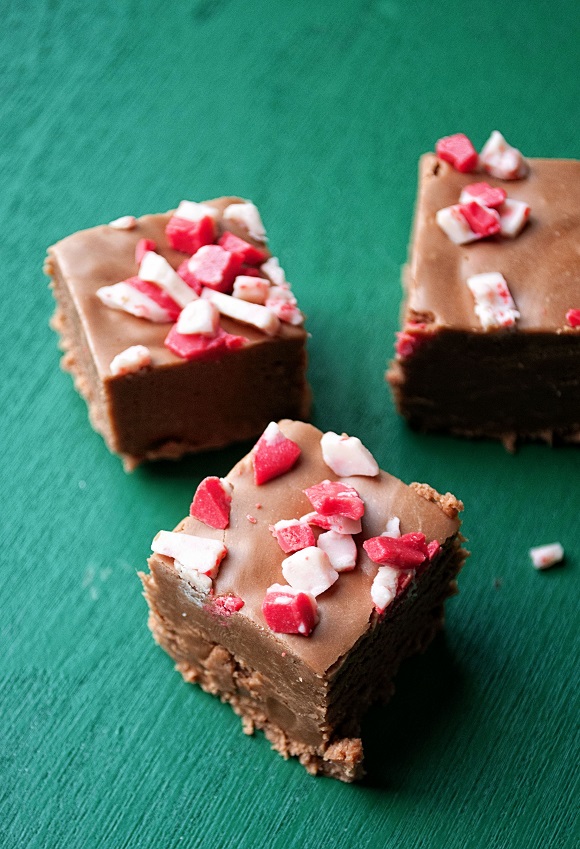 I still say to people I'm not much of a candy maker but MDP is quick to point out that I am indeed a great candy maker.
I make fudge, caramels, marshmallow, lollipops, toffee, truffles, nougat, etc.
In fact other than making my own gummy bears and cotton candy (no machine) I actually make candy often.
I don't post it often on here because people fear candy.
I'm here to tell you that with practice you can and will get better.
This fudge is proof.
I finally have discovered how to make fudge that (shhh don't tell her) rivals my mother's and then some.
If they do not have the peppermint Kahlua do 1/3 cup Kahlua and 3 TBSP of peppermint schnapps.
If you want more of a coffee flavor feel free to add more powdered coffee.
However, if you want less coffee flavor use ¼ tsp instead.
If you are at all a peppermint mocha fan I say run don't walk to make these.
Just make sure to invest in a candy thermometer. This one is a cheap option.
Since I do make candy often but don't put it on here…would you be interested in more candy recipes?
P.S. It's a great day to buy my cookbook Holy Sweet!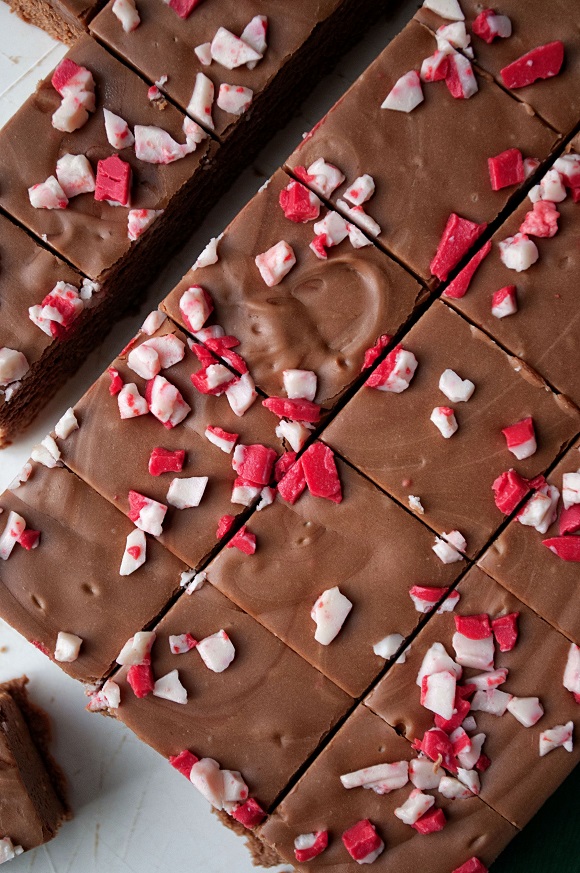 Want More Fudge Recipes?
Monster Cookie Chocolate Fudge
Chocolate Butterscotch Salted Cashew Fudge
Pineapple Upside Down Cake Fudge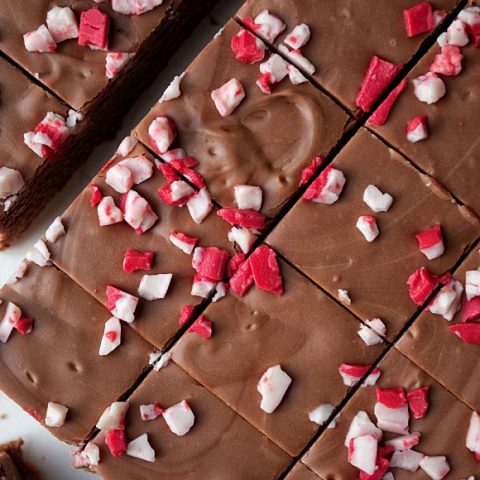 Kahlua Peppermint Mocha Fudge
Ingredients
2 cups granulated sugar
4 oz. unsalted butter
1/3 cup heavy cream
½ cup Kahlua Peppermint Mocha Liqueur
1/2 tsp. powdered coffee (I used Starbucks Via)
1 ½ cups milk chocolate chips
½ cup Andes Peppermint Crunch Baking Chips
½  tsp. vanilla bean paste (or extract)
7 ounce jar marshmallow crème
Extra Andes Peppermint Crunch Baking Chips for top
Instructions
Line an 8×8 inch pan with parchment with an overhang so you can lift the fudge out later and coat with baking spray.
Combine sugar, butter, heavy cream, powdered coffee, and Kahlua into a large heavy bottomed sauce pan and bring to a boil over medium heat.
Once boiling, attach a candy thermometer (if you have a digital most you can not attach to the side...just keep reading it every 30 seconds with an instant read) and reduce the heat to a hair above medium low and cook for 7-10 minutes until your thermometer reads 234°F (soft ball stage) , stirring constantly.
Once you reach 234F remove from heat and add the milk chocolate chips and peppermint chips, stirring vigorously with a wooden spoon until the chocolate has melted and the mixture is smooth.
Add the vanilla bean paste and marshmallow creme and mix until well blended.
Pour into prepared pan. Throw some extra peppermint chips on top to be festive if you like.
Let cool to room temperature. Then lift out of the pan and onto a cutting board. Cut into whatever amount you want. I think I got about 24 pieces.
Notes
If they do not have the peppermint Kahlua do 1/3 cup Kahlua and 3 TBSP of peppermint schnapps.