Malted Milk Chocolate Pots de Crème: Rich and creamy pots de creme made with milk chocolate, malted milk, and topped with chocolate Whoppers Malted Milk candy.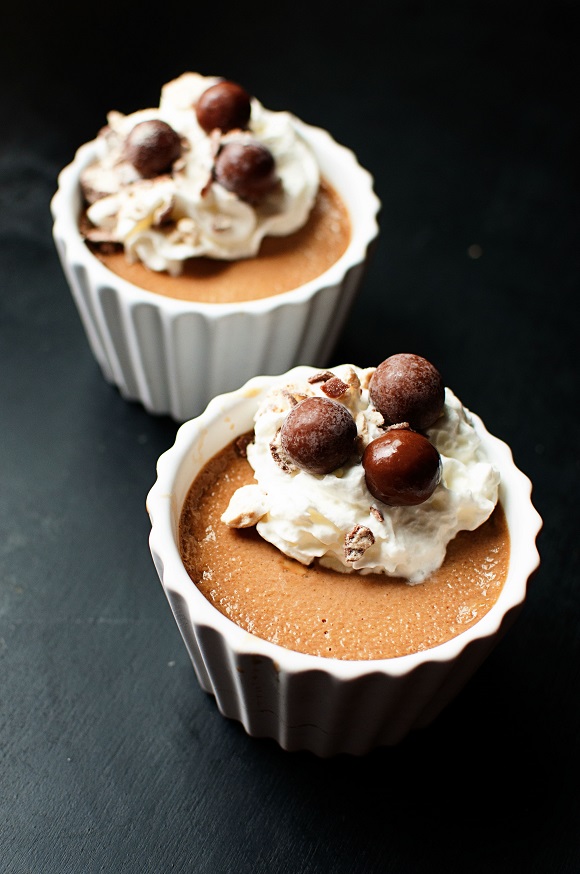 "I wish I could eat the way you do"…that got said in different forms to me the last two weeks. Guess what?
You can.
BUT what you really meant to say is that I wish I could eat the way you do but be a size 2.
Which guess what?
You can't.
Let me just say that the last two weeks don't represent how my husband and I eat on a daily basis.
Two weeks ago we had food bloggers here and we tried to show them as many food places as we could.
So of course we are going to eat awesome over the top food.
Then if you follow me on Instagram you would have seen that this last week hubby and I were in Denver.
And when hubby and I are in cities we have never been to we like to again find as much over the top food as we can find as well (that and watch hockey).
We also don't usually finish it all.
Especially since we tend to order more food than we can possibly eat because we want to sample so much.
Hubby and I rarely order entrees we tend to be small plate peeps.
Twice we ate at a breakfast spot where I had pancakes that were the size of a Frisbee (and you got two of them).
Both times I only made it through half of one pancake.
Which brings me to something controversial.
But I think needs to be said.
Because just like the media and these actresses that say they never work out or they eat what they want it drives me crazy when food bloggers who are on the slimmer side will show a photo on Instagram of four cupcakes.
And then say something along the lines of "all mine I'm not sharing…I ate them all".
And I really just want to write the f#@& you did…but I don't.
But I will tell you, having been to many an event with food bloggers, a lot of them (and me too) photograph more food than what goes in our mouths.
I want to stop this ideology that we eat whatever we want and we don't gain weight.
I'm quite sure I gained weight these last two weeks…and it was so worth it.
Anyone who says nothing tastes as good as skinny feels did not have the bacon pecan sticky bun that I had on Tuesday.
Just saying.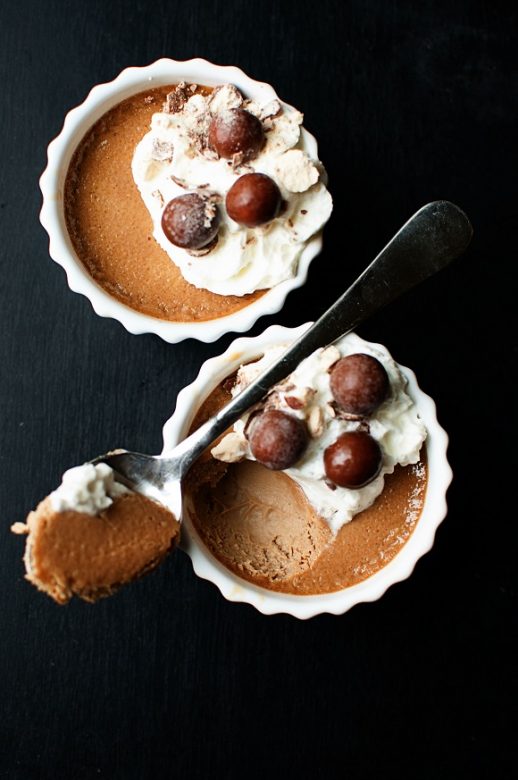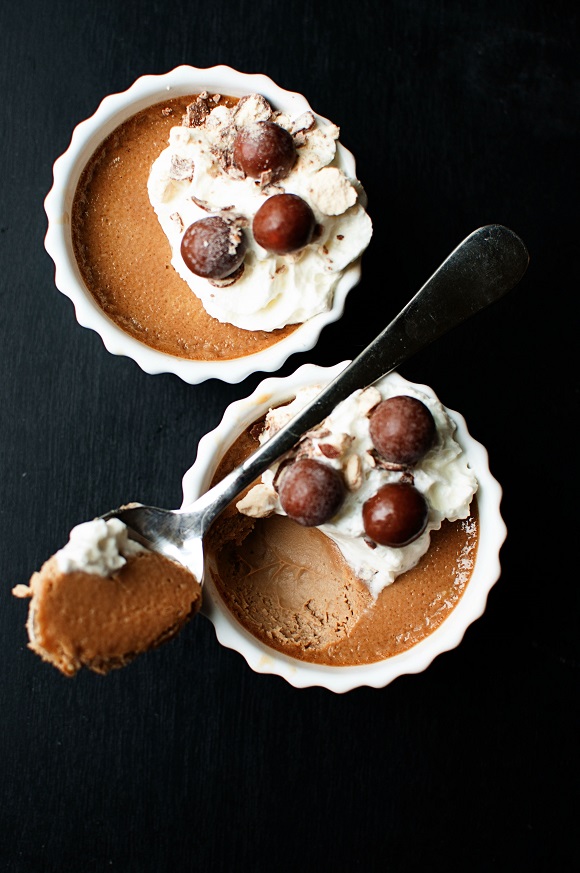 When I was on WW and worked for the company I had an eating disorder.
I didn't realize it then but I did.
Because I lied about food.
All. The. Time.
Now I didn't lie on this blog when I said that I ate everything I made, because I did.
But I would take one bite and count it as ten points when in reality it was about two points, if that.
I would then eat cucumbers the rest of the day and of course punish myself at the gym.
Sadly, I would also lie to anyone who accused me of not eating.
If I went to lunch with friends I would eat hardly anything and say I was still stuffed from my huge breakfast (that I didn't eat).
If I had hockey that night I would eat nothing until right before game time.
In which I would eat a Fiber One bar which was a whole 110 calories (keep in mind I burned like 500 at hockey alone).
So that I could appear to be normal later and throwback beers and wings with the guys.
I also would have gone to the gym early that day and burned AT LEAST 1000 calories knowing I was having those beers and wings.
Why tell you all this?
Because I know what the chunkier woman (and men) who read these food blogs are thinking.
I was where many of them are now just 10 years ago.
Where I would be disheartened that these women were saying they ate half a pan of cinnamon rolls in public when in reality they took a bite…but I didn't know that.
I would think to myself what is wrong with me?
Why do I look at cinnamon rolls and gain weight and this size 6 woman is scarfing down a half a pan while watching re-runs of 90210?
So my plea is to fellow food bloggers…if you aren't actually eating ALL four of the cupcakes in the photo you took on Instagram please don't tell people you did.
Or if you did please tell people you did it over four days. That it was all you ate that day.
Maybe that you ran 15 miles to work off the calories.
Because you are hurting people and you don't realize it.
And to those of you looking at these plates of food know that we food bloggers probably aren't eating everything you see in the photo.
Yes, there are a few individuals who have amazing metabolisms but honestly those people are few and far between.
But most of us aren't like that.
Most of us who eat four cupcakes in one sitting will find pulling the zipper up on your jeans a little harder the next day.
As for me when you see the photos of Denver we didn't eat all the food.
We did drink all the drinks :D.
And we also walked an average of 6 miles a day.
Unfortunately, we did not have a car (car rental was INSANELY priced there due to a conference) and so we walked everywhere.
Especially since with was sunny and in the high 60's the whole time we were there.
This Malted Milk Chocolate Pots de Crème I made right before we left.
I made them to use up some of the leftover Halloween candy since we had a whole 2 trick or treaters…and one of those was a dog.
Ate about four bites of it.
It was yummy.
And it was rich.
I was packing and forgot about it in the fridge.
So these chocolate pots of goodness really didn't get eaten (which I feel bad about).
But I'm trying to keep it real for you all.
*This post is not intended to offend anyone.
People of all shapes and sizes are wonderful and have something to offer the world.
This is intended however for people to be honest to set realistic expectations for others.
P.S. It's a great day to buy my cookbook Holy Sweet!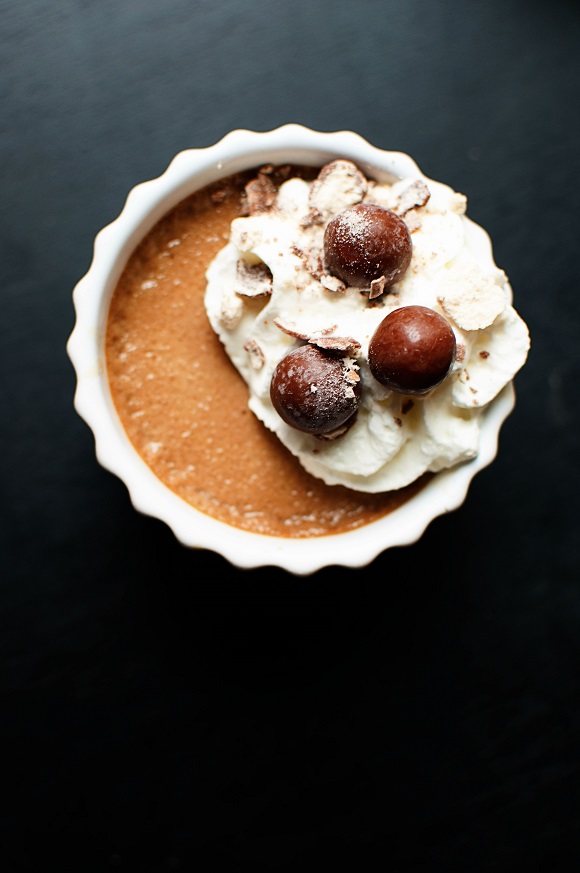 Want More Recipes with Malted Milk?
Strawberry Malted Milk No Bake Cheesecake
Chocolate Orange Frosted Vanilla Malted Cake
Strawberry Malted Milk Jelly Shots
Strawberry Malted Milk Cupcakes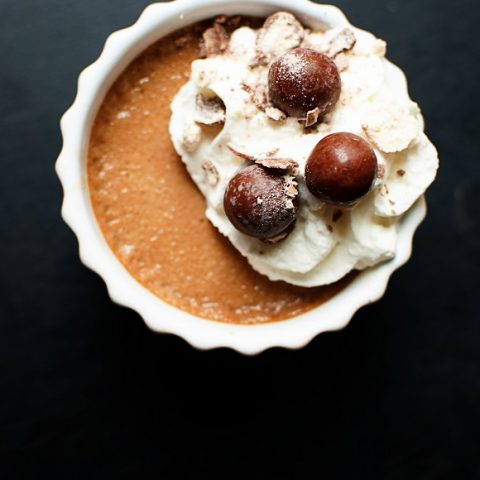 Malted Milk Chocolate Pots de Crème
Ingredients
4 ounces milk chocolate, finely chopped

1 TBSP unsweetened cocoa powder (I used Rodelle)

2 ¼ cups heavy cream

¼ cup malted milk powder

5 large yolks

1/3 cup granulated sugar

Pinch of salt

24 malted milk balls (I used leftover Whoppers), for recipe and garnish

Whipped cream for garnis
Instructions
Preheat oven to 325F.
Place 8 (4 oz.) ramekins in a large baking or roasting pan (the pan will hold water). Put a malted milk ball at the bottom of each ramekin.
Then place chocolate into a heat proof medium bowl. Set aside.
In a medium saucepan heat the heavy cream, cocoa powder, and malted milk powder over medium high heat. Whisking the whole time…the malted milk will want to clump don't worry as you will strain it out.
Heat until mixture comes to a boil, stirring occasionally.
Using a fine mesh sieve, pour the mixture into the bowl with the chocolate.
Let mixture sit for about a minute and then whisk the chocolate cream mixture until smooth.
In a separate bowl, whisk together the sugar, egg yolks, and salt.
Using a ¼ cup at a time slowly temper the egg mixture with the hot chocolate mixture as to help avoid cooking the egg. Continue to slowly pour the chocolate mixture into the egg mixture ¼ cup at a time…whisking the whole time.
Divide custard evenly among the 8 ramekins.
Carefully pour hot water into the pan that holds the ramekins (I like to put the pan in the oven before I add the water…less spilling usually) until the water reaches halfway up the sides of the ramekins.
Bake for 25-30 minutes, or until the custards are set at the edges but still slightly wobbly in the middle.
Remove the ramekins from the water and let cool for 20 minutes to come to room temperature.
Then place ramekins in fridge for 3 hours to fully set up and chill properly.
Top with whipped cream and extra Whoppers.
Best to eat within 24 hours of making.