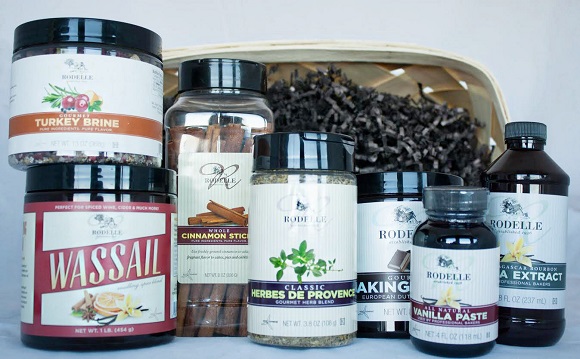 First off if you haven't read THIS post (especially if you are a food blogger) please do so. It's kind of an important one to me. Second and way more fun for you is that I'm doing a giveaway. As some of you know I am a Rodelle ambassador and in doing so I get to use whatever products they carry. Except I had only been using the baking ones and had no idea all that they had to offer…like turkey brine and wassail!
So I figured if someone like me who actually promotes the brand didn't know they had these items, then you probably don't either. So I asked them if we could do a giveaway to get everyone in the holiday season so you can see just what they carry.
Here's what comes in the gift basket:
Savory:
Herbes de provence: The perfect blend of thyme, fennel, basil, savory, and lavender, Herbes de Provence add flavor to grilled meats and fish. Add it to cassoulet or vegetable stews.
Turkey Brine: Rodelle's Gourmet Turkey Brine is the only brine mix available with vanilla beans. We take care to select only the best ingredients available (see full list below). Use Rodelle's Gourmet Turkey Brine to add a delicious flavor to your turkey – for a taste that your family will remember until the next Thanksgiving!
Seasonal:
Wassail: As the tradition went, a hot mulled wine or cider was drunk as an integral part of "Wassailing," an English ritual to ensure a prosperous harvest. With similarities to a holiday caroling, the Wassailing tradition has been carried through the centuries through celebration and the hot mulled beverage, Wassail.
Whole Cinnamon Sticks: Our cinnamon adds a sweet, warm flavor to every recipe. Use in baked goods, holiday drinks, and fruit desserts. Particularly delicious with apples and pears.
Baking essentials:
Gourmet Dutch-Processed Baking Cocoa: Our gourmet baking cocoa is European Dutch-processed for rich flavor and appearance. Our cocoa contains one of the highest levels of cocoa butter on the market, ensuring superior chocolate flavor. From rich hot cocoa to fudgey brownies, Rodelle Gourmet Baking Cocoa makes a difference you can taste.
Gourmet Vanilla Paste: Rodelle Vanilla Paste is a convenient way to use all of the flavor that a single vanilla bean contains. Our paste offers the deep, rich taste of Madagascar vanilla beans, without the pod. Enjoy the robust vanilla flavor that Rodelle provides- from an easy to use jar.
Pure Madagascar Bourbon Vanilla Extract: Rodelle Pure Vanilla Extract is our signature vanilla product. Our pure vanilla extract is produced from the highest-quality Bourbon vanilla beans. Our percolation process produces a superior vanilla extract containing one of the highest vanillin levels in the market. Made with pure natural hand selected vanilla beans, Rodelle Pure Vanilla Extract offers a deep, rich, natural flavor.
As you can see this giveaway is the perfect holiday basket. Something for the holiday dinner. Something to sip on while you go caroling through your neighborhood (okay maybe not) or to spike with booze to help you get through a story your relative has told a billion times (slightly more likely). And of course something for holiday baking! Cocoa powder, vanilla extract, and vanilla bean paste! So many people ask me where I get my vanilla bean paste (that I use a ton on this blog)…well there's your answer!
So how do you get a chance to win this awesome basket? Leave a comment telling me what your favorite thing you have made from my blog. And if you have never made anything from my blog what one thing do you want to make from it? You also get a bonus if you go and like the Rodelle FB page (and leave a comment here that you did), which you should do anyway as they do giveaways on there as well! US residents only (sorry). Giveaway ends Sunday November 16th, 2014 at 5pm PST. GIVEAWAY HAS ENDED.