The first time I heard of Kozy Shack® Rice Pudding was when I was a Resident Assistant in the college dorms. I got called to go to a room to tell them to stop yelling at each other as people were complaining. What were they yelling about? One roommate had eaten the other roommate's Kozy Shack Rice Pudding. Apparently the girl brought it special from her home as you could not get it local at the time and she was about to throw down about the loss of her rice pudding. I could only think she was half crazy…I had never had the pudding, but I also knew there was food I probably would have fought someone over. 🙂
It would not be until years later that I was at the grocery store and saw the Kozy Shack Rice Pudding. I picked it up and read what was in it: low-fat milk, rice, sugar, eggs, salt, and natural flavors (gluten free too!). That was it. I thought, "Wow! There's actually food I can pronounce." I took it home and was not totally sure if I should eat it warm or cold. I also didn't know if I should put anything on it. I tried it cold with some brown sugar, raisins, and cinnamon…it was comfort in a bowl. Now, I totally get why the girl at the dorm was upset at her roommate. You need comfort in college when away from home and rice pudding was definitely comfort food. I also had no idea why it took so long for me to get on the rice pudding bandwagon.
August 9th (this Saturday FYI) is National Rice Pudding Day. Kozy Shack reached out to me to highlight one of the ways I like to eat their rice pudding. Ummm, okay, twist my arm. 🙂 It's summer so for me what I love most with my rice pudding this time of year is fruit. Stone fruits are in season around these parts so I picked up some peaches at the farmers market. I also decided butterscotch sauce sounded good too (especially with a splash of bourbon)…so I combined them and layered it with the rice pudding to make a parfait. So. Good. Soooo. Good. What about you? Have you had rice pudding before? If so what do you like to put on yours?
If you are not familiar with Kozy Shack Rice Pudding check out their Facebook page where you can enter to win a Rice Pudding Day giveaway and get to know their products.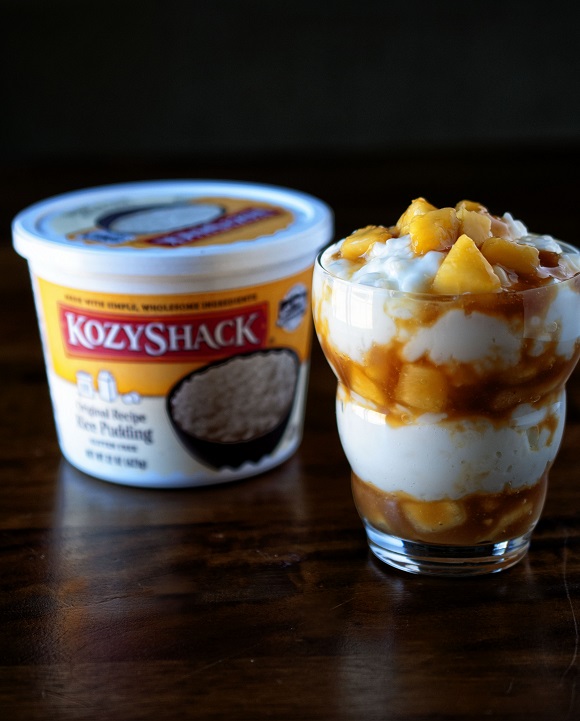 Kozy Shack® Rice Pudding Parfait with Peach Butterscotch Sauce
Ingredients
To make the parfait you will need:
1 (22 ounce) container Kozy Shack® Rice Pudding
1 batch Peach Butterscotch Sauce (recipe follows)
Peach Butterscotch Sauce
¾ cup light brown sugar, packed
½ cup light corn syrup
4 TBSP unsalted butter, divided
½ cup whipping cream
1 tsp. vanilla extract
1 TBSP Bourbon (optional)
3 large peaches, peeled and diced
Instructions
Combine brown sugar, corn syrup, and 2 TBSP butter in a small saucepan.
Bring to a boil over medium heat, stirring constantly.
Boil for 1 minute; remove from heat.
Stir in cream, Bourbon, and vanilla extract immediately.
Be careful as sauce will boil up and possibly splatter and could burn you. Set aside.
In a separate pan, melt 2 TBSP of unsalted butter.
Add peaches and cook on medium heat until fruit starts to get soft, about 2 minutes.
Fold fruit into butterscotch sauce.
To create the parfait look spoon some peach butterscotch sauce, then rice pudding, then sauce, then more rice pudding, and top with a little sauce and fruit.
*If in a super hurry you can always buy butterscotch sauce at the store and mix with peaches.
Serves 4 when using one container of Kozy Shack Rice Pudding.
https://www.sweetrecipeas.com/2014/08/06/kozy-shack-rice-pudding-parfait-with-peach-butterscotch-sauce/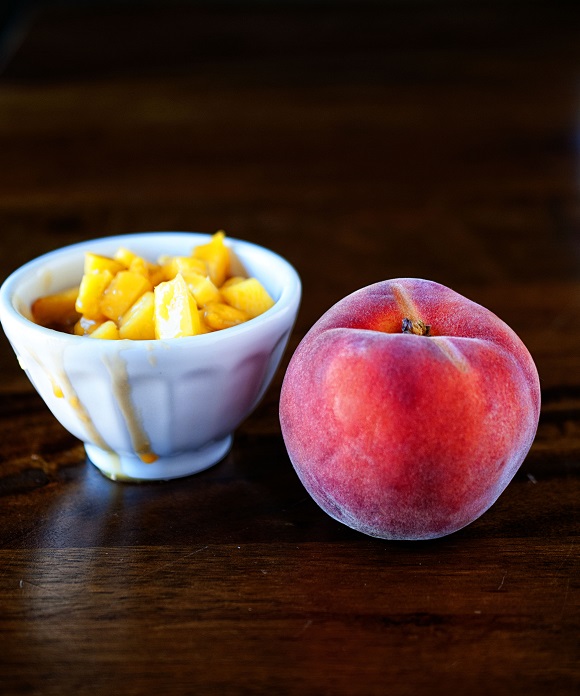 *Disclosure: This post is sponsored by Kozy Shack but the opinions and words are all mine.