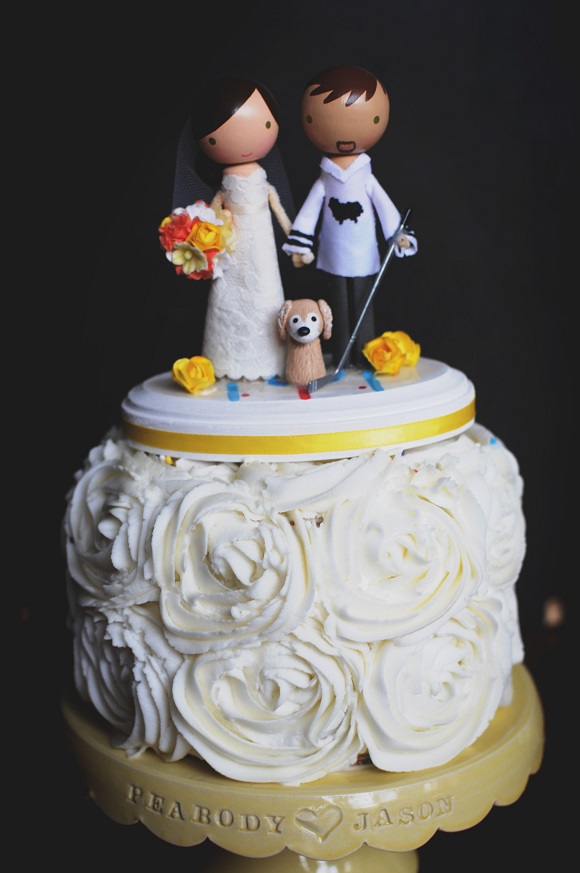 My new thing when people ask me what I've been up to is to tell them I'm adjusting to my new job.
What job you ask?
Third Place Trophy Wife.
Yes, you read that right.
Why not just a trophy wife you ask?
Well, number one I do work.
And a BIG number two is that in third place I make the podium but it requires none of the upkeep that a real trophy wife has to put in. 😀
Oh sure I work out, but literally only to move my body and for me and me alone.
I truly don't care if someone refers to me as hot.
In fact being in my 40's I find that men who refer to women as hot have almost no IQ and are pretty darn shallow.
So you can keep that man that says a woman is hot or smokin,
I'll take the man who calls me lovely or beautiful.
More importantly the one who says it and means it.
And trust me you can be beautiful without rock hard abs and Michelle Obama's arms.
Sometimes my hair is done.
Sometimes it's not.
Sometimes my husband comes home and there is make up on this face of mine…and sometimes there is frosting. 😛
Sometimes I'm in sweatpants and sometimes I'm dressed up.
A first place trophy wife has to look good all the time…third place gets to slip.
I don't enjoy cleaning.
I'm literally allergic to it.
I cleaned the sink the other day with soft scrub and had hives for three days (and no the organic and natural stuff isn't any better as I'm allergic to most plants of course).
Though real trophy wives do get housecleaners since they are too busy keeping themselves up.
Cooking. I do enjoy cooking.
But so does my husband.
So I don't even have to do that.
Yes, third place is the way to go.
I'm finally getting my cake up on here.
First off, yes, that cake topper is the best.
Second if you look real close (or you follow me on Instagram) then you can figure out what MDP's real name is…shhh don't tell.
What to flavor the cake as was debated a lot.
But at the end of the day I love white cake the best.
And I love Funfetti white cake the best.
So I decided that I would use I Am Baker's White Cake recipe and tinker it a little to make it more Funfetti like…I also added some cake mix to the frosting to have a more cake batter flavor.
We only made a small cake and had mini cupcakes for the guest.
But since I knew I was going to eat a piece of my cake after it was cut, that should probably taste good too.
And it did.
Thanks to Plugra Butter, Imperial Sugar, and Rodelle who without their generosity my wedding dessert table would not be possible.
They didn't compensate me just gave me product to use.
Though as a Plugra Butter Brigade Ambassador I do receive compensation.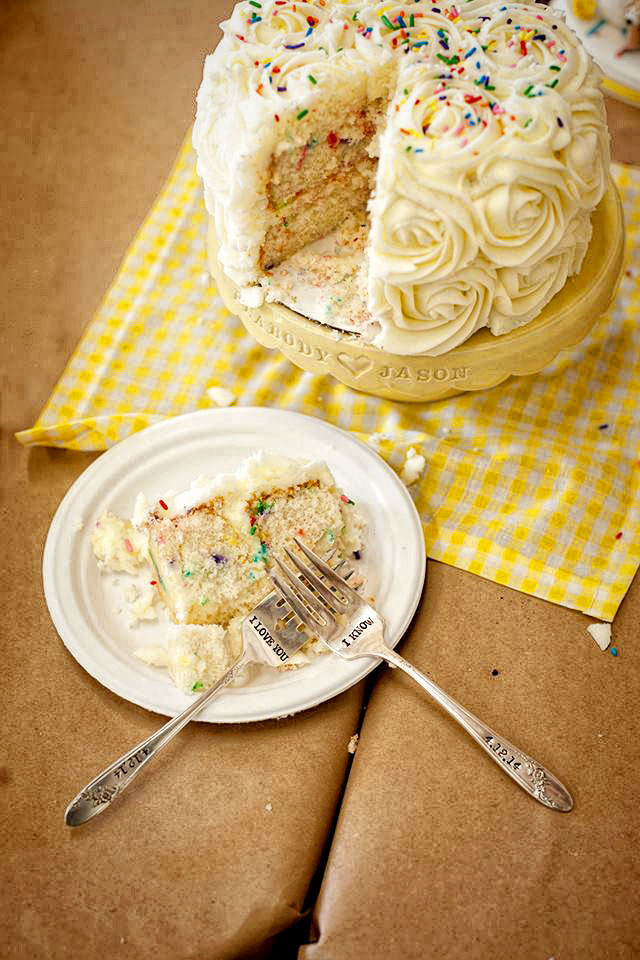 If you want to make cupcakes you can…that's what we served the guest, the cake was more for show.
The cupcakes are made the same but mini ones were baked for 15 minutes.
Half of them were topped with yellow candy melts.
I used the technique I saw on Sprinkle Bakes.
Which worked really well BUT took. For. Ever. I needed more than just one stamp.
But they did turn out cute.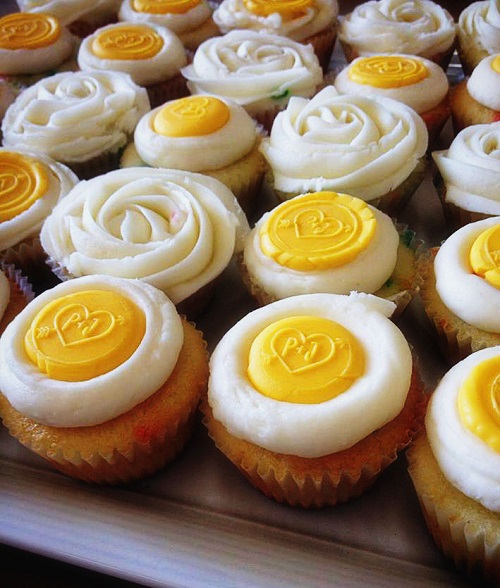 Confetti White Wedding Cake
Ingredients
2 1/4 cups cake flour (I used King Arthur Queen Guinevere Cake Flour)
1 cup whole milk, at room temperature
6 large egg whites, at room temperature
½ tsp. almond extract
2 tsp. clear vanilla extract (I used Rodelle)
1 3/4 cups granulated sugar (I used Imperial)
4 tsp. baking powder
1 tsp. table salt
1 1/2 sticks unsalted butter, softened but still cool (I used Plugra)
1 cup sprinkles
Instructions
Heat oven to 350 degrees.
Prepare two 8-inch cake pans. I used 6-inch but most people will make 8-inch and we will go with that.
Pour milk (I used skim), egg whites, and extracts into medium bowl and mix with fork until blended.
Using a stand mixer with the paddle attachment mix cake flour, sugar, baking powder, and salt on slow speed.
Add butter, cut into cubes and continue beating on low for about 1-2 minutes (I know this seems weird…just go with it, makes a great cake).
Add all but 1/2 cup of milk mixture to flour mixture and beat at medium speed for 1 1/2 minutes.
Add remaining 1/2 cup of milk mixture and beat for about 1 minute.
Fold in the sprinkles.
Pour batter evenly between two prepared cake pans.
Bake until toothpick inserted in the center comes out clean, 27 to 30 minutes.
Allow cake to cool to room temperature.
Adapted slightly from I Am Baker
https://www.sweetrecipeas.com/2014/05/22/confetti-white-wedding-cake/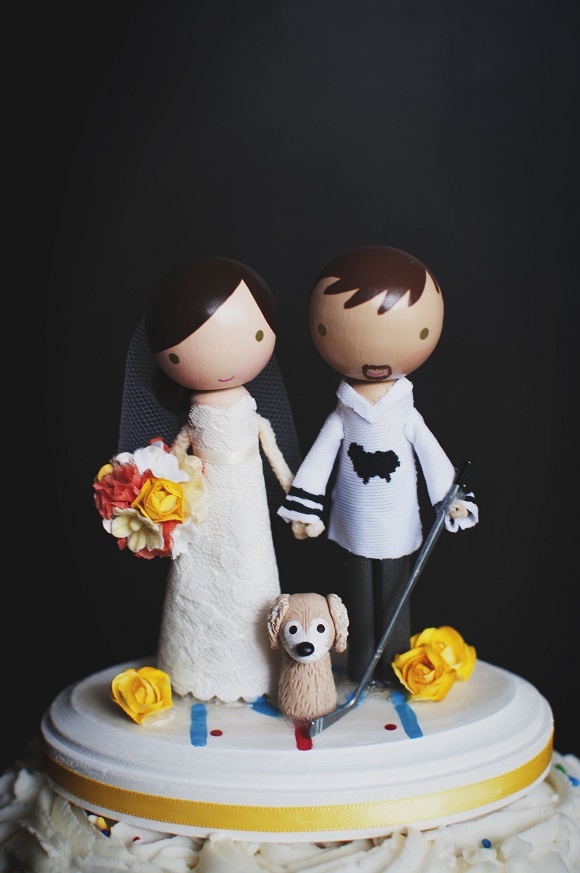 For the decor as some of you know Amanda (
I Am Baker
) was awesome enough to take time out of our Live More Retreat and show me how to frost my wedding cake using her rose technique.
Which I practiced a lot.
Ironically the day of cake was one of my worse ones. 🙂
Oh well that's what sprinkles are for.
To see how to make a rose cake go to her site HERE.

Ingredients
1 bag powder sugar (two pounds or about eight cups)
¾ cup unsalted butter, at room temperature
¼ cup shortening (you can use all butter but this helps it crust…and I had to put a cake topper on top)
2 tsp. vanilla extract (use clear if want white frosting)
3 TBSP white cake powdered cake mix
1/2 cup - 3/4 cup milk
Instructions
Cream unsalted butter, shortening, and vanilla in mixer for 2-4 minutes.
Add in powder sugar, one cup at a time.
Add white cake mix
If you find your mixer struggling, slowing add in milk.
Use more milk for a creamy consistency, use less milk for a stiff consistency.
Adapted from I Am Baker
https://www.sweetrecipeas.com/2014/05/22/confetti-white-wedding-cake/