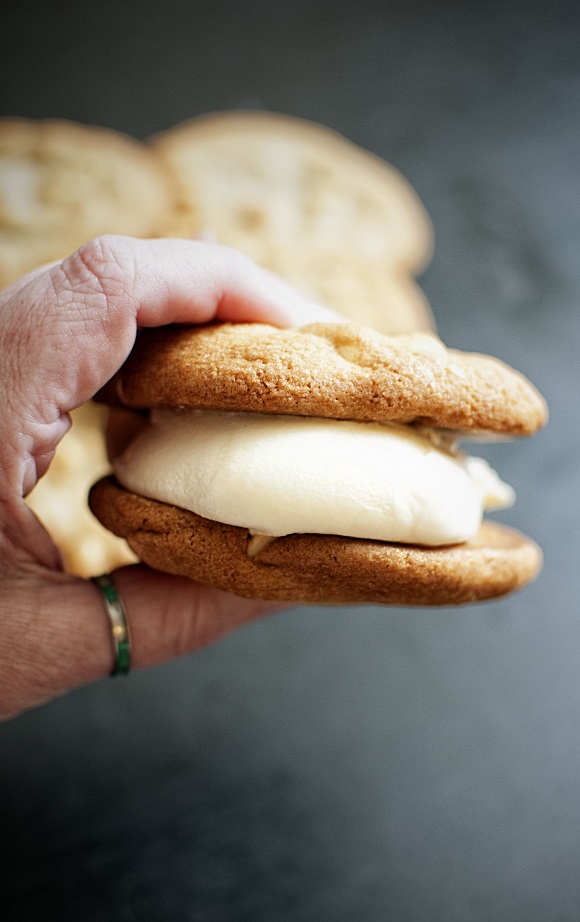 Just a quick little post as I have packing to avoid. 😀 I'm working on mastering the ability to just stare at objects and get them to pack themselves. So far unsuccessfully I might add. But if I do figure it out I'll let you know and you can hire me out for your next move.
I'm going to ask a favor. I know that I was just talking about runs for charities and how most of them don't give hardly anything to the charity but this one does and it's not even a run….it's a walk…and really more of a promenade. Old Dog Haven is my favorite charity to give to. I wish I was a stronger person who could help volunteer (foster) there but I just get far too attached to dogs and since they are all in their senior years, and the final refuge dogs where they go to foster homes to live out their remaining days, my heart just could not take it. I get weepy just looking at their website. So when I do have a little extra I send it their way.
Now having a senior dog of my own I know how expensive it can be. Crazy Cocker Spaniel by the way is improving leaps and bounds (you can follow her progress on Instagram). She can do almost everything she was doing before. Still has a little bit of a head tilt but I find it endearing. Old Dog Haven spends about $40,000 a MONTH on vet care and after having to pay all of the recent bills I can see why.
Anyway, we have a team…Me, the dog, and MDP as of right now…we are recruiting. Team Crazy Cocker Spaniel. We set a goal to raise $250. We have already raised $200. I of course would be overjoyed to surpass that amount but I would appreciate it if you could show some support of Crazy Cocker Spaniel and her fellow older pups. By the way if you are local (Seattle area) and would like to join our team please let me know. I would love to have you join us in the walk…it's July 20th. Best part it doesn't even start until noon and it's only 1/2 mile.
Here's a photo of CCS at our wedding. This picture is almost a miracle because she never does what she should be doing for photos. So the fact that she is smiling and looking up at us (this was during our vows) is amazing unto itself. 🙂 And she looks all prim and proper with her feet all posed.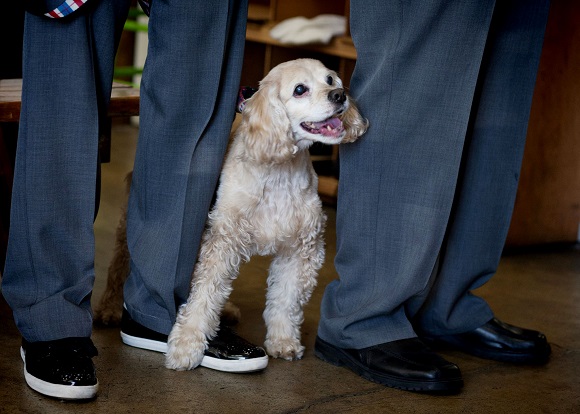 Enough about pups let's talk food. We had a little bit of a heat wave (at least for our area it was warm) and that made me think of once again my idea for an ice cream sandwich truck. When I find a backer I want a truck that sells homemade cookies that you can pair with homemade ice cream to make ready to eat summer treats.
The first time I had a White Chocolate Chip Macadamia Nut Cookie I was in awe. Until then I had always had chocolate chip, peanut butter, oatmeal raisin, and the occasional sugar cookie. Those were usually the options. Macadamia nuts were only known to me as the 4 random nuts that showed up in the deluxe nut mix that I fought people for when we opened the can. And here they were in a cookie. Ummm, yes!!!! I don't know what made me think of them. I haven't had one in forever. And yet I was craving one. All I had in the house homemade was vanilla ice cream so that's what I went with but you could do whatever flavor you want.
Hope you consider donating…or at least making cookies.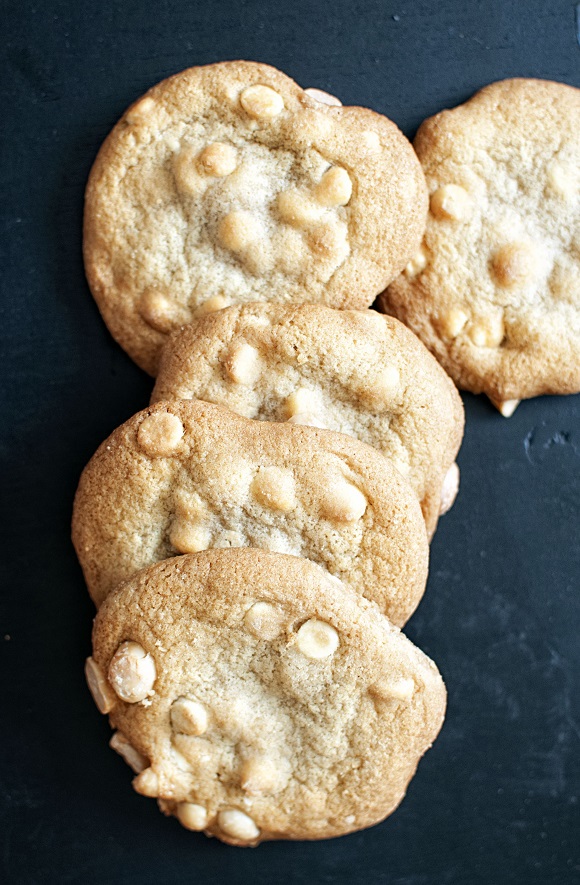 White Chocolate Chip Macadamia Nut Cookie Ice Cream Sandwiches
Ingredients
2 ¼ cups all-purpose flour
1 tsp. baking soda
¾ tsp. salt
¾ cup light brown sugar, firmly packed
¾ cup granulated sugar
1 cup unsalted butter, at room temperature (I used Plugra)
2 large eggs
2 tsp. vanilla extract
1 1/2 cups coarsely chopped macadamia nuts
2 cups white chocolate chips
½ gallon vanilla ice cream
Instructions
Preheat oven to 350°F.
Using a stand mixer with the paddle attachment, cream together sugars at and butter medium-high speed until light and fluffy, about 3 minutes.
Add eggs and vanilla, and beat at medium speed until fully combined. Scrape the bowl down after each addition of egg.
Add the flour, salt, baking soda and blend on low speed until just combined.
Fold in the nuts and white chocolate chips.
Do not overmix.
Chill for 30 minutes.
Take a large spoonful and roll into a ball (this helps if you want more uniform look for ice cream sandwich) and place onto ungreased cookie sheet.
Bake for 10-12 minutes or until edges begin to brown.
Cool on wire rack.
Match two cookies up by shape and size. Place a scoop of vanilla ice cream (or flavor of your choice) between the two cookies and form sandwich.
Wrap in plastic wrap and let set up in freezer for about 30 minutes.
https://www.sweetrecipeas.com/2014/05/16/white-chocolate-macadamia-nut-cookie-ice-cream-sandwiches/