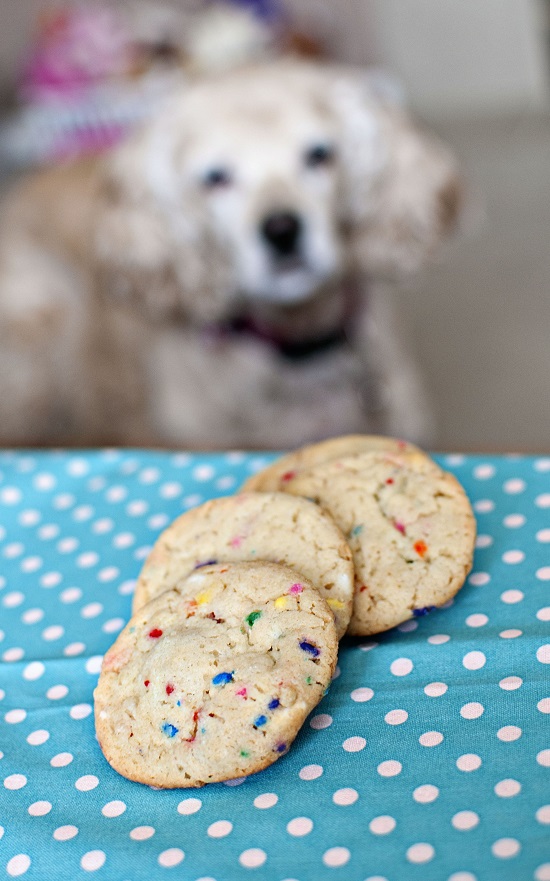 The next thing after bacon that makes everything better is sprinkles. Because even if it's crappy, hey it has sprinkles and sprinkles make just about everyone darn happy. So when I thought about a dessert table I thought let's just make all sprinkles. So we did…minus two things. But still…mostly sprinkles.
A few weeks ago my now step-kids turned 16 (remember they are twins)and normally I would make a cake. In fact I was going to try one out of my friend Amanda's book Surprise-Inside Cakes: Amazing Cakes for Every Occasion–with a Little Something Extra Inside
but we were going to the beach. It was a long drive and I picture the cake meeting an untimely demise. So I had flagged these cookies a while ago. Having since made them less than a month ago we have already made 4 batches! Yes, they are that awesome. I knew we had to have them at the wedding. MDP's son was just in awe that I got a birthday cake into a cookie as it taste just like birthday cake to him. :) Mission accomplished.
Since these are wedding cookies I thought I would share a little more about the wedding…little moments and what not.
Humorous Moment: My mom discovering later in the day that she had been taking someone ELSES phone and taking photos on it. Also my dad picking up his phone to take pictures and my mom telling him ironically to put it down it wasn't his phone (and it was).
Funniest thing I laughed at after the wedding: We have a friend who appearance wise scares people (heavily tatted up with a Punisher tattoo on his neck), but he would give you the shirt off his back and is super kind. He gave us the most frilly (white glitter and bows) card with a mushy poem and all. His girlfriend probably picked it out but I was trying to picture him purchasing it and the clerk just looking at him. 😛
Thing I loved most about the wedding: Other than the obvious getting to married to MDP, I just really enjoyed watching my friends having fun. Commenting how much fun they had at the wedding. That if they weren't already married they would so want to have their wedding more like ours than what they had. We had three friend request from random people who saw our wedding photos or had their (mutual) friend tell about their wedding and them deciding they needed to know the people who threw the cool wedding. 🙂 Also we got 4 request from people to join our hockey team after seeing us all together.
The other thing I loved most about the wedding: All the contributions to it by others. A lot of the things people loved from the wedding were from blog readers that were gifts for my wedding, from my veil to the cake topper to the cake stand…etc. The hockey arch we had was made of sticks all donated from people we play hockey with. My program was formatted by a friend. The bunting was done by a friend. The fabric squares on the tables that matched the bunting was done by another friend that can sew (I lack that gene). The strawberry-rhubarb jam was made by my mom. The invites and paper goods were designed by a blog reader. My forks came from my Matron of Honor. My banner that had our names on it was made by one of my other bridesmaids. Our bagpiper was the neighbor of a guy we play hockey with who comes to the games and we met him that way. Everyone chipped in and that made it even more special.
Things I forgot: To wear the garter I had. I also forgot the Lego bride and groom that we were going to put on a cupcake.
Our short vows: I feel bad that our officiants didn't get to say what they wanted to say. MDP threw them off by bursting out with the I DO before they really said anything. They had it all worked out to say for better for worse, richer or poorer, sickness and in health, even if she stops baking you treats or you stop passing her the puck. 🙂 Anyway they had memorized it in a way that once we threw them off they were off. So we kind of just put rings on our fingers and they did the ol' man and wife. We kissed and hugged and then walked down the aisle.
Sweetest moment: Happened a day after the wedding. MDP was not all excited to have a wedding. He just wanted to go to city hall and be married a long, long time ago and didn't like the idea of the spotlight being on him. But I really wanted to have a party for our friends as many people really wanted to see us get married. He even grumpily complained the day before that this was supposed to be a simple wedding…to which my mother and matron of honor laughed at him and said it is. Sunday night when it was just me and him on the couch he said to me, you throw a really good party. That he was so glad I convinced him to have the wedding. That it was so cool to walk into the place and see all my hard work of two years (we were planning before we were officially engaged) all come together. That he loved how happy everyone seemed. Then followed up, when do we have the next party? Ha! Yeah, I'm just getting my life back buddy…that won't be for a while. 🙂
If you haven't seen some of the non-professional photos you can go to this post.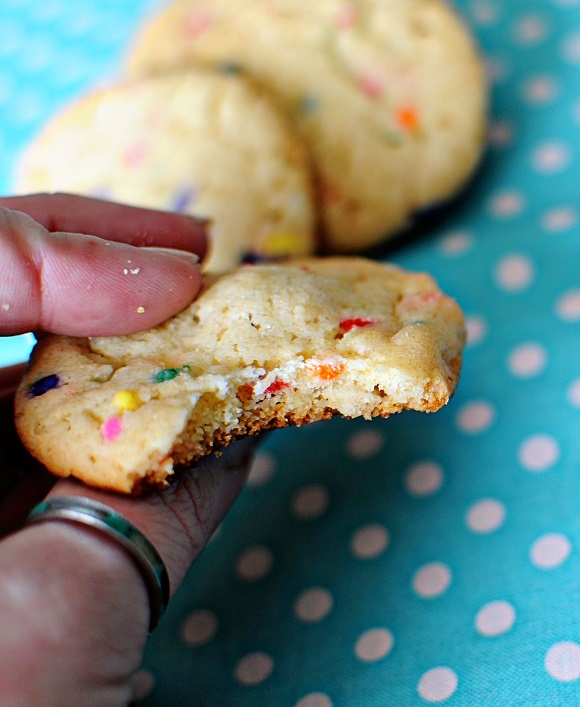 Ingredients
For cookies:
16 TBSP unsalted butter, at room temperature
1 1/2 cups granulated superfine sugar
1 TBSP corn syrup
2 large eggs
2 tsp. clear vanilla extract (you need the clear…you can order it )
2 1/2 cups all-purpose flour
2/3 cup milk powder (you can get it or at most stores)
2 tsp. cream of tartar
1 tsp. baking soda
1 1/4 tsp. salt
1/4 cup rainbow sprinkles
1 recipe Birthday Cake Crumbs
For Birthday Cake Crumbs:
1/2 cup granulated superfine sugar
1 1/2 TBSP light brown sugar, lightly packed
3/4 cup cake flour
1/2 tsp. baking powder
1/2 tsp. salt
4 TBSP rainbow sprinkles
1/4 cup grapeseed oil (I am not sure what to use in place…I did use the grapeseed)
1 TBSP clear vanilla extract
Instructions
For the crumbs (you make those first):
Heat the oven to 300°F.
Using a stand mixer fitted with the paddle attachment combine the sugars, flour, baking powder, salt, and sprinkles and mix on low speed until well combined. You can also just use a large bowl and a pastry cutter if you don't want to drag out the mixer.
Add the oil and vanilla and paddle again mix until the ingredients form various size crumbles.
Spread the clusters on a parchment lined baking pan.
Bake for 20 minutes, breaking them up occasionally.
The crumbs should still be slightly moist to the touch; they will dry and harden as they cool.
Let the crumbs cool completely before using in a recipe or eating them all in a closet so people don't steal them from you.
Stored in an airtight container, the crumbs will keep fresh for 1 week at room temperature or 1 month in the fridge or freezer.
For the Cookies:
Using a stand mixer with a paddle attachment, cream the butter, sugar, and corn syrup together on medium-high for 2 to 3 minutes.
Scrape down the sides of the bowl, add the eggs and vanilla, and beat for 7 to 8 minutes.
Reduce the mixer speed to low and add the flour, milk powder, cream of tartar, baking soda, sprinkles, and salt.
Mix just until the dough comes together, no longer than 1 minute.
Scrape down the sides of the bowl with a spatula.
Still on low speed, add the birthday cake crumbs and mix in for 30 seconds—just until they are incorporated. The original recipe calls for ½ a batch of crumbs. The first time I made these I accidently added the whole recipe. The second time I only used ½. I preferred them with the whole batch and now only make them using all the crumbs.
Using a digital scale or a 1/3-cup measure, portion out the dough into 2 3/4-ounce balls onto a parchment-lined sheet pan.
Pat the tops of the cookie dough domes flat.
Wrap the sheet pan tightly in plastic wrap and refrigerate for at least 1 hour, or up to 1 week.
Do not bake your cookies from room temperature—they will not bake properly.
Heat the oven to 350°F.
Arrange the chilled dough a minimum of 4 inches apart on parchmentlined sheet pans.
Bake for 18 minutes.
The cookies will puff, crackle, and spread.
After 16 minutes, they should be very lightly browned on the edges (golden brown on the bottom).
The centers will show just the beginning signs of color. Leave the cookies in the oven for an additional minute or so if the colors don't match and the cookies still seem pale and doughy on the surface.
Cool the cookies completely on the sheet pans before transferring to a plate or an airtight container for storage. At room temp, the cookies will keep fresh for 5 days; in the freezer, they will keep for 1 month.
Makes 17 very large cookies.
If making them the size in the picture (which we chose smaller for the wedding but make large when just for us) you need to weigh them out to .6 oz each. Bake for 11 minutes. You get about 40 cookies if you go small.
Adapted from the Momofuku Milk Bar cookbook by Christina Tosi.
https://www.sweetrecipeas.com/2014/04/17/wedding-confetti-cookies/