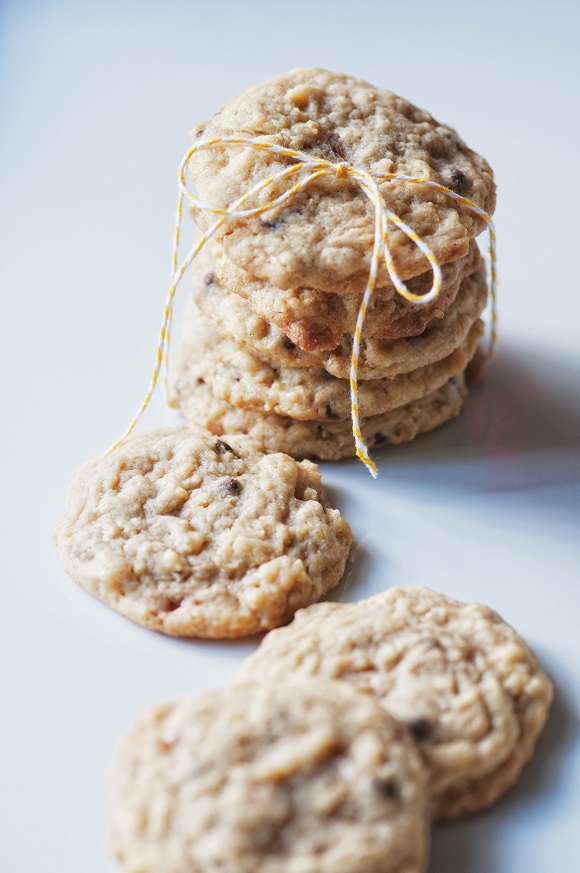 The thing I love most about baking is giving it away to someone. There is just something about baking/cooking for someone and the genuine appreciation that people have when you do bake/cook for them. I also like the sound they make when they think it's really yummy, pretty much my most favorite sound ever. Everyone must eat. Eating and math are the two universal languages of sorts, and I find most people prefer the eating over the math. 🙂 It's a way we are all connected.
For over 20 years King Arthur Flour has been offering free Bake for Good: Kids Program (formerly Life Skills Bread Baking Program) and have traveled all over the country helping kids learn to bake and share their homework with those in need. This year they started the Bake for Good Tour. Visiting three cities, Seattle being the first.
I remember when they contacted me thinking two weeks before the wedding…oh, um, gee. Then they told me what they were doing and I knew I needed to be a part of it. I'm glad I did, it was not only an amazing experience, but a humbling one to put some real perspective into the then bride to be. It also didn't hurt that I'm a big fan of their products.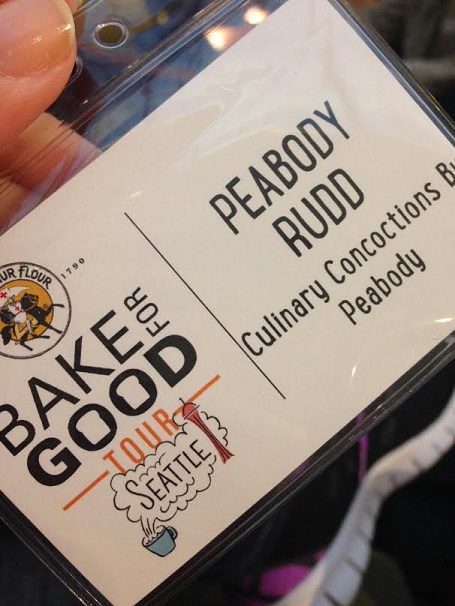 The weekend started off at the Le Cordon Bleu-Seattle campus where the lovely and talented chef Amber from King Arthur Flour who started the morning off feeding us scones and talking about the basics of bread making. We then got to work making our own bread…first a simple loaf and then we got crazy with the braids. While everyone on Instagram thought it was Challah bread, they were both just a basic white loaf. And oh so yummy I might add.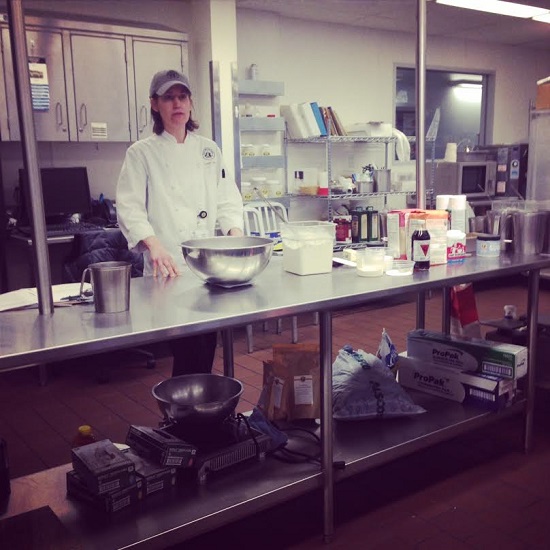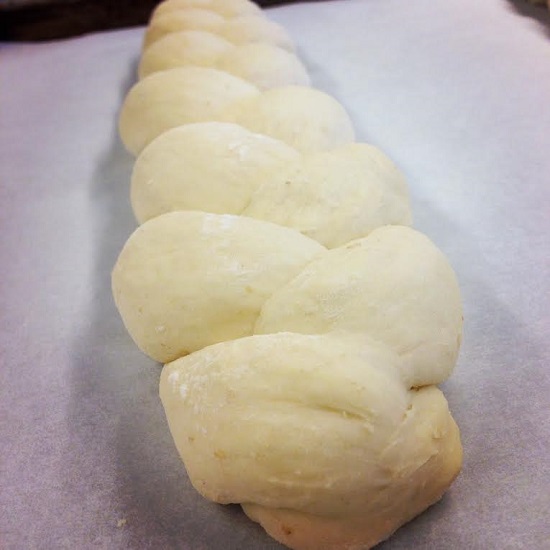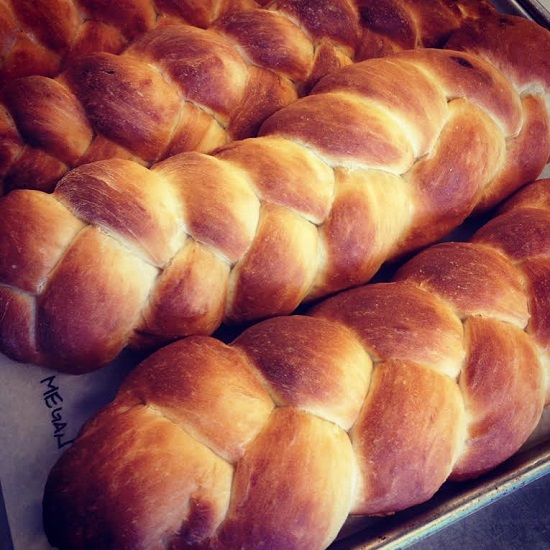 We then moved on to pie making. Apple pie making. I will admit this is where I got concerned. For while I am a great bread maker I am a so-so pie maker. I have a love/hate relationship with crust. But again Amber taught us the basics of the King Arthur Flour way of making pie crust and I must say my confidence shot up in that area. I also learned about VB in your crust…that's visible butter…and it's a good thing.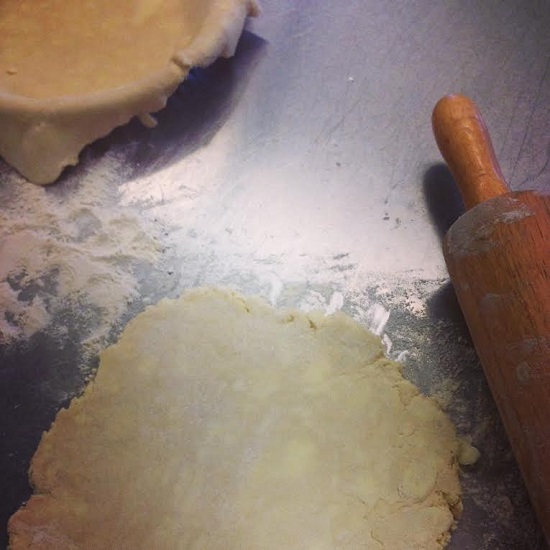 See my visible butter!!!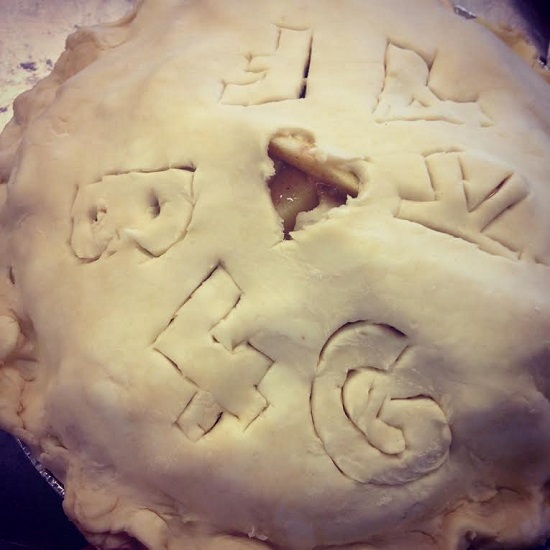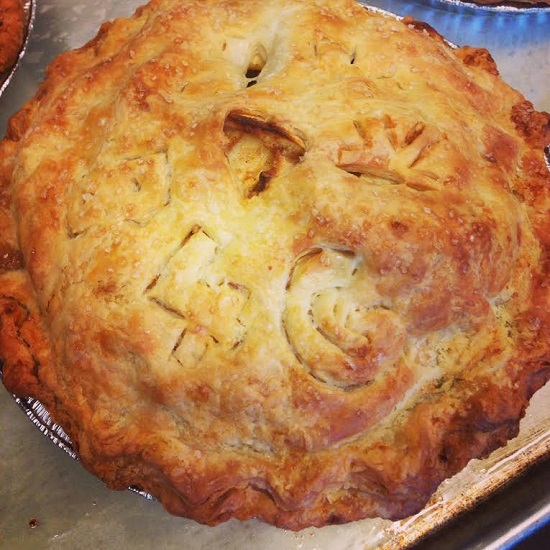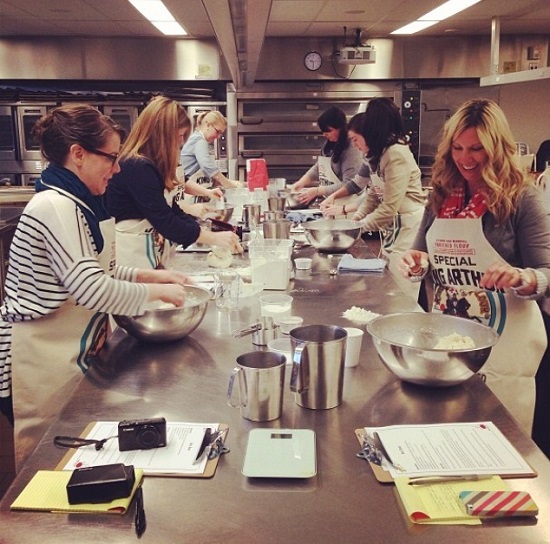 The rest of the bloggers went on to have a lovely dinner at Lecosho. I chose to skip this as I had some wedding stuff to do and was staying at my house instead of down at the hotel. I also wanted to rest of for the big day ahead on Sunday.
We started at commercial kitchen in Capital Hill (Seattle). The whole point of learning to make the bread and pies the previous day was to serve them along with chicken, macaroni and cheese, vegetables and salad to those living at the Seattle Union Gospel Mission. And the whole reason why I decided missing a wedding planning/activities was worth it.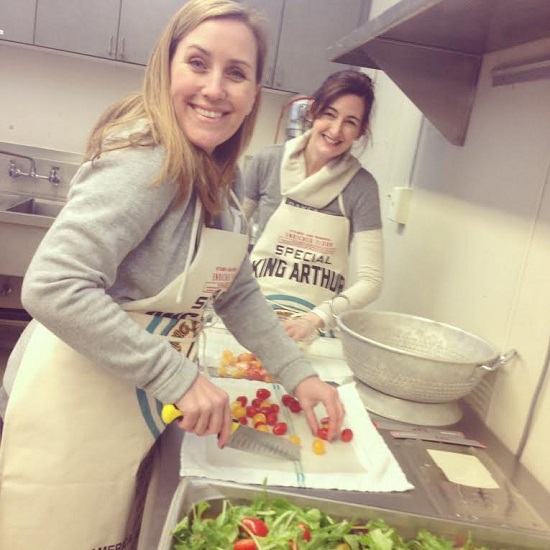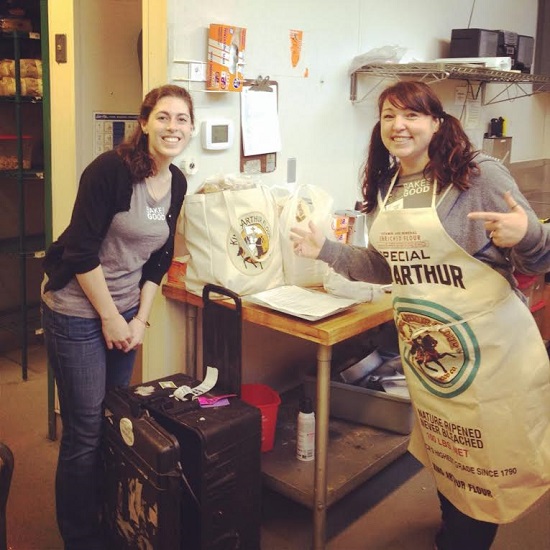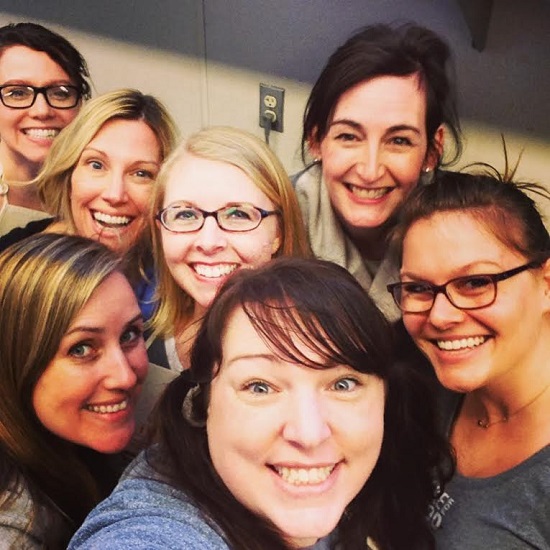 We finished prepping and headed over to serve the food.
We were given a tour by the director of Seattle Union Gospel Mission (we were at their Emergency Women and Children Shelter) who was elated to have us there. I will say that I was overwhelmed with emotion through parts of the tour and the realization of how truly blessed I am washed over me. The mission provides temporary housing and food for women and children for up to 30 days (there is one for men as well). They help them find affordable housing and do what they can to get them on their feet.
I have always done charity work growing up, but this time it was different. Before I had always prepared meals, cleaned up, and left. This time being at a shelter where they also lived there was especially humbling. Watching the women and children set up their beds after we cleaned up was an emotional time I will admit and not something I was expecting.
After we had served the women and children and the staff we also sat down and ate with the families. I think people have a certain ideology when they think of the homeless. This shelter would probably shatter that ideology. It's also why I think teenagers should do more volunteer work. Every woman I had the privilege to talk to was working. That probably shocks a few people but it's true. One woman worked two jobs, but simply did not have enough money for rent. Reality is that sometimes it takes just one rough patch to start a spiral.
The women and children were truly grateful…the children especially happy the we made apple pie and brownies. 🙂 That gratitude was worth every hour put in, tenfold.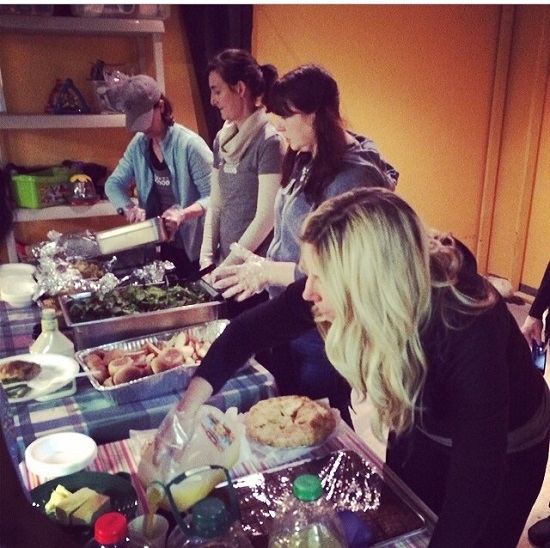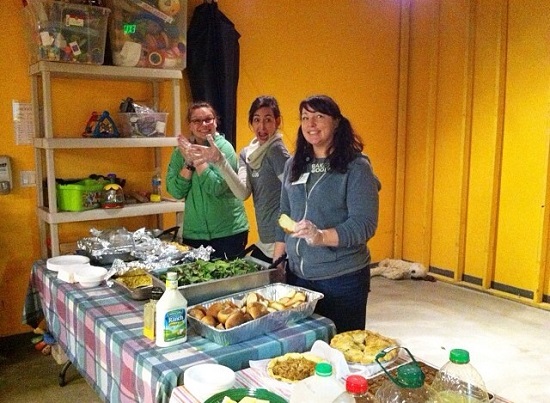 So you may be thinking I don't have the resources to do something like this. That's okay. I don't normally either. So what can you do to Bake for Good? Maybe you know a new mom who is struggling and can make her family a meal to take some pressure off? Maybe make a batch of cookies for the local firefighters (especially if you are single 😉 ), or maybe do what I did. When the wedding was over I had a large supply of flowers that my mom insisted we take home. But I had sooo many of them. I decided I would bake cookies and then get a few Ball jars and fill them with flowers. I then went to my local nursing home and brought flowers and cookies to those patients that don't get many visitors (I ask the nurses ahead of time they always know). You want to talk about making someone's day. I didn't even really need to bake or to bring flowers, just having someone sit and talk to them really made their day.
So put on your thinking caps. I would really love for to think of ways that you can Bake for Good in your community.
Oh and here are the cookies I made. The seniors thought it was a little odd I put potato chips in cookies but after they tasted them they had no issue. 🙂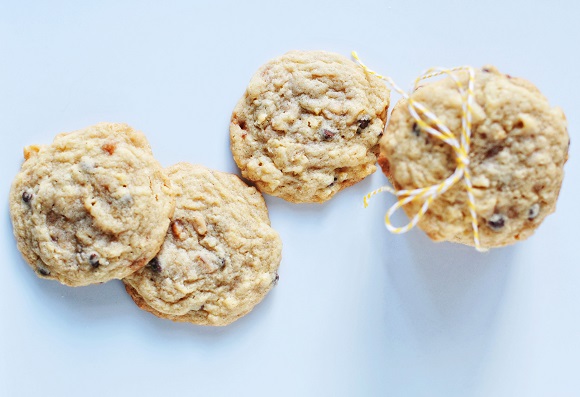 Potato Chip Toffee Chocolate Chip Cookies
Ingredients
2 1/3 cups all-purpose flour
½ tsp. salt
½ tsp. baking soda
1 cup unsalted butter, at room temp
1 ½ cups light brown sugar, lightly packed
2 eggs
1 tsp. vanilla extract
1 cup crushed Ruffled potato chips
1/2 cup semi-sweet chocolate chips
1/2 cup toffee baking pieces
Instructions
Preheat oven to 350F degrees.
Using a stand mixer with a paddle attachment, cream tougher the butter and brown sugar together, until lighter in color and fluffy, about 3 minutes.
Add the eggs one at a time and scrape down bowl after each addition.
Add the vanilla extract and beat for another 30 seconds.
Add the flour, salt, and baking soda and mix on low speed until just everything comes together.
Fold in the potato chips, chocolate chips, and toffee. Do not overmix.
Chill dough for at least an hour in the refrigerator.
Roll into 1-inch balls.
Bake for 8-10 minutes or until edges are slightly browned and the cookie will appear puffy.
Let cool on a wire rack.
https://www.sweetrecipeas.com/2014/04/23/potato-chip-toffee-chocolate-chip-cookies/
Oh and in case you were wondering I was not compensated for this post. Our food and those who chose to stay in the hotel was covered by King Arthur Flour but no monetary compensation was given. As always the opinions and words on this blog are all mine.Special thanks to all the bloggers I spent this amazing weekend with:
Melissa of LuLu the Baker
Maria of Pink Patisserie
Jenny of Jenny on the Spot
Megan of Not Martha
Megan of Country Cleaver
Coryanne of Kitchen Living with Coryanne