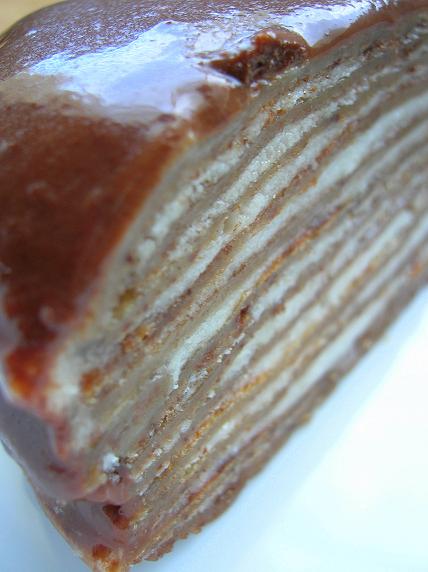 "Mother fuc#&ing, piece of sh#&!"
My husband peeked his head into the kitchen.
"I thought hockey wasn't on today?" he said.
"It's not," I replied.
"Then why are you swearing like a drunken sailor?"
"Because, I hate these crepes!"
"Are they hurting you?"
"No, but I might soon be hurting them."
And with that he wisely left, knowing it was best just to leave me and the evil crepes alone to ourselves to battle it out.
And though the crepes won many a battle, they did not win the war, so in the end I was victorious…sort of. I'm not sure it is victory that when you are done you have a chewy round-ish shit brown disc. But that is what I got. That is what several of the Daring Bakers got(not to worry we have already sent our refund letter to Martha…I check the mailbox everyday). My taste testers didn't even want to finish theirs after the first bite. Most of them just licked out the filling…one thing that everyone can agree on as being tasty.
I can tell you that many an hour was spent discussing how much we hated this crepe batter, which is such a shame because it really is a beautiful cake when you cut into it. Presentation wise it was lovely. I, of course, made mini ones…mostly because I was lazy and after making 20 crepes I decided that I in no way wanted to make more!
The recipe is over at Jumbo Empanadas. Poor Brilynn picked this cake because of it's beauty. She had no idea what non-beautiful things I would be saying to the cake while I was making it 🙂 I was so annoyed with this cake by the end that I didn't even bother to take very many pictures of it either…that is why you have so few and not very good ones at that.
Next month I hope we make something really ugly…but really tasty! To see what all the other Daring Bakers did with this cake…visit their sites…all listed on my blog roll under Daring Bakers.