This Everything But The Cake is based on the Ben and Jerry's ice cream flavor Everything But The which is filled with all sorts of yummies.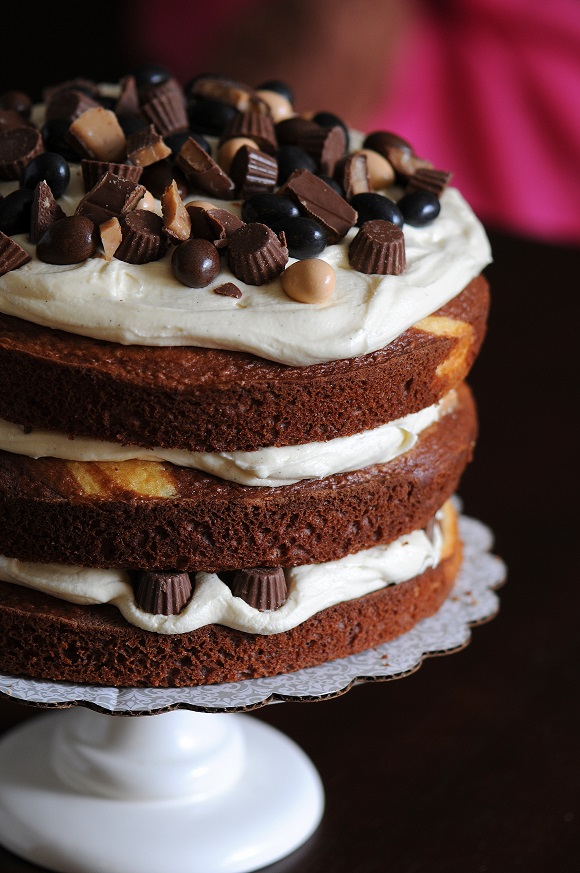 First off if you are not loving this Ben and Jerry's week I'm not sure we can be friends.
Second if you haven't seen what the others are doing you are missing out big time.
I'm so making Shelly's What a Cluster Bars for the hockey team and Kristan's Cherry Garcia Cake is a thing of beauty (I almost wouldn't want to cut into it…almost).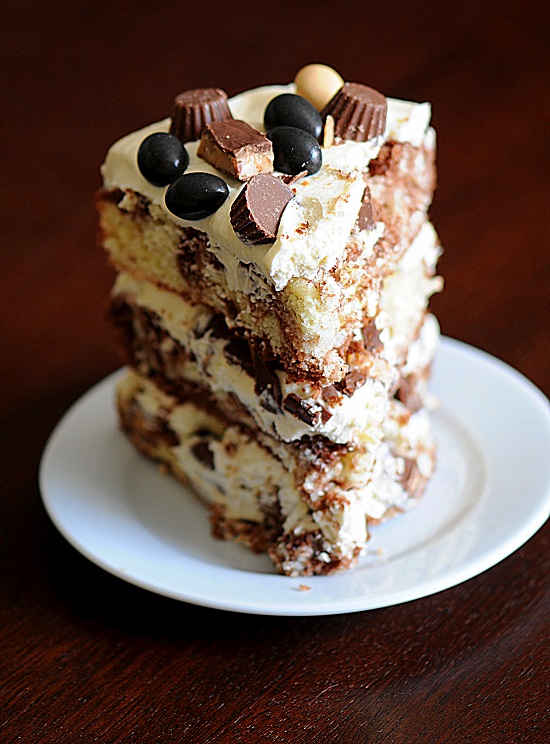 So when I got to pick my flavors I knew Phish Food obviously but didn't know what I would do with that (clearly I figured that out) but my other flavor of Everything But The… I knew right away I wanted to do a layer cake.
Here's my random thoughts on today's concoction:
1. I always like the idea of a layer cake until I am actually having to make the layer cake.
Then only remember this while in the middle of making the cake.
I think this is what my friends are talking about when they see a baby and want one. 
2. This cake became a religious experience for me as I am not sure I have ever prayed to God so much in a small amount of time as I walked across the room with this cake in my hand while my dog did her best to trip me.
But clearly God wanted me to photograph the cake and so that worked out.
Clearly though God does not love the Toronto Maple Leafs…at least not this year (if you don't follow hockey you have no idea don't worry).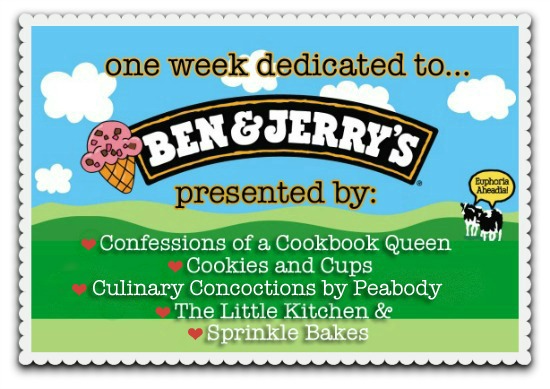 3. Yes I used cake mix for this.

Here's why: consistency in texture… having to do the swirls I need cake batter that would bake up evenly.
Also I am using candy and a lot of it so I think high quality cake doesn't need to be a giant priority.
And of course the majority of the people who ate this cake were kids….whom I sent off to their parents when done because I'm mean.
4. The pink that you see in the background is my 53 inch stuffed Moose that was what one might call an impulse purchase at Costco.
His name is Daryl after the Newhart Show (most of you will not know that show).
It's pink because I have him wearing a Hello Kitty Snuggie.
And I had to laugh because we were out with MDP's kids to Costco and there was a giant 53 inch puppy dog and my husband's son turns to me and says "no Peabody you already have a giant moose we don't have room."  
I about died laughing as the 15 year old was being the responsible one.  
Don't worry we are a one giant stuffed animal family only.
Unless I find a Hello Kitty in that size…at a Costco price.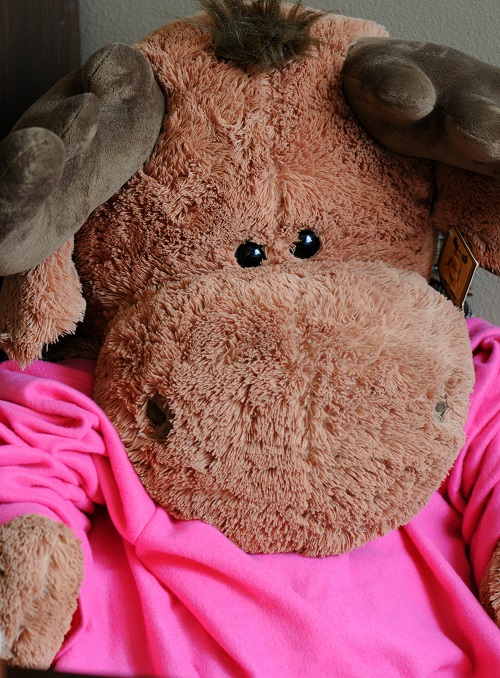 If you are not familiar with the flavor (I was not but the name sounded fun) Ben and Jerry's describes it as a collision of chocolate & vanilla ice creams mixed with Heath bar chunks, white chocolate chunks, peanut butter cups & chocolate covered almonds.
So this Everything But The Cake is made of a Chocolate and Vanilla Swirl Layer Cake with White Chocolate Buttercream Frosting, Reese's Peanut Butter Cups on one layers, Heath Bar Pieces on another layer, and the top layer getting Peanut Butter Cups, Heath, and Chocolate Covered Almonds.
Yes it's over the top.
But it's a cool cake with a serious WOW factor.
Go see what Shelly does with Karamel Sutra, Kristan does with her version of Everything But The…, and Julie does with Americone Dream!
I'm sure it will not disappoint!!!
P.S. It's a great day to buy my cookbook Holy Sweet!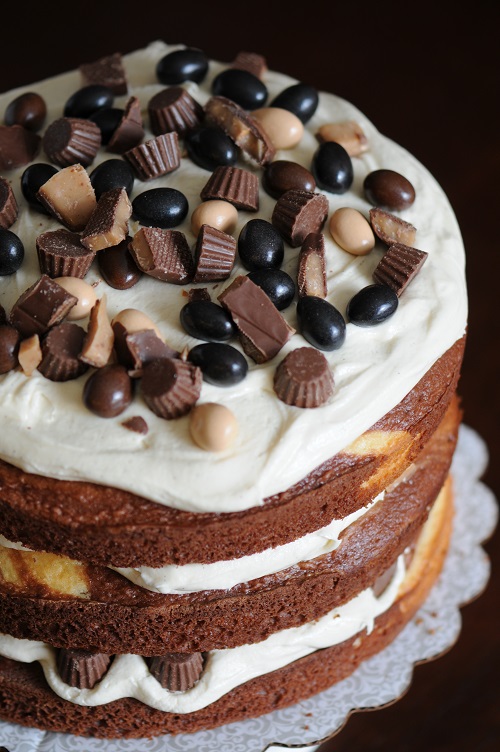 Want More Ice Cream Flavored Baked Goods?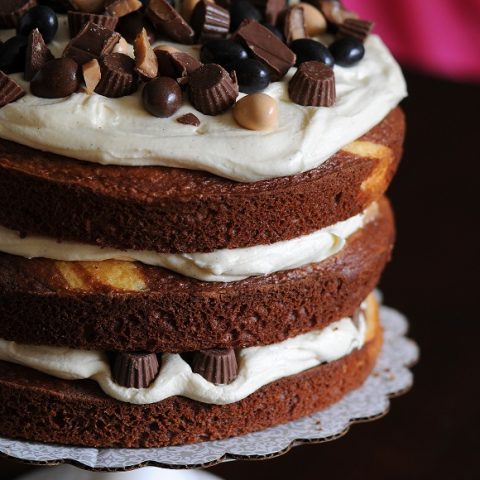 Everything But The Cake
Ingredients
1 box white cake mix (plus how many eggs, oil, and water your brand calls for)
1 box chocolate cake mix (plus how many eggs, oil, and water your brand calls for)
2 cups mini Reese's Peanut Butter Cups
2 cups Heath Bar, chopped up
1 cup chocolate covered almonds (all I could find were Hersey's but they had a hard coating over them)
2 cups unsalted butter, at room temperature
12 ounces white chocolate, melted, slightly cool (use real white chocolate if you use melts or vanilla baking chips they get too oily and don't work)
1 tsp. vanilla bean paste (or extract)
4 cups powdered sugar
Instructions
Spray three 9-inch cake pans with baking spray, use parchment circles to avoid sticking and then spray the top of the parchment paper. Set aside.
Prepare both the white cake batter and in a separate bowl the chocolate cake batter.
Evenly divide the white cake batter among the three prepared pans. Then divide the chocolate batter among the three pans. Take a butter knife and swirl the chocolate and white cake together.
Bake according to directions. Because they are split into three pans they baking time is reduced. My cakes took only 20 minutes to bake up.
Let cake cool completely and remove from pans.
Using a stand mixer with the paddle attachment, cream butter and 2 cups sugar until fully combined.
Add melted chocolate and vanilla bean paste and beat on low speed until fully incorporated.
Add the remaining two cups of sugar. You might need to thin it out with a little milk, I never had.
To assemble the cake:Place bottom layer of cake on a cake circle. Place 1/3 of the frosting onto the layer and spread leaving room around the edges as when you place the next layer down it will push the frosting out.
Add 1 ½ cups of the peanut butter cups.
Top with the second layer of cake. Then 1/3 of the frosting. This time instead of peanut butter cups use 1 ½ cups Health Bar pieces.
Top with final layer. Add the remaining 1/3 frosting. Add the remaining peanut butter cups, Heath Bar pieces and finally the chocolate covered almonds.
Place in fridge to set up for a bit, about 30 minutes.
Cutting this cake can be interesting since it is tall and has chunks of candy through out…so be warned that it might not be the cleanest cut is all. I guarantee you know one seemed to care at all when I put this in front of them.