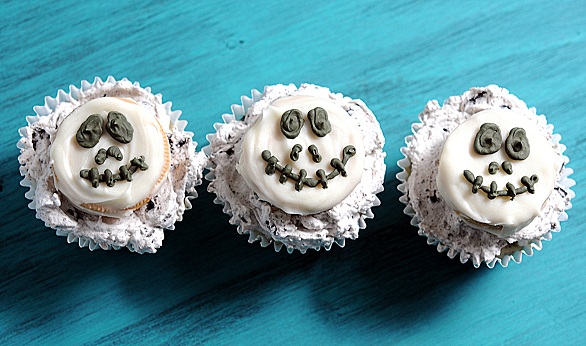 If you look almost anywhere on my site you will see my love of Oreo's in all forms. So when Kitchen PLAY asked if I wanted to make a Halloween recipe using Oreo's it was pretty much a no-brainer. I throw Oreo's in just about everything from Rice Krispie Treats to ice cream to brownie bars to cheesecake. And my favorite way to make cheesecake…mini with an Oreo cookie as the crust.
I had wanted to make something using the Halloween Oreo's (not to be confused with the Candy Corn Oreo's that I loved) but couldn't find them. So I went with a mix of Golden (my favorite) and classic Oreo. And to make things a little more festive I made my Oreo's into skeleton heads.
And you get a chance to show Kitchen PLAY and Oreo what you can make with Oreo's. That's right… Kitchen PLAY is giving away two OREO Halloween prize packs filled with goodies like: a spider spatula and apron, pumpkin cupcake holders, a Halloween serving dish, Halloween sprinkles and of course, Halloween OREOs. To enter, simply recreate any OREO dessert from this Kitchen PLAY event, or come up with your own. Post about it on your site and provide a link to that post in the comments on this Kitchen PLAY page.
Multiple entries are allowed, as long as a separate OREO dessert post is created for each entry. Deadline is midnight ET on November 5. This sweepstakes will also take place at Thanksgiving and the holidays, so the earlier you enter, the more chances to win! Full sweepstakes guidelines can be found at Kitchen PLAY.
So throw on your apron and show Kitchen PLAY and Oreo what you can come up with!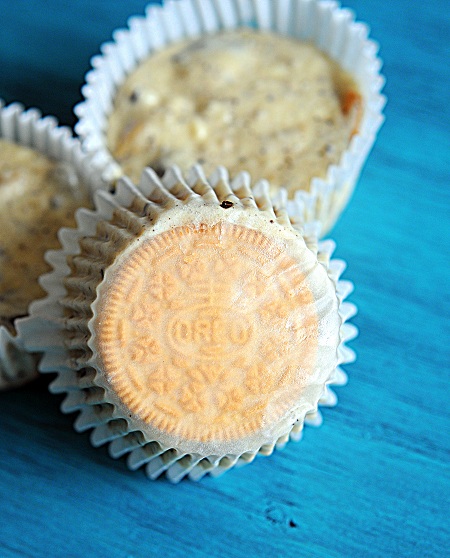 Skeleton Oreo Cheesecake Bites
10 oz white candy melts
1 small batch royal icing (grey or black)
30 Whole Golden Oreos, divided
3 Golden Oreos, crushed in pieces
3 Double Stuff Oreos, crushed in pieces
16 ounces cream cheese, room temperature
½ cup sugar
½ tsp. vanilla extract
2 large eggs, room temperature, lightly beaten
½ cup sour cream
1 TBSP flour
Pinch of salt
1 cup heavy whipping cream
3 crushed Double Stuffed Oreo's
To make the skeleton heads place the candy melts into a microwave safe bowl. In 30 second increments, melt the candy melts until smooth.
You can dip the whole Oreo (you will make 15 skeleton heads…the other 15 Oreo's are for the crust) or just partial (I did mostly partial because I am not a good dipper  ). Then set on wax paper to set up. Set aside.
Make royal icing and pipe skeleton faces onto Oreo's. Set aside to set up.
Preheat oven to 275 degrees. Line standard muffin tins with paper liners. Place 1 whole cookie in the bottom of each lined cup.
With an electric mixer (or using a stand mixer with paddle attachment) on medium high speed, beat cream cheese until smooth, scraping down sides of bowl as needed. Gradually add sugar and flour, and beat until combined. Beat in vanilla.
Drizzle in eggs, a bit at a time, beating to combine and scraping down the sides of the bowl as needed. Beat in sour cream and salt. Stir in chopped cookies by hand.
Divide batter evenly among cookie-lined cups, filling each almost to the top. Bake, rotating pan halfway through, until filling is set, about 22 minutes. Transfer to wire racks to cool completely. Refrigerate at least 4 hours (or up to overnight). Remove from tins just before serving.
Using a stand mixer with the whisk attachment, whip up heavy cream into whipping cream. When stiff peaks have formed add Oreo pieces in.
Divide among the 15 mini cheesecakes. Then place a skeleton Oreo on top.
Cheesecake Bites adapted from Martha Stewart Cupcakes by Martha Stewart