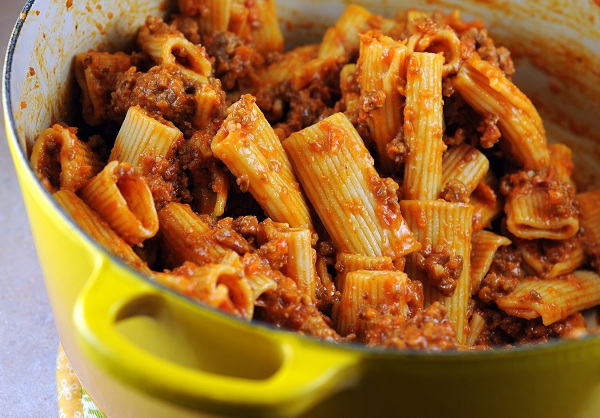 Oh so good to see the haters are back in full swing. I was starting to think I had lost my edge. I think I still have but apparently the key to riling up people is to use a microwave.
Ever since I posted my fudge recipe and discussed microwave candy on my Facebook page there has been much less than love mail we will call it. Once again I was contributing to the death of Americans by suggesting that they use the microwave to make something.
Let me be the first to say that I hardly ever use my microwave. It's there. I don't even make microwave popcorn, I do it on the stove top. But kids are here and from time to time if we are not around they like the ease of the microwave…and when I am injured so do I.
I posted a picture of my Bolognese sauce on Saturday night onto Facebook and several people wanted the recipe. I'm sure I will get hate mail over this that it's not really a Bolognese sauce…guess what, I'm not Italian so I'm not committing any crimes…I'm Scottish, we screw up food all the time. 😛 Because I realize that there is no bacon in Bolognese sauce…but there should be. So I put it in. I also use a little more red wine than most.
The recipe is a take-off of a slow cooker recipe. And while I have made it both ways I must say I prefer it from the stove pot, not sure why, just do. If you want to make it slow cooker version just change where it says dump into pot into dump into slow cooker. And then cook on low for 6-8 hours. Either way this sauce takes a while. I was stupid and made it on the day that was super warm…which made the house extra warm. But then I tasted it and it was all good.
It makes for good leftovers as well. Which I heated up on the stove top and not the microwave so maybe I'm not totally going to Hell in a Hand basket. 😀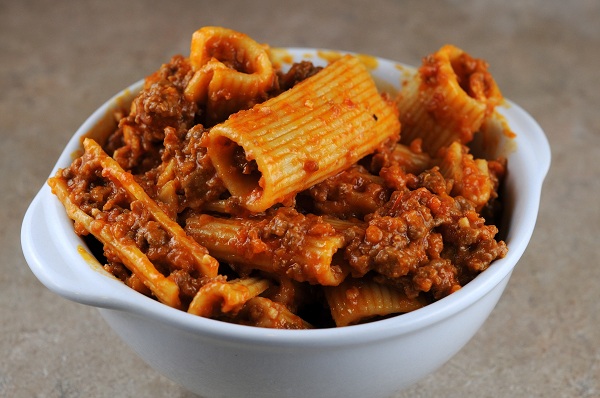 Touch of Bacon Bolognese Sauce
3 strips of bacon, diced into pieces
1 TBSP. extra-virgin olive oil
1 lb. ground beef sirloin
1⁄2 lb. bulk Italian sausage
1⁄2 cup chopped onion
1⁄2 cup chopped celery
1⁄2 cup chopped carrot
1 Tbsp. chopped garlic
1 can whole tomatoes, chopped (28 oz.)
1⁄2 cup milk
1⁄2 cup dry red wine
1⁄4 cup tomato paste
2 TBSP. balsamic vinegar
1 tsp. kosher salt
1 tsp. dried basil
1 tsp. dried oregano
1⁄2 tsp. red pepper flakes
1⁄2 tsp. fennel seed
1⁄2 cup mascarpone cheese
Heat the oil in a sauté pan over medium heat. Add the bacon and let it crisp up. Remove bacon pieces for later.
Add beef and sausage; cook until no longer pink. Using a fine-mesh sieve, drain off fat; set beef and sausage aside.
Mince onion, celery, carrot, and garlic in a food processor; transfer to a large stock pot or Dutch oven.
Add bacon, meat mixture, tomatoes, milk, wine, broth, tomato paste, vinegar, salt, basil, oregano, pepper flakes, and fennel seed to pot.
Cover; cook on low-heat setting for 6-7 hours.
Immediately before serving sauce, stir in mascarpone (don't skip this…very important and yummy).
Adapted from Cuisine at Home Slow Cooker Magazine