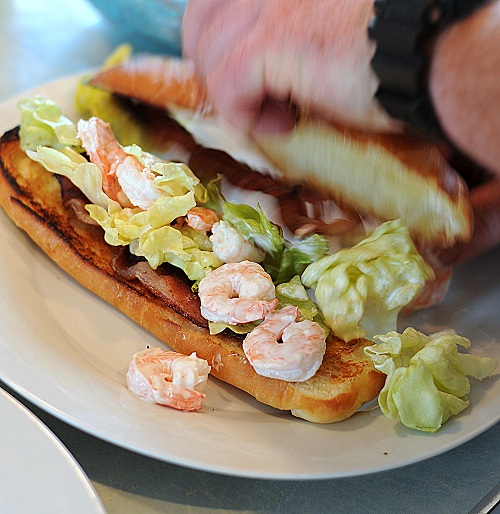 Just a reminder still have THREE people who have not claimed their prizes!! Go back and look please! And speaking of prizes make sure to leave a comment and enter for the Amazon.com gift card. Even if you don't want the prize you can participate in the job question. I am loving the answers they are so interesting!
This here is a little deviation from all the sweet treats that are usually on here. Though these do use homemade brioche buns (feel free to buy some) which is baking! I love lobster rolls but they get a little pricey especially when feeding more than one person. So I found that shrimp rolls can satisfy my craving for them especially when you throw in bacon and some avocado to the mix as well.
Sadly our avocado that we took with us to the beach was less than appetizing and so it got tossed out but these were yummy all the same! Everyone ate and loved them…even the pup. 🙂 I usually put a little diced celery in mine as well but some of the people eating the rolls were anti that and so we…haha…wait for it…"rolled" with it. 😛
Hope everyone had a fabulous weekend! I know I did. Here's to a healthy and happy week ahead! For a good laugh head on over and read my Justin Bieber story…yes Justin Bieber over on Tablespoon. As well as the ice cream I made for him out of grape soda.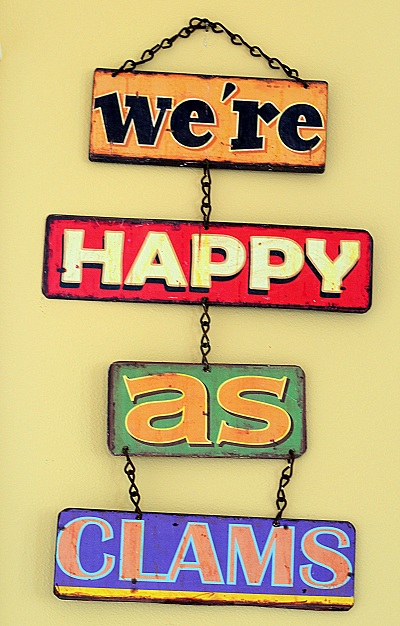 Shrimp, Bacon, and Avocado Rolls (on Brioche Buns)
6 brioche buns
1/3 cup mayo
2 TBSP lemon juice
Pinch of salt
2 pounds of shrimp, boiled and shelled
Pound of bacon
Avocado if you can get a good one
Butter Lettuce
Melted butter- to toast buns in
In a medium bowl combine mayo, lemon juice and salt. Often I add some diced celery but the crowd I was feeding was anti that. 🙂 Feel free to add a little diced celery for crunch.
Slice open your buns (cut them hot dog style). Place melted butter in a sauté pan and toast the buns in butter until golden brown.
Lay down butter lettuce, a couple slices of bacon, a couple slices of avocado and a few scoops of the prepared shrimp.
Fold over the other side of the bun and eat. You will get run away shrimp…don't let them escape. 😛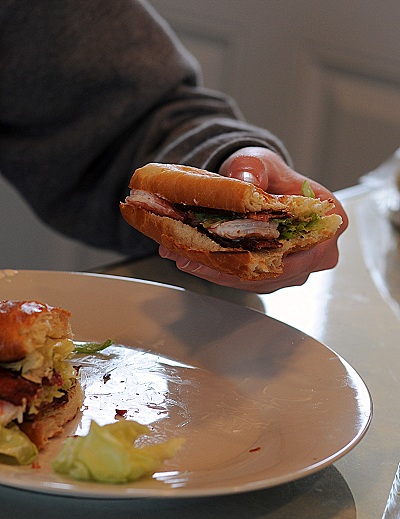 The Brioche buns were made using this recipe.