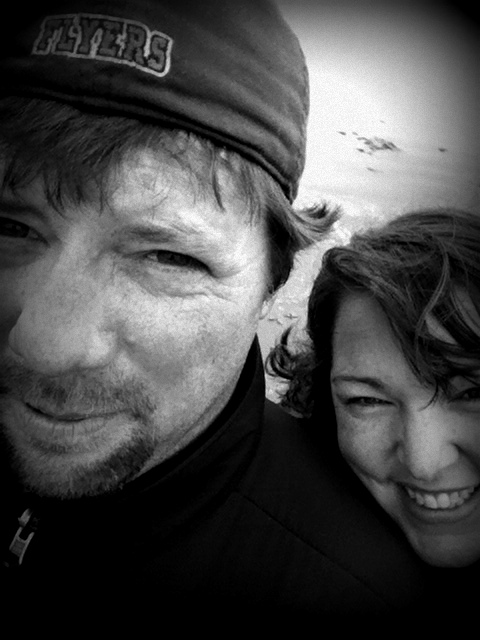 Some people dread the day they turn 40 (my day is rapidly approaching). In when Harry Met Sally…Sally was bawling her eyes out that she was going to be 40…and that was in 8 years. When she was told she was being ridiculous she said "but it's there. It's just sitting there like this big dead end." Some people see it as a dead end. One of my friends literally had to be hospitalized she was so upset the day she turned 40.
I remember when my mom turned 40. She went out with my dad and her best friends and came home drunk enough to promise me a pony (still waiting). But then next day I asked her what it felt like to be 40. She kind of looked at me, she knew I wasn't being a smartass, I was just being curious. She told me "same as 16…minus the fact that my body hurts a whole heck of a lot more". I think if a 12 year old asked me the same question my response would be about the same. Though I do think my mind slips a little more each year. 🙂 My mom probably meant to mention that as well…but you know, forgot. 😛
I look forward to 40. My 30's were certainly a great learning period in my life. And truly helped me become comfortable in my own skin. I'm far more comfortable in my own skin at 40 than I think most people ever become. And ladies, I will say it before and I will say it again…TRUE self confidence is far sexier to a man than "fierce" abs. If you were dating someone that constantly wanted to be told they were pretty, fished for compliments, asked you if you looked fat, did you look nice, were you looking at another girl, said stupid stuff like do you think she's prettier than me, etc…you would drop them in a heartbeat. I lived next door to a guy in AZ who was married to a very nice lady. The man would often talk about how his first wife was a beauty(literally a beauty queen). I always thought it was a little mean to say that in front of his second wife because he never followed up with and my wife V is beautiful too. And even when I would say something like you have a pretty wife, he would correct me and say, I had a pretty wife. One day I got a little fed up and kind of told him off. Feel a little bad because he was an old guy. He just chuckled and leaned in and said "My first wife was a beauty. She made me tell her so every day. And that is what she had to offer. If I looked at another woman I was the devil….but V is a lady you build your life with. She is the one that at the end of the day I can laugh with, share with, and more importantly I don't have to tell her she's pretty…because she knows she is and so do I. When I tell people my first wife was pretty V knows I'm saying that as almost a put down to my first wife." And that's when I started bringing him baked goods.
The picture above is kind of a funny one. MDP is squinting and kind of laughing because the wind was blowing soooo hard as I attempted to take the picture. My hair is all over the place and I am squinting because of the wind as well. I considered deleting it. Until I really looked at it. It's a good picture. Not in the wow we both look great kind of picture but in the I look happy. Very happy. I was happy. It's a moment in time when I was truly happy. Why would I want to erase that? Because my hair was all over the place and then some? If we don't keep memories because they weren't perfect ones then I probably wouldn't have that many pictures. 🙂 So before you hit delete next time really look at the photo. See what moment it's capturing and decide if you looking perfect is that important.
Scroll down to the bottom of the post to see who won the prizes. If you won please contact me (luvbriere at gmail dot com) and give me your address so I can get your prize off to you!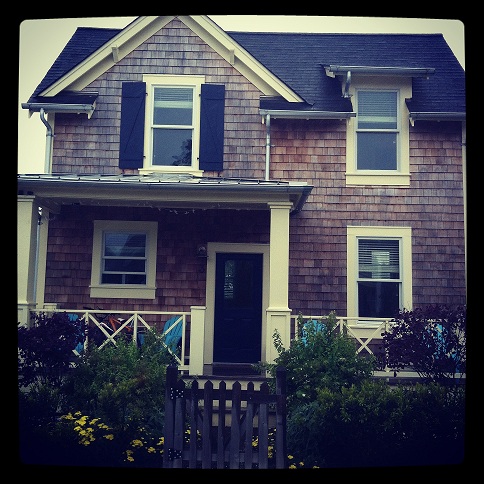 Where we spent our weekend. Isn't it cute?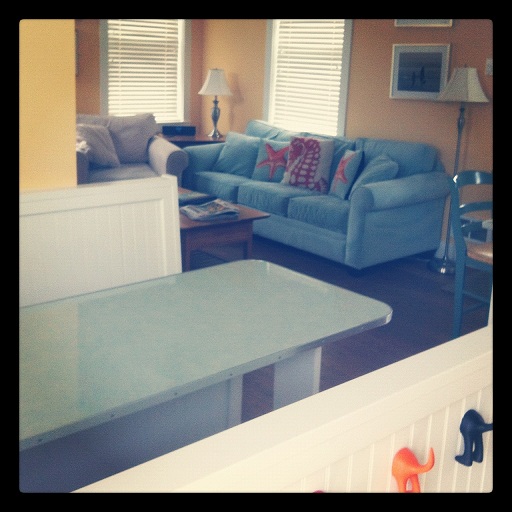 It was decorated so very festive and beach like. It was a full functing cottage…with a gas stove and all. 🙂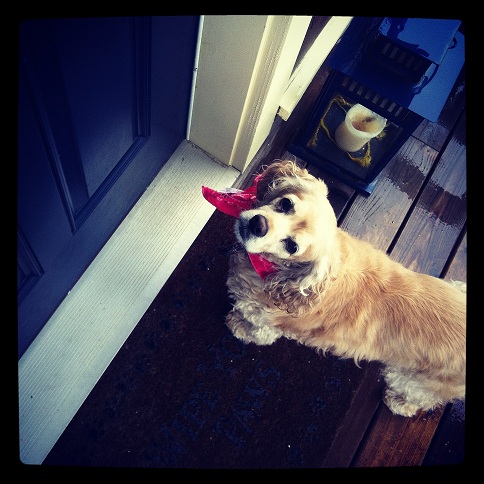 Oh course we took Crazy Cocker Spaniel along with us.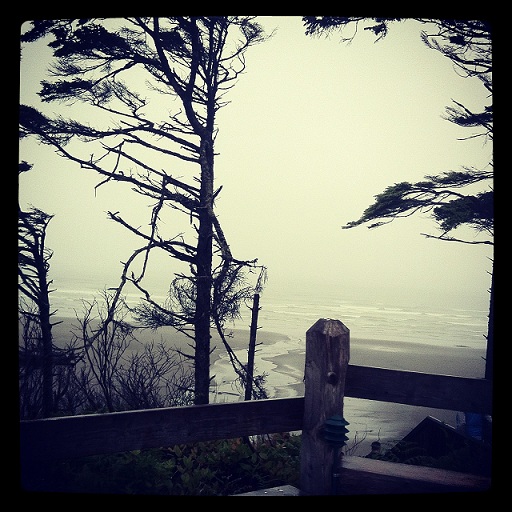 Not a bad thing to look at eh?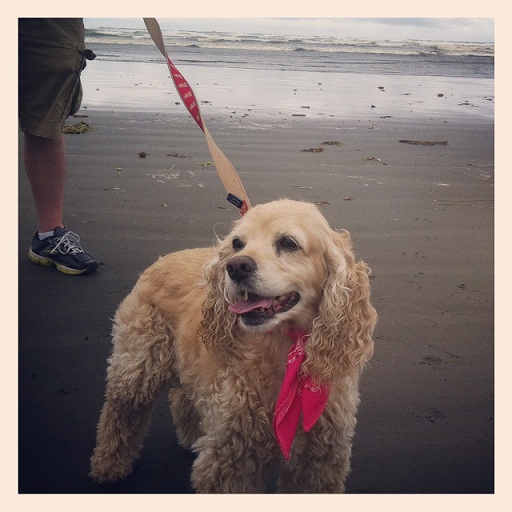 One happy pup!
And here are the winners!!!!
Loaf Pans:
# 65 Lynnette Says:
June 12th, 2012 at 6:34 am
I have enjoyed reading your musings for several years, don't stop now. Happy Blogiversary!
Yes, I'd like to try the mini loaf pans too.
Disposable Bags:
#43 Korrie@RedHenHome Says:
June 12th, 2012 at 4:16 pm
Do I have to pick just ONE favorite frosting? I have three! Homemade coconut pecan…cream cheese…and cooked fudge frosting. Just not all at once
Microplane Grater:
#72 Diana Says:
June 19th, 2012 at 7:29 am
I think you can absolutely form relationships over the Internet. Through my cooking and photography blogs, I have connected with people who share common interests and with whom I have meaningful friendships. I also met my boyfriend online. I think what's key in doing so is weeding out who's honest about who they are from who's only presenting you with their beautiful online life.
Creme Brulee Dishes:
#3 laurie Says:
June 14th, 2012 at 2:03 pm
Ive been a loyal reader of your blog, for 5 years? The gorgeous photos of desserts drew me in. The stuff you make is creative, looks delicious and is affordable. With 3 kids in the house, I cannot afford pricey ingredients to make treats. After the eye candy, your writing style and sense of humor clicked for me. Sarcasm is often very hard to pull off in writing. You do it brilliantly. Add the hockey and you are the coolest blogger I know. Even if you do like the Flyers.
Yes, I need brule dishes. For what? I dont know. Ive never made brule. Maybe I would if I had the dishes.
Baking Pan and Dog Cookie Cutters:
#42 Joy Says:
June 15th, 2012 at 6:46 pm
My favorite thing about dobby??? Umm how much he loves me! He knows when I'm sad and will just lay with me.
Mixing Bowls:
#49 Jamie Says:
June 17th, 2012 at 3:06 pm
I heard about your blog through a friend of mine who loves food just as much as I do!