These Butterfinger Cream Cheese Banana Muffins have a banana chocolate chip base filled with Butterfinger cream cheese filling.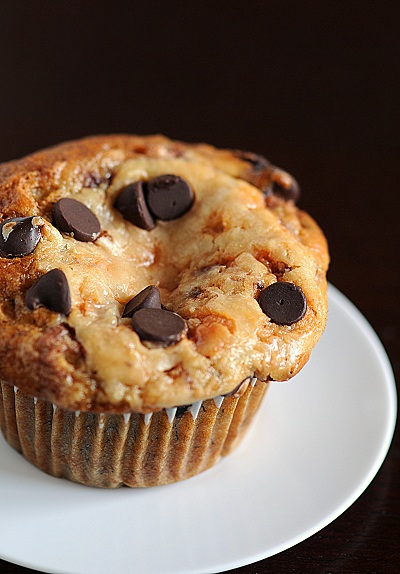 Yesterday I sat at one of the many 8th grade promotion ceremonies I have attended in my lifetime.
My own of course.
The ones I had to attend as an 8th grade teacher.
And the one last night.
It was warm, packed with proud parents and bored siblings, dressed up like Hawaii on steroids (there was a Ride the Wave to High School Theme), and of course filled with 8th graders with eager and nervous smiles, who most could pass for adults with how they looked.
Of course for most of them in four years they will be legal adults.
They may not act like adults but neither do some 38 year olds I know. 😛
A lot will change for them in the years ahead.
Heck, just as the slide show last night showed, a lot had changed in the three years at middle school.
Going into high school I was dead set on being a Marine Biologist.
I left high school wanting to teach high school Spanish. Ole.
And in just the three months after high school I declared my major in college to be Forestry.
Yep.
Forestry; Wildlife Management to be exact.
Turns out Forestry is not a good career choice when one is allergic to almost every plant.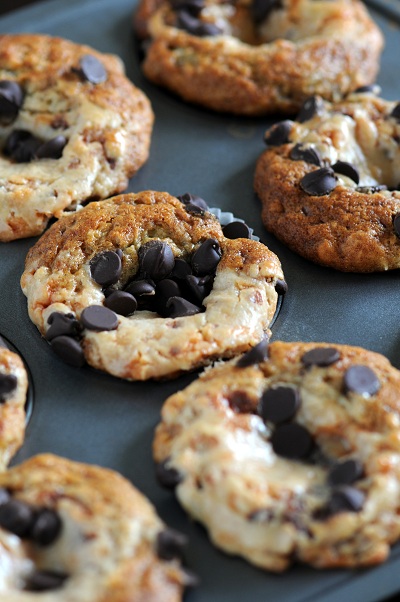 We place a lot of emphasis on kids about what they want to be when they grow up.
It is good to have goals but I am certainly a living example of you don't always end up with the job you thought you would have. Sure I became a teacher but not in what I thought I was going to teach.
I wanted to teach the little kids when I went into student teaching.
And I got stuck teaching 6th grade due to a scheduling error.
Boy was I crushed.
Turned out I loved it.
Even if I had not, it was for a reason.
I loved it and learned I wanted to teach the older kids.
And if I hated it I would have learned that the older kids were not for me.
I couldn't help last night sit and wonder as I watched MDP's son go up and get his academic award (YAY!!!!) about where his future will take him.
How quickly time has gone by and how I am sure that in no time I will be sitting at his high school graduation probably wondering the same thing.
People often wonder what to get a graduate.
Cash. Cash or Gift Cards.
I know it sounds cold.
And I know it's not personal.
But let's be honest, it's what they want.
So along those lines my final giveaway for the blog birthday is a $50 Amazon Gift Card.
You will need to leave a comment telling me what you wanted to be when you grew up and what you ended up being.
And you need to live in the USA (sorry). You have until Thursday June 28th 2012 at noon PST to leave a comment to be entered.
Winner will be announced on Friday June 29th 2012! CONTEST HAS CLOSED.
And lastly are these Butterfinger Cream Cheese Banana Muffins.
They have nothing to do with this post other than maybe you can buy muffin tins with your gift card. 🙂
It's a great day to order my cookbook.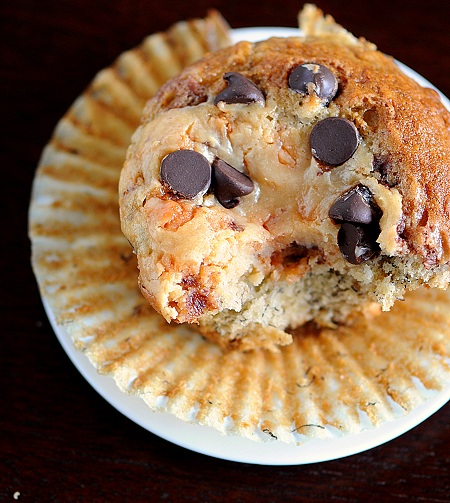 Want More Muffin Recipes?
Clementine Chocolate Chip Muffin
Cider Glazed Apple Fritter Muffins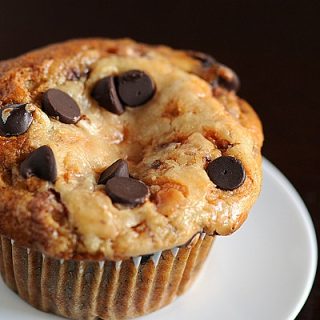 Butterfinger Cream Cheese Banana Muffin
Ingredients
For the muffins:
1 1/2 cups all-purpose flour
1 tsp. baking soda
1 tsp. baking powder
1/2 tsp. salt
3 medium bananas, mashed
3/4 cup white sugar
1/3 cup brown sugar, lightly packed
1 egg
1/3 cup unsalted butter, melted
1 tsp. vanilla extract
For the cream cheese filling:
8 ounces cream cheese, at room temperature
½ cup sugar
4 oz Butterfinger Candy Bar, smashed
1 egg
Chocolate Chips to sprinkle on top
Instructions
Preheat oven to 375 degrees.
Fill a muffin tin with liners and set aside.
Combine 1 1/2 cups all-purpose flour, baking soda, baking powder and salt in a small bowl. Set aside.
Using a stand mixer with the paddle attachment, on low speed, beat the bananas, sugar, egg, melted butter and vanilla extract together until smooth, with only the bananas being a little lumpy.
Remove bowl from mixer and add the flour mixture to the banana mixture. Mix with a spatula until all ingredients are fully incorporated, but don't over mix.
Scoop batter a little over half way up the muffin cup.
Cream together the cream cheese, sugar, and egg. You should be able to do this by hand but if not get out the mixer.
Fold in the Butterfinger pieces. Place 3 TBSP into the batter in the muffin cups.
Then sprinkle with chocolate chips. How many is up to you.
Bake for 18 to 20 minutes or until a toothpick inserted into the center comes out clean.