This Snickerdoodle Pound Cake is a dense cake with a crunchy cinnamon sugar crust and a cinnamon sugar cream cheese center.
Dear To-Do-List,
Only one thing got done on you this weekend.
And while it was nice to have clean towels instead of doing the smell test (you know the how bad does this smell, can I used it again test?) I needed to get more stuff done.
That being said I much enjoyed the distractions that kept me from the to do list.
Dear Winners of the C3 Adult Rec Hockey League,
Congrats to you. My team lost again.
The sad thing is we lost to you and yet still had a much, much better time not only during the game (like when we stood up and cheered for you) but after.
I'm glad that you guys won, you wanted it far more than us (as your scowling faces and the guy who told me to stop smiling at him this was a game would indicate).
You had the guy that got a hat trick with the way he was jumping up and down and screaming (with a higher pitch than me…just saying) who I thought had won a new truck.
At first I was pissed because I was mad at the league for not telling me about the get a hat trick in the lowest division when you are a higher level player and get a free car thing.
I would have had my better players try hard so that we could win a truck (and then sell it to buy new hockey jerseys!).
But just turns out he was wanting to win it so bad. They had even made their team a trophy.
So my team got green participant ribbons that I found at a local awards shop. 😛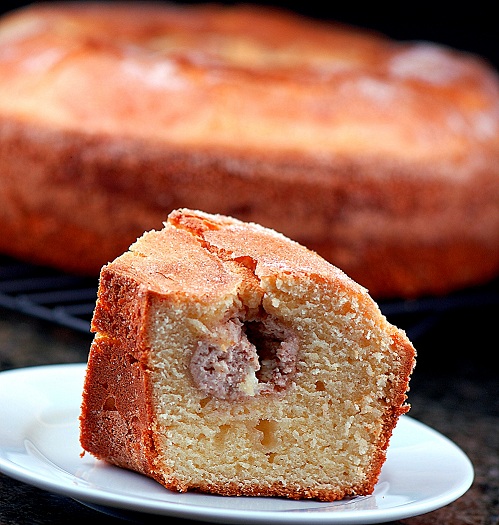 Dear Danny Briere,
Thanks for proving to me so far this playoff season why you are my favorite NHL hockey player.
Dear Universe,
Thanks for starting to pay off me surrounding myself with good people.
Dear Snickerdoodle,
I love you in pretty much every form so I thought I would make you into a pound cake.
A snickerdoodle pound cake.
Still love you.
This is a dense cake (duh, it's a pound cake) with a crunchy outside that gives it a nice texture contrast.
While not nearly as much snickerdoodle taste because of it's side, all the yummy elements are there.
If you want to skip the cream cheese center you can, but I find it adds a nice extra something to the cake.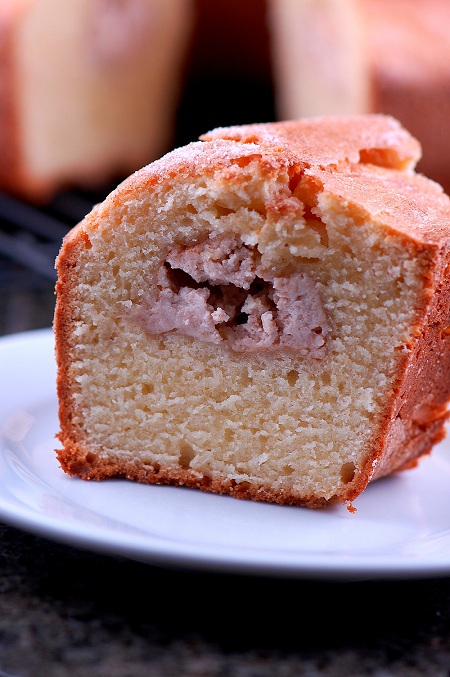 Want More Pound Cake Recipes?
Whiskey Glazed Apple Buttermilk Pound Cake
Bourbon Brown Butter Chocolate Chip Cake
Strawberry Lemonade Bundt Cake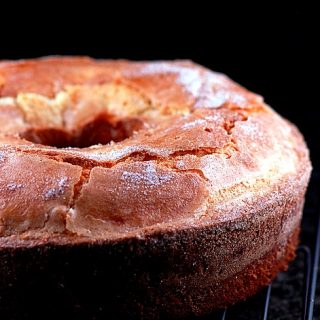 Snickerdoodle Pound Cake
Ingredients
For the Cake:
1 cup unsalted butter

2 cups granulated sugar

4 eggs

1 egg yolk

1 tsp. vanilla extract
1
/2 cup sour cream

1 tsp. nutmeg, freshly grated

2 tsp. cream of tarter

2 1/2 cups all-purpose flour

Pinch of salt
Cream Cheese Balls:

8 ounces cream cheese, at room temperature

1 cup granulated sugar

1 TBSP cinnamon
Cinnamon sugar mixture:

1 cup granulated sugar

1/3 cup cinnamon
Instructions
Using a stand mixer or a bowl and some might strong arms, cream together the cream cheese, sugar, and cinnamon for the cream cheese balls. Place the mixture into a small bowl and cover. Place in fridge until needed and start to prepare cake.
Clean your mixer bowl and cream the butter and sugar with the paddle attachment and mixer on medium high until light and fluffy, about 3 minutes.
Turn mixer down to medium and add the eggs and yolk, one at a time, beating well after each addition.
Add the vanilla extract and nutmeg and continue beating.
Add ½ of the dry ingredients and let mix (on low) until just incorporated.
Add the cake sour cream and mix until incorporated.
Add remaining dry ingredients until fully combined.
Grease a tube pan with butter and sprinkle about 1/3 of a cup of cinnamon sugar mixture and coat the pan where the butter was with the cinnamon sugar mixture, this will create a nice crust.
Pour half the batter into the pan and sprinkle ¼ of a cup of the cinnamon sugar mixture around the ring.
Remove the cheese mixture from the fridge. Roll into balls, about the size of a ping pong ball and roll them into ¼ cup of cinnamon sugar mixture. Place them around the tube pan in the center.
Add the rest of the batter, smoothing it over the cream cheese balls and sprinkle the remaining cinnamon sugar on top.
Preheat the oven to 350 degrees.
Bake for 50-65 minutes or until a skewer or cake tester comes out clean or with a few crumbs attached.
Let cool and serve at room temperature.